Flat-track racers or inspired customs are unmistakable like this Triumph Bonneville Super Hooligan flat-tracker.

This one was modified for the Super Hooligan class racing.

Art Hartman, the racer who build this bike finds the Bonnie lighter and nimbler.
Flat-track racing may not be popular due to lack of visibility here in Malaysia, but no one could ever forget the experience of watching one of the races. The bikes that race in the series are also unmistakable, such as this Triumph Bonneville Super Hooligan flat-tracker.
If we behold sportbikes are about technology and unobtanium components, we ought to admire flat-track racers for their purity. That purity of form is for one thing – blasting sideways around a dirt oval track at 200 km/h.
Sure, there were other builts that take the form of flat-trackers, including a built kit in the Harley catalogue, but this Triumph looks prettier!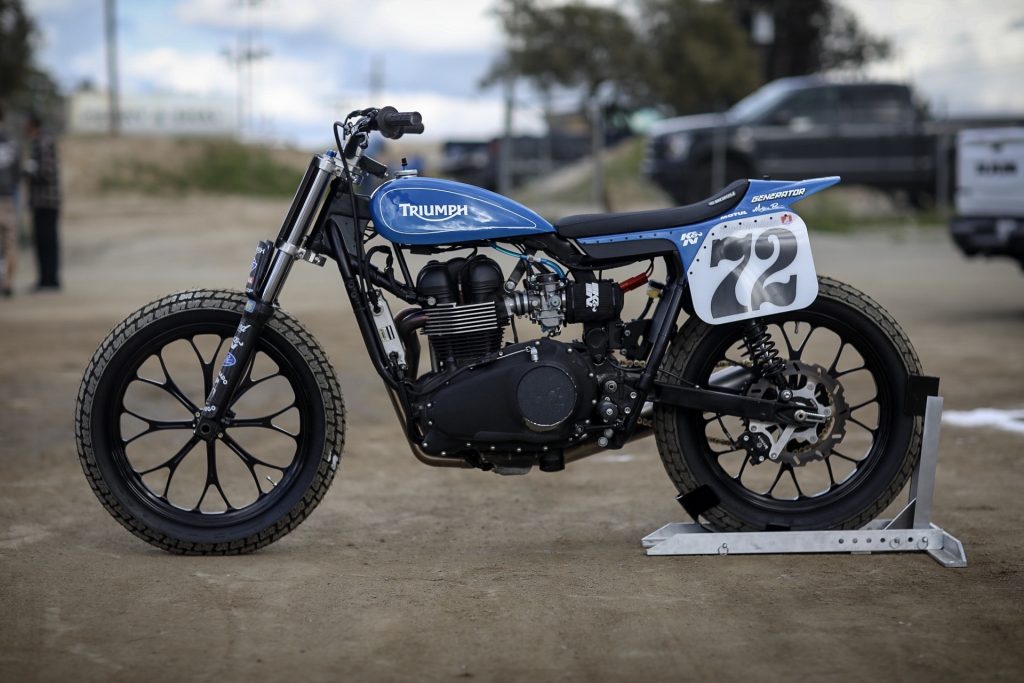 This Triumph Bonneville Flat-Tracker for the Super Hooligan class that you see here was built by racer Paul Hartman.
He had destroyed his Harley-Davidson racebike in a hill climb event and need to build a new Super-Hooligan spec bike. The regulations call for a stock frame and engine of 750cc and up.
Instead of redoing another Harley Sportster, Hartman chose the Triumph Bonneville. He explained that while Harleys are the chosen Super Hooligan racer, it is heavy and has a long wheelbase. However, he found the perfect bike in the Bonnie, since it weighs only 204 kg and the wheelbase is 51 mm shorter than the Sportster's.
Hartman went to work with a 2006 Bonneville T100, leaving only the ECU and two other parts factory stock, while the rest are race-spec components. There is a lightweight Antigravity lithium battery to save weight. The exhaust is an S&S flat-track unit, intake air is handled by a K&N filter. The anodized black wheels are sourced from Performance Machine. The tanks and seat unit are painted blue to contrast with the black parts, to a stunning result.
Would you turn you Bonnie into something like this? We know we would.
Source: Pipe Burn