It's been a while since we tested a brand-new bike in the local market and today's special is brought to you by the great folks over at the Hong Leong Yamaha Motor (HLYM) and its latest 250cc offering, the 2020 Yamaha MT-25. Nicknamed the "Rush of Darkness", we're here to see if it lives up to all the hype.
Launched back in September, the 2020 Yamaha MT-25 entered the market where both the brand and naked bike offering are at an all-time high. While other manufacturers have already showcased what their entry-level naked bikes are made of, we were quite intrigued to see how the Yamaha MT-25 compares against the other front-runners of the segment.
The Honda CB250R 'Neo Sports Café' has been a long-time favourite of ours ever since we tested it out back in February 2019. It was fun, stylish, and relatively easy to ride in all sorts of conditions. Then there's the Kawasaki Z250, a bike with specs much closer to the Yamaha MT-25 but a lot bulkier in nature.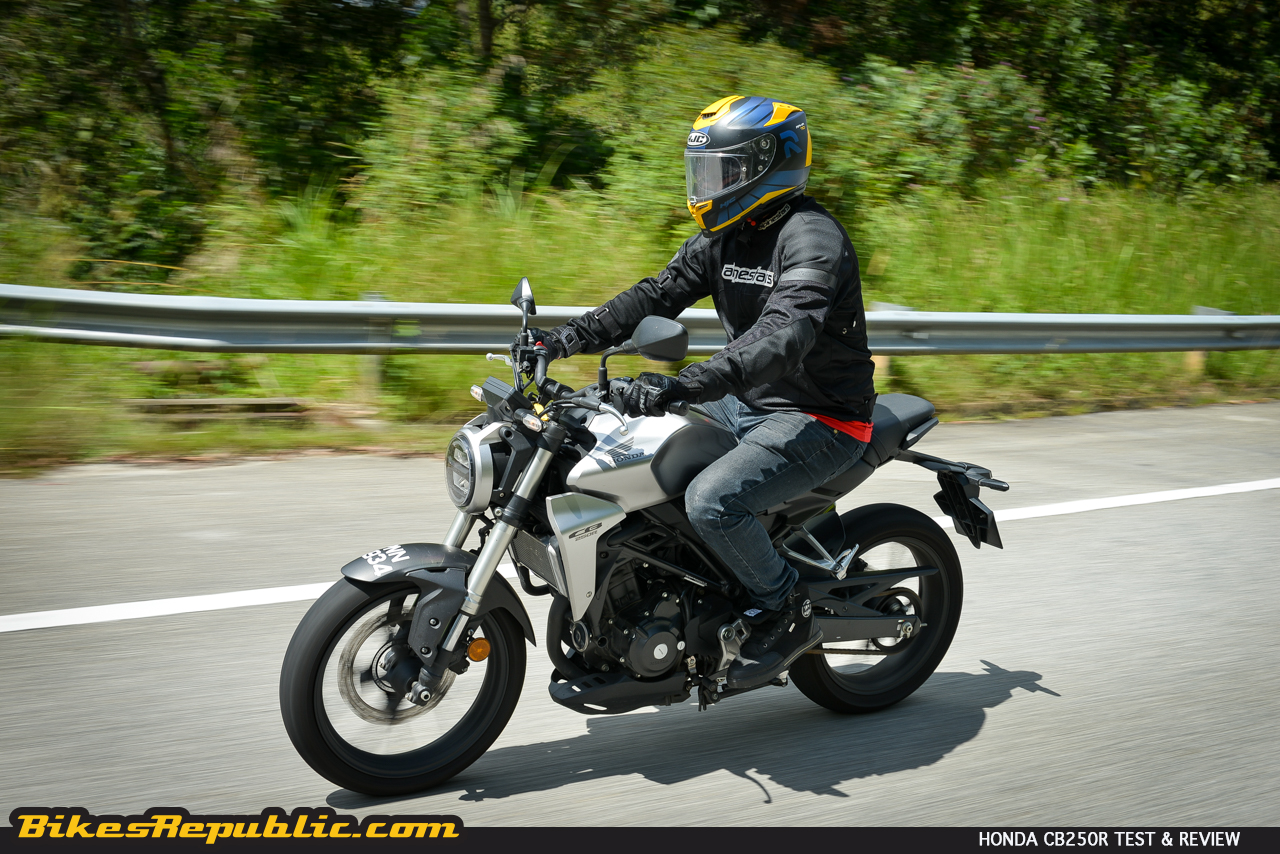 To be honest, our hopes weren't that high especially when we heard its engine turned on and idling during the launch. For a 250cc inline-two engine with 35.5hp on tap, it sure sounds like my Modenas Pulsar NS200 (which in all honesty a good bike to ride daily but with a less than inspiring soundtrack).
So, when we went to pick up the 2020 Yamaha MT-25 at HLYM's headquarters in Sungai Buloh, we were quite pleased when we opened up the throttle as we sped away from our pickup point. The sound it makes is arguably one of the best-sounding 250cc bikes and it just gets better as you rev it harder.
Its 250cc inline-two DOHC engine is derived from the Yamaha YZF-R25 but on paper, it actually makes 1hp more than its full-fairing sibling (torque is the same at 22.6Nm). To achieve this figure, one would have to rev it up to 12,000rpm and with a redline of 14,000rpm, the Yamaha MT-25 is a screamer, and that is a very good thing.
When it comes to 250cc bikes, naked or sports, you're always led to think that any bike in this particular segment presents a fun all-rounder that can handle multiple riding situations fairly well (daily workhorse to work, weekend warrior up and down Genting, etc.) but you're always pulled back to the fact that it's 250cc bike as it does comes with limitations in terms of a surge of power you feel as you open its throttle wide open.
This is exactly the case when we tested the Honda CB250R Neo Sports Café and Kawasaki Z250. Both very fun bikes to ride, but the designs plus their price ranges only attract a selected group of individuals (which is why you don't see that many on the roads).
Power delivery for both these bikes are smooth, but you'll still feel that limitation of riding a 250cc bike (even less with the Z250 where we felt it had less-than-desirable torque delivery).
Not the Yamaha MT-25, though. This is the first time that we questioned whether it is really just a 250cc bike, because the feeling you get is so much more. All of our colleagues felt the same way and we all concluded that the MT-25 feels more like a 400cc in terms of how it delivers its power at a high range paired with the sound it makes as you do so. In short, we were in awe of it. Truly.
Going to its design, it's definitely a bike that attracts a lot of attention. Our usual shooting spot was a bit busy that day with cyclists and most of them stopped and asked one of two questions in high interest. "What bike is this? Looks great!" and "Is that the Yamaha MT-25? *glimmering eyes*"
And it justifies our conclusion that the MT-25 really look good even at a standstill. Those sleek LED lights up front, wicked-looking fuel tank with those air intakes on the sides, a complete and very clear LCD meter display.
The only thing that sticks out like a sore thumb is that round horn under the headlight, which might look out of place, but we guess that the positioning is optimum for the rider's safety when they want to get the attention of other road users while riding. That, we can forgive.
Other things that we love about the 2020 Yamaha MT-25 are how smooth and light the clutch feels (but not too soft like some models in its segment), smooth shock-absorbing suspension, and a very precise braking system that delivers exactly how much you want when you apply the brake levers.
That feeling is further amplified with the addition of dual-channel ABS (which the R25 doesn't have) and it doesn't interfere too much when you apply the brakes hard. To us, it delivers just enough assistance in getting the bike to stop safely and quickly without too much interference. New riders will definitely want this in emergency situations.
Fuel consumption is not bad either as we clocked around 4.2 litres for every 100km. Paired with its 14-litre fuel tank, you can actually travel the distance before requiring stopping to refuel. That's perfect for those daily commutes to the office as well as some weekend fun up and down winding hill roads.
To conclude, the 2020 Yamaha MT-25 is wonderful to ride with good power delivery and a confidence-inspiring riding experience. Fast on the straights, smooth on the corners, very manageable in traffic jams, and quick to accelerate to its limited top speed of over 160km/h. If you ask us which bike is the king of the 250cc category, it would be this RM21,500 Yamaha MT-25 hands down. HANDS.DOWN.
Written by: Sep Irran