Motorcycle racing has always served up the most colorful characters.

When these characters get in each other's ways, equally colourful rivalries flare up.

It's these rivalries, among other things, that make motorcycle racing so interesting to watch.
The recent rivalry altercations between Valentino Rossi and Marc Marquez aren't new, that's for sure.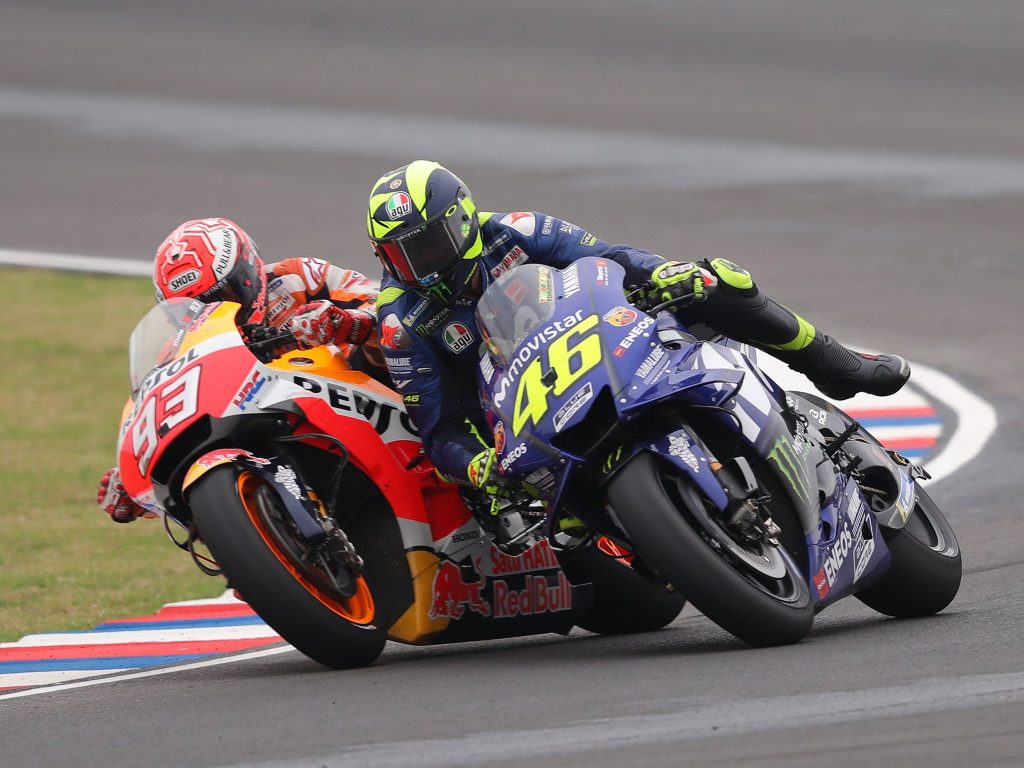 As PR-savvy as they are, professional motorcycle racers are humans too. And being humans, they are just as prone to emotions, or maybe even more so since they have their livelihoods and pride at stake. However, it's this kind of rivalries that provide the colours for us spectators.
10. Neil Hodgson vs. Aaron Slight, WSB, 1998
You may have heard of both of these names, since they are both now motorcycle racing commentators, especially Aaron Slight in MotoGP nowadays.
Just before the start of the World Superbike race at Brands Hatch in 1998, the New Zealander Aaron Slight told Neil Hodgson to get out of his way since he wanted to challenge Carl Fogarty for the WSB title.
First of all, Hodgson and Slight are not teammates, and secondly, how could Hodgson give way when he's riding on his own home ground. Neil ignored Slight's "team orders" and raced the latter hard in the race. Slight got so furious and lashed out at Hodgson during the cool down lap. Both men then dropped their super-exotic race bikes for a boxing match. The track marshals pulled them apart before WSB organizers could organize a new category for boxing.
Wait! Was this the reason Aaron Slight talks so slow now?
9. Loris Capirossi vs. Tetsuya Harada, 250cc GP, 1998
Aprilia had fielded a 3-man factory team consisting of Loris Capirossi, Tetsuya Harada and newcomer Valentino Rossi. Capirossi had led the standings with a mere four points as they went into the final round at Argentina, but Harada was as determined to win the championship and was leading the race. Capirossi knew he had no real chance of passing the Japanese. If it finished this way, Harada would be crowned champion by just 1 point.
Capirossi knew what he had to do. He lunged inside Harada and took both of them out, and stole the title.
Aprilia was livid and so was Harada, understandably. The factory refused to extend Capirossi a contract for the next year although he was the 250cc champion.
8. Dani Pedrosa vs. Nicky Hayden (RIP), MotoGP, 2006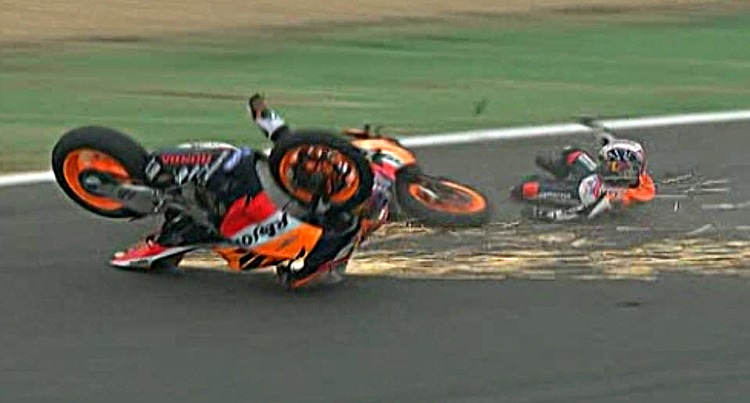 The late-Nicky Hayden had been battling with Valentino Rossi throughout the entire 2006 season. The latter had won five races but was sidelined a number of times due to mechanical failures on other times, but was still able to claw his way back from a 51-point deficit to challenge Hayden at the last two rounds.
But even at this stage, Hayden's teammate Dani Pedrosa was determined to not play the bridesmaid and was willing to go toe-to-toe with the American for a win.
At the penultimate round in Estoril, Portugal, instead of supporting Hayden, both teammates were locked in a fierce battle. Soon, the inevitable happened when Pedrosa stuffed his bike inside Hayden's, taking them both out. (That brash move even sparked a meme.)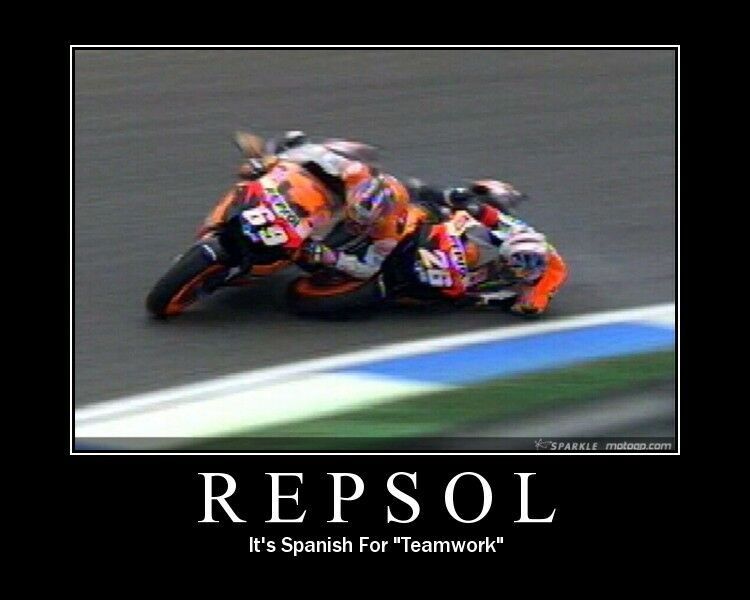 The Honda camp thought Hayden's chance for a world title was a cooked goose.
However, Rossi crashed at the next and final round in Valencia. He remounted to in 13th, handing the title to Hayden with a five-point gap, ironically reflecting the five points he lost to Toni Elias, the winner in Portugal.
7. Matt Mladin vs. Ben Spies, AMA Superbikes, 2000 – 2008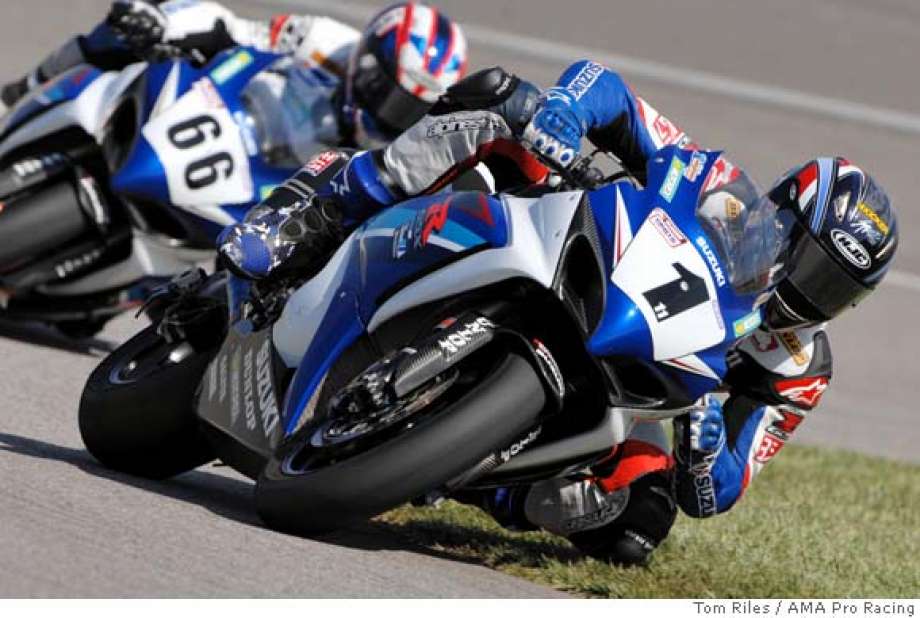 Australian Matt Mladin had dominated the American Superbike Championship but winning the title six years in a row, before a young upstart by the name of Ben Spies came along to show the way. Mladin felt humiliated and resorted to trash talking with statements such as, "He (Spies) still has his mom hanging around wiping his bum," in the hopes of unravelling Spies.
But Spies took it all in his stride and won three titles in a row, before moving to WSBK to win the title in his rookie season, and then jumping over to MotoGP.
6. Kenny Roberts Sr. vs. Barry Sheene, 500cc GP, 1978 – 1982
Barry Sheene had been the 500cc World GP champion until the arrival of a mad Californian who rides his bike sideways. Kenny Roberts.
Both riders took an immediate dislike of each other. Sheene was asked what he thought about Roberts being a development rider to which he replied, "He couldn't develop a cold." Kenny Roberts retorted by saying that the only reason he got out bed every morning was to beat Barry Sheene.
Their rivalry reached its zenith at the 1979 British GP when Sheene flashed Roberts the middle finger after passing the latter. Roberts fought back immediately and started an epic battle before getting the better of Englishman to win the race.
Stay tuned for Part 2 as we count down to the fiercest rivalries in motorcycle racing!