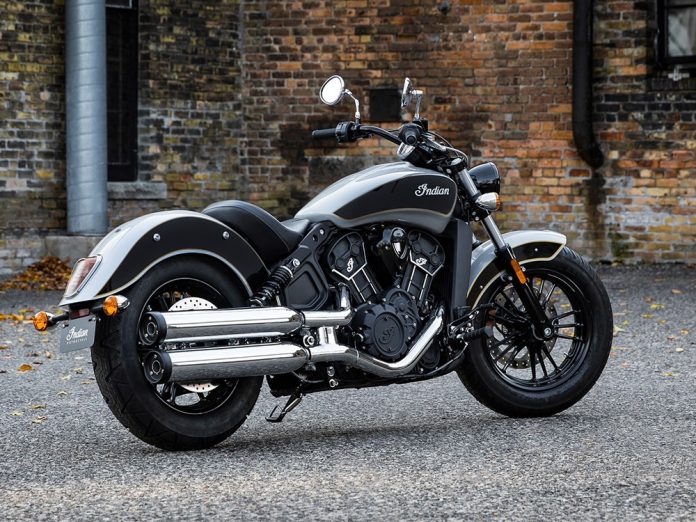 Indian Motorcycles have released their 2019 Scout line-up.

The updates include paint options and accessories.

The Scout, Scout Sixty and Scout Bobber should retain their competitive edge with the updates.
Indian Motorcycles have announced their updated best-selling Indian Scout range for 2019.
First and foremost, ABS (anti-lock braking system) is available for every model apart from the black Scout Sixty, Scout and Scout Bobber. Buyers of the Thunder Black colour version may opt for ABS or non-ABS. The Scout and Scout Bobber will also feature a USB charging port, located next to the speedometer for easy access to smart devices or GPS.
If already own the current version of the Scout, fret not, as Indian Motorcycles provides the USB Charging Port Kit which could be retrofitted to the 2015 to 2018 Scout or Scout Bobber and 2016 – 2019 Scout Sixty.
The 100-bhp, 69 cubic inch (1130cc), liquid-cooled V-Twin will now equip the Scout in Thunder Black, Deep Water Metallic, Metallic Jade, Indian Motorcycle Red over Thunder Black, and Willow Green over Ivory Cream colour options.
The 60 cubic inch (983cc), liquid-cooled V-Twin is blacked-out and will equip the Scout Sixty in Thunder Black, White Smoke, Ruby Metallic and Star Silver of Thunderblack colours.
Indian Motorcycles also offers a comprehensive accessories line-up. In the Scout touring accessories side, there are bags, passenger seats, windscreens. For upgrading the Scout's performance, there are Fox Shocks, Stage 1 slip-on exhaust and air intake. There are also accessories to customize the Scout to reflect the rider's personality such as seats, handlebars, foot controls and so forth.
The 2019 Indian Scouts will be released first in the US before making their way to the rest of the world.