The UCLEAR AMP GO helmet audio system connects via Bluetooth.

It worked seamlessly throughout our initial testing.

It is also very attractively priced at just RM 600.
Being used to having a Bluetooth in-helmet headset for three years, I could never ride comfortably without one. Having one makes riding a whole lot more entertaining and relaxing, if not the convenience while on-the-go.
Of course, there are many "Bluetooth helmet audio system" maker these days, so choosing the right one saves you money and aggravation.
From our neighbours in Singapore is UCLEAR Digital. The Malaysian and Singaporean distributor, Hodaka Motoworld provided a couple of sets of the flagship AMP GO system to try out.
First and foremost, it was apparent that the UCLEAR had simplified the AMP GO. A set consists of:
Control unit.
Pair of Boost Plus stereo speakers.
Permanent helmet mount.
Temporary helmet mount.
Two Velcro pads.
USB charging cable.
Quick Start Guide.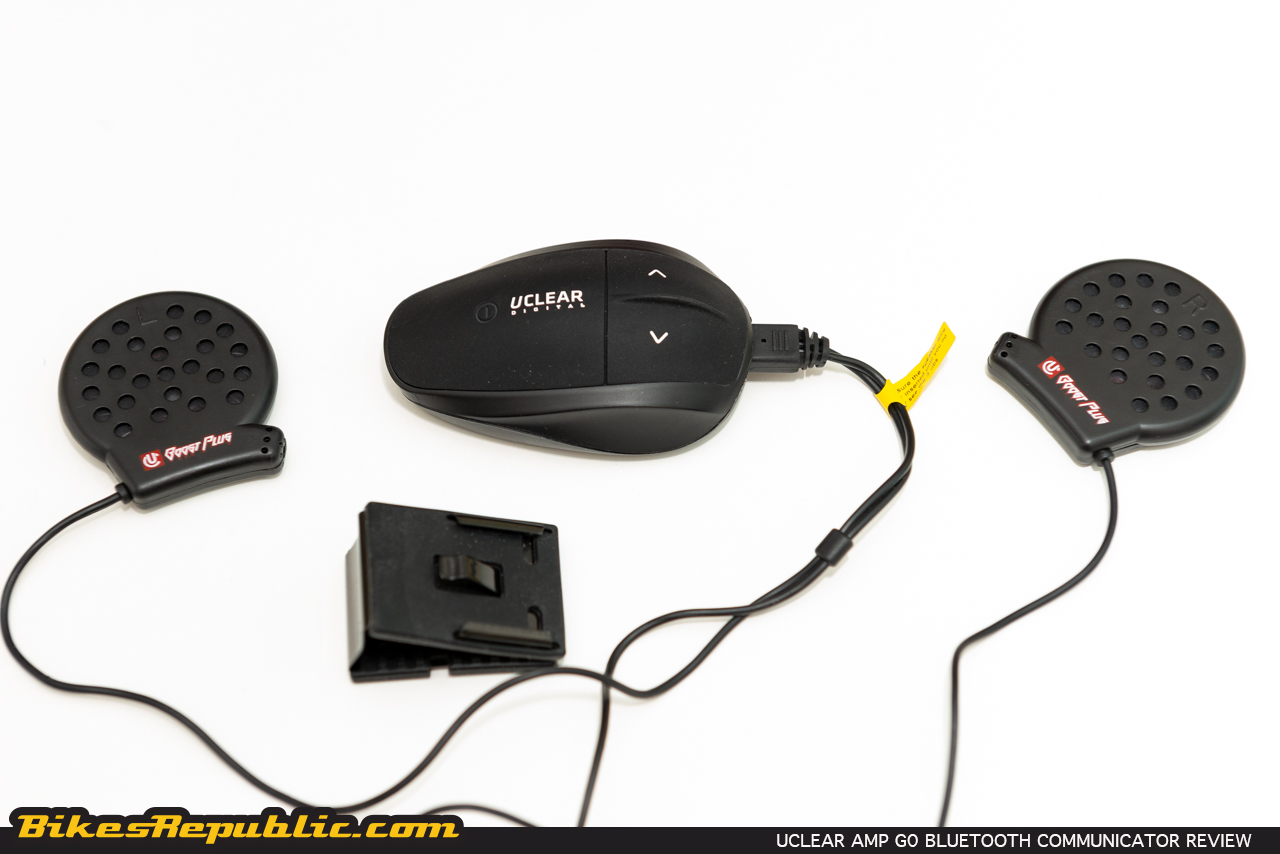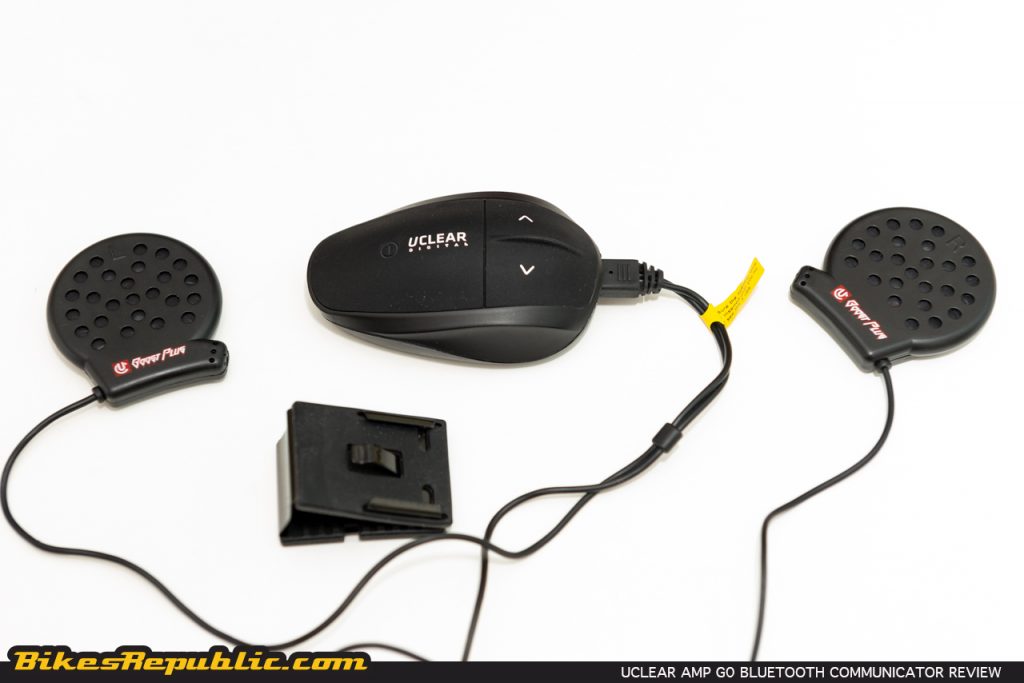 However, there is no microphone boom nor "button" microphone, as they are stereo and built into the speakers.
The sets were provided to us at the right time, as we rode the three variants of the four-cylinder BMW S-Series bikes to Cherating for a company getaway.
Installation was very easy and straightforward, even for first-time users, as there were fewer parts to fuss about. The control unit was equally easy to mount as it was just a clip.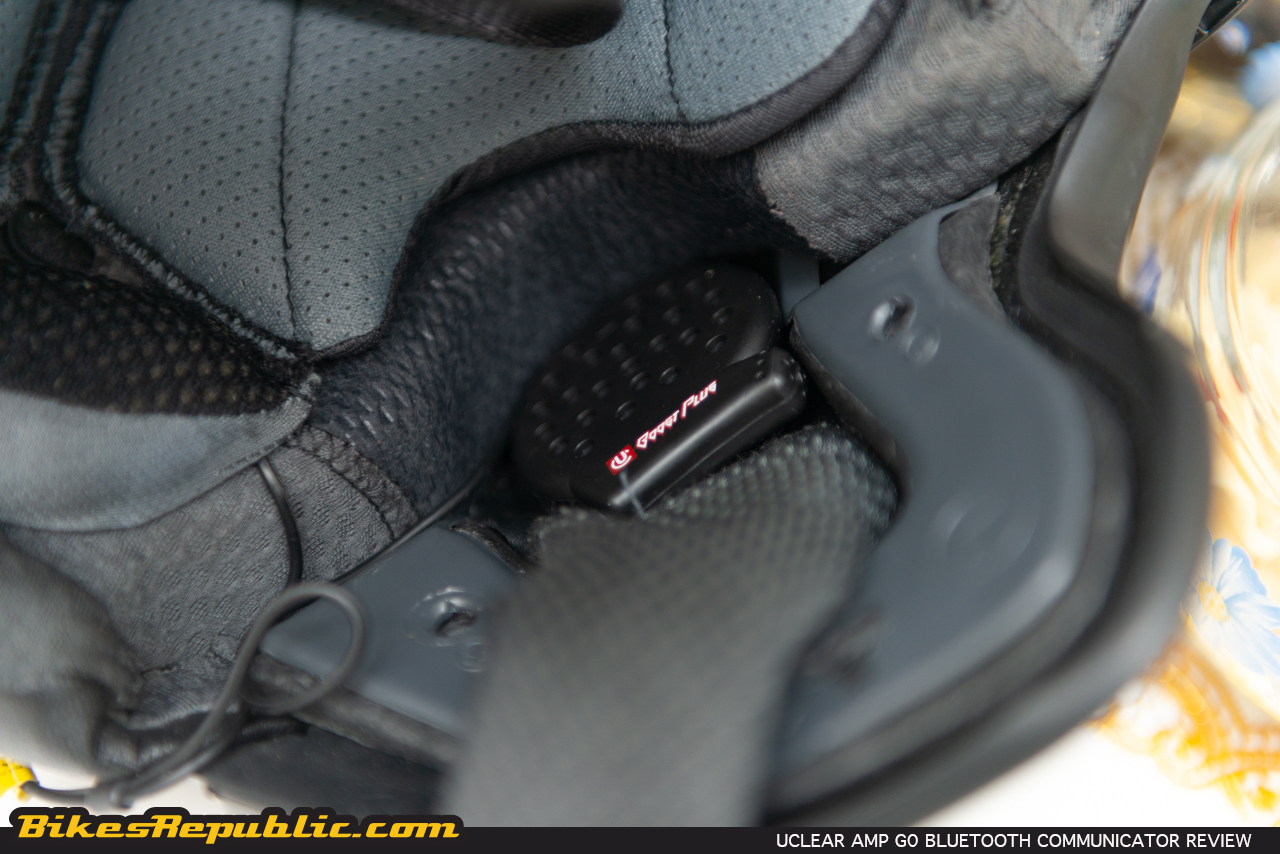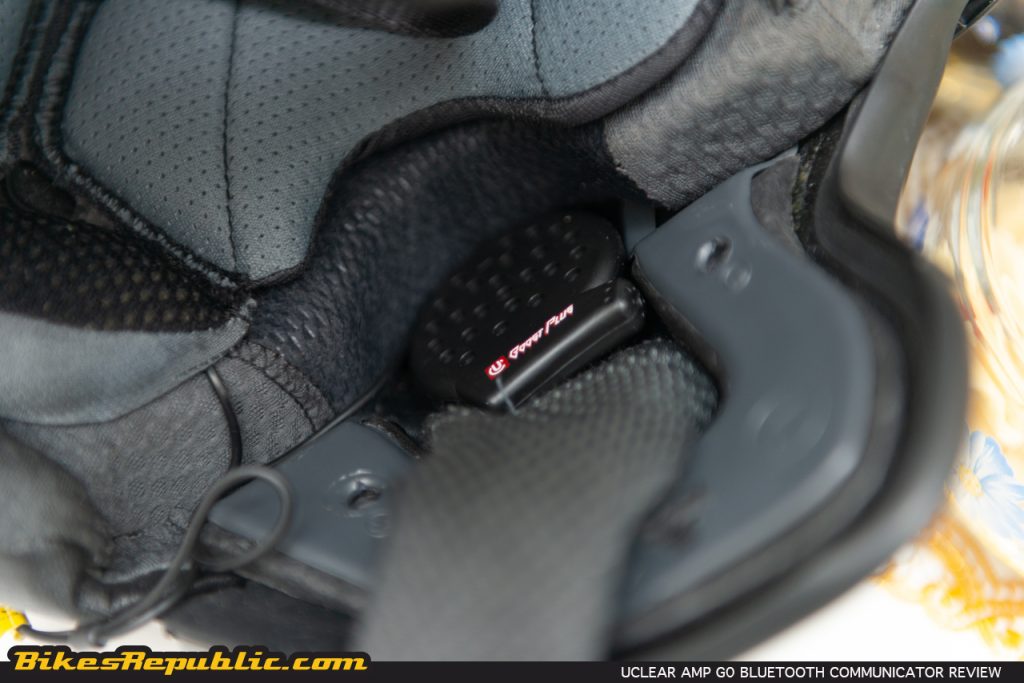 Pairing via Bluetooth to our phones was easy and especially fast, considering that the iPhone's iOS is finicky about connecting to non-Apple devices. Pairing the two control units for intercom communication was also fast and easy.
The speakers were loud(!) as soon as we streamed music from our phones. But it's not just about being loud, there was plenty of bass, treble and clarity – we could hear each word and each note with the helmet on the table.  This is important especially when riding at speed and with earplugs in.
With the BMW S 1000 R at hand, I tested the UCLEAR AMP GO from slow city speeds to (crazy) high speeds right away. The sound level stayed consistent throughout, as the volume is controlled seamlessly according to ambient sounds i.e. it increases when your speed rises and decreases when you slow down.
The three buttons on the control unit were also easy to feel through our gloves. I've tried doing so through thin summer gloves and thick full-leather racing gloves.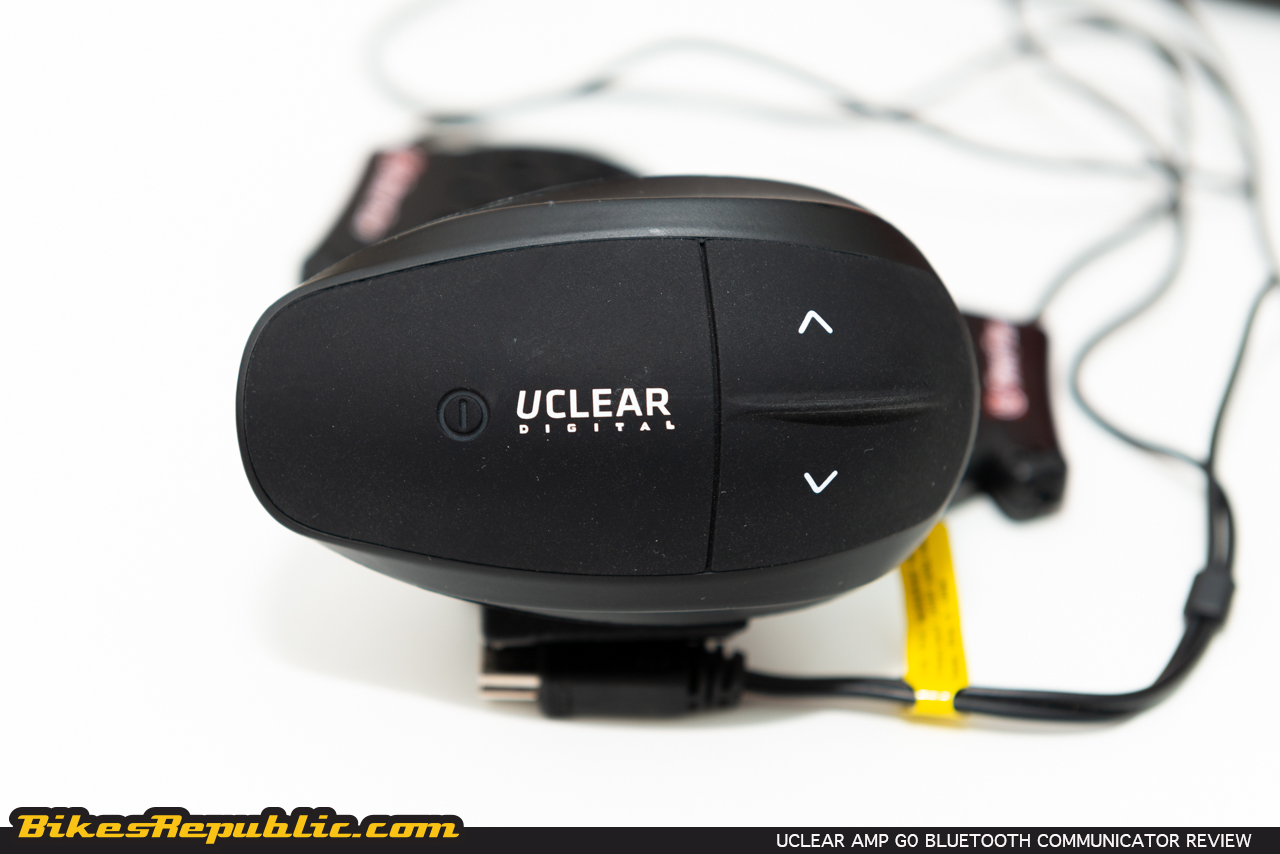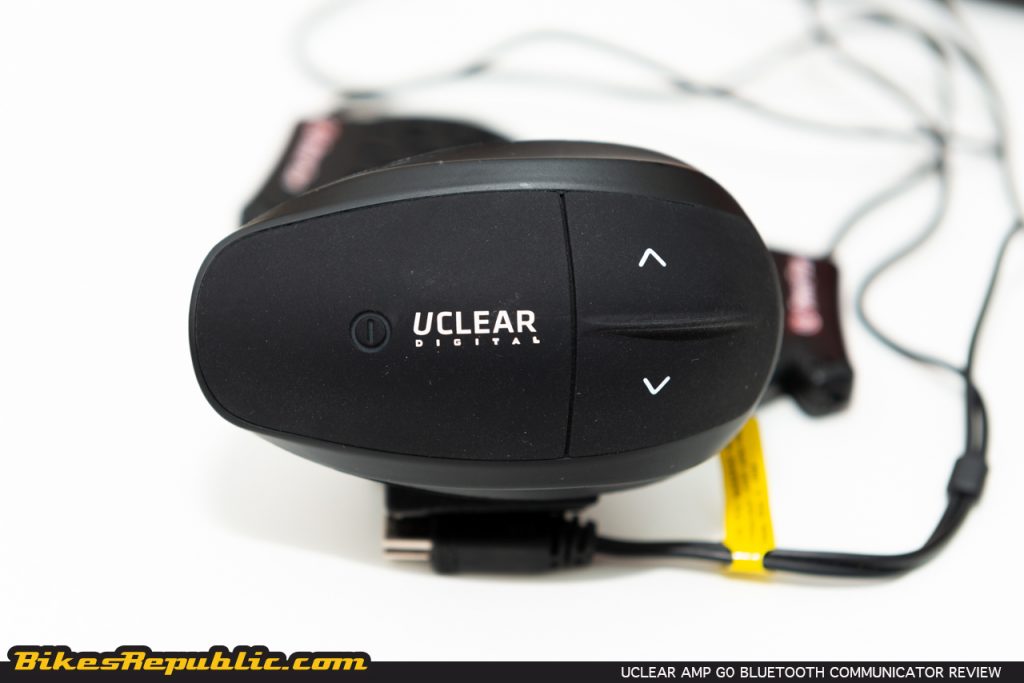 During our ride, Keshy was about 200 metres ahead of me on the S 1000 XR, when one of us mistakenly activated the intercom function while travelling at nearly 200 km/h. Although there was wind noise (there's bound to be at this speed!), we could still hear each other's voices clearly, showing that the unit's auto noise-cancelling feature worked. Besides that, our concerns about not having a boom microphone were allayed, as the AMP GO triangulates our voices' sweet spots to deliver clear speech.
UCLEAR advertised that the AMP GO has a maximum range of 200 m, so I let Keshy ride further and further ahead. We only broke contact when he was a dot on the horizon, but we were conversing again almost as soon as we were back in range. The intercom function can connect up to four units.
Apart from that, I could hear the music clearly at all times, even through the Alpine MotoSafe Tour earplugs (also available from Hodaka Motoworld). These special earplugs filter out harmful noises such as roaring and whistling wind noises but allows conversations, traffic and your motorcycle's engine sound through.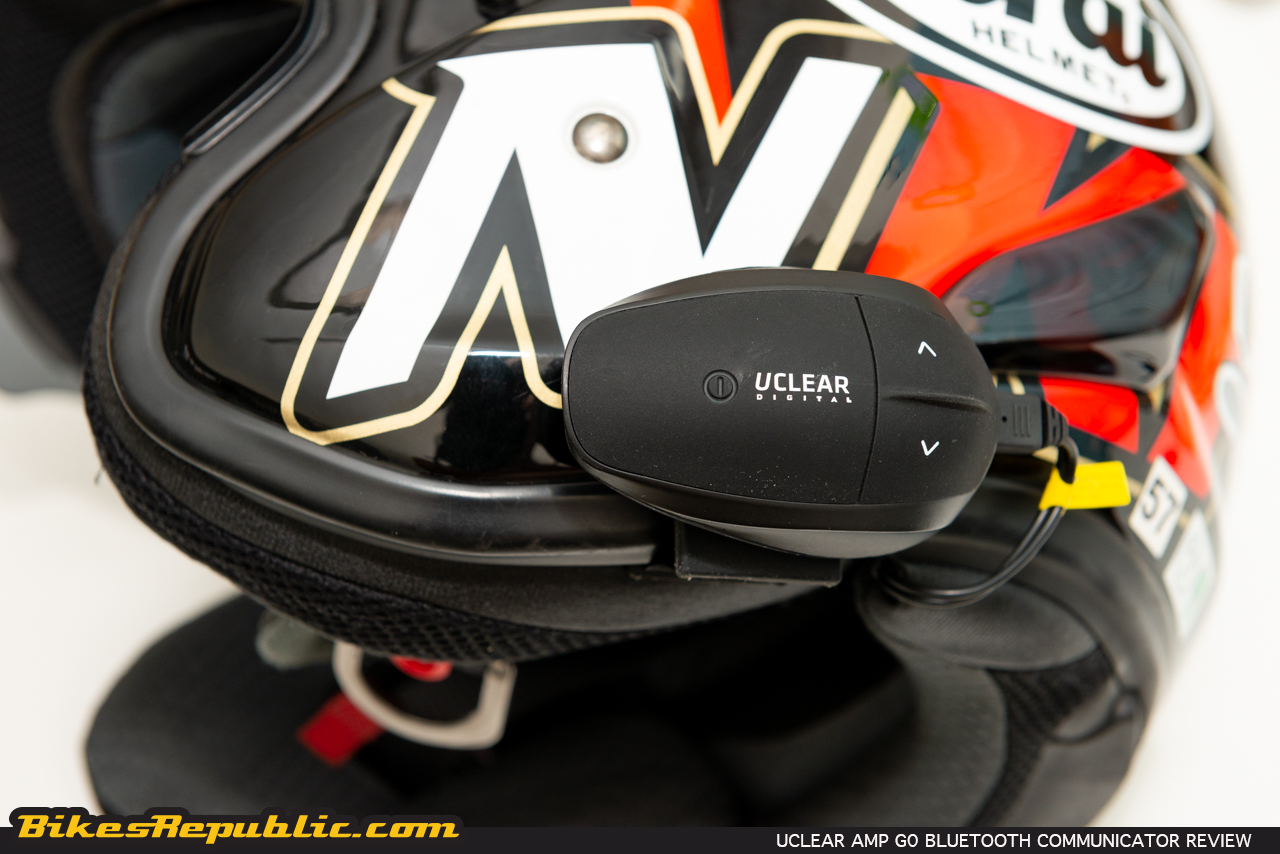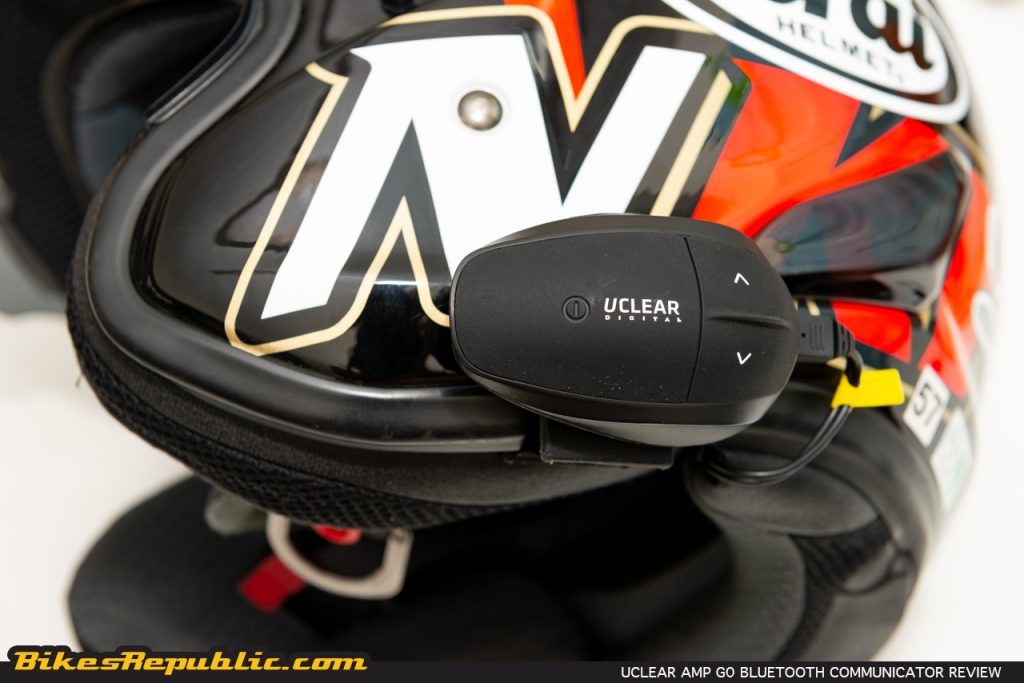 We thought we had escaped from the rain during our ride, but a wall of rain awaited us as soon as we passed the Gombak Toll Plaza. It was so heavy that it overwhelmed my helmet's anti-fog insert within minutes, rendering me almost sightless. However, the UCLEAR AMP GO kept going and not a drop of water got inside through the cable connector port.
We've since ridden around with the UCLEAR AMP GO without fail and it dawned on us that its battery lasts a long time. I only had to charge my unit after we had ridden to and returned from Cherating, plus another four days of commuting and riding. Even then, there was still 5% to go.
Any shortcomings?
The audio kept cutting in and out while riding in the city after the initial installation (perhaps due to interference). However, I discovered that the unit required a firmware update after I downloaded the app (called CLEARLink). It has never cut off again after the update.
Speaking of the app, while you do not need it for music streaming and phone call functions, it is best that you download and install it in your phone. The app allows you to check for the latest firmware and provides total control over the configurations of the unit, such as auto volume, bass boost, voice answering, and more. You can also find the full owner's manual there.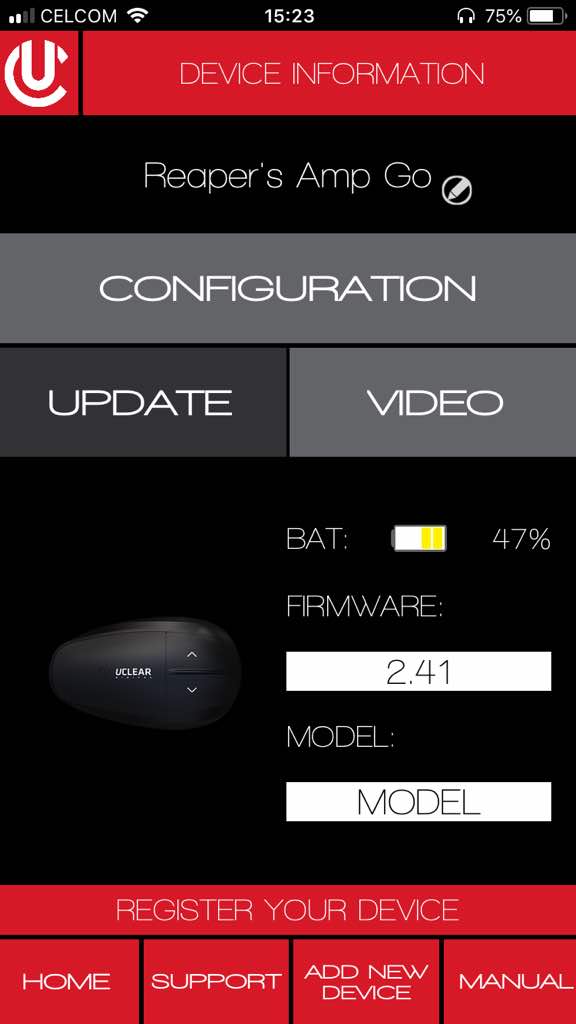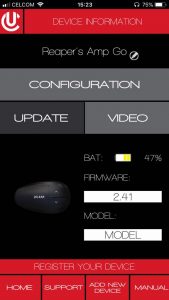 In conclusion, we love the UCLEAR AMP GO. It's easy to install, simple to use, has great audio, connects to our devices quickly, the intercom works as claimed, weatherproof, and long-lasting power.
But there's one important advantage of the UCLEAR AMP GO. With all its great features and functionality, it is attractively priced at just RM 600. That is unbeatable for a top-of-the-line Bluetooth helmet audio system.
Visit Hodaka Motoworld to get yourself a set. You may also visit Hodaka Motoworld's Facebook page see more products.
UCLEAR AMP GO TECHINCAL SPECIFICATIONS
| | |
| --- | --- |
| Bluetooth: | V4.2 (BR/EDR/BLE), Class 1 |
| Profiles: | HSP, HFP, A2DP, AVRCP, Intercom |
| Group Intercom: | Full duplex up to 4 users |
| Range: | Up to 200 metres per user |
| Battery: | 3.7V lithium-ion |
| Talk Time: | Up to 10 hours |
| Standby Time: | Up to 400 hours |