Official notification from Hong Leong Yamaha Motor (HLYM) Malaysia
Attention to all Yamaha R25 owners, Yamaha Motor Co. Ltd., Japan has made an announcement regarding a recall plan for the Yamaha YZF-R25 motorcycles. This is due to issues found related to the ignition switch and fuel tank bracket.
Note that this is only to notify all Yamaha R25 owners in Malaysia regarding the issues and to ensure the best of after-sales service, HLYM will come up with their own official announcement via their official website and also through the Yamaha Authorised Dealers on how they will initiate the recall process. Below is the official notification from the HLYM website.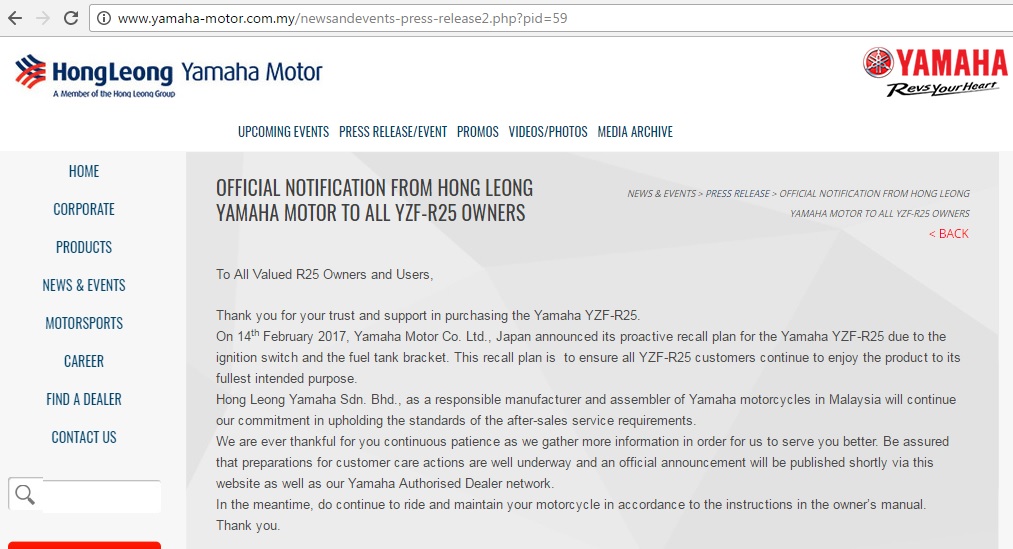 This is actually the second recall made by HLYM. The first recall back in 2016 was made due to two affected specific components: the clutch pressure plate and oil pump assemblies. Although there were no reports worldwide of these faulty components causing any incidents, HLYM together with their Japanese counterpart will be taking every precaution to remedy everything that has been deemed faulty to ensure the safety and satisfaction of their customers.
Stay tuned to Bikes Republic for more updates.