The second MotoGP round saw yet another unfortunate crash from Ducati's Andrea Dovizioso which was caused by someone else

Aleix Espargaro (Aprilia Racing Team Gresini) took Dovi out while attempting to overtake but lost the front while doing so

Although clearly Espargaro was in the wrong, Dovi blasted Danilo Petrucci for riding recklessly that led to the incident between him and Espargaro
In the last MotoGP round that happened a couple of days ago at the Termas de Rio Hondo circuit held in Argentina, there were a few unfortunate incidents that led to some of the high profile riders to exit the race prematurely. One of the more unlucky folks was none other than Ducati's Andrea Dovizioso.
Due to poor tire performance which affected most of the riders, Dovizioso was taken out when Aleix Espargaro tried to overtake in the latter half of the race. During the manoeuvre, Espargaro lost control of his Aprilia RS-GP and hit Dovizioso that ended both races earlier than expected.
The situation was somewhat familiar as the same thing happened at the very same circuit last year when his former team mate, Andrea Iannone, did the same thing to him at the very final lap which caused both riders to lose podium finishes.
According to Motorsports.com, it was stated that Dovi believes that the events leading to the crash was the main cause as he pointed out to a particular OCTO Pramac Ducati rider, Danilo Petrucci. Dovi strongly believed that Petrucci was riding irresponsibly and recklessly due to performance issues related to the rear tyre.
"When I was behind Danilo and he had finished completely the rear tyre, he was riding in a bad way," said Dovizioso. "He stopped a lot of riders, braking in a strange way, I think too much. Everybody tries to use his style, but in the way he uses it, it was very bad. I tried to overtake him inside and he braked later and closed the door,"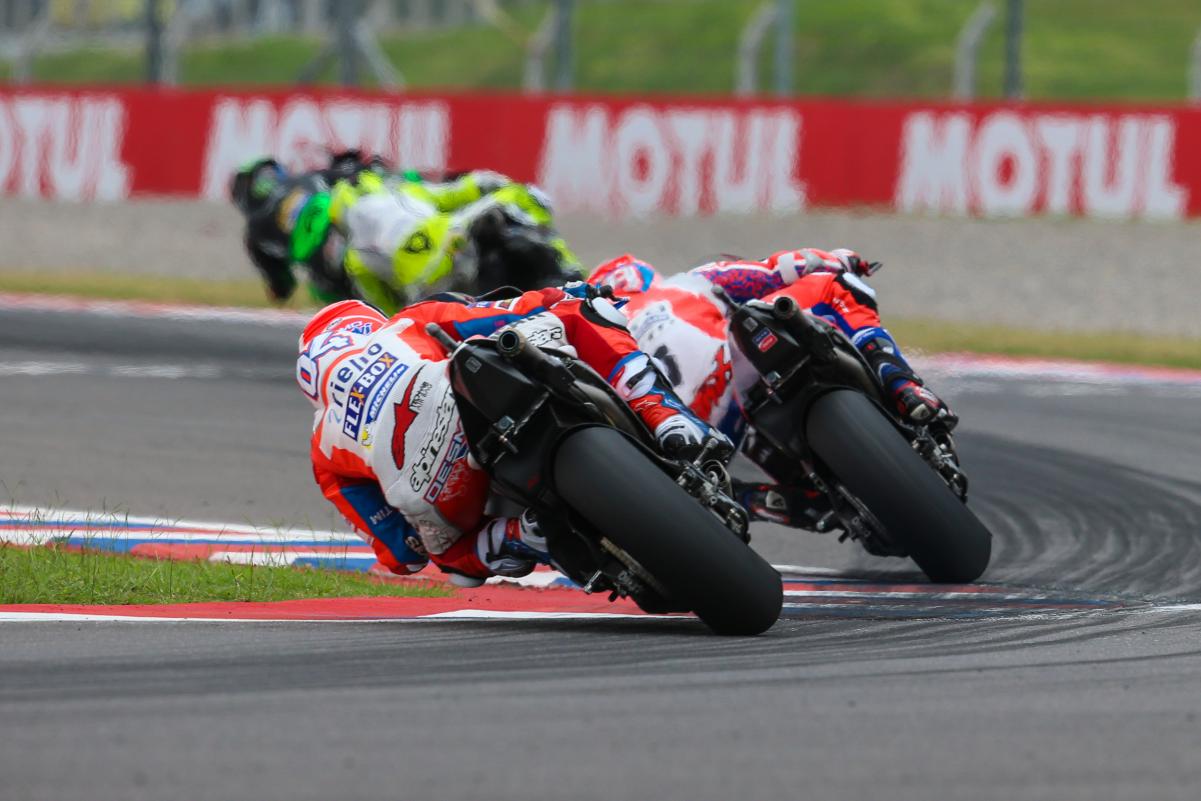 "Like this it's very bad because you don't give the possibility to do something. You can't brake like him, he's heavier and he's able to brake harder, this not fair. It wasn't over the limit, but this is not fair. That created the crash.
"I almost hit him, and Aleix made a mistake for that manoeuvre. For sure the mistake was from Aleix, but everything leading up to that was Danilo."
Danilo Petrucci finishes the race in seventh, more than 20 seconds behind race winner, Maverick Vinales of the Movistar Yamaha MotoGP outfit. [button color="" size="" type="round" target="blank" link="https://www.bikesrepublic.com/featured/motogp-vinales-wins-marquez-pedrosa-lorenzo-dovizioso-crashed/"]CLICK HERE[/button] to read the main highlights of the race.
Photo source: MotoGP