Renowned Austrian bikes brand KTM have confirmed plans to introduce its E-SPEED electric scooter into its line up for 2015. The orange-liveried firm's upcoming 1290 Super Duke is also reportedly inching closer towards production. 
Convinced of the potential success of electric mobility in urban areas, the KTM E-SPEED will become the firm's second ever all-electric model to be introduced after the Freeride E dirt bike that will arrive earlier in 2014. KTM executive board member for production and business development Harald Plöckinger further added, ""The E-SPEED is our interpretation of emission-free propulsion for city use, but without compromising the design and sportiness of our KTM genes!"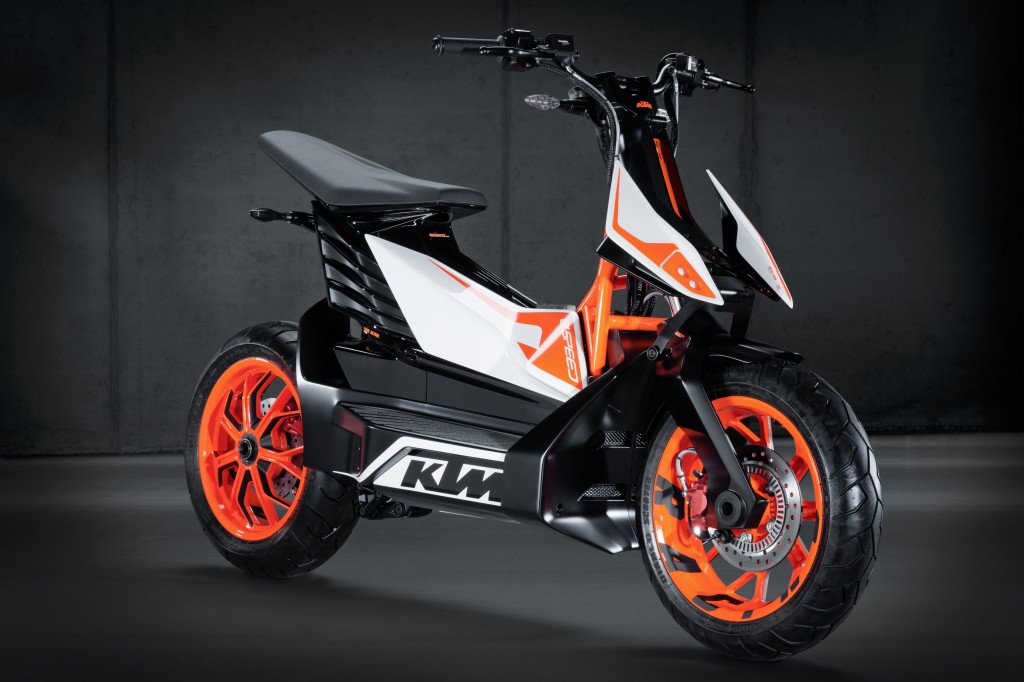 Something many fans have waited long for, the Freeride E was first seen in 2012 as was expected to be offered alongside its petrol-powered 350cc siblings. However, KTM spent some more time to develop the Freeride E's electric drive system, battery life, and supporting components before launch. The E-SPEED scooter will have a similar system integrated in its frame.
KTM 1290 Super Duke R concept prototype.
While the firm appears to be ecstatic to announce its zero-emissions vehicles launch dates, KTM has kept a tight lid on the development of its upcoming 1290 Super Duke. The highly anticipated super-naked' based on the menacing KTM Super Duke 1290 R concept prototype is reportedly very close towards mass production.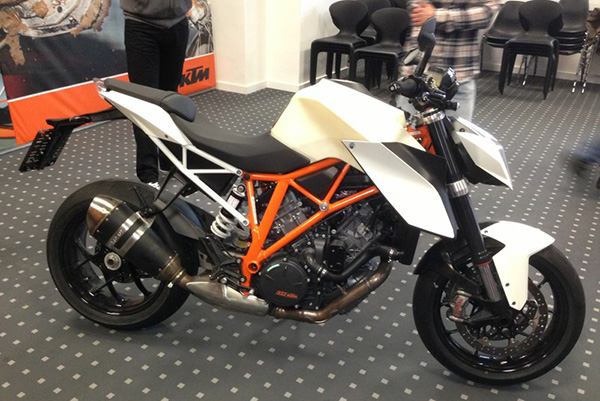 This spyshot (above) posted on the superduke.net online forum appears to be legit, showing a few alterations in its design as compared to the concept. The image does show that the concept's dual exhaust has been replaced with a singular unit, as well as the concept's WSB-spec front shock absorbers replaced with conventional oil-dampened types.
Some sources also report that the production bike will have much more 'realistic' power figure of 160bhp churned out from bored RC8 engine. Reports indicate that the power output will be aided by a traction control system as well. The final production version of the 1290 Super Duke R is expected to be unveiled at the annual EICMA show towards the end of this year.
Until then, we can only speculate and wait. We took the effort to post the 1290 Super Duke R concept prototype video presentation made by KTM below just to give you an idea what the production bike was envisioned to be.