TV sitcom Happy Days portrayed the ideal American life in the 60's.

One memorable character was "The Fonz."

He was shown posing on a 1949 Triumph TR5 Trophy which was auctioned last month.
Long before The 70's Show celebrated life in the Baby Boomer, another TV sitcome called Happy Days celebrated the Swingin'-60s. Some of you may well remember a colourful (well, black leather is colourful for us bikers) character called Arthur Herbert Fonzarelli (played by Henry Winkler), better known as "Fonzie" or just "The Fonz."
The intro of the show had The Fonz posing on a motorcycle, with his signature pose and "Ayyy" tagline. Other characters included "Richie Cunningham" which was played by a certain Ron Howard.
Fonzie and the Triumph were so famous that they even sparked a model kit.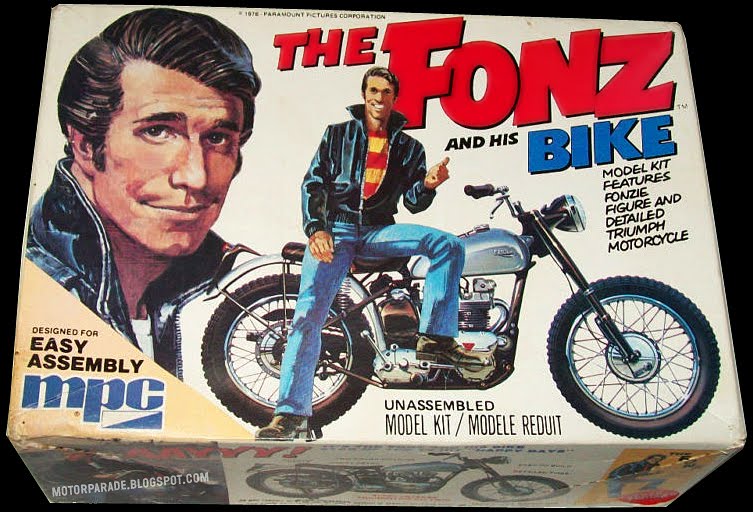 That motorcycle The Fonz posed on was a 1949 Triumph TR5 Trophy, when it was not too unlike the Bonneville but focused more on all-terrain riding. Yes, before the Trophy became a tourer. It was made from 1949 to 1958, powered by a 498cc OHV parallel-Twin.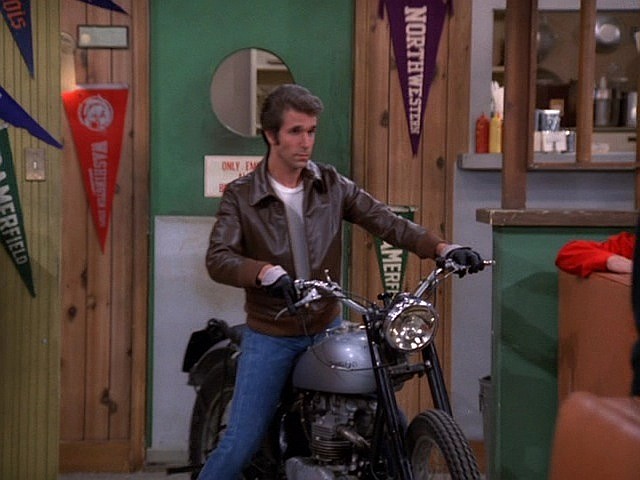 Although The Fonz epitomized the 50s/60s cool of being on a bike, Winkler didn't actually know how ride very much. Hence, he was only filmed mostly posing on the bike and riding it a little; the sound of a motorcycle was inserted during scenes when he arrived at the Cunningham house. There were three bikes used for the show, but Winkler preferred the Triumph because it was the lightest (easier to balance).
On a side note, this particular Triumph wasn't any other Trophy, as it was customized by Bud Ekins. Yes, the stuntman who stood in for Steve McQueen's heroic and iconic motorcycle jump over the fences of the PoW camp on a Triumph TR6, in the movie The Great Escape. Ekins customized The Fonz's TR5 Trophy with a silver paint job, new handlebar and removed the front mudguard.
The bike was part of an exclusive Julien's Auctions Hollywood Legends auction at Planet Hollywood in Los Angeles last month. Other items included Han Solo's blaster from Return of the Jedi, the Evil Superman suit from Superman III, a 1969 Harley-Davidson Electra Glide owned by Marlon Brando and a 1987 Harley-Davidson Heritage Softail Classic, among other legendary Hollywood paraphernalia.
Fonzie's Triumph was expected to fetch between $100,000 to $200,000. The hammer fell on S179,200.