Shell Malaysia welcomes back all of their customers to their petrol stations nationwide with some extra rewards via their latest #AkuRindu campaign. Four special offer awaits customers who are getting back on track after the long MCO period to curb the spread of COVID-19 here in Malaysia.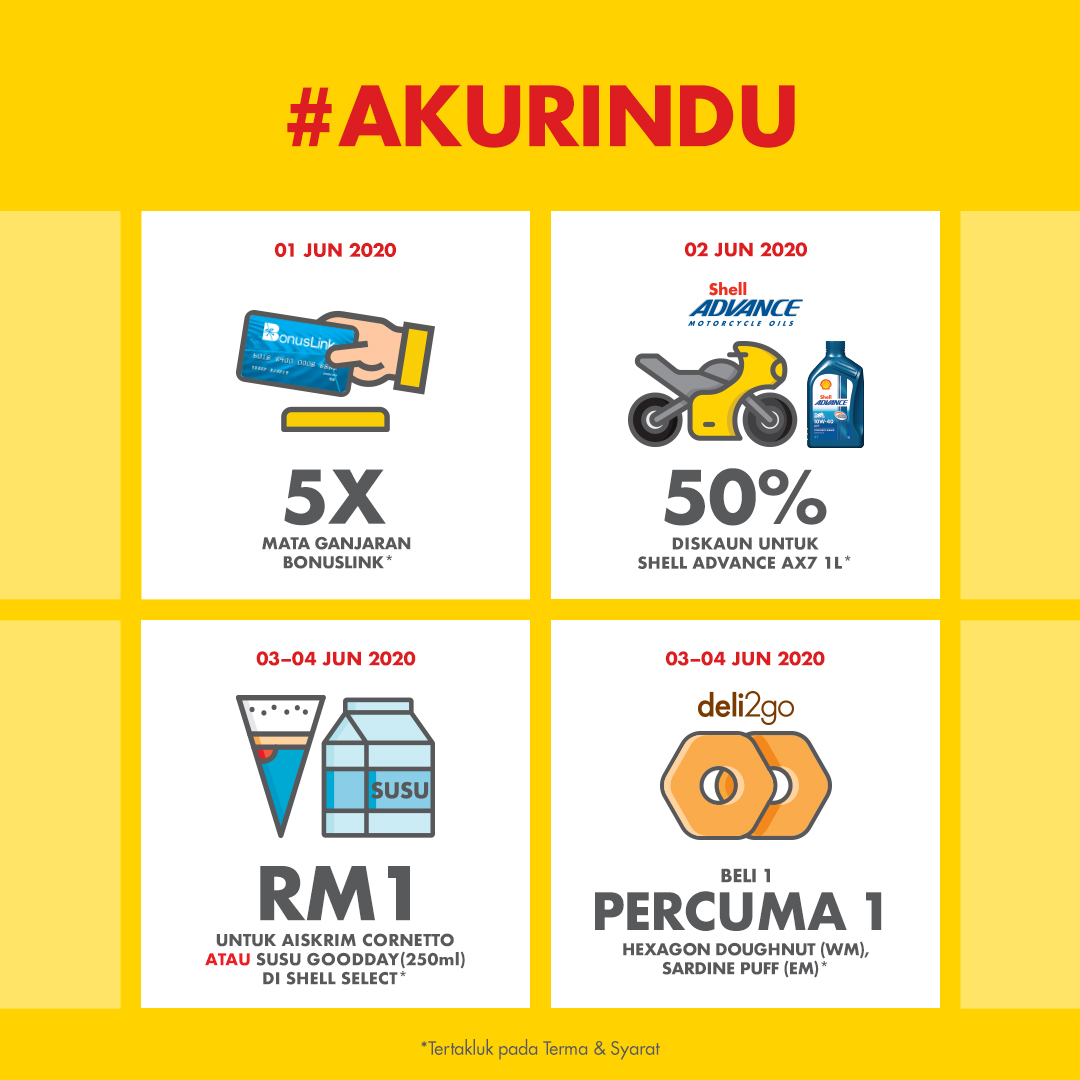 According to Shairan Huzani Husain, Managing Director of Shell Malaysia Trading Sdn Bhd and Shell Timur Sdn Bhd, "COVID-19 has been a challenging time for everyone, impacting all aspects of our lives including our health, travel, lifestyles, and most importantly our livelihoods. Now as the nation inches closer towards recovery, we see signs of Malaysia coming back to its feet as people become acclimatised to the new normal."
"At Shell, we would like to say, 'Welcome Back!' to all Malaysians, and we are offering a few special rewards at all of our stations nationwide to thank customers for their support. We hope our #AkuRindu campaign helps customers recharge, renew, and reap extra value so they can go well on all their journeys, wherever they may go," added Mr Shairan.
From 1-4 June 2020, Shell customers can take advantage of different special offers conducted daily, which are:
1 June 2020 – Enjoy 5X BonusLink Points for every (1) litre of fuel purchased
2 June 2020 – 50% discount on any Advance AX7 Motorcycle Oil (limited to first 10 customers)
3 & 4 June 2020 – Purchase a Cornetto Ice Cream (Vanilla or Chocolate) or Goodday Milk (Full Cream or Chocolate, 250mL) for only RM1.00 each + "Buy-1-Get-One-Free" offer at Deli2go
For more information, head over to www.shell.com.my/AkuRindu. Terms and conditions, apply.