After the unfortunate downfall of Norton Motorcycles in 2020, the prospects for the company's promising range of 650cc twin-cylinder models seemed bleak.
The Atlas Ranger scrambler, Atlas Nomad retro-roadster, and the Superlight sportbike were poised to make waves, but the company's collapse put a halt to those plans.
Zongshen to revived Norton's 650cc twin-cylinder engine with a new roadster. 
Nevertheless, the resilient spirit of the Norton twin-cylinder engine refused to fade away. In a remarkable turn of events, the rights to this modern marvel were licensed to China's Zongshen, a well-respected player in the motorcycle arena. Armed with determination, Zongshen embarked on a journey of redevelopment, breathing new life into the engine that had once stirred the ambitions of motorcycling enthusiasts worldwide.
The result? The awe-inspiring Cyclone RX650 adventure bike, which recently debuted in the Chinese market, capturing the essence of Norton's original vision. With a power output of 71hp @ 8,500 RPM and a peak torque of 52Nm @ 7,000 RPM, this reincarnated twin-cylinder engine stands apart in the crowded realm of similarly sized twins.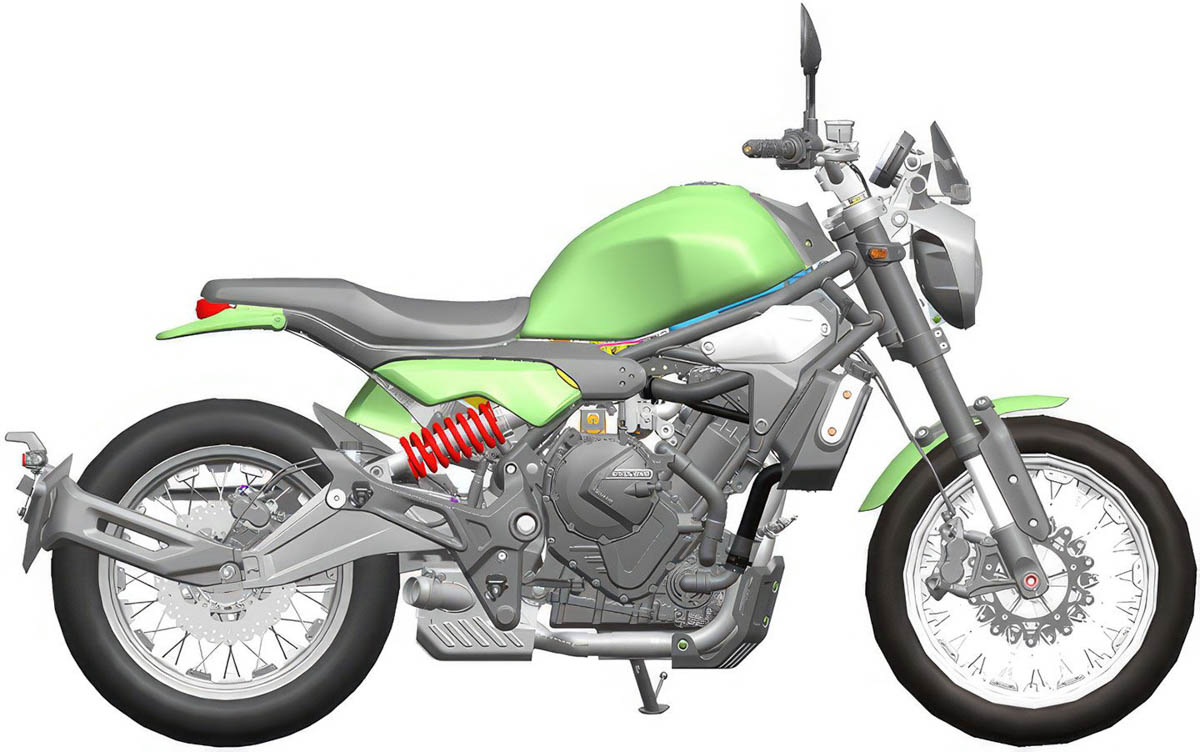 But the story doesn't end there. Zongshen's ingenuity has given birth to an enlarged 850cc version of the engine, promising even more power—98 horsepower and 80Nm of torque. The possibilities of what this revived engine can achieve seem boundless.
As for the design, the Cyclone RE650, an homage to Norton's legacy, exudes a retro-inspired charm. The trellis-style steel frame pays homage to the RX650 adventure bike, while a genuine aluminum alloy swingarm and KYB upside-down fork contribute to the bike's poised and modern appeal. The symphony of elements—wire-spoked wheels, an LED headlight, and meticulous proportions—creates a fusion of timeless aesthetics and contemporary sophistication.
One cannot overlook the eccentric asymmetry of the design, a clever nod to the flat-track heritage. The left side sports a distinctive side panel reminiscent of a number board, while the right unveils the rear shock in a bold fashion. An air intake on the left adds an element of intrigue that's absent on the right, adding to the mystique of the Cyclone RE650.
Zongshen's reputation in the industry speaks volumes, standing alongside esteemed brands like CFMoto and Qianjiang. The company's association with Piaggio has yielded fruitful collaborations, including the recent RA900 V-twin roadster—a product of Zongshen's creativity and the engine from the Aprilia Shiver 900. And the excitement doesn't stop there; whispers of a reborn Aprilia Shiver, under the Gilera banner, echo in the air.
(Source: Cycle World)