The BMW R nineT Racer is the café racer of the R nineT family

It's a modern retro which draws its lineage to the R90S

Good handling, torquey engine and great looks are its hallmark
I once dated a girl who was gorgeous, smart and independent, all-in-one. We've had so much to talk about, so much to share, including our passion for movies, music, the high life and motorcycles.
She was quite tall, had a nice chassis with the right dimensions in the right places. When she smiled, her lips curved bewitchingly. When she looked at me, those eyes burned straight through to my soul, eliciting primal desires I never thought I had.
Everywhere we went, other men would stare unabashedly. They didn't even bother to grab serendipitous glances at her. I could "read" what was in their heads. Jealous? Yes. Yet I felt proud that she was holding tight onto my arm. Yeah, look all you want, bud, she's mine. Imma playa and I play for keeps. Nyah nyah.
What more could a man ask for right?
Behind closed doors, on the other hand, it was all her. My opinions never mattered. I gave up on seeing my friends only to find her out partying with hers when I returned home.  I bought her the most expensive I could afford, but it wasn't enough. She complained wherever I brought her, nevermind it cost RM400 for a dinner.
But all those heartaches turned into meaningless gripes as soon as she smiled, and especially when I see the look on the faces of other guys when I'm with her.
What is it with tough love?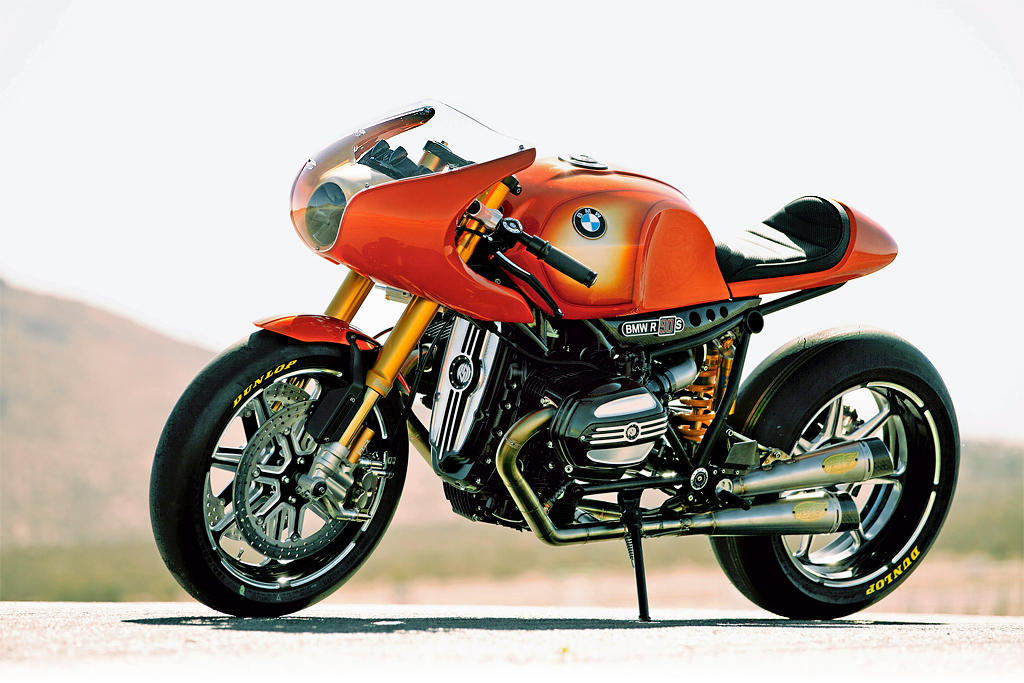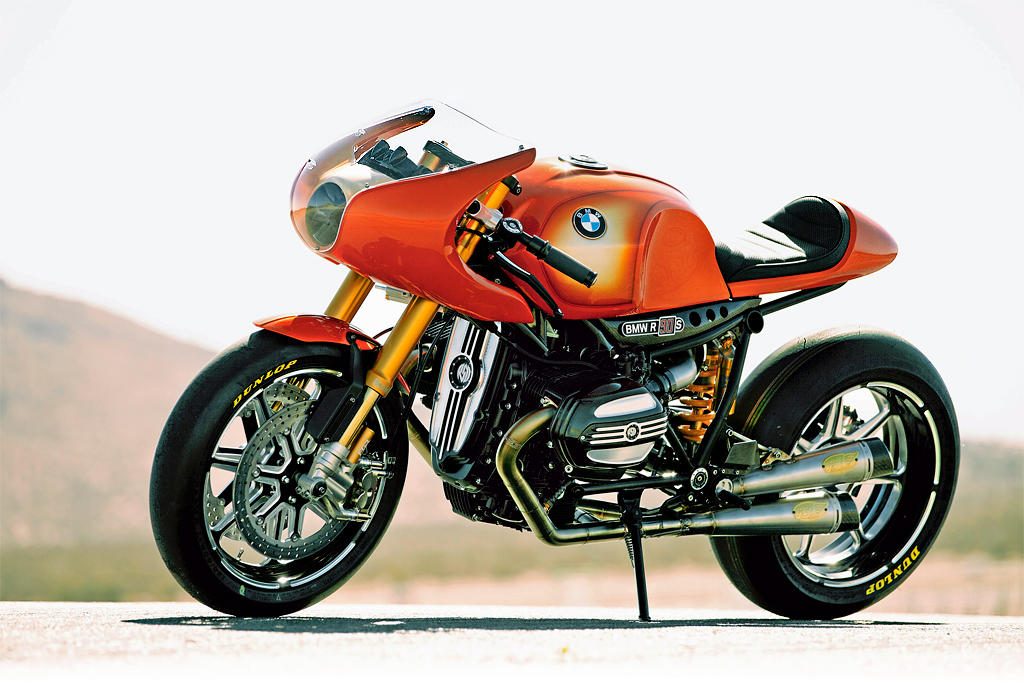 When BMW Motorrad's chief designer Ola Stenegard approached Roland Sands to "do a BMW," the famed customizer built the Concept 90 Prototype which drew inspiration from a famed BMW roadracer, the R90S.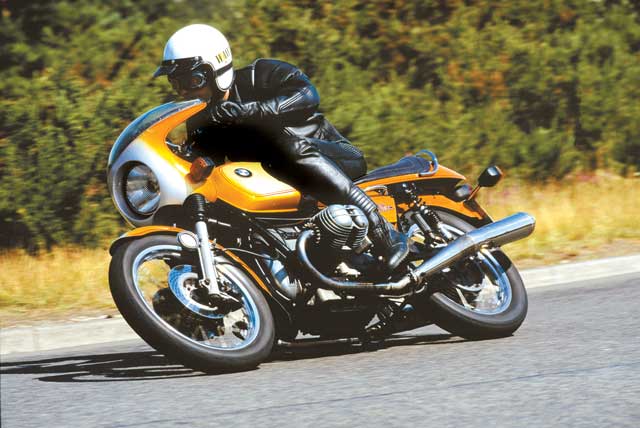 We were excited when we saw the R90 Concept, resplendent in that classic metallic orange paint, retro half-fairing housing a single round headlight. But when production of R nineT got underway, we wondered if BMW Motorrad will ever produce a café racer like the R90 Concept.
Well, here it is. The BMW R nineT Racer, complete with a frame-mounted half-fairing, clip-on handlebars, small seat, seat hump, and vintage BMW Motorsport paint scheme. Each component seemed to enhance the beauty of another.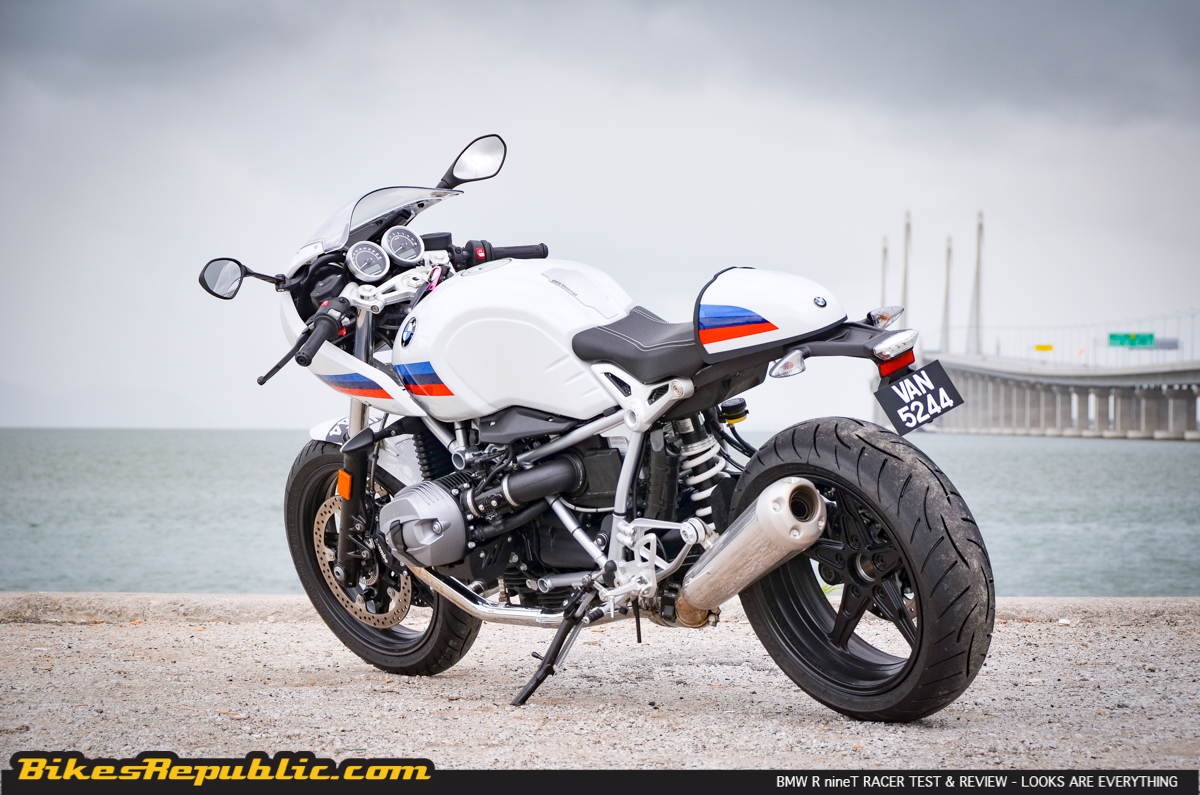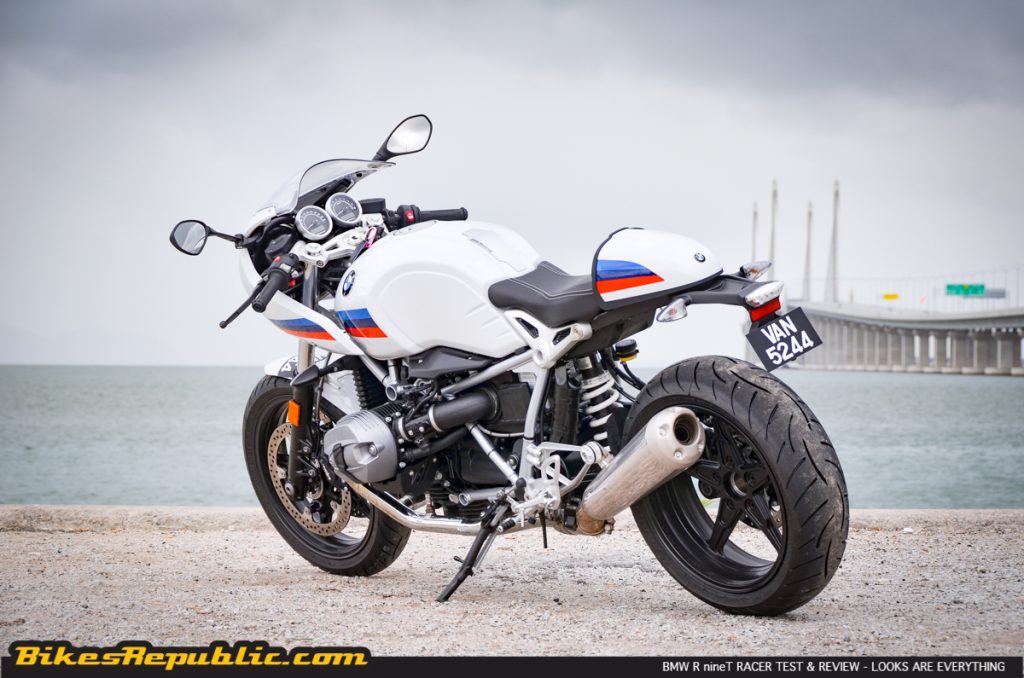 The BMW R nineT Racer is another variant built on the R nineT platform, to complement the base R nineT (click here for our review), R nineT Scrambler, R nineT Pure, and the just-launched R nineT Urban G/S (click here for our review). That means the R nineT Racer shares the 1178cc oilhead Boxer and frame but there's where the similarity ends.
Unlike the base R nineT, The R nineT Racer's forks are conventional telescopic, non-adjustable units while the fuel tank is steel instead of aluminium. The wheels are 17-inch cast aluminium ones, instead of cross-spoked ones.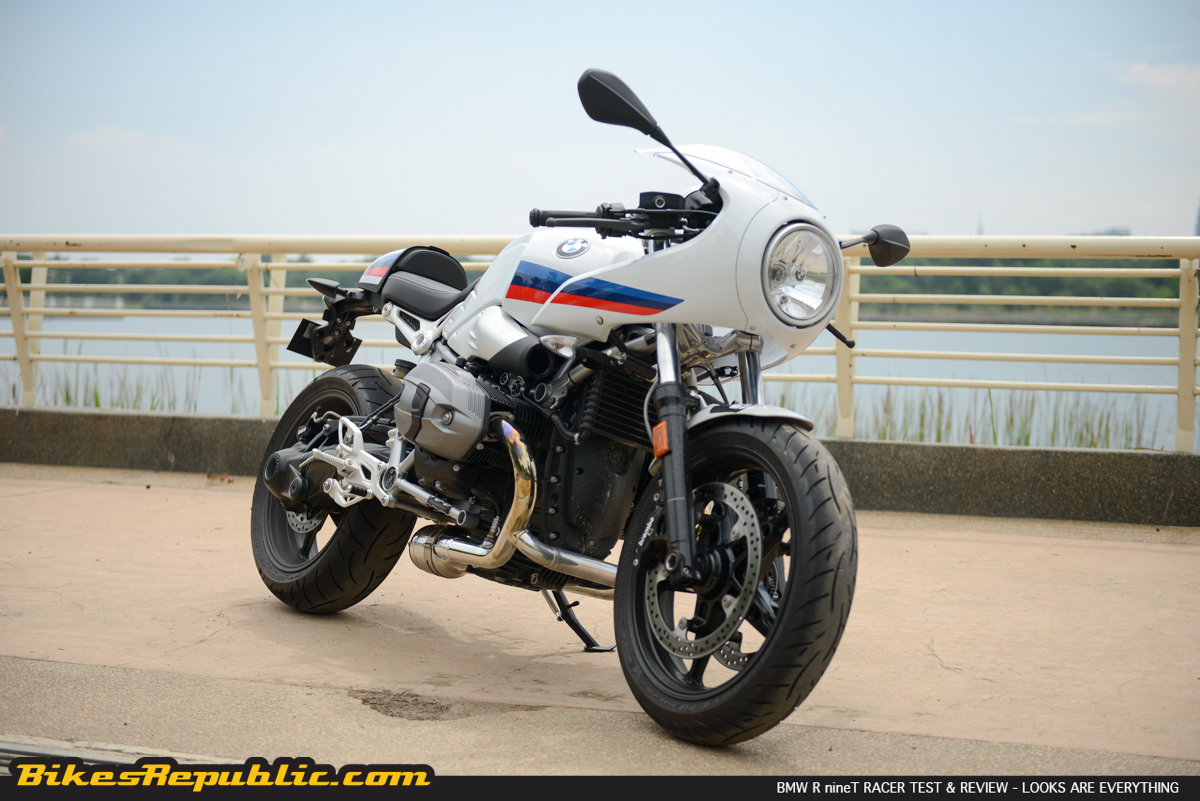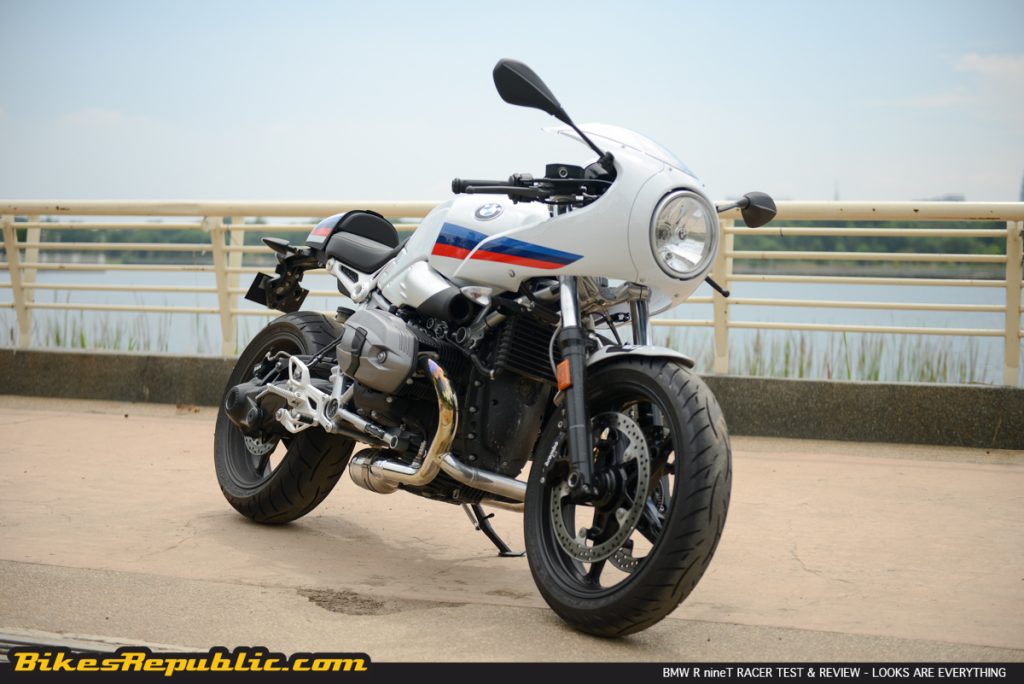 Behind that fairing's bubble are two analog dials with LCD screens to display different info. No fuel gauge, tho'. Thumb the starter button and the Boxer-Twin comes to life just like the others – with a kick to starboard. But's that's the character of the Boxer through the decades. The charm is in how it vibes and rocks the mirrors, reminding you that it's alive rather than merely "ON." It fuels impeccably throughout the rev range, which puts more emphasis on torque rather than all-out horsepower.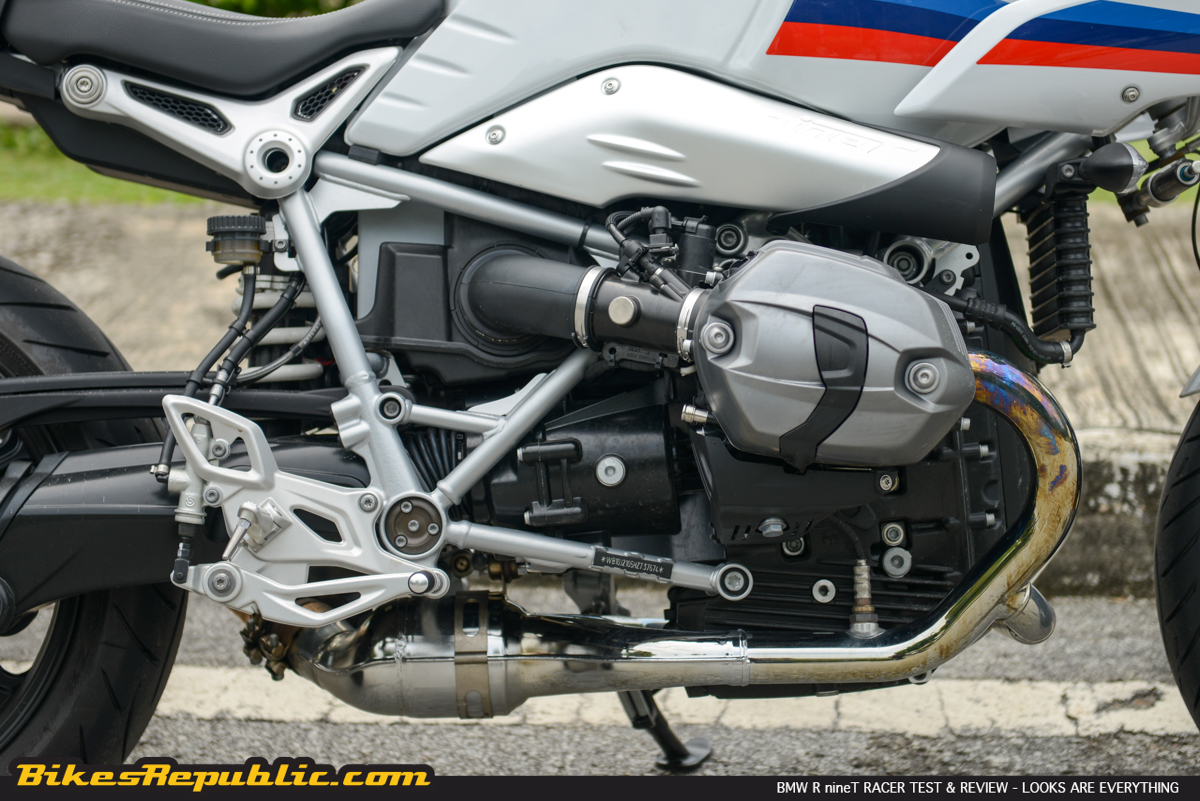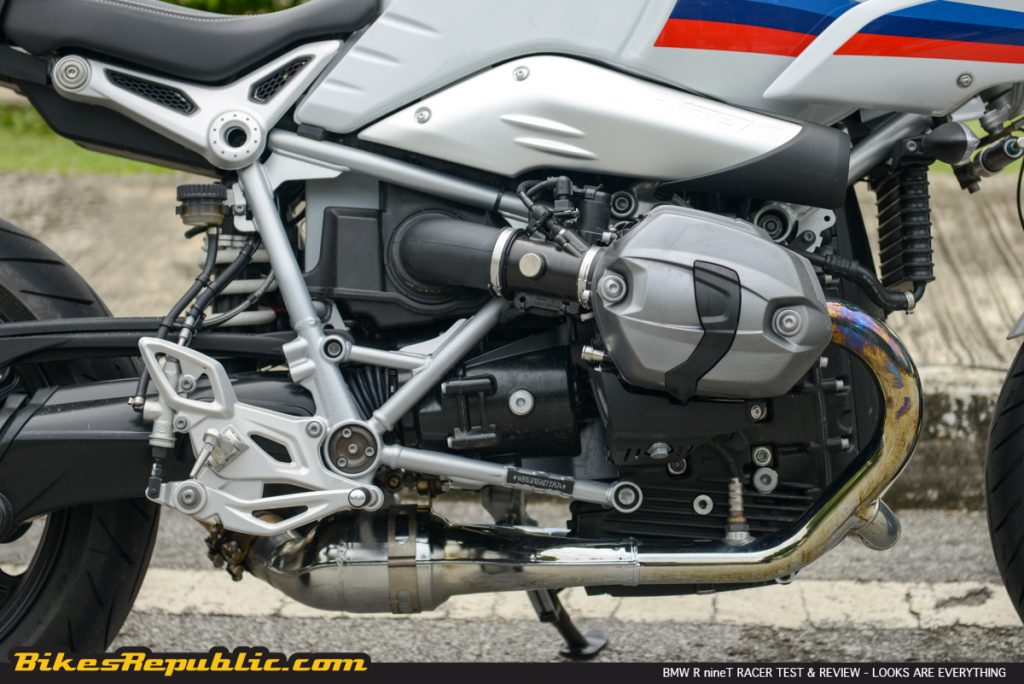 On the handling front, the Racer isn't a bike you'd just throw into a corner. The long wheelbase, generous rake and trail, low height produces a bike that absolutely revels in long, high speed sweepers like those you find near the Menora Tunnel and Karak. But once it's on its side, it's battleship steady. The suspension is supple to deal with road irregularities despite being "low tech."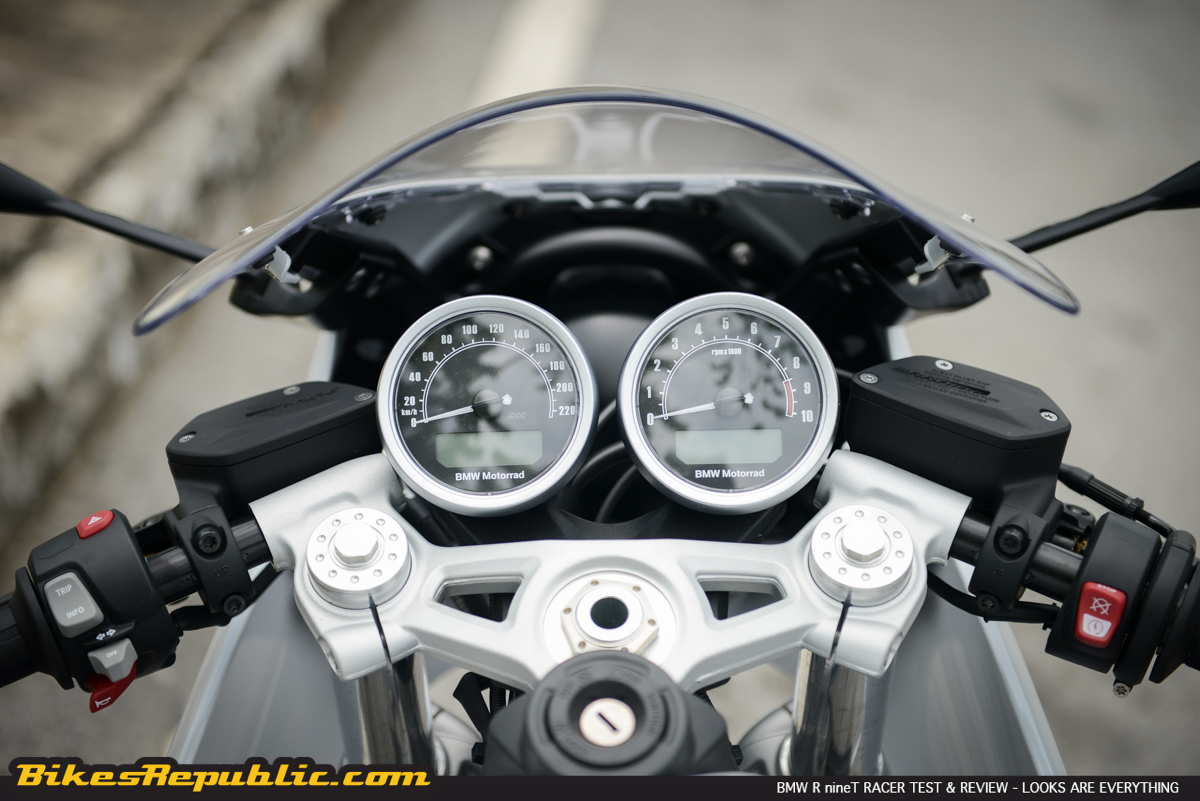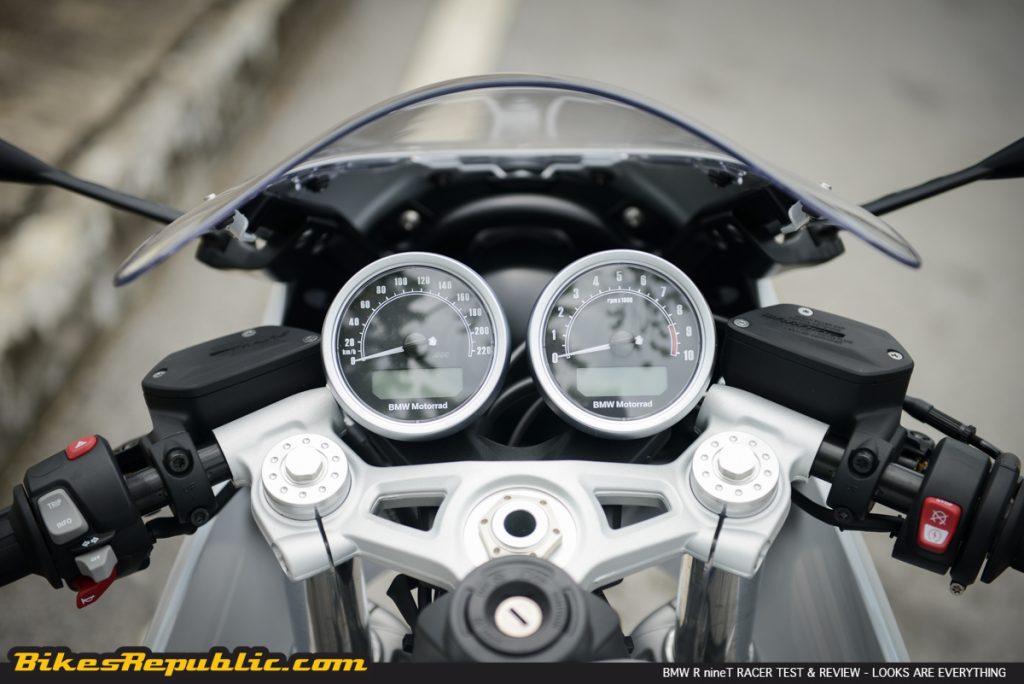 Those Brembo front brakes are strong, though. Give it a hard two-fingered squeeze to suddenly and it would seem that your breakfast disagrees with your stomach.
True to its Racer name, the seating position is stretched out – long reach to the handlebars, torso low down onto the tank, feet back, knees up and bum offered to the sky gods. Just like a 70's and 80's racebike. Or a road race bicycle. Mass centralization be damned. Having owned a Cagiva Mito and Ducati 916 in the early 90's, the R nineT Racer's riding position didn't seem too foreign, unless compared to contemporary sportbikes such as the S 1000 RR.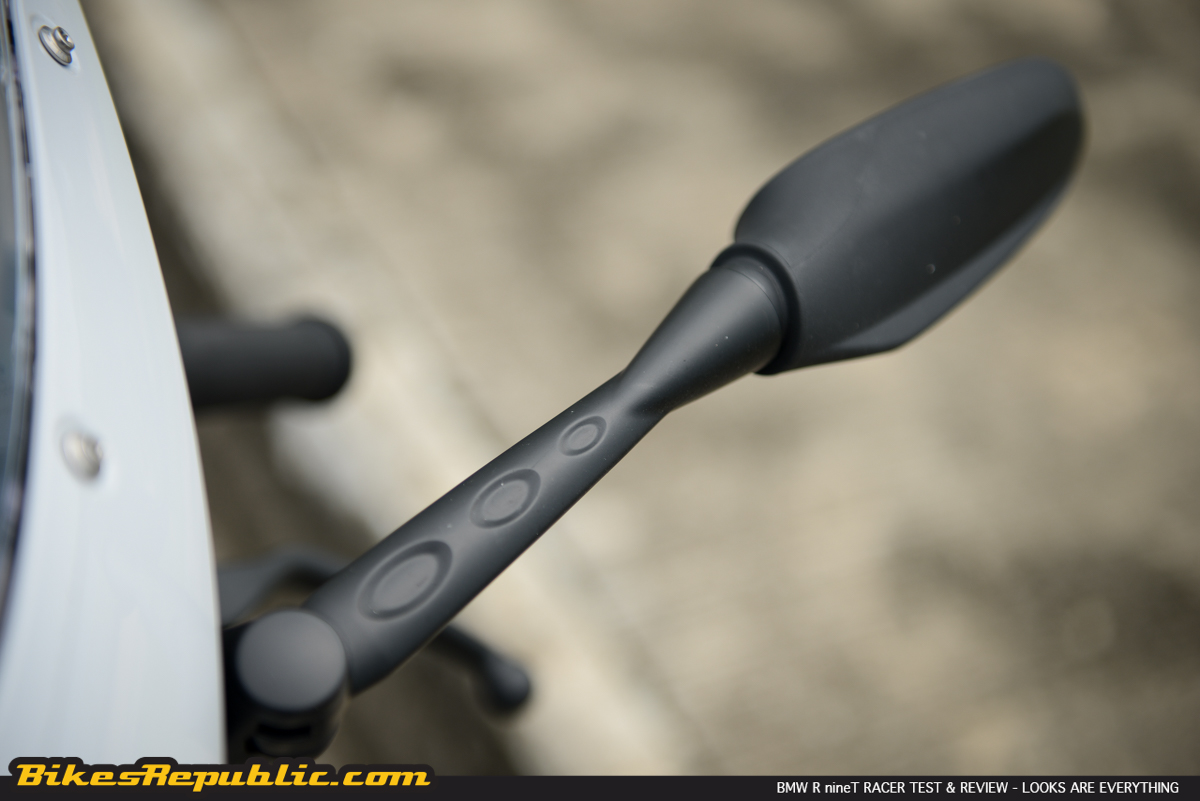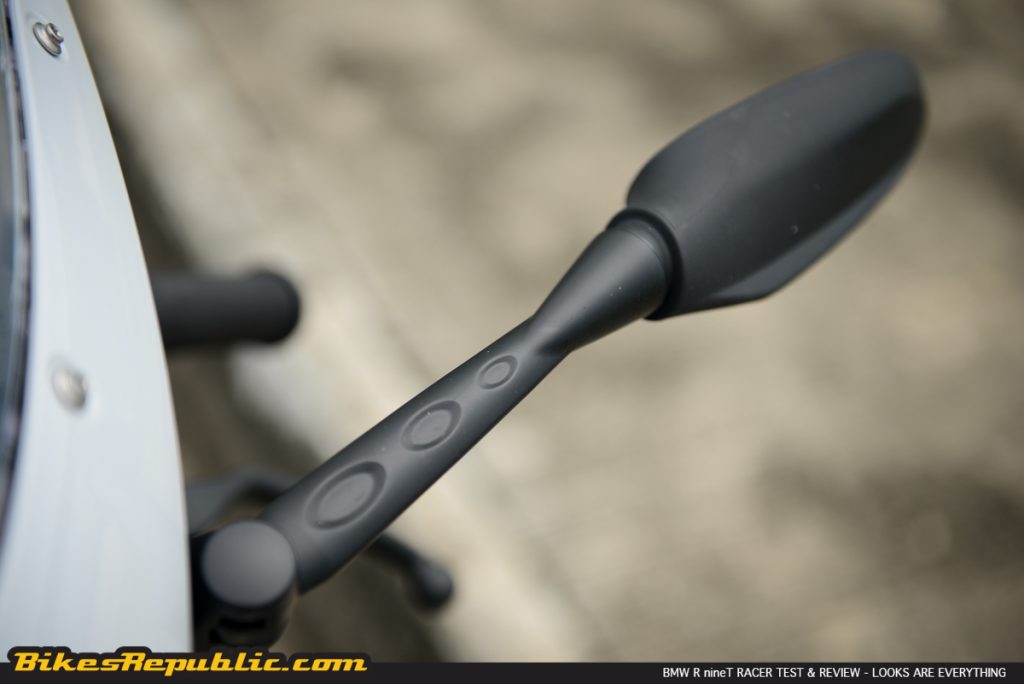 Of course, it's more tiring compared to bikes with sit up riding position. With all that tank gripping, upper torso being supported by muscles in the lower back and core, you need to stretch yourself out when you stop after riding for 150 kilometres or so.
Still, I rode the bike from Penang to the Sg. Buloh R&R with a bagpack filled with my laptop, camera, clothes and toiletries strapped to my back, but I didn't come away looking like the Igor from Notre Dame.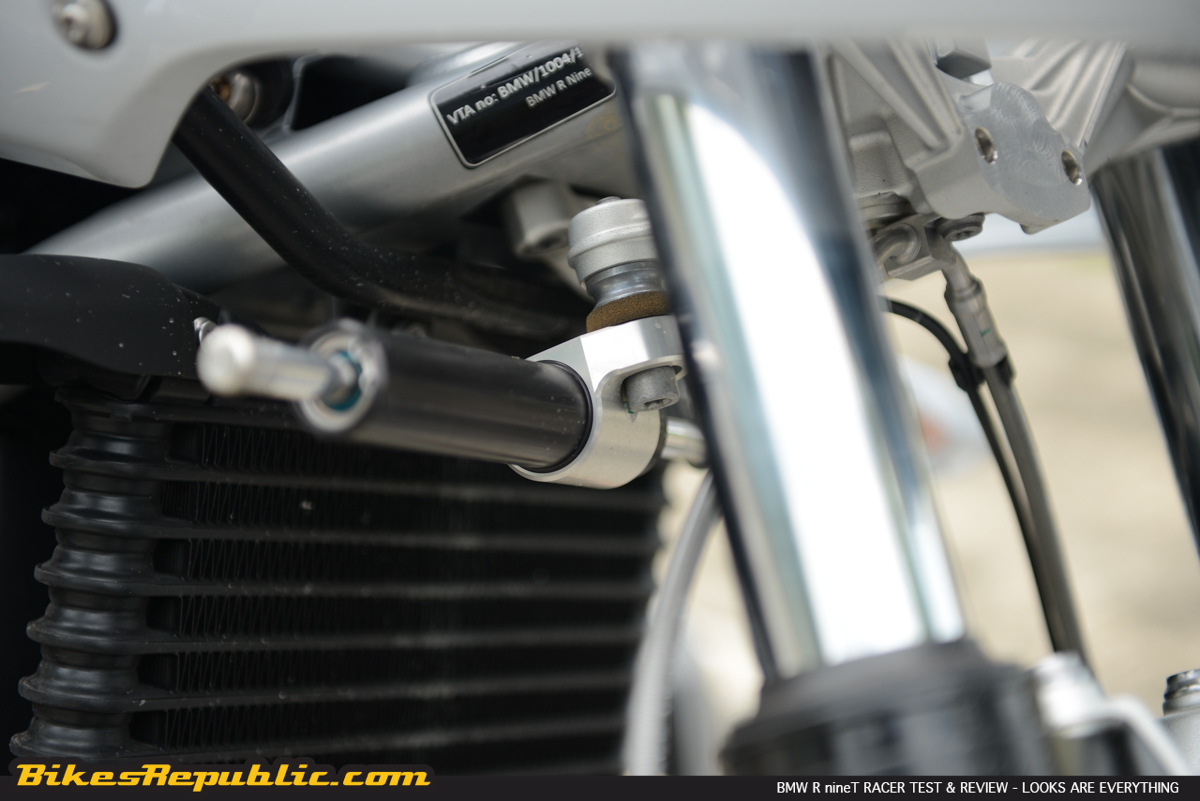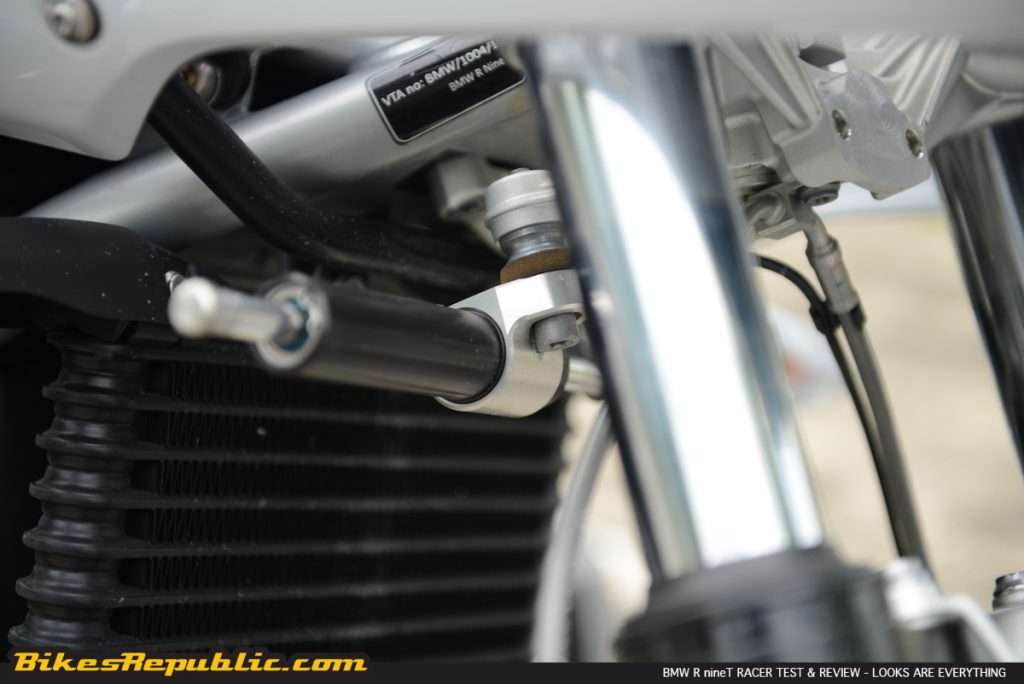 The engine is already good, but what really makes the R nineT Racer a great bike is its awesome looks. And it is drop dead gorgeous. The Malaysian populace at large has mostly grown familiar to big bikes and not many superbikes will grab their attention anymore.
But not the R nineT Racer. There seems to be an aura surrounding it.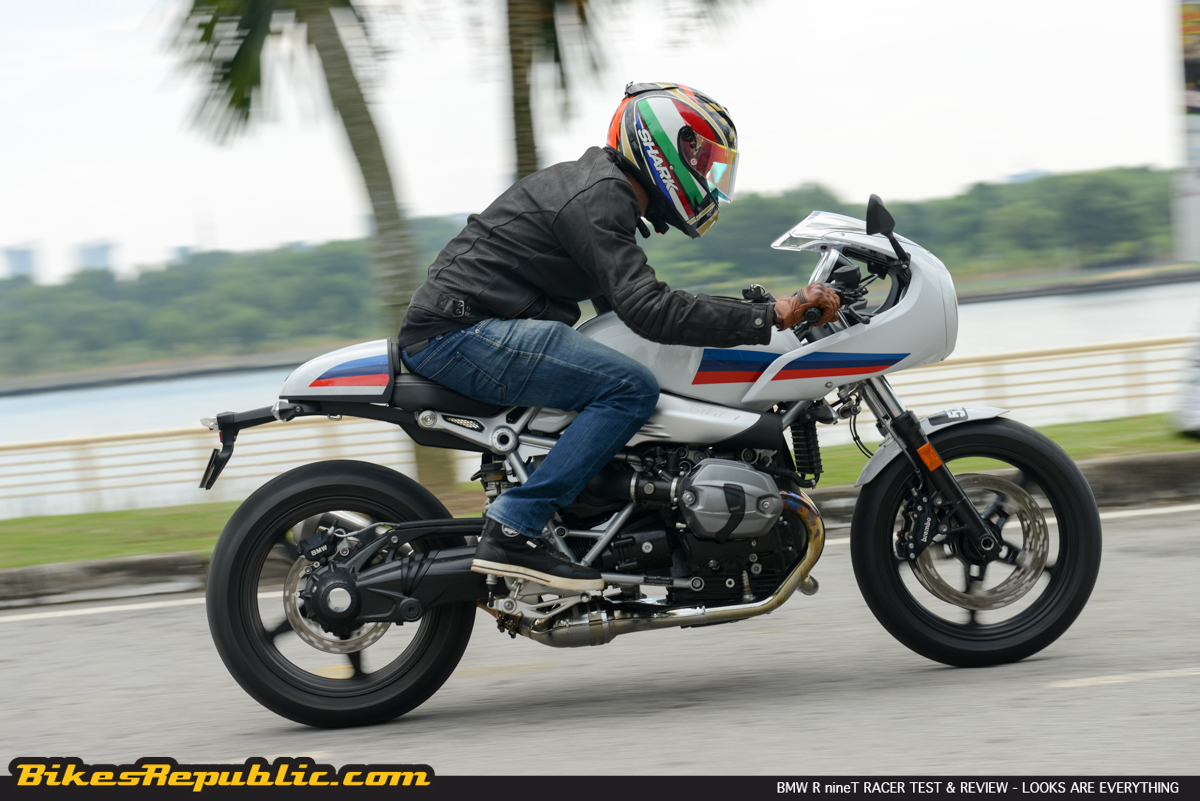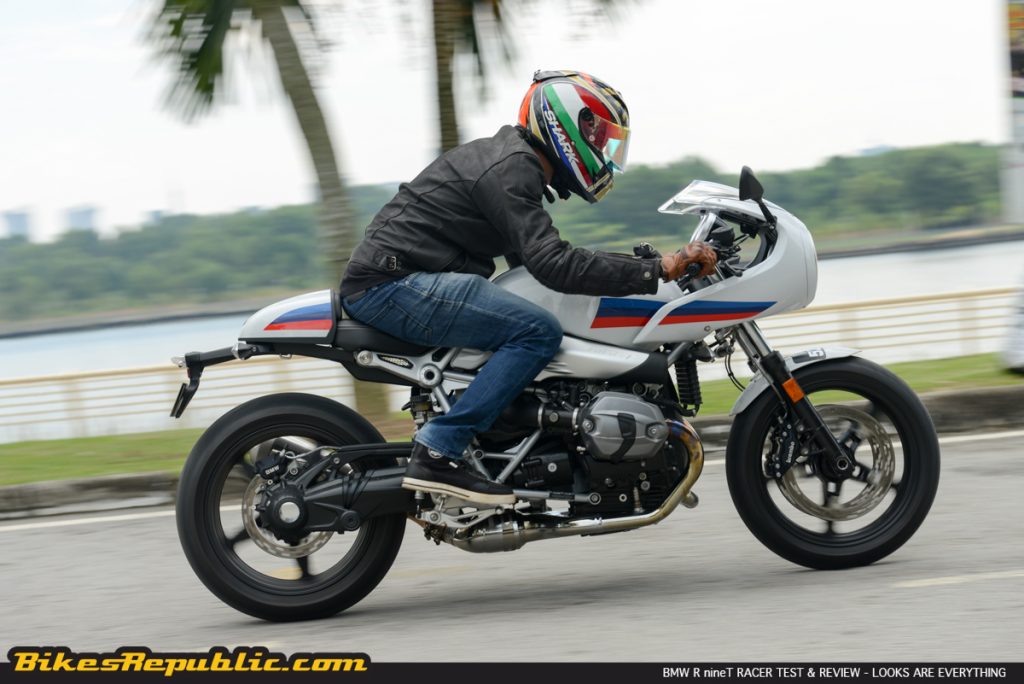 We would return to a crowd surrounding the bike wherever we parked. Conservative uncles would circle around the bike, with huge grins on their faces. Even other bikers will crowd around and started asking a whole bunch of questions. Park the bike anywhere and it seems to light up those premises. Stop at a set of traffic lights and everyone will stare at it like it was Claudia Schiffer.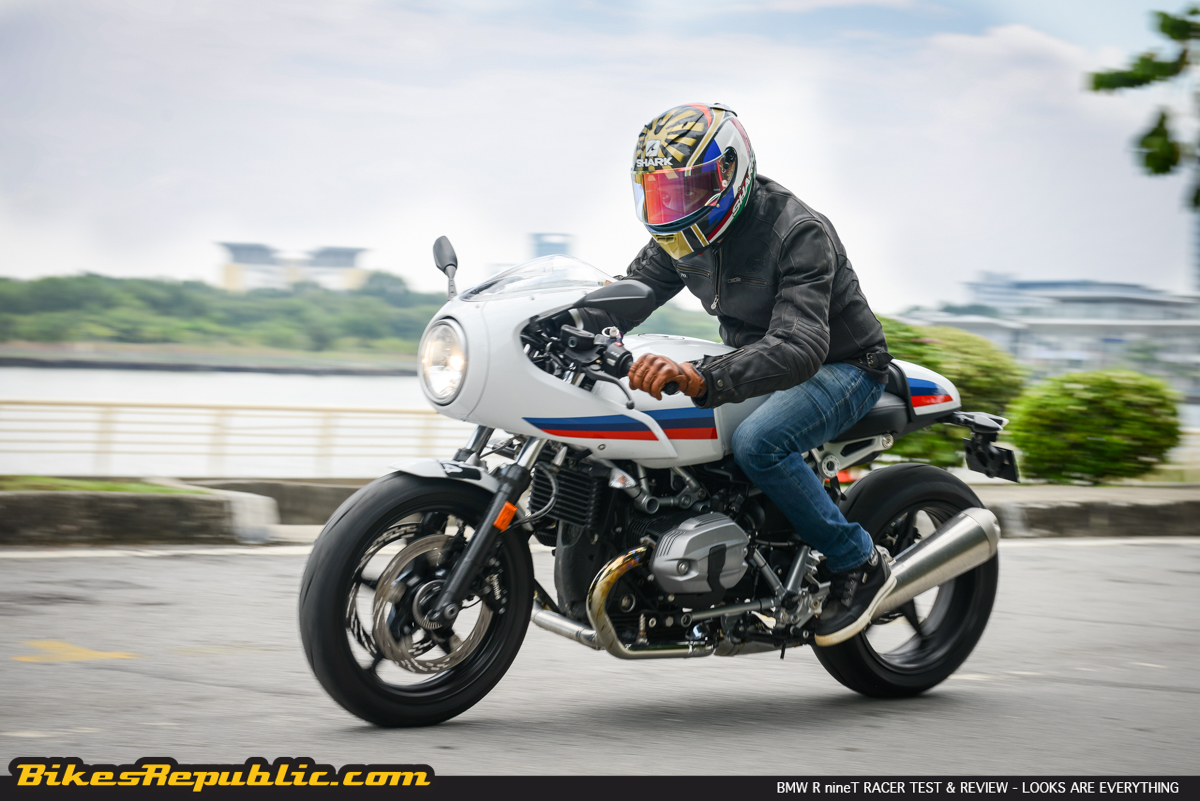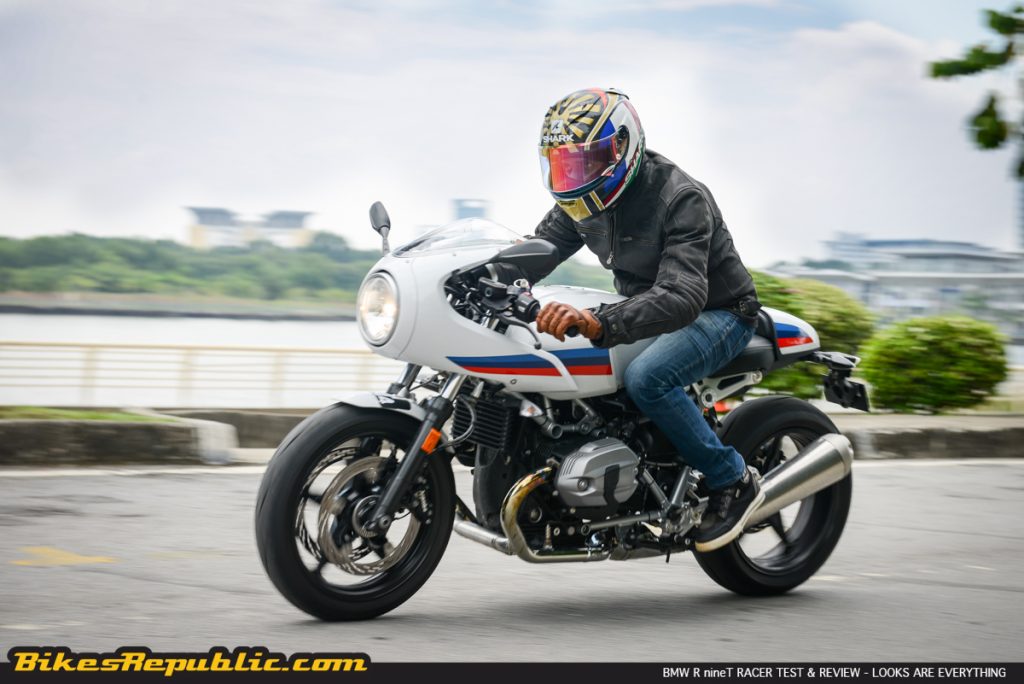 The main question we encountered was, "Isn't it uncomfortable to be draped over the bike like that?" "No, it's alright," was how we answered. And if we were asked which of the R nineT range we would pick, we would answer, "The Racer," without hesitation.
Guess looks beat tough love anytime.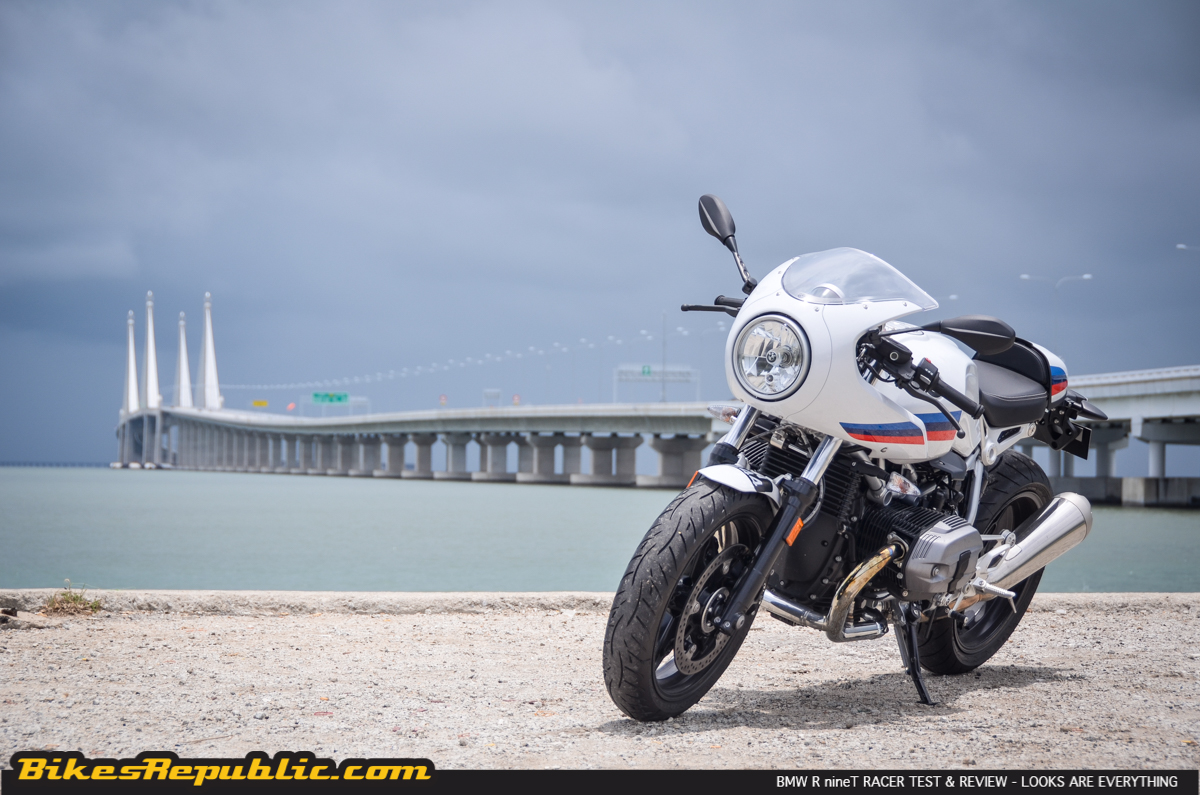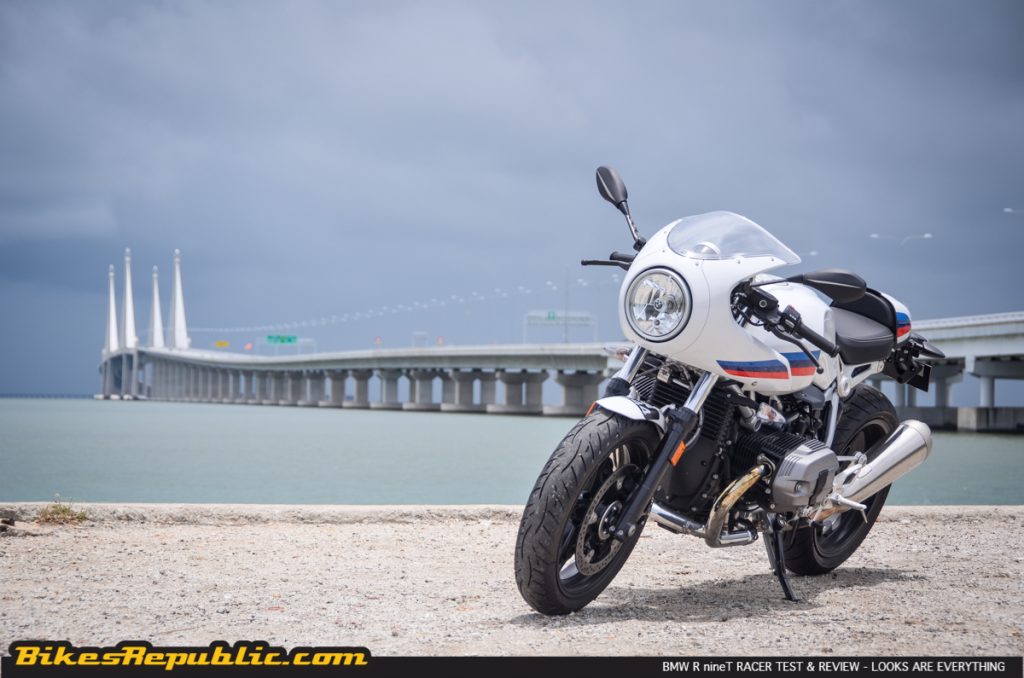 TECHNICAL SPECIFICATIONS
| | |
| --- | --- |
| ENGINE | |
| Engine type | Air/Oil-cooled, 4-stroke, DOHC, 4 valves per cylinder, horizontally-opposed (Boxer) Twin |
| Compression ratio | 12.0 : 1 |
| Bore X Stroke | 101 mm X 73 mm |
| Displacement | 1170 cc |
| Fuel system | Electronic intake pipe injection |
| Maximum power | 110 bhp (81 kW) @ 7750 RPM |
| Maximum torque | 116 Nm @ 6000 RPM |
| | |
| TRANSMISSION |   |
| Clutch | Single dry plate clutch, hydraulically actuated |
| Gearbox | Constant mesh, 6-speed, shaft drive |
| | |
| CHASSIS | |
| Front suspension | 43mm telescopic forks, 125mm travel |
| Rear suspension | Single central shock absorber adjustable for preload and rebound damping. 120mm travel |
| Front brakes | Two 320mm floating discs, Brembo four-piston calipers |
| Rear brake | Single 265 mm disc, Brembo two-piston floating caliper |
| ABS | BMW Motorrad ABS, front and rear |
| Front tyre | 120/70-ZR17 |
| Rear tyre | 180/55-ZR17 |
| | |
| FRAME & DIMENSIONS | |
| Frame | Three-part frame consisting of one front and two rear sections; load-bearing engine and transmission; rear set frame removable for single rider |
| Swingarm | Cast aluminium single-sided swingarm with BMW Motorrad Paralever |
| Trail | 103.9 mm |
| Rake | 26.4 degrees |
| Wheelbase | 1491 mm |
| Seat height | 805 mm |
| Wet weight | 219 kg |
| Fuel capacity | 17 litres |
PICTURE GALLERY