The Triumph Bonneville T100 Black is a blacked-out modern retro.

Smooth power and predictable handling are its best traits.

Unintimidating, easy and fun to ride.
I've many biker friends who name their bikes. The majority being guys, their bikes are almost invariably lady's names: Suzy, Hunny, Becky, Mimi, etc. etc. Some guys named their bikes with masculine names like Butch, The Rock, etc. However, it had never vexed me to name the few bikes I've owned, for some reason. Nope. Not even the Ducati 916SP I once had.
Maybe my bikes have never appealed to me beyond the machines they were.
So here came the Triumph Bonneville T100 Black, all blacked-out with a flat black fuel tank, black headlamp nacelle, black fork stanchions, black front fender, black rims, black peashooter exhausts, black engine covers, black side panels, black bench seat, black shock springs, black rear fender. Black, black, black. The only non-black parts were the throttle body shrouds, wheels' wire spokes, bezel of the blocks, fuel cap.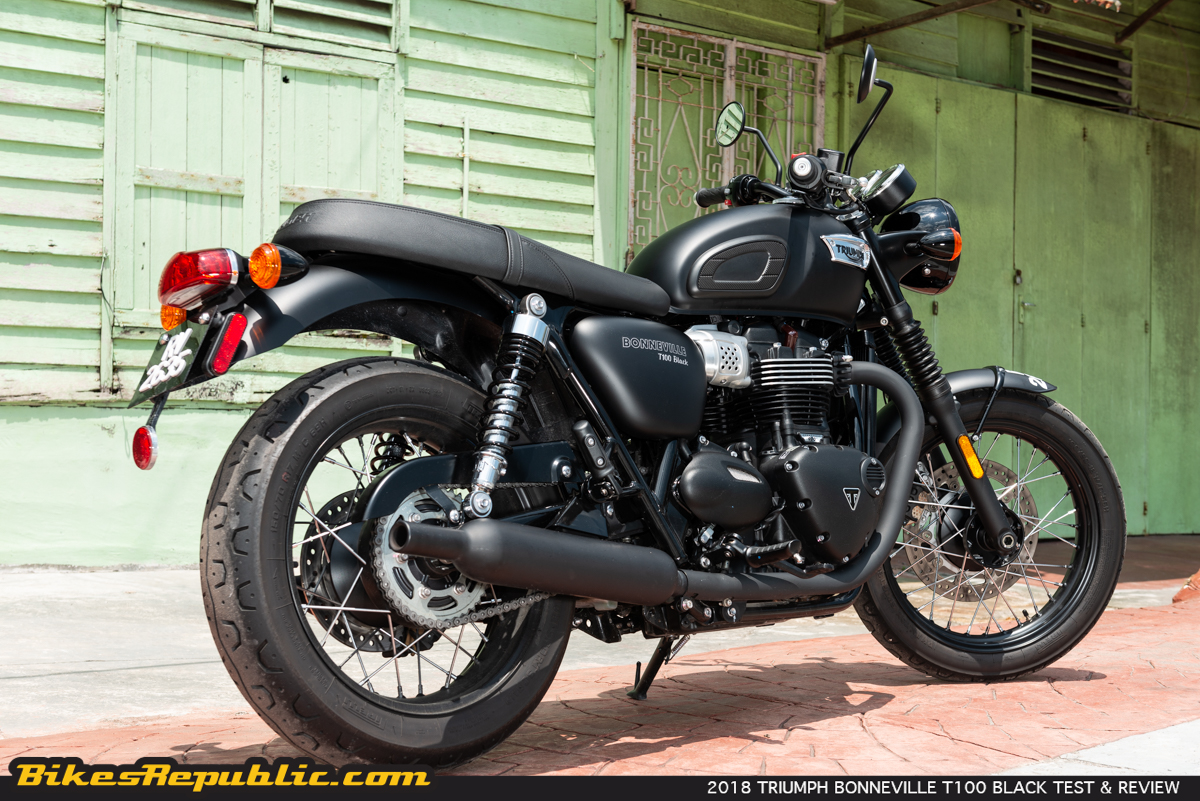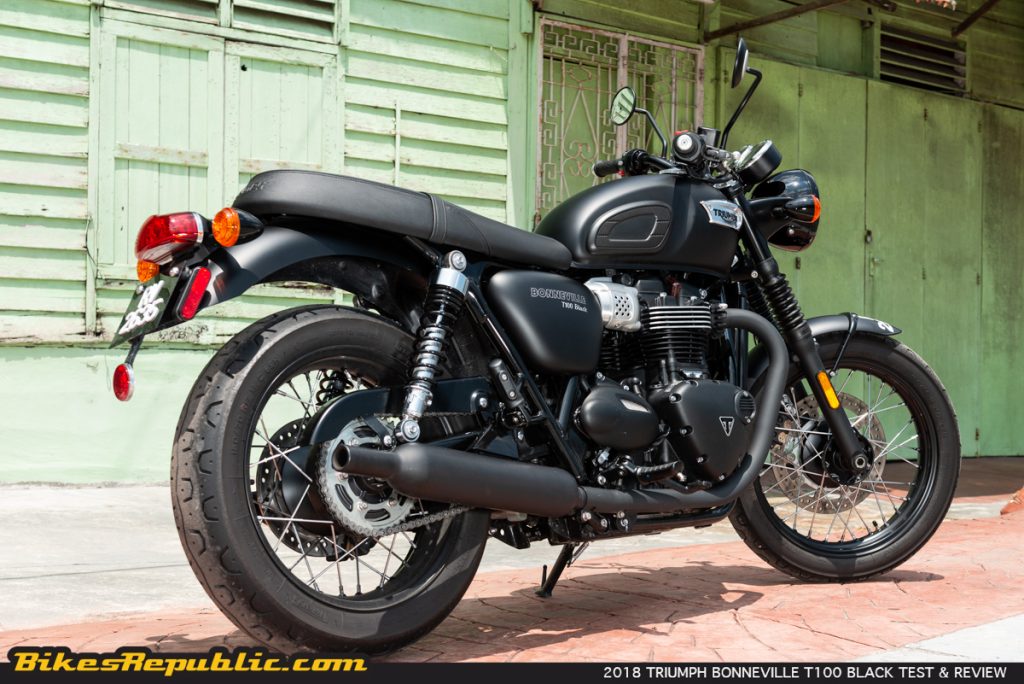 The colour scheme actually harks back to the days of custom bikes when owners did away with the chrome and polished bits for something more sinister in appearance. Or more punk, if you will. Like the Sex Pistols vs. the early Beatles.
Getting on the T100 Black tells you how simple bikes were back then. Low seat height, narrow profile, handlebar not too wide and not too narrow, upright seating position, comfortable reach to the handlebar, comfortable positioning of the footpegs.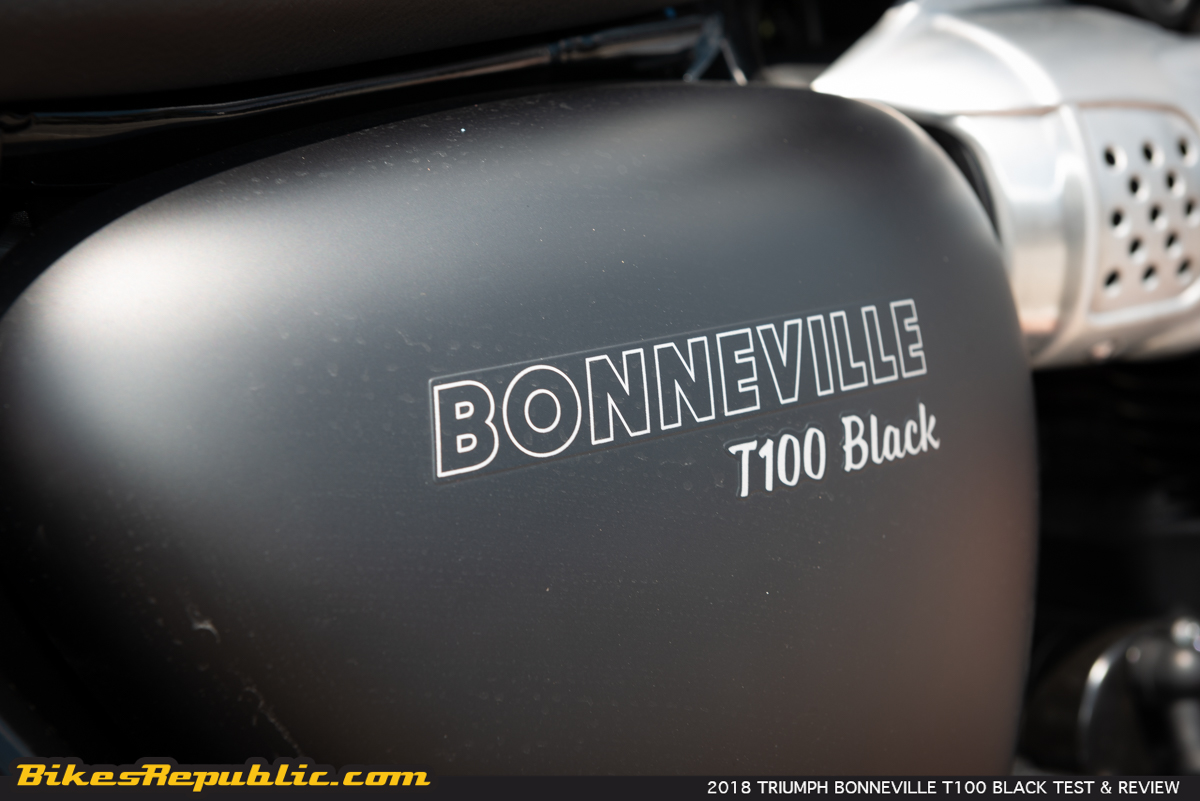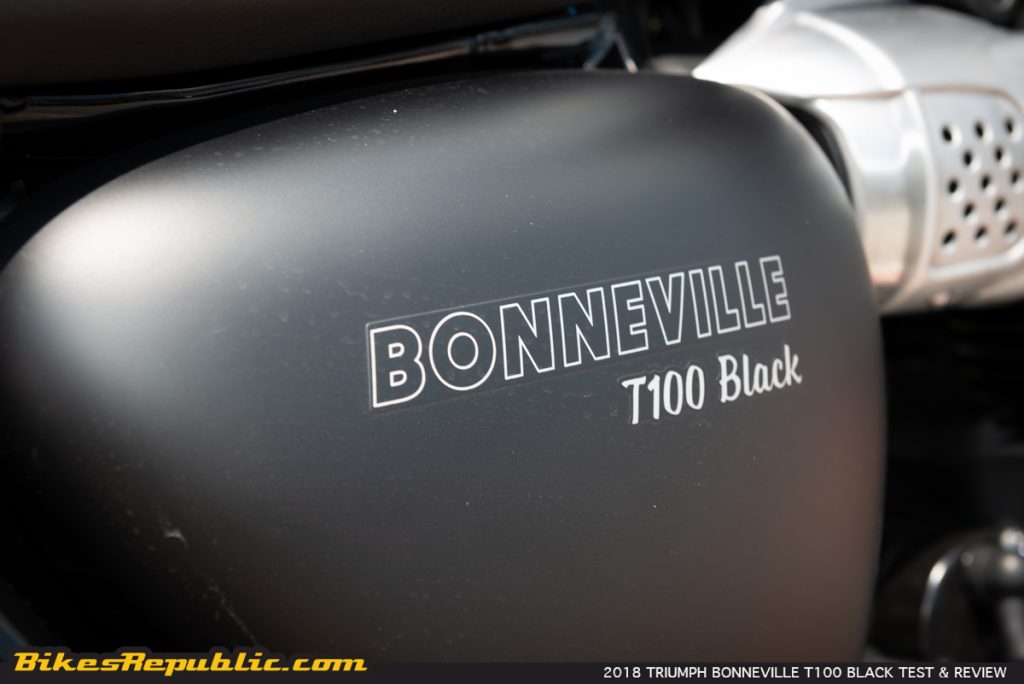 Just like any Triumph, the T100 Black fired up with a soulful vroom and settled down into a smooth idle. Blipping the throttle had some engine vibration through, just enough to let you know it's alive.
Looking downwards, your gaze meets a pair of beautifully appointed gauges. Unlike those on other Bonnevilles, the T100 Black's are black-faced, surrounded by silver counters and finished off with chrome bezels. Those bezels are awesomely beautiful especially at night when you ride past one light source after another. The LCD, numbers and needles glow softly (soft, not dim) without blasting photons into your retinas.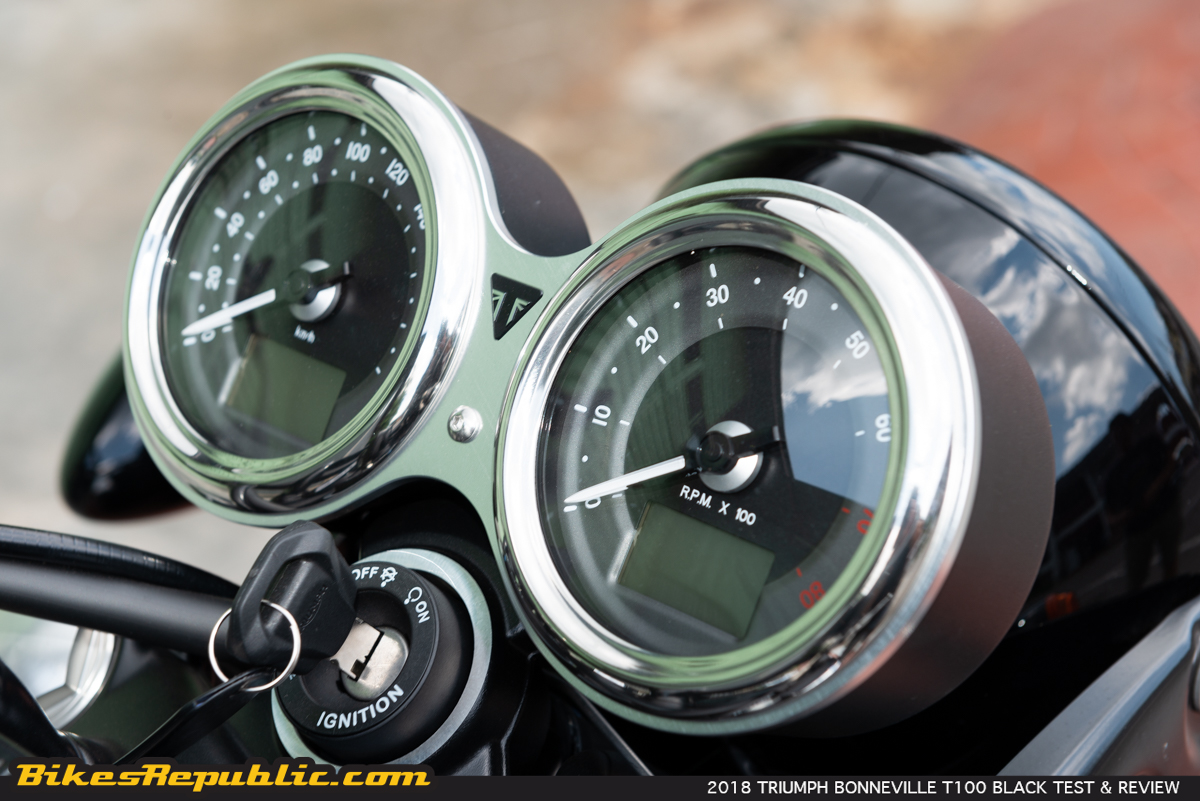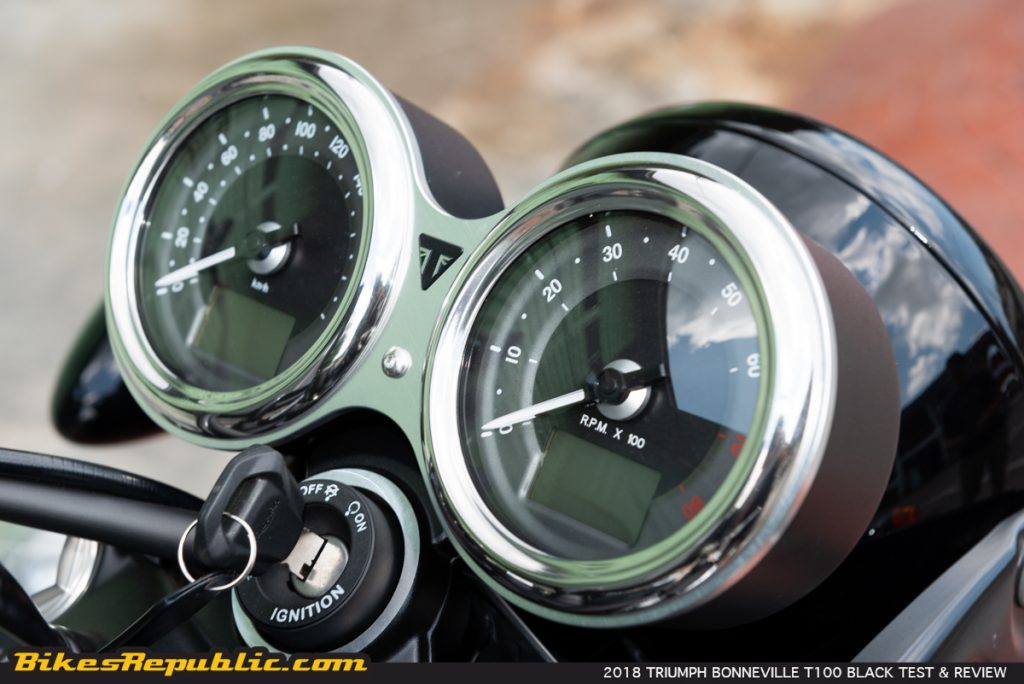 The Triumph Bonneville T100 Black felt special as soon as the clutch went out. Again, the throttle take-up was so direct, so smooth, so linear.
Before I go on, please think of something smooth. Butter, margarine, cheese, cream, etc. It doesn't have to be dairy products, of course.
Okay, let's move on.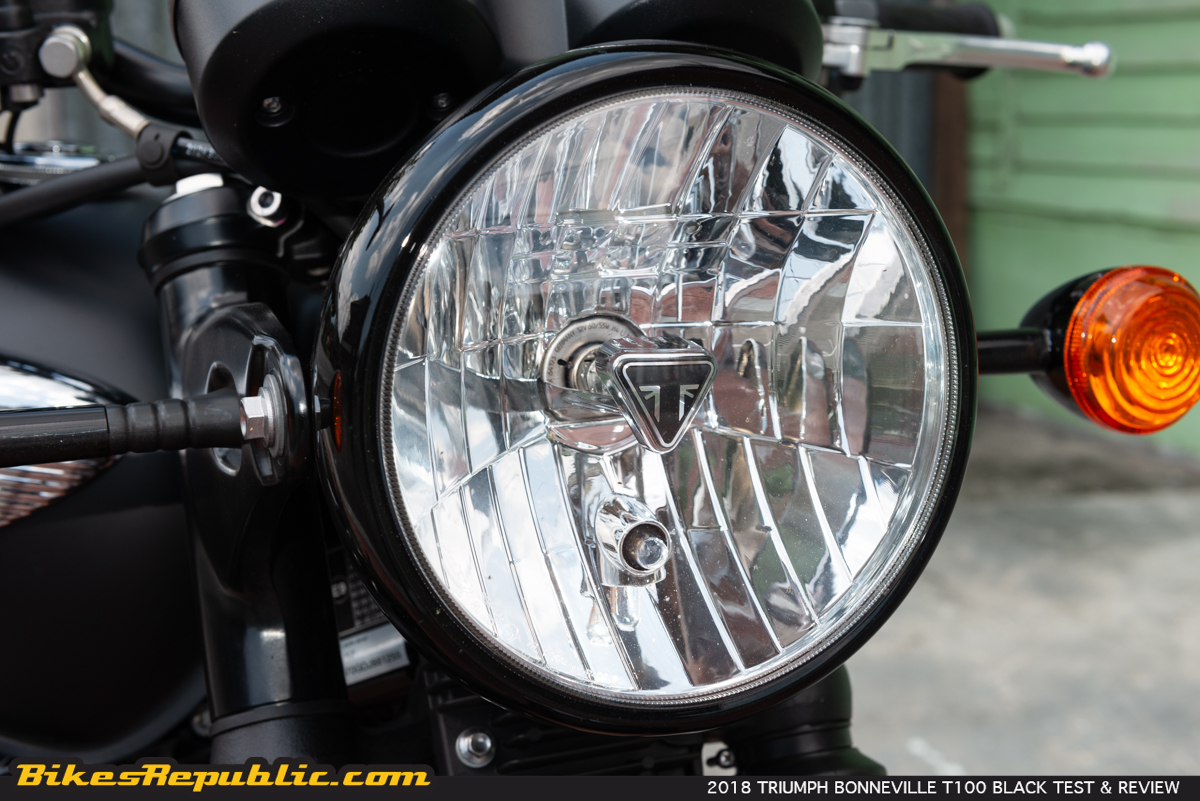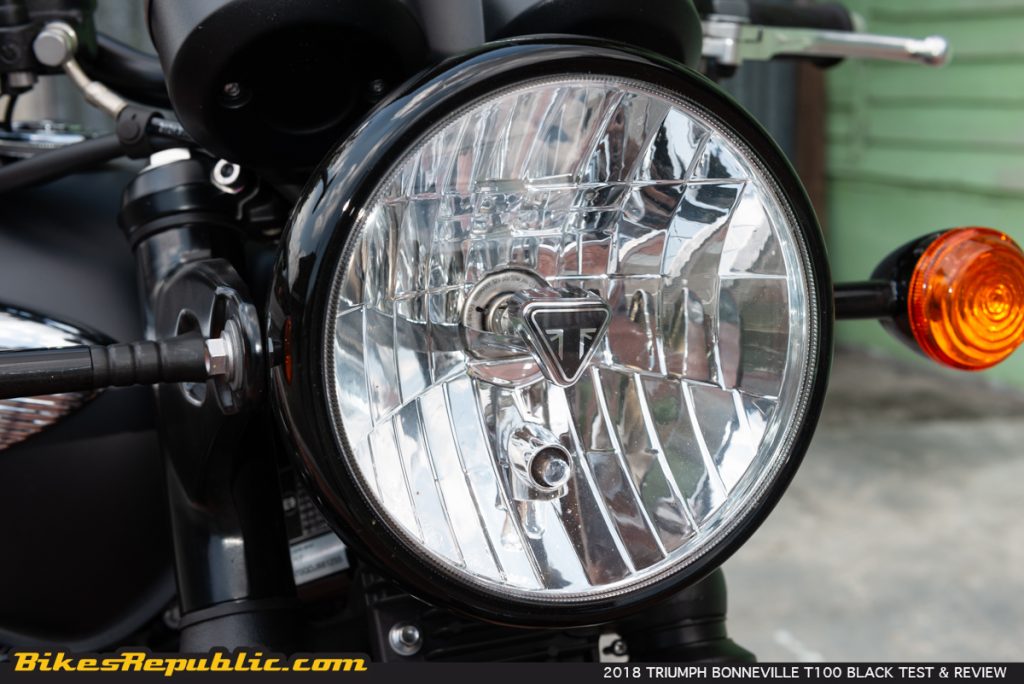 The 900cc HT (for High Torque), liquid-cooled, parallel-Twin engine has a crankshaft spaced at 270o to mimic a 90o V-Twin's firing order. It pulled the gears so smoothly… that a vision of a glass-smooth lake flashed through my mind. And this was just out of Triumph Motorcycle Malaysia's showroom. From zero all the way to the top, there wasn't a single step in the rev range. The bike didn't stutter or surge at low speeds, either.
Nonetheless, the bike did rush forward when I snapped open the throttle and it pulled hard but it didn't feel like a dog going after the GDex delivery man.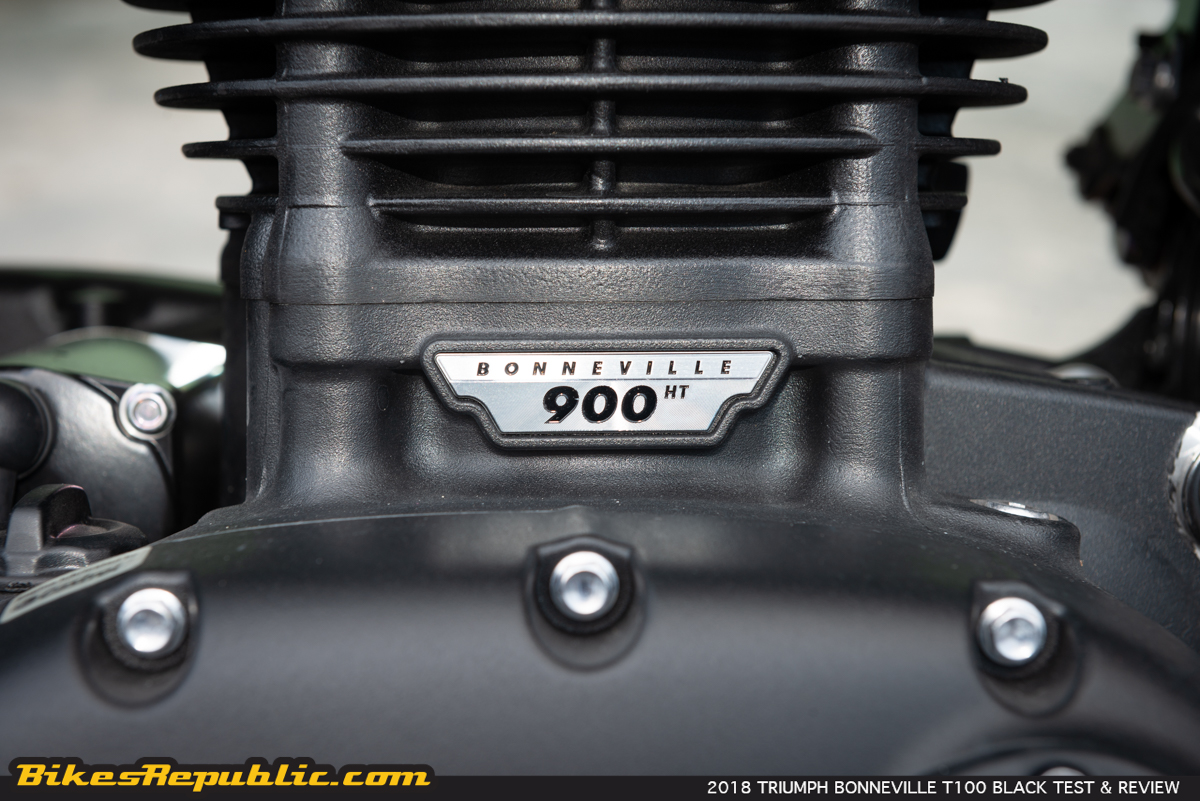 The suspension was plush enough without experiencing a speedboat ride on land, while stiff enough to have the bike turn quickly to my commands. Just as with other Triumphs, the twin rear shocks and forks were so well calibrated.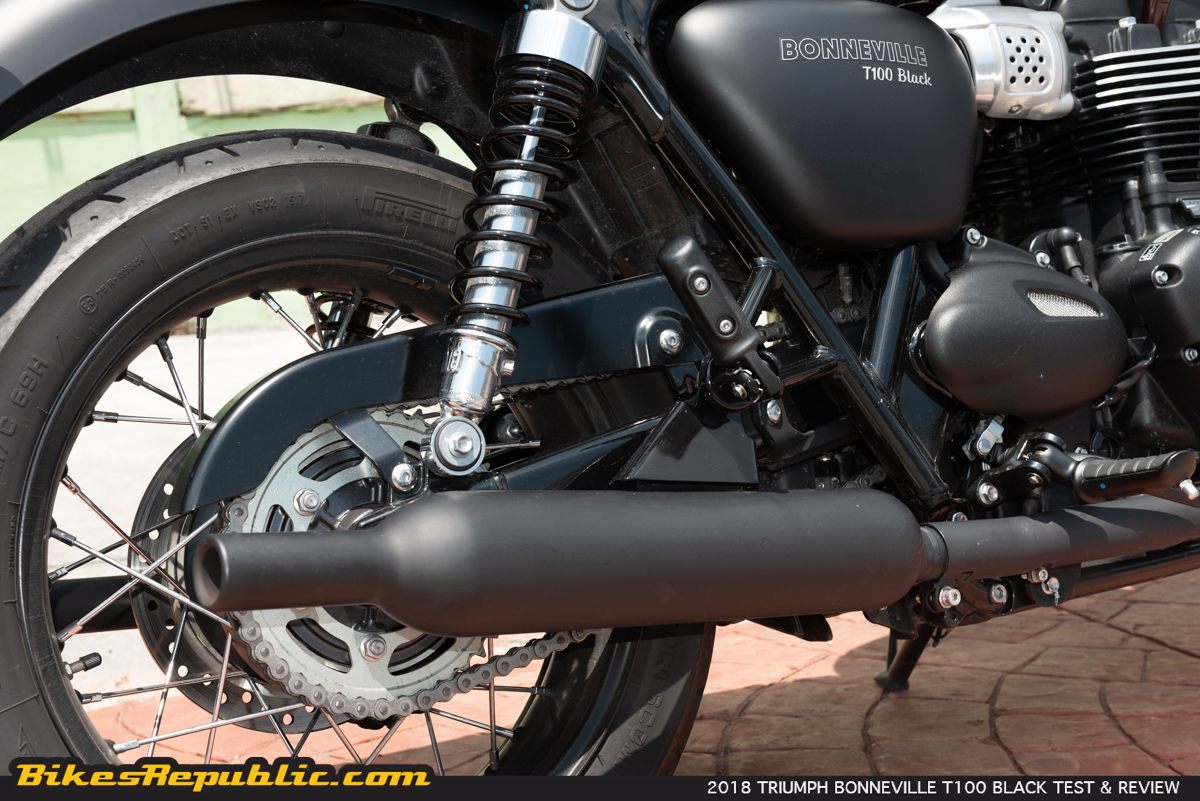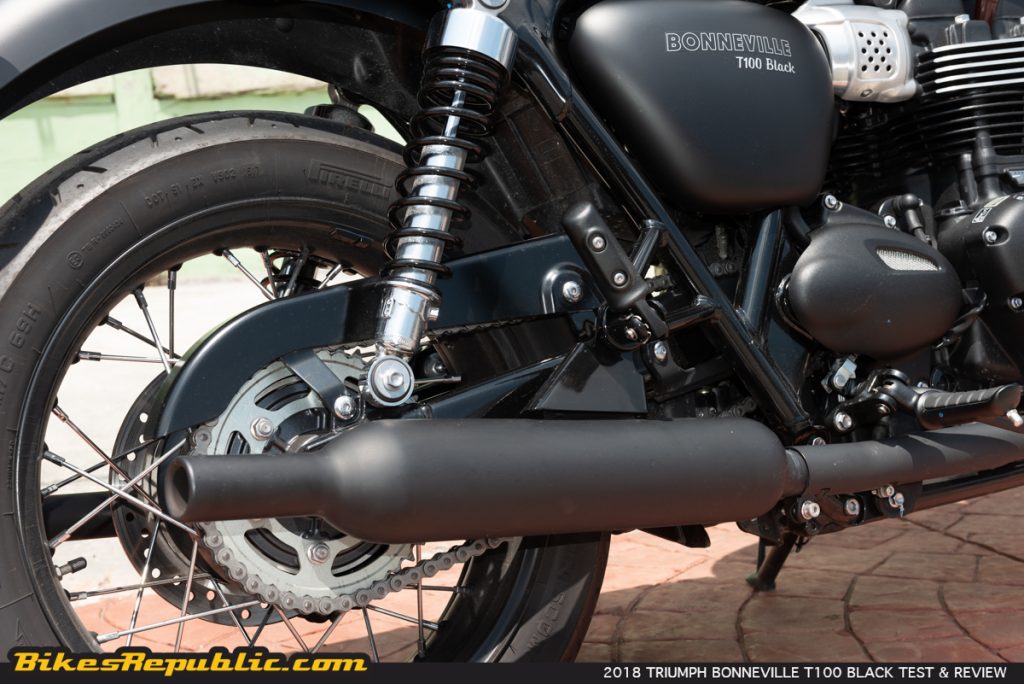 I remembered that I still had articles to write that afternoon, but I thought what the heck, let's just ride a few kilometres further. I kept going from one place to another, the heart telling the brain, just a few more kilometres.
To cut the story short, I got home three and half hours later after riding it around without any destination in mind.
Why? Because it was such a joy to ride the Triumph Bonneville T100 Black. Half of that "trip" was through rush hour traffic, it even rained on me, but I didn't care. It was pure riding joy. There a giddy excitement to it, like when I took delivery of the very first motorcycle I owned, exactly 30 years ago.
The handlebar is wide enough for good leverage, but it's also at the correct width allowing you to filter through traffic. If the kapchai in front of you could get through, so could you. Plus, the low seat height made it easy to put a foot down.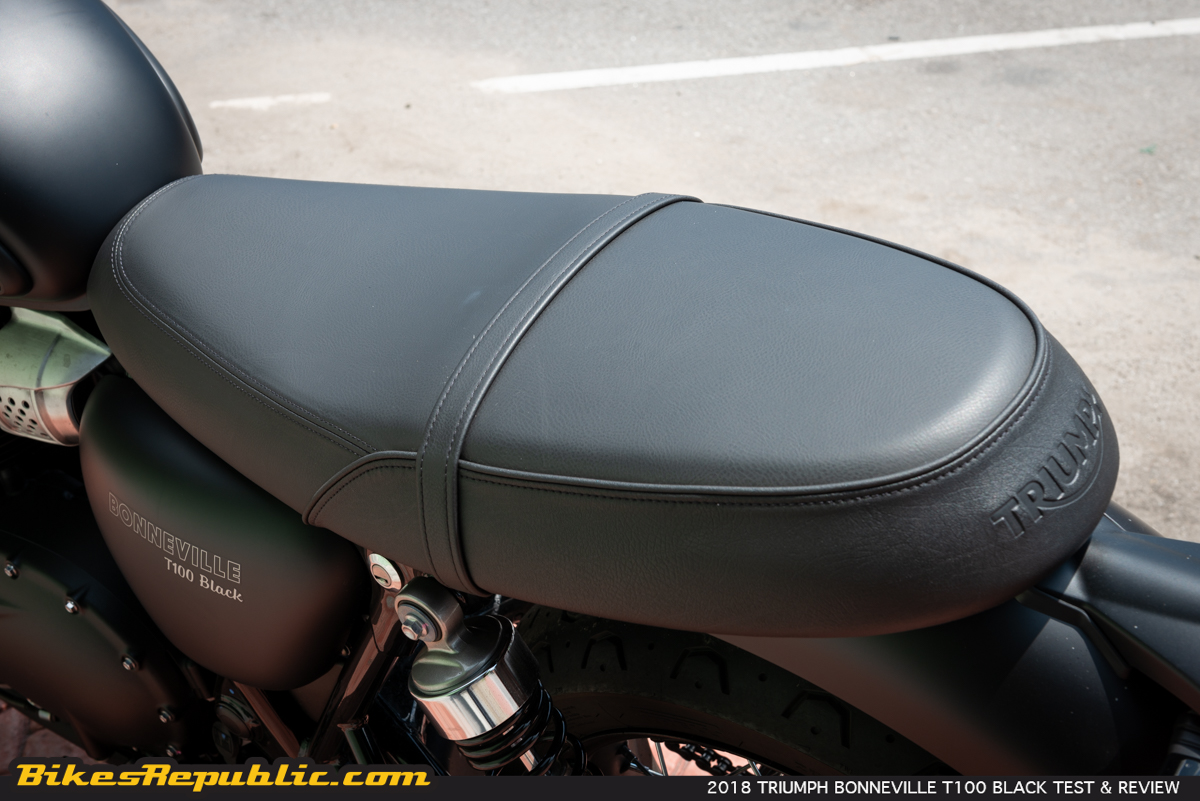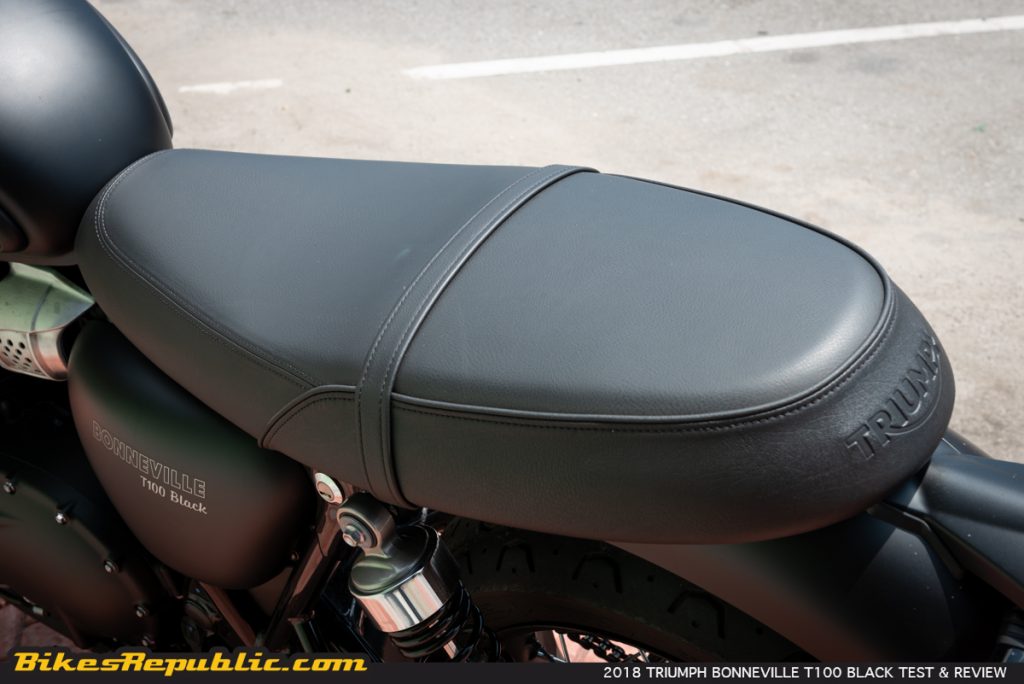 Coupled with the light and smooth action clutch, and especially the smooth throttle and engine power delivery, heavy taffic didn't actually register until I had to recount my experience for this review. The engine's torque peaks at 3230 RPM, which equals to lots of pulling power to blast past other vehicles quickly to a soul-stirring vroom.
Conversely, I've test bikes that had overly heavy clutch pull and snatchy throttle in traffic. If that's not bad enough, add in brakes that felt so wooden they might as well have been made of wood, and suspension that sent your liver through your mouth when you hit a bump. They did nothing but caused me curse and swear everytime I rode them.
Not so with the Triumph Bonneville T100 Black; it was just a pleasant experience.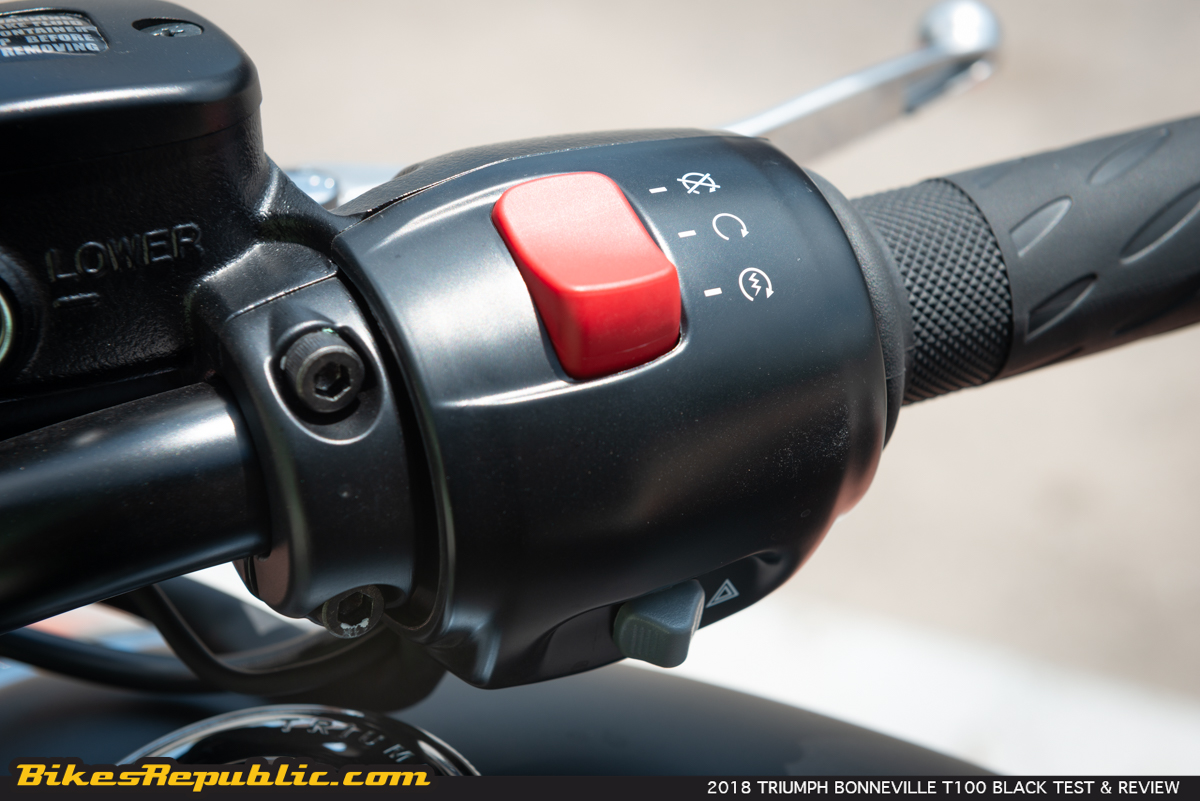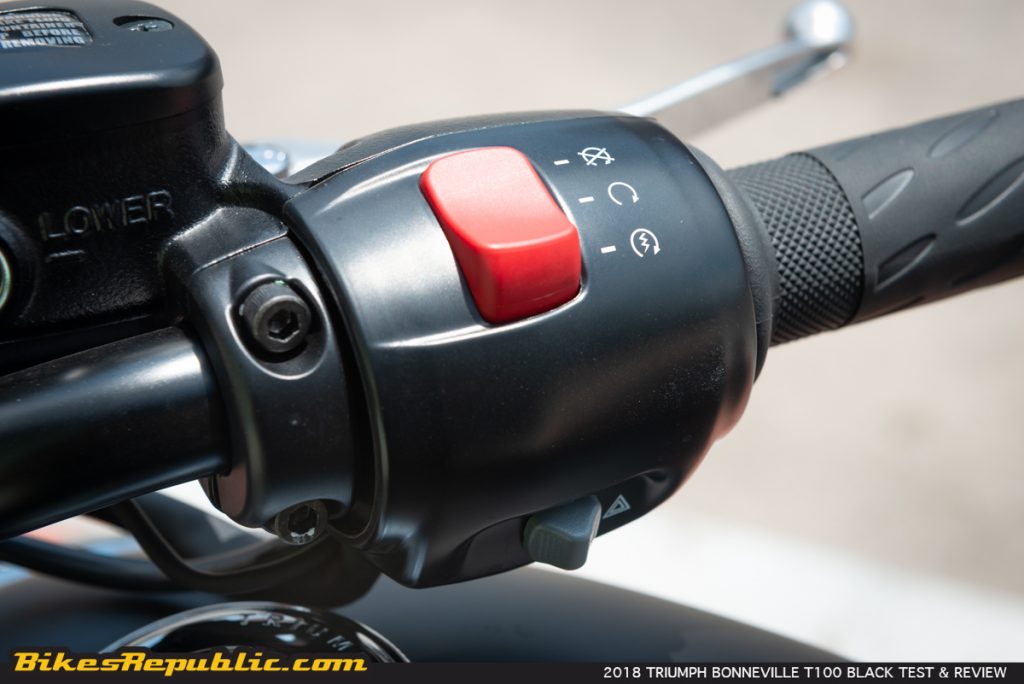 Another factor which contributed to the fun was the brakes. The T100 Black may be a classic looking bike, but that front brake is a floating disc. I had a car cut across my lane at one time. Firm pressure on the levers had the bike slowing down immediately. The front brake lever didn't come to the bar or pulse when ABS activated, instead it became stiffer meaning you could keep on adding brake pressure. It's really helpful, allowing you to live to offend the offending driver with an offensive gesture in return. (I didn't do this – it's a test bike!)
Besides that, the bike is equipped with traction control. It's always great to have this safety net.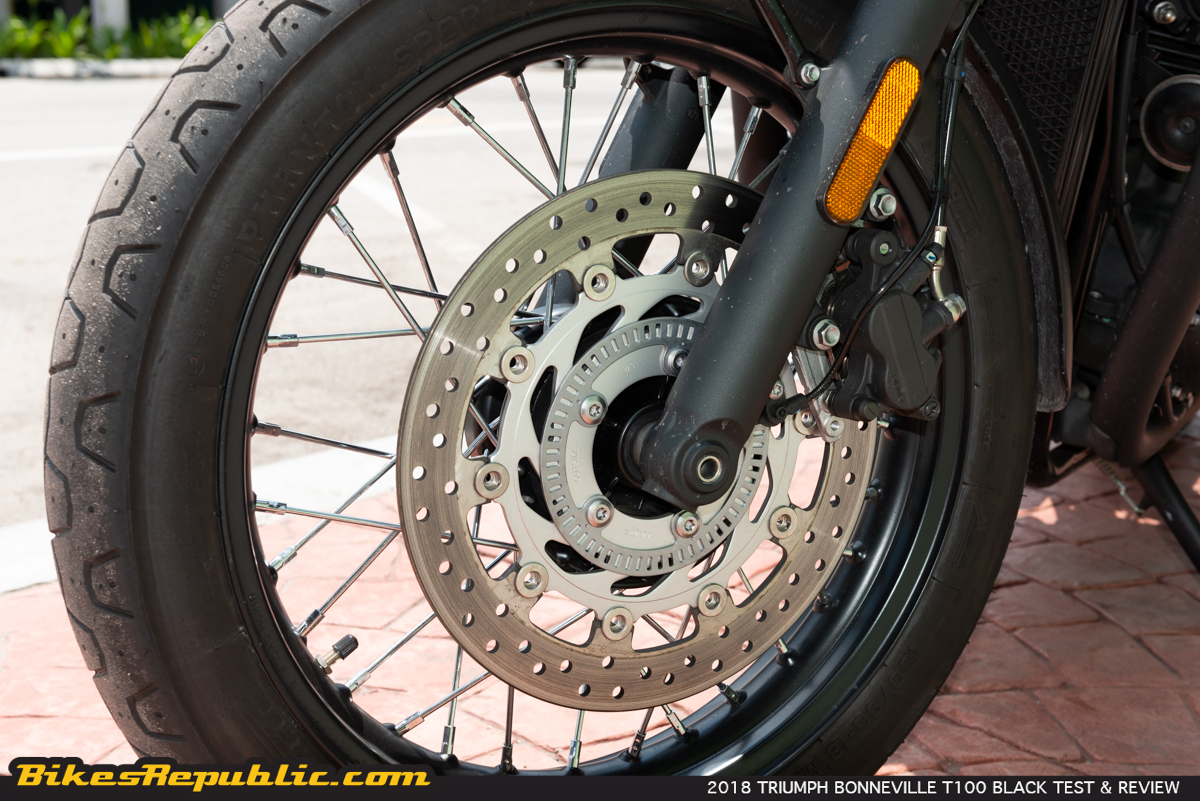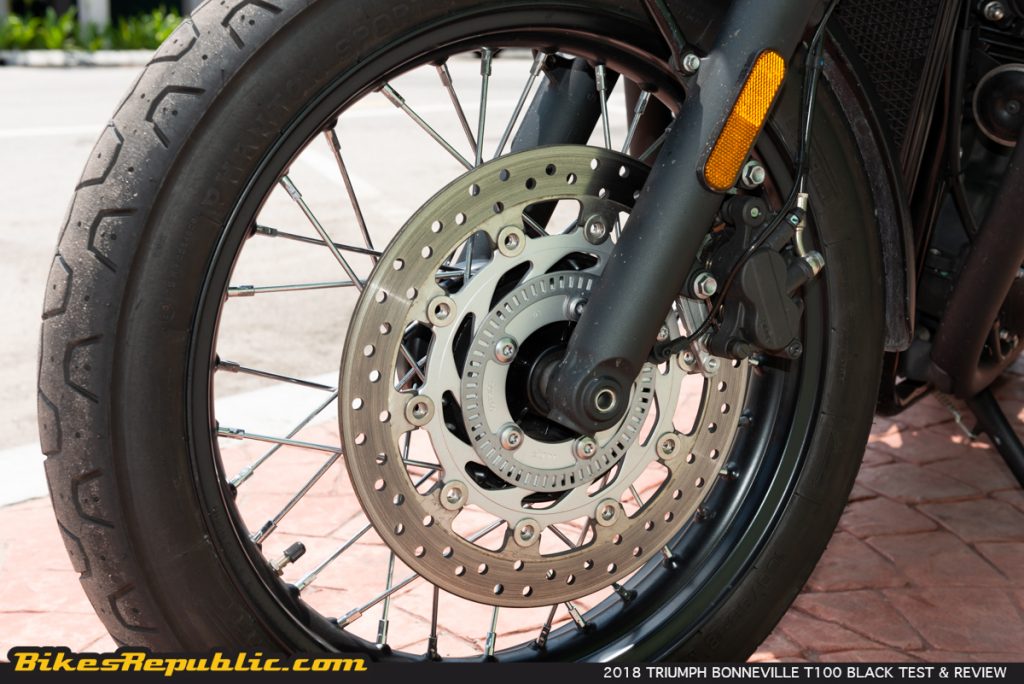 One day, I got on and just started riding. I couldn't remember what triggered it, but it may have had something to do with someone listed as "Puan Harimau" (Tigress) in my phone. I ended up in Tanjung Malim before I even realized.
I remembered singing aloud to my favourite songs playing through the Bluetooth headset (mostly Judas Priest tunes – they're British after all). Wind blast was surprisingly bearable. But I was amazed that engine was virtually vibration free at a steady throttle and coming alive when you accelerate or decelerate. At a steady 110 to 130 km/h, a nice, purring vroom accompanies you.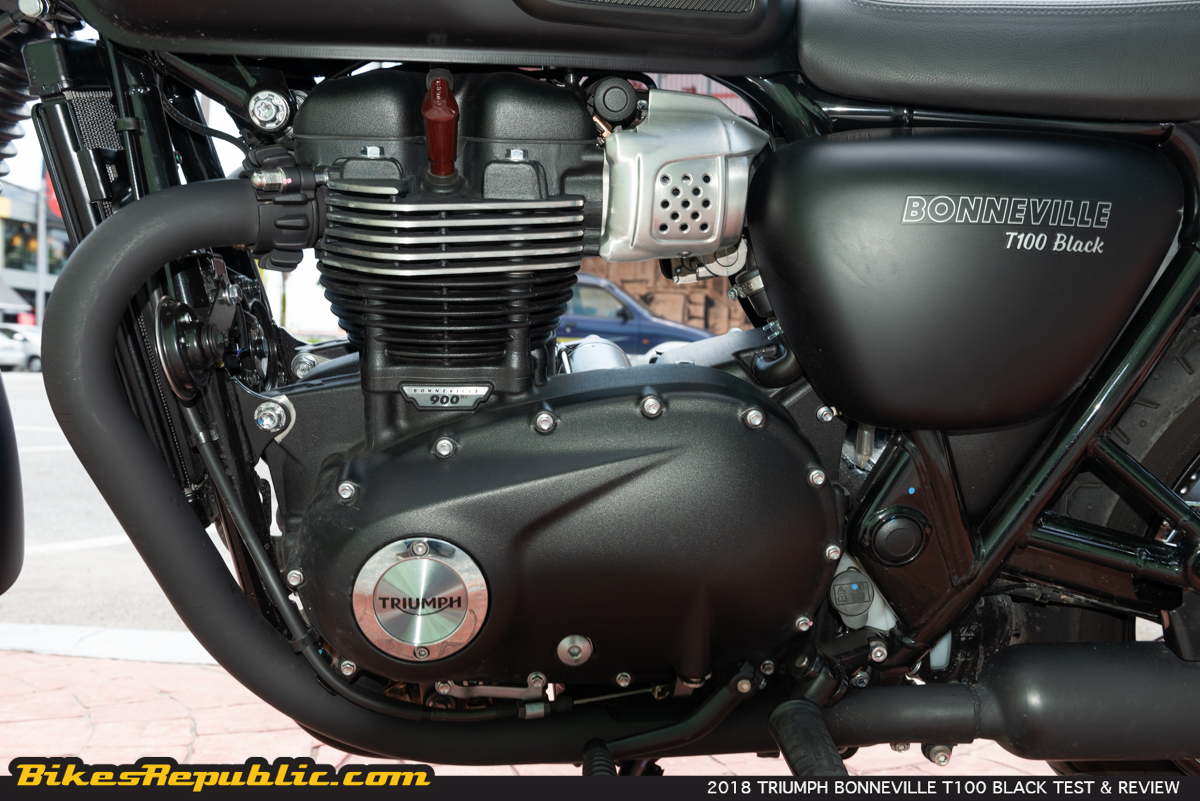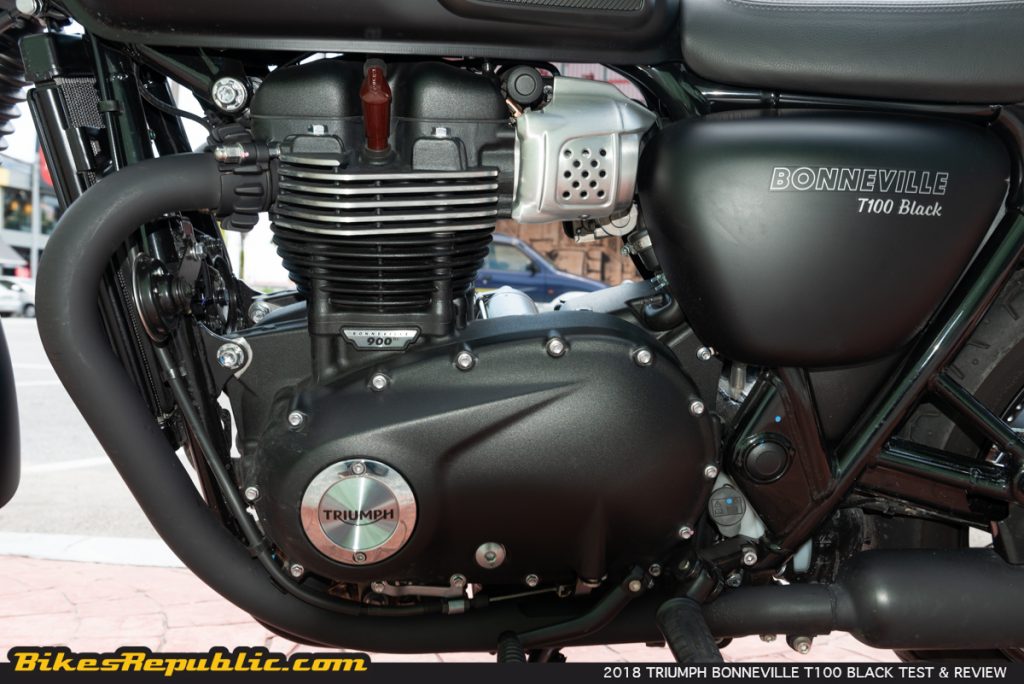 Approaching an F 800 R cruising along, I the rider glancing into his mirror. My first instinct was, "Here we go again." My right wrist was at the ready and gunned it at the same time he gunned his. He put his head down and so did I. In a flash, I was past him with my left hand waving to him at the side. I saw his head following me through and I glanced at the speedo. 180 km/h and still pulling. I backed off immediately.
Think the Triumph Bonneville T100 "classic bike" can't run? Think again. Note that I was in sixth gear and didn't downshift. It was all a throttle roll-on action.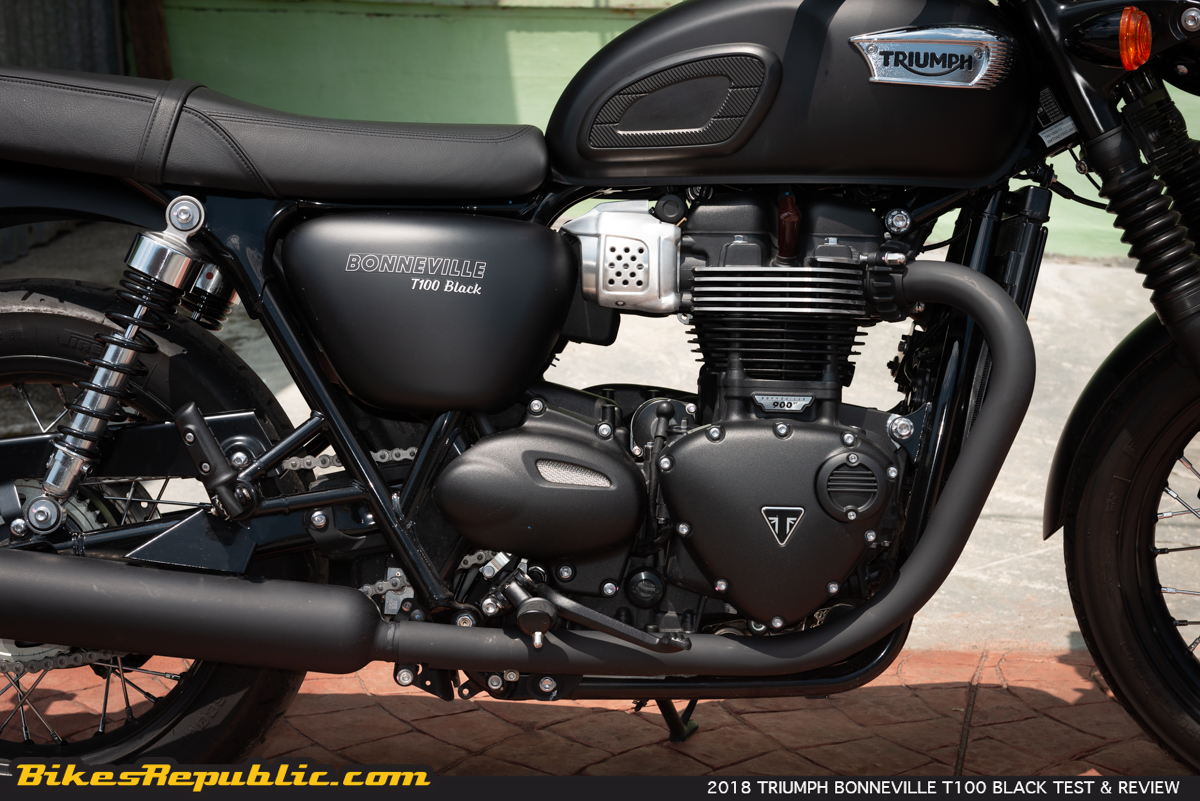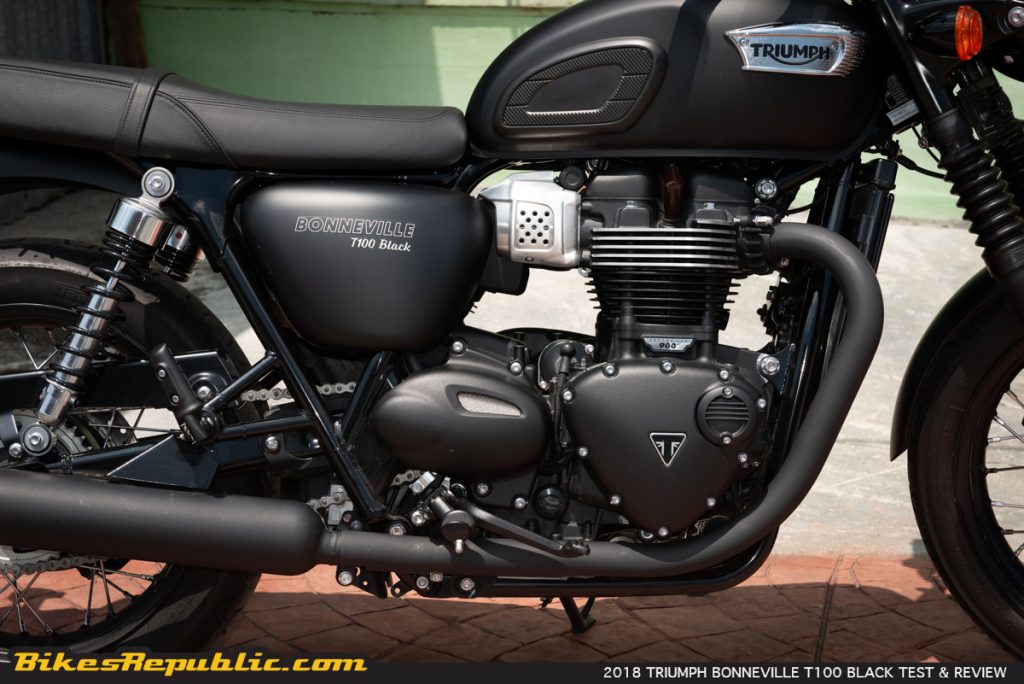 It was a hot, hot day but I was smiling when I rolled into Tanjung Malim. I was whistling happy tunes when I maneuvered the bike around for photographs. A local guy saw the bike and asked if he could take pictures of it. Another guy spoke to me while I was shooting and invited me over to his sundry shop for a drink, on him. He wanted to talk more about the T100 Black away from the sun, he said.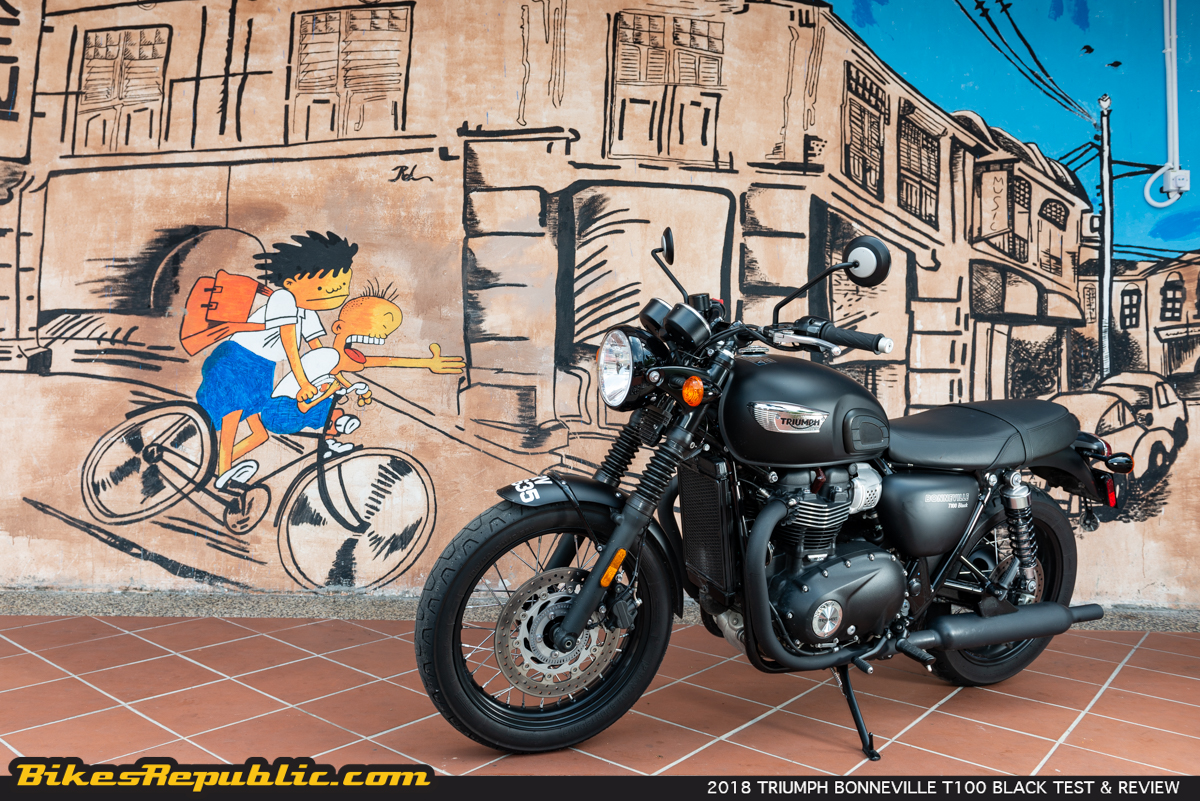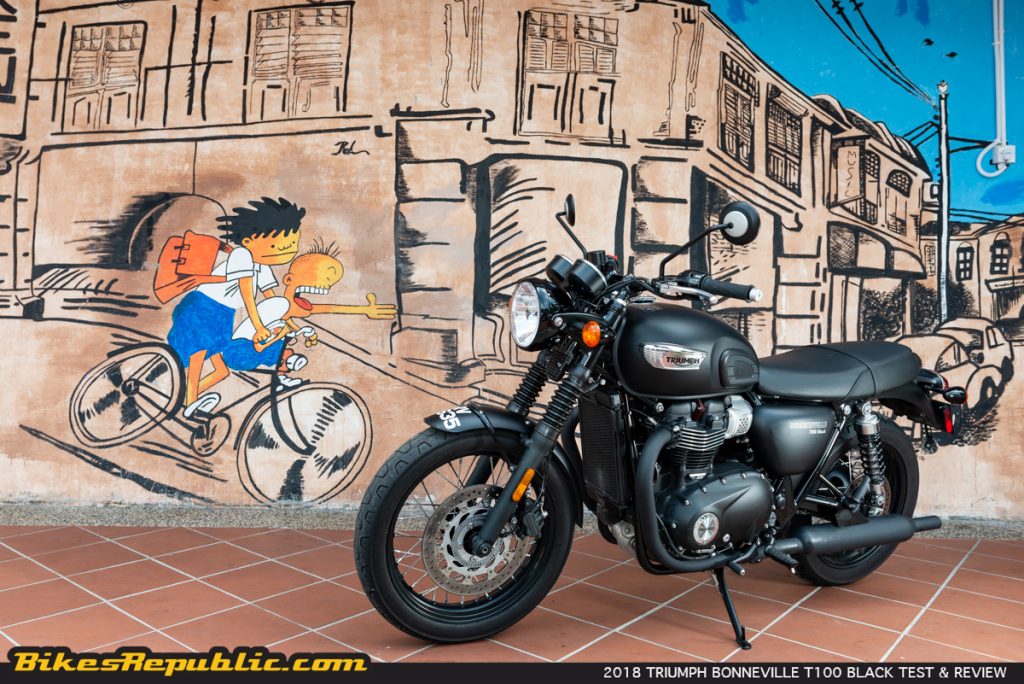 On the return trip, I ignored the signboards pointing towards the highway and stuck to the old trunk road instead. I don't normally do this on a hot afternoon, mind you.
The T100 Black was a natural on these roads (it felt natural on any road, anyway), whether it was straight or less so. I took it really easy, never going beyond 100 km/h just to savour that beautiful engine, throttle and suspension while enjoying the scenery. I discovered that the engine wasn't only smooth on acceleration but on deceleration too. It felt like it had a slipper clutch, although it didn't. Oddly, it was smoother that bikes with slipper clutches.
And hey! I even spotted a glass-smooth lake on the way. Déjà vu.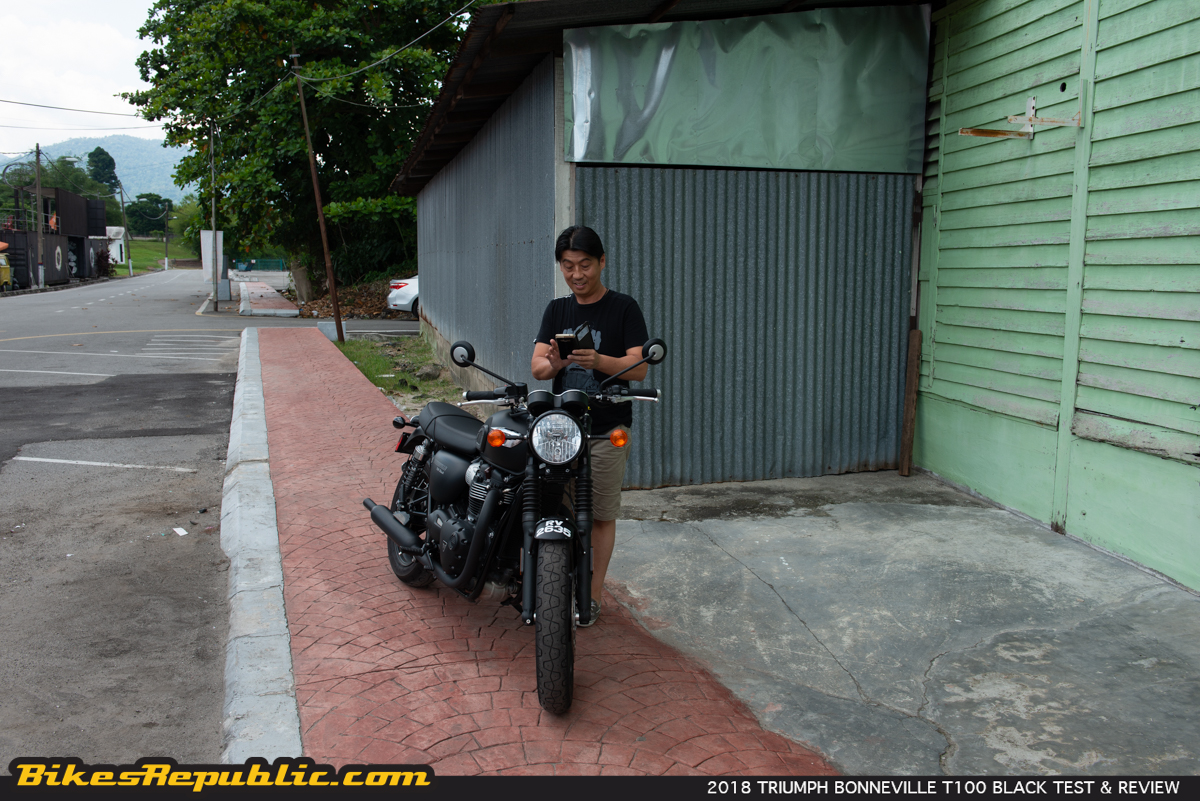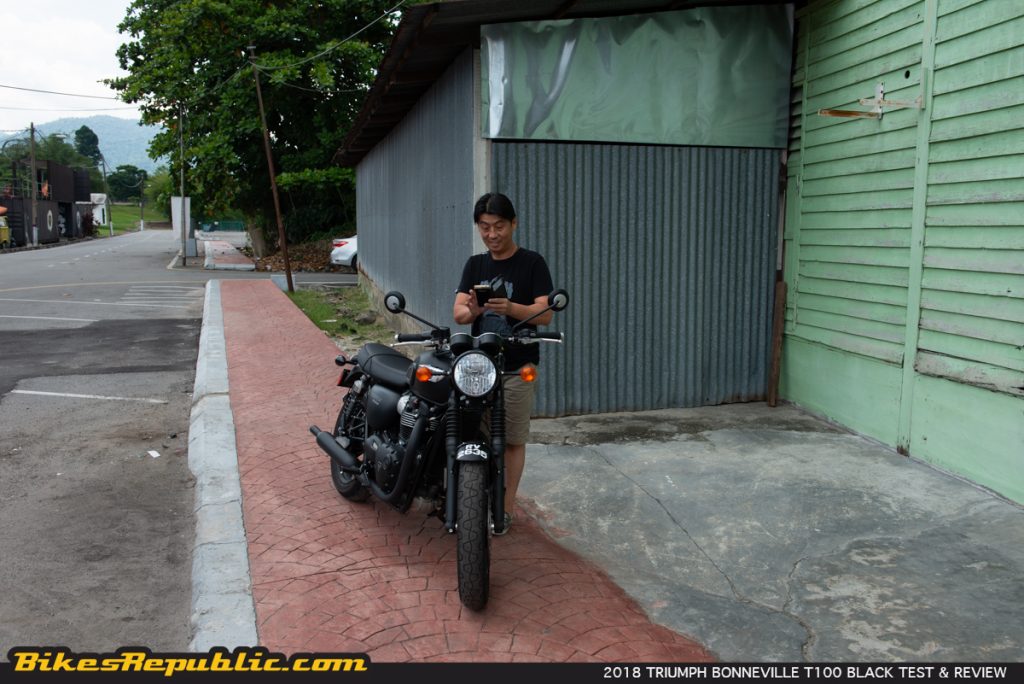 The Triumph Bonneville T100 bike makes you want to just ride and ride. In fact, one could end up being a motorcycle vagabond, travelling from town to town. It's just so fun and effortlessly easy to ride that you forget about everything else in the world, yourself included. 100% pleasure, 0% pressure.
I know a few owners who had logged thousands of kilometres, riding to far and away places on their Bonnies. Who knows I might just drop everything one day and decide to ride to nowhere, similar to how Forrest Gump just ran and ran.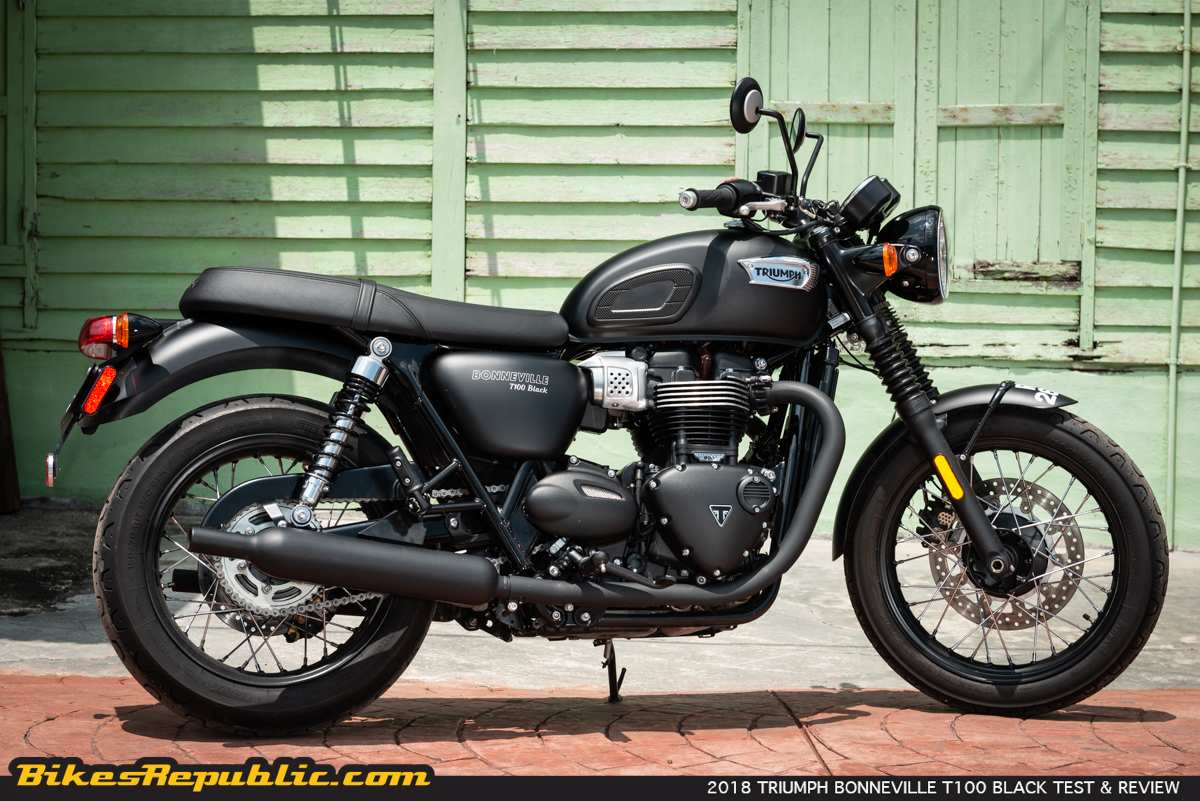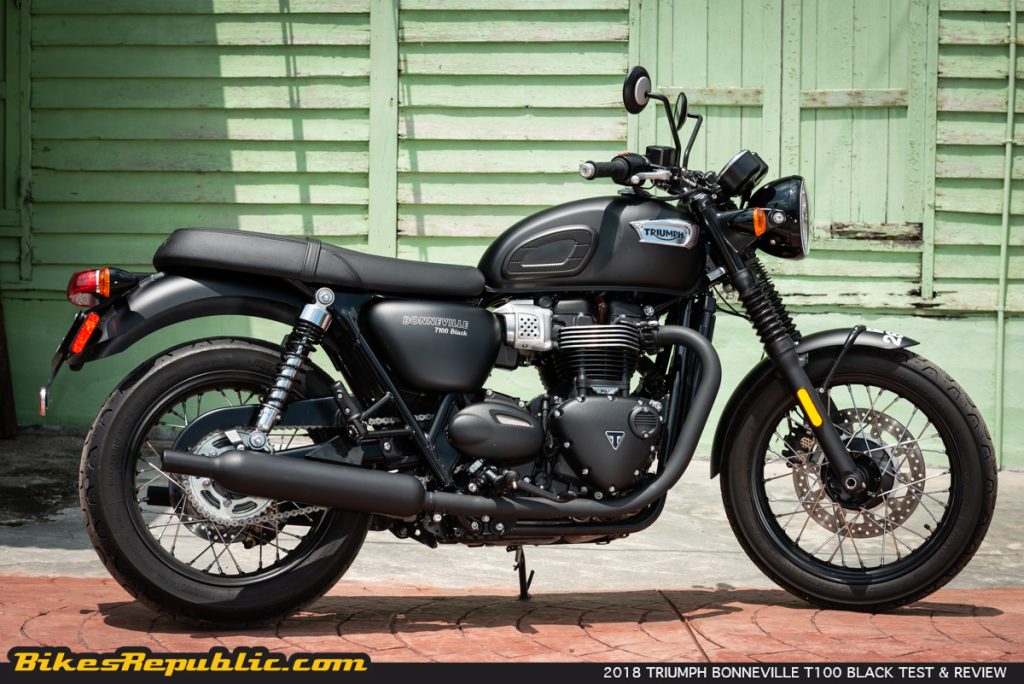 I've decided to name a bike. The Triumph Bonneville T100 Black has so much character, so much soul it may as well be alive. Well, it did make me feel great to be alive.
I ran through a few names with the word "Black" in them. "Black Beauty" was used by Triumph Motorcycles Malaysia and it was a great name which truly reflects the bike. I thought of "Black Widow," not the spider but the actress who plays that character but hey, that's a bit clichéd, isn't it?
I decided on Black Knight©©©. Black armor on a black (iron) horse.
TECHNICAL SPECIFICATIONS
| | |
| --- | --- |
| ENGINE | |
| Engine type | Liquid-cooled, 4-stroke, SOHC, 8 valves, parallel-Twin, 270o crankshaft |
| Compression ratio | 10.5 : 1 |
| Bore X Stroke | 84.6 mm X 80.0 mm |
| Displacement | 899 cc |
| Fuel system | Multipoint sequential electronic fuel injection |
| Maximum power | 94 bhp (40.5kW) @ 5900 RPM |
| Maximum torque | 70 Nm @ 3230 RPM |
| TRANSMISSION |   |
| Clutch | Wet, multi-plate assist clutch |
| Gearbox | 5-speed |
| CHASSIS | |
| Front suspension | KYB 41 mm telescopic forks, 120 mm travel |
| Rear suspension | KYB twin shocks preload adjustment, 120 mm travel |
| Front brakes | Single 310 mm floating disc, Nissin two-piston sliding caliper |
| Rear brake | Single 255 mm disc, Nissin two-piston sliding caliper |
| ABS | ABS standard, front and rear |
| Front tyre | 100/90-R18 |
| Rear tyre | 150/70-R17 |
| FRAME & DIMENSIONS | |
| Frame | Tubular steel trellis frame |
| Swingarm | Two-sided tubular steel |
| Trail | 104 mm |
| Rake | 25.5o |
| Wheelbase | 1450 mm |
| Seat height | 790 mm |
| Dry weight | 213 kg |
| Fuel capacity | 14.5 litres |
PICTURE GALLERY