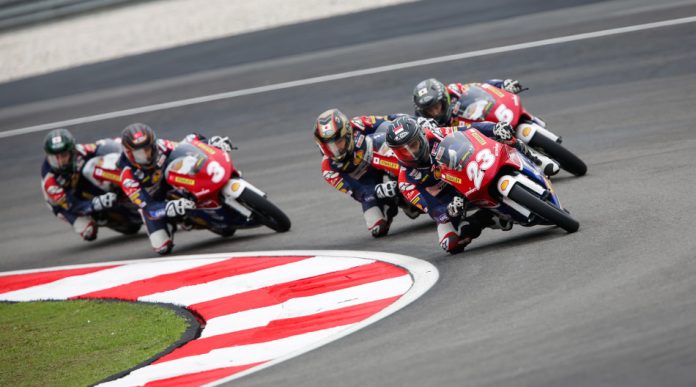 Izdihar took his third victory of the season in the 2016 Shell Advance Asia Talent Cup
Starting from pole, Andi Izdihar succeeded in claiming his third victory of the 2016 Shell Advance Asia Talent Cup Race 1 earlier today. Izdihar stands on the top spot of the podium with Kazuki Masaki taking second and Yuki Kunii third.
Despite the heavy downpour during mid-day, the Asia Talent Cup lads saw the track drying up quickly and optimized the slick tyres in Race 1.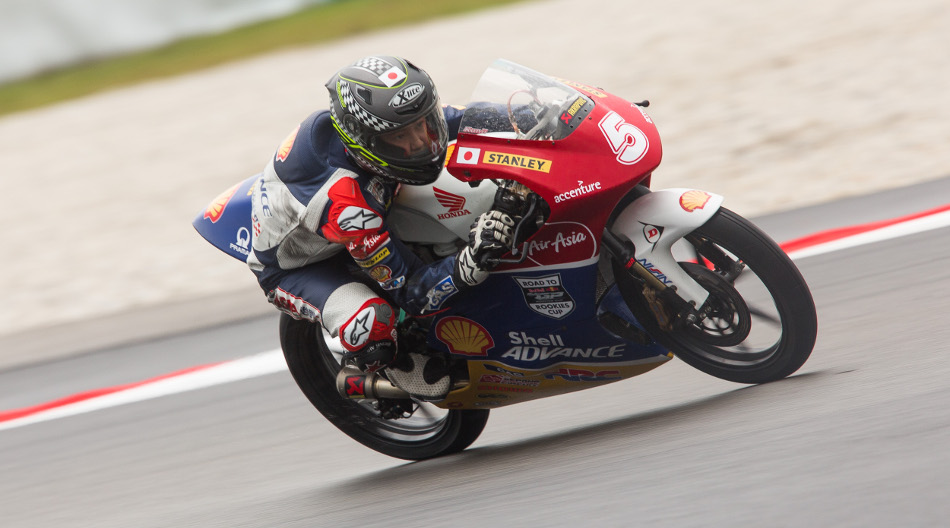 Ai Ogura who is currently leading the Cup started poorly from his 2nd qualifying spot while he watched Izdihar lead the way. The Turkish brothers, Can Oncu and Deniz Oncu flew at the start of the race and gained several positions respectively.  Gerry Salim crashed out of the race and ended his title shot for 2016.
At the beginning, the race was led by Can Oncu, followed by Somkiat Chantra and Izdihar as they broke away from the group. Ogura was reappearing as he sped through overtaking several riders when a scene broke out as Izdihar nearly fell out of the race, and fell behind Oncu and Chantra.
Just three laps before the finish, the excitement increased as Oncu and Chantra both fell out of the race as they were competing for the number one spot. This was an advantage for Izdihar to grab his third victory for 2016, in front of Masaki and Kunii. After passing Deniz Oncu on the final lap, Ogura managed to finish fourth, and the sixth spot went to Ryusei Yamanaka.
As of now, right before the deciding race on Sunday, Ogura is in the lead for the Cup with 173 points, and Izdihar is in second place with 167 points. Yamanaka is in third place with 154 points, and Chantra in fourth with a mere 1 point behind him.
Alberto Puig, Director of the Shell Advance Asia Talent Cup, gave us his feedback on the race, stating, "It was a very interesting race and it's a pity for Can Oncu and Chantra. Both crashed when they were leading the race. At the beginning it was very tricky because of the conditions of the track but we decided to go with slick tyres and that was a good choice. For tomorrow Ogura has an advantage on points but you never know, this is racing and anything could happen."
The 2016 Advance Asia Talent Cup's final race of 13 laps will be on Sunday, 4.30pm local time.