The Triumph Tiger 800 XRx is more of a sport-tourer compared to the Tiger 800 XCx.

Both the XR and XC ranges were launched just over a month ago (click here for the report).

Prices for the XR range begins from RM 56,900 (basic selling price with 6% GST) but hurry, offer lasts until July 2018 only!
Humans are resistant to change by nature. Despite some of us propounding to accept change, we tend to fall back to what we're familiar with. We go on doing the same thing day in day out but when something unfamiliar comes along to disrupt that equilibrium, we resist, we fight, we rant on Facebook. Like Linus in Peanuts, we keep running back to our security blanket.
One of them was me, especially when it concerned motorcycles.
I loved sportbikes. No, I didn't mind stretching my arms out, plopping my gut on the tank and offering my bum to the sky gods. To me they offered something familiar: Front tyre feedback, gruesome cornering angles and the exhilaration of blowing everything on the road away.
Then, one day, a few motojournalists and I joined the Ratpack on a ride to Khao Sok National Park in Thailand. The centrepiece of that ride was the then new 2015 Triumph Tiger 800 XRx and Tiger 800 XCx.
 They may have won accolades the world over, but I was a little sceptical if I would like it. Because, truth be told, it wasn't my security blanket. But I sucked my thumb and kept quiet.
You may have remembered the 2018 Triumph Tiger 800 XR lineup's launch hand-in-hand with its brethren the XC range, along with the Bobber Black and Speedmaster in Bukit Tinggi. (Please click here for our report of the event.)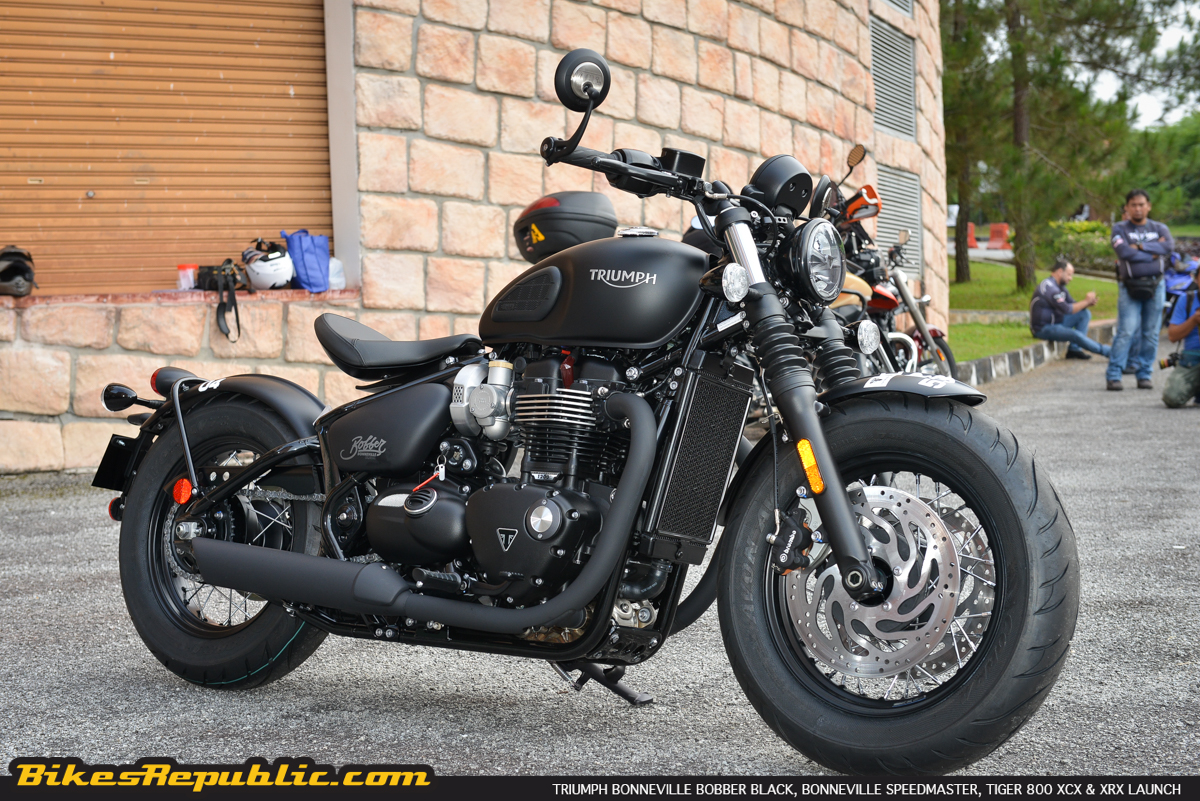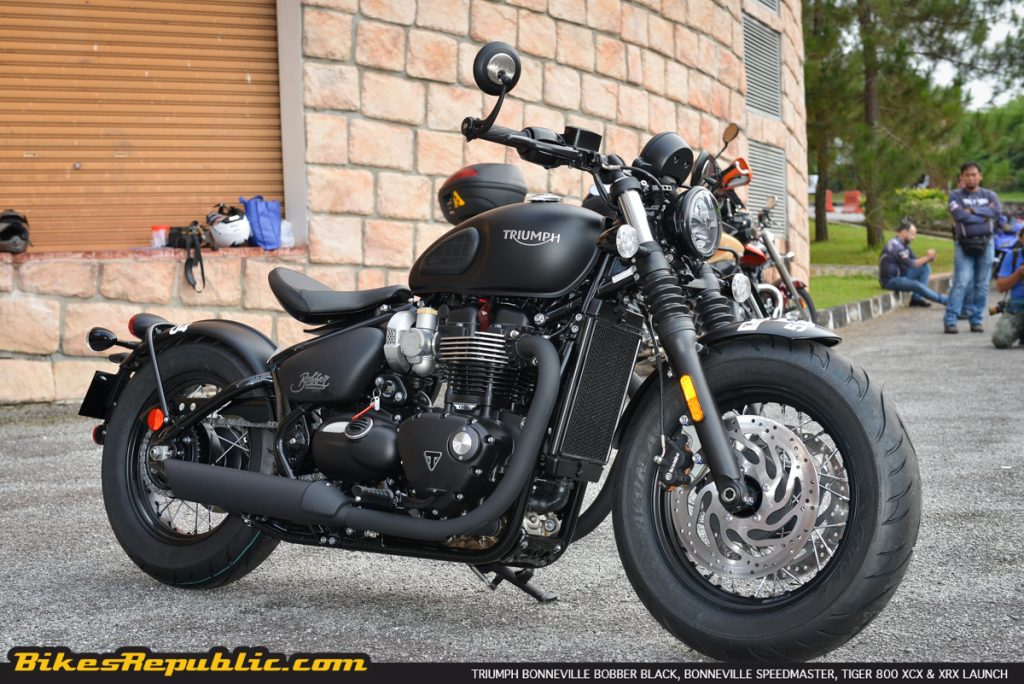 To recap quickly, the XR line-up consists of the base XR, XRx, XRx LRH (Low Ride Height) and range-topping XRt. The XC range consists of the XCx and flagship XCa.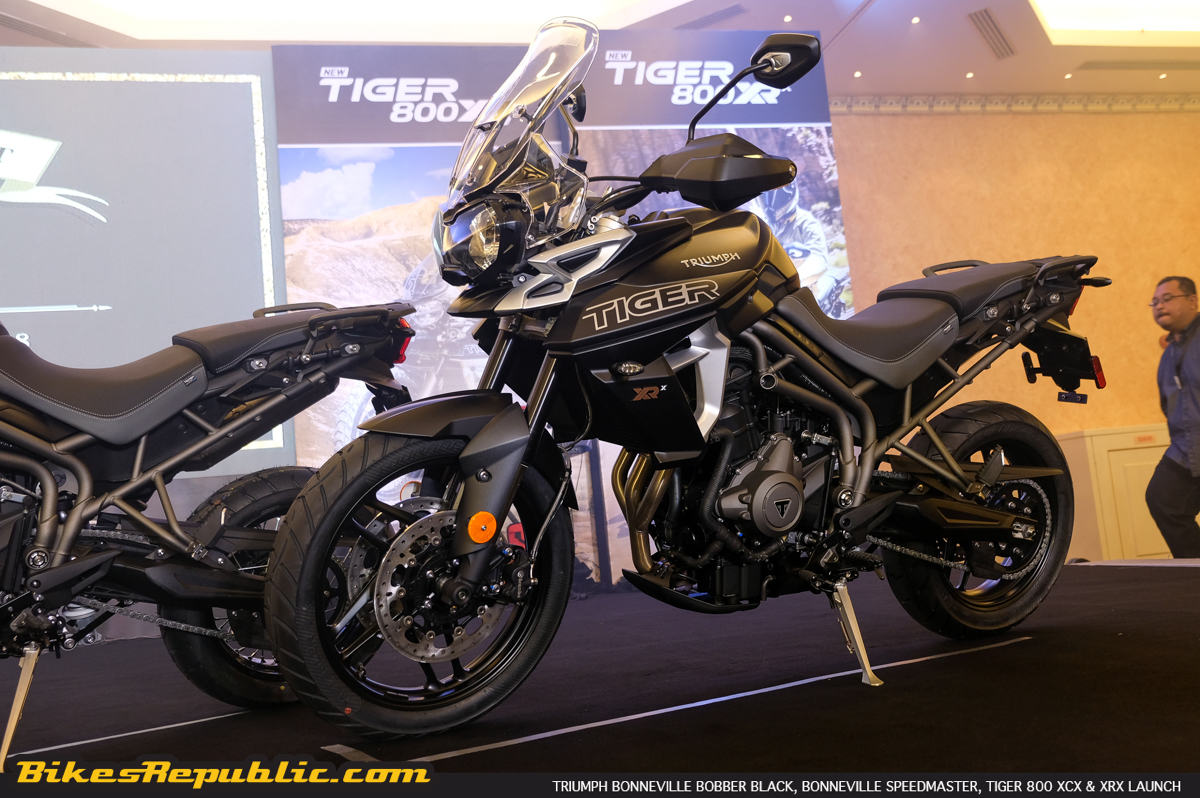 We've tested the 2018 Triumph Tiger 800 XCx (please click here for the full review) and fell in love with it, and we tested the 2018 Triumph Tiger 800 XRx later as it's more road-oriented than the XCx. As such, the XRx has cast wheels instead of laced spokes. The front is a 19-incher, compared to 21 on the XCx. Suspension is duly shorter with 180 mm front and 170 mm rear travel compared to 220 mm and 215 mm respectively, hence the XRx has a 810 – 830 mm seat height compared to 840 – 860 mm on the XCx.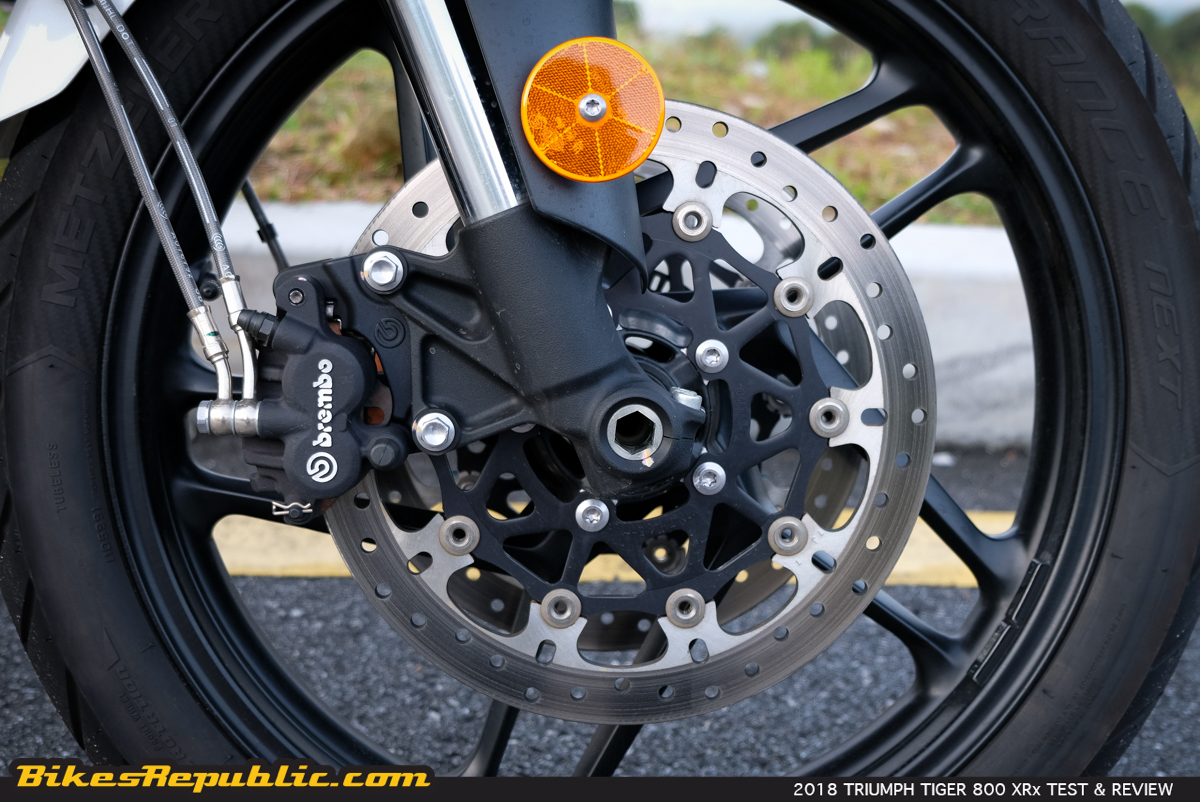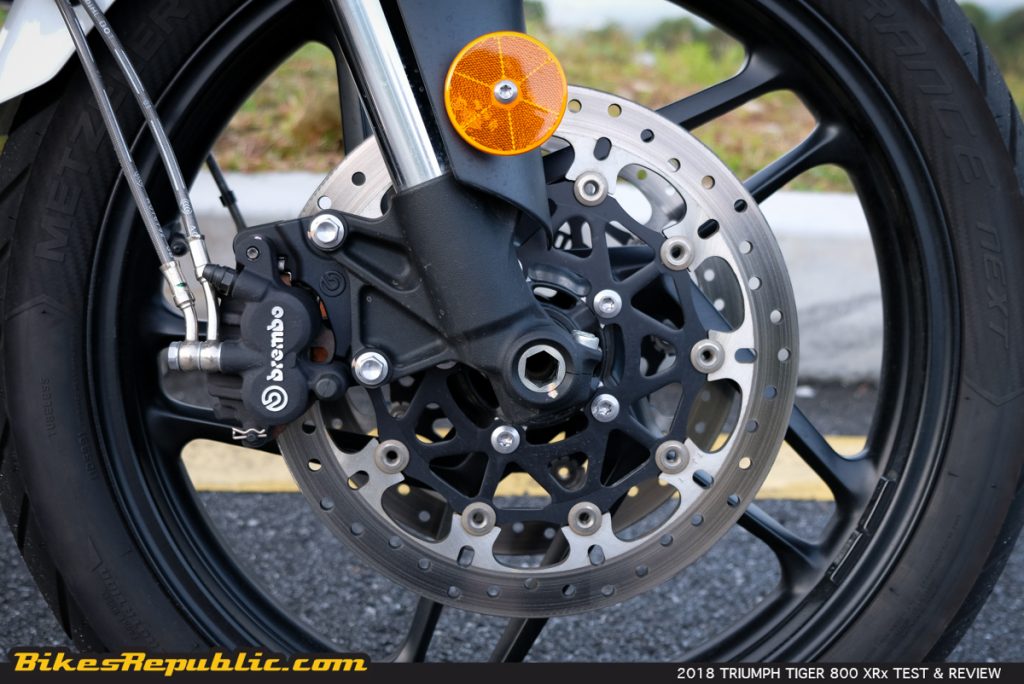 Other than the rolling stock, both bikes are virtually the same except for the shorter "beak" on the XRx.
It had been some time since I last rode the Tiger 800 XCx and I sighed a relief when I got on the XRx. I was Linus and this was my security blanket. The seating position felt the same although the handlebar felt a little more forward due to the smaller front wheel. Additionally, both my feet could reach the ground comfortably.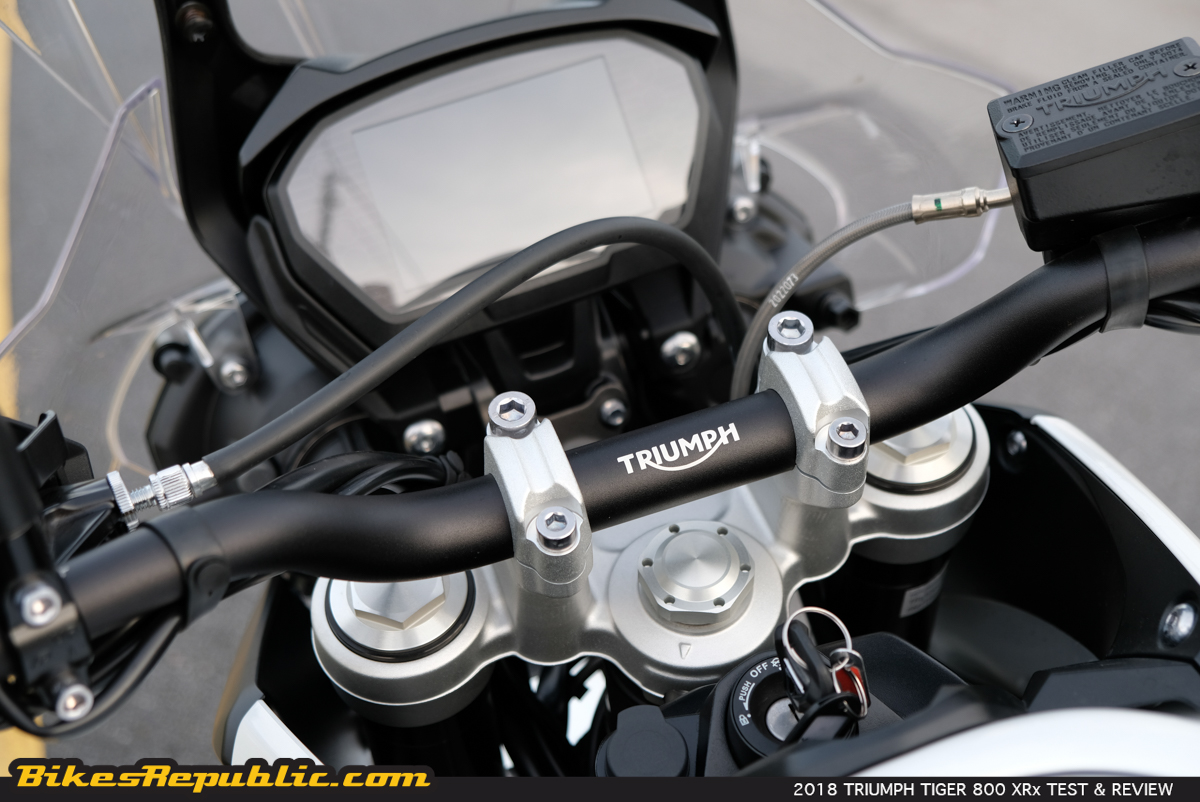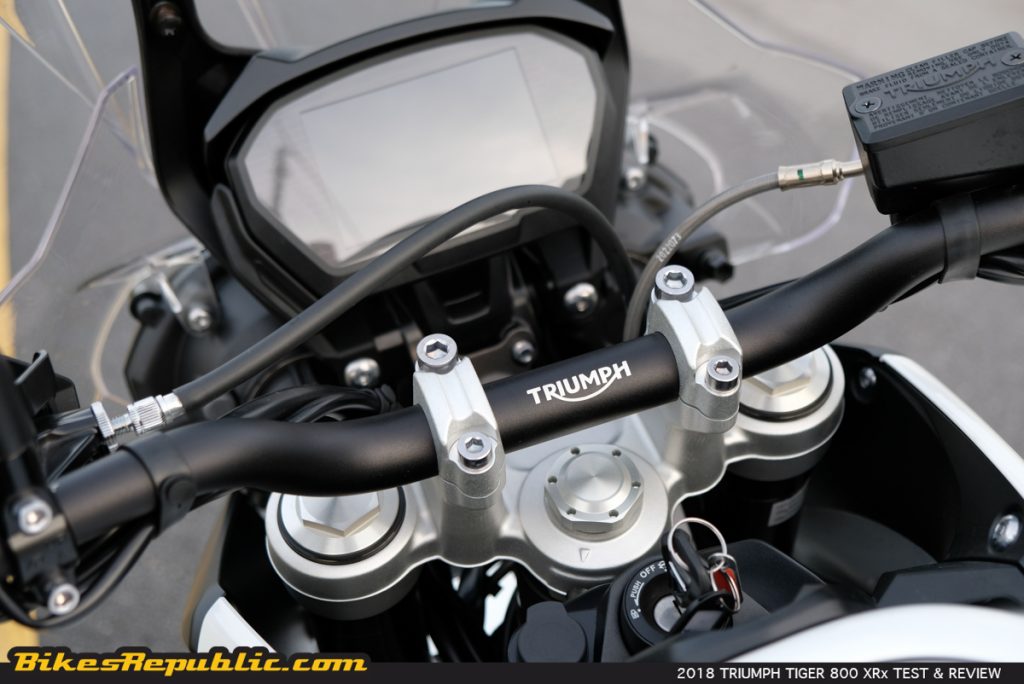 A short press on the starter button awoke the bike with a deep vroom. Just a little throttle and I was on my way.
The XRx flicked around lightly on its contact patches like Muhammad Ali (Allah bless his soul). It didn't take much time to grow acquainted to the bike and I was cutting through traffic effortlessly.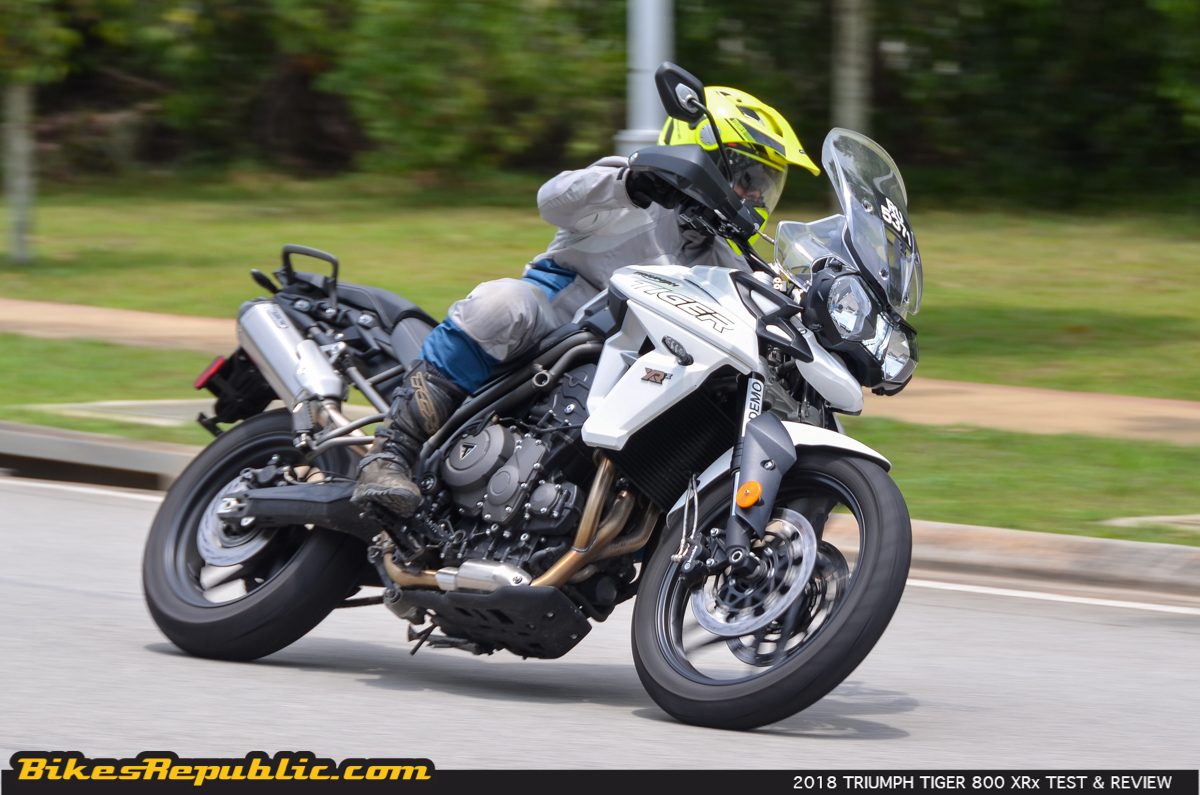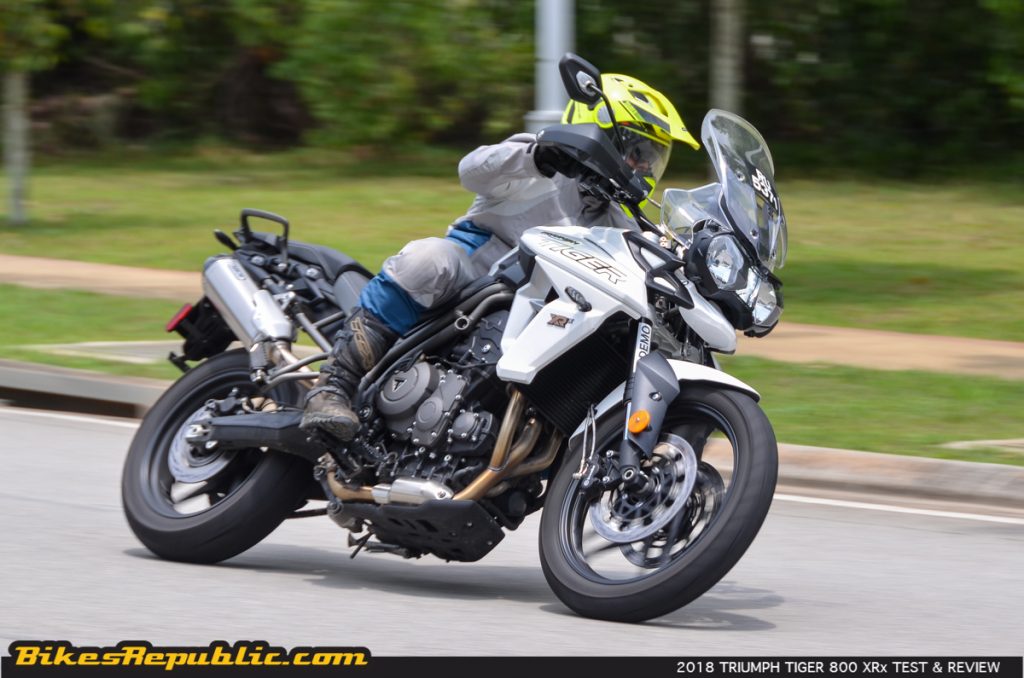 The throttle, clutch, engine, transmission combination worked so smooth even butter has lumps. All I had to do was focus on getting through traffic and let my hands and feet work subconsciously, because the Tiger 800 XRx (and XCx) took the load off me. Besides that, the twin headlamps were large and bright and they had the psychological effect of presenting a much more authoritative presence to other road users.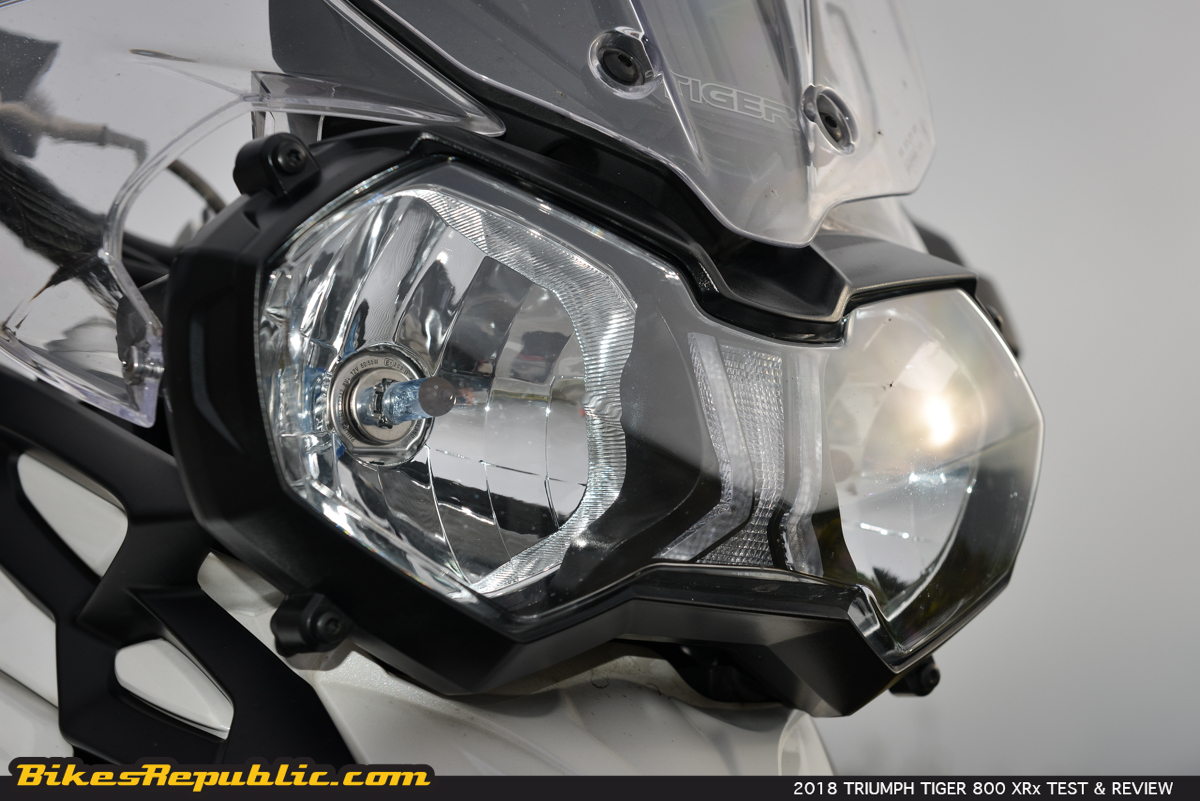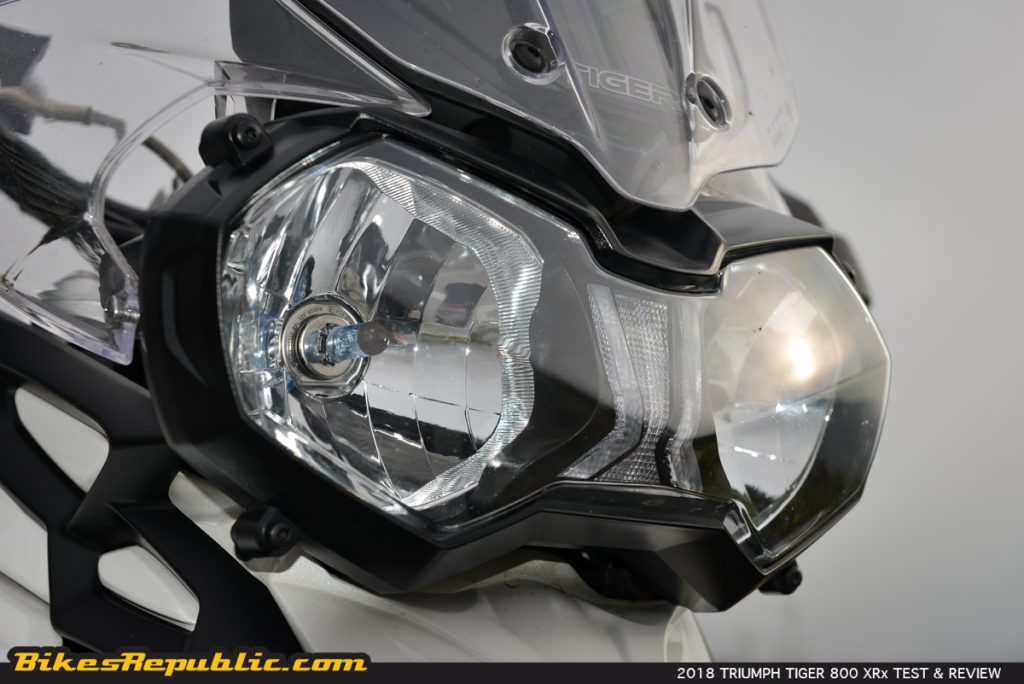 We were now returning from Khao Sok. It was my turn on the Tiger 800 XRx (before the XCx). I was resistant at first. But 30 minutes into the ride, something changed. I smiled in my helmet. I started to wave and signal thumbs up to the Ratpack riders.
Just as what the XCx did, the XRx induced insomnia in me. Somehow, parts of me, not limited to the heart and brain, had just wanted to go riding. It's like this little voice that kept going on and on like a bad track, "Let's ride. Let's ride. Let's ride." Earplugs didn't work on this one (unlike for the wife's nagging).
So again, I got up at 5am and went riding.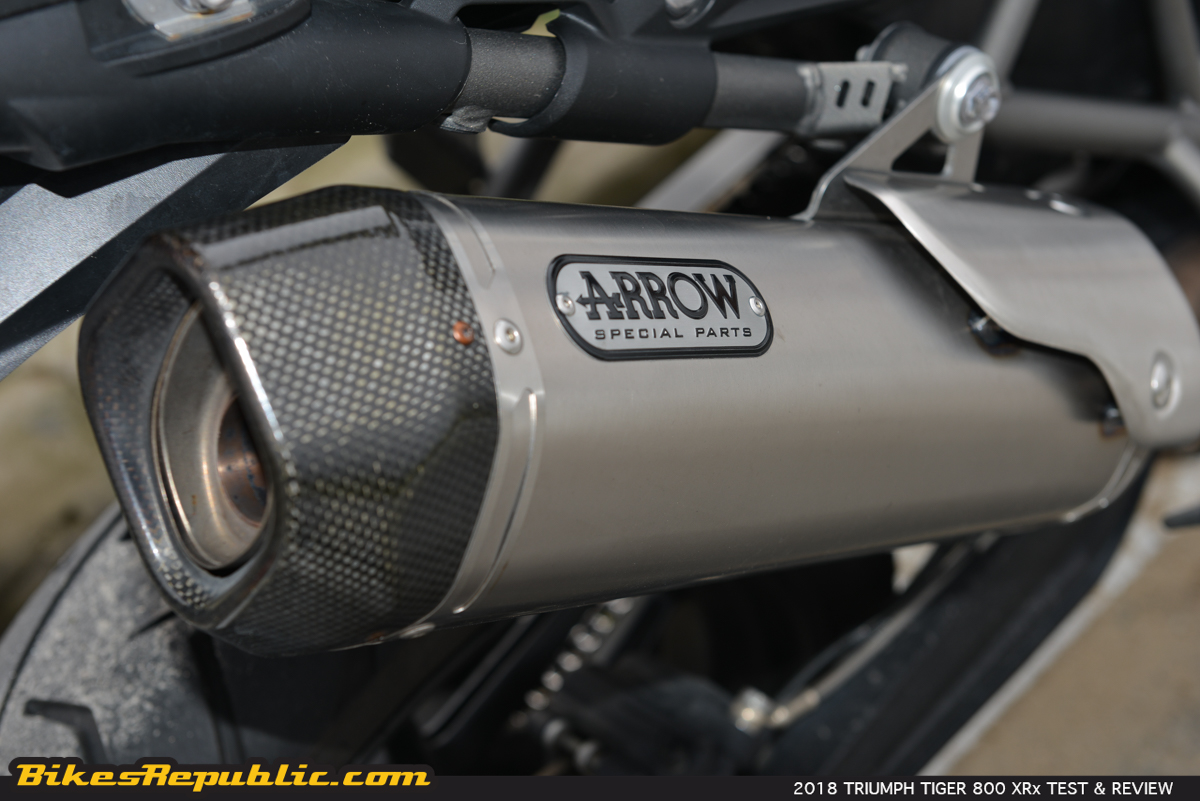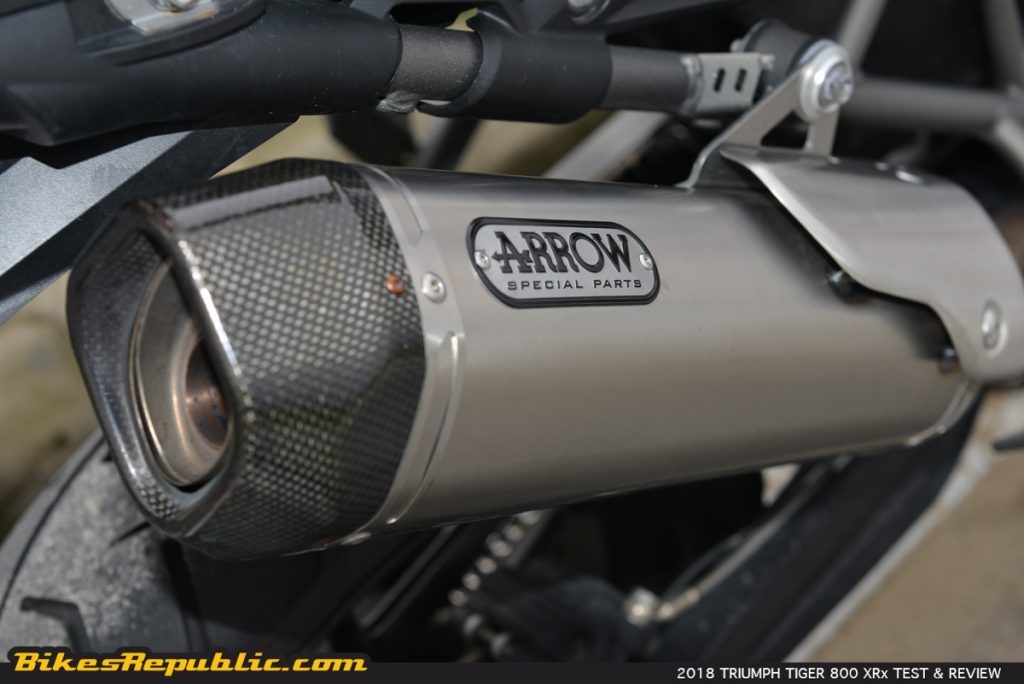 There's something eerie about the Karak Highway before dawn. A light mist hangs a few metres above the road and everything seemed to be out from a scene in Insidious. (Man, I've to stop watching scary movies.) Anyhow, a tap on the PASS/HIGH BEAM button bathed everything ahead in righteous light. It was just a boon for the sweeping corners of Karak.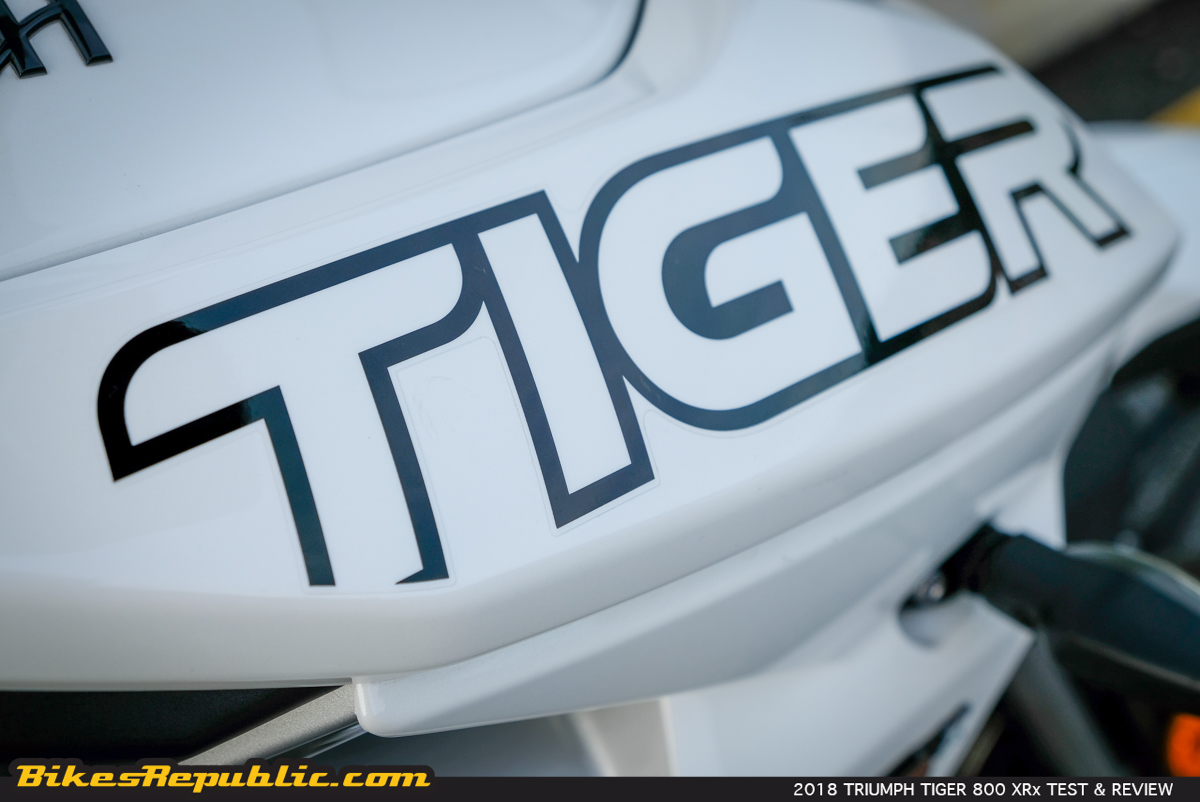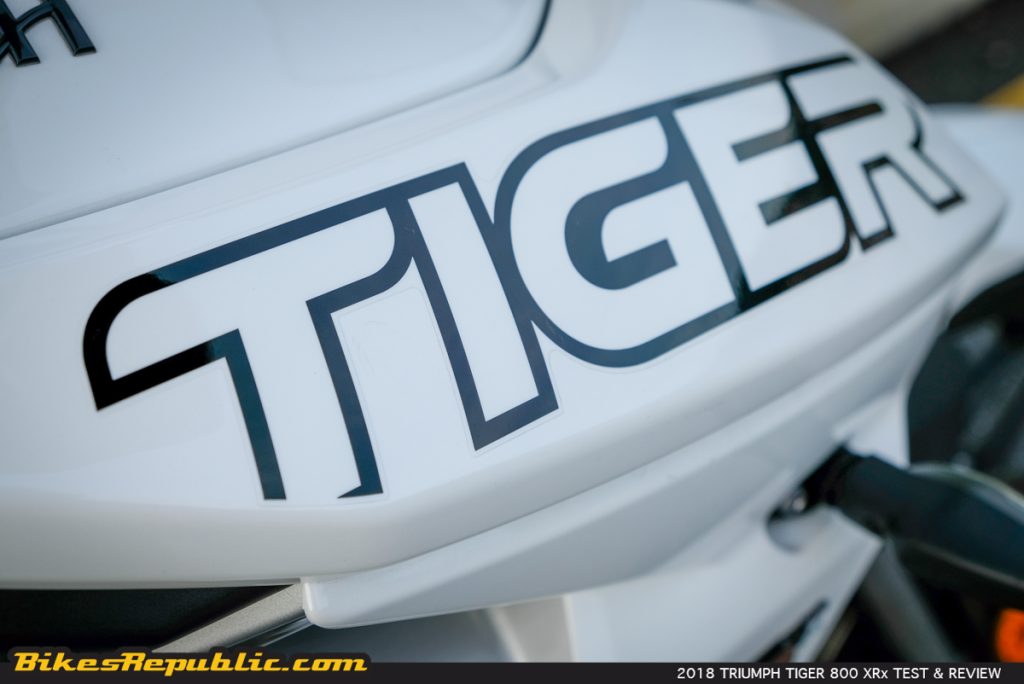 This was where I could find the true distinction between the two Tiger 800s. As soon as the bike tipped over into the corner it was rock solid without a bounce or wiggle. I had the choices of either braking deeper or charging in harder into the corners – the Tiger 800 XRx conformed to both tasks without complaint. It didn't have a slipper clutch but it felt way smoother than actually having one!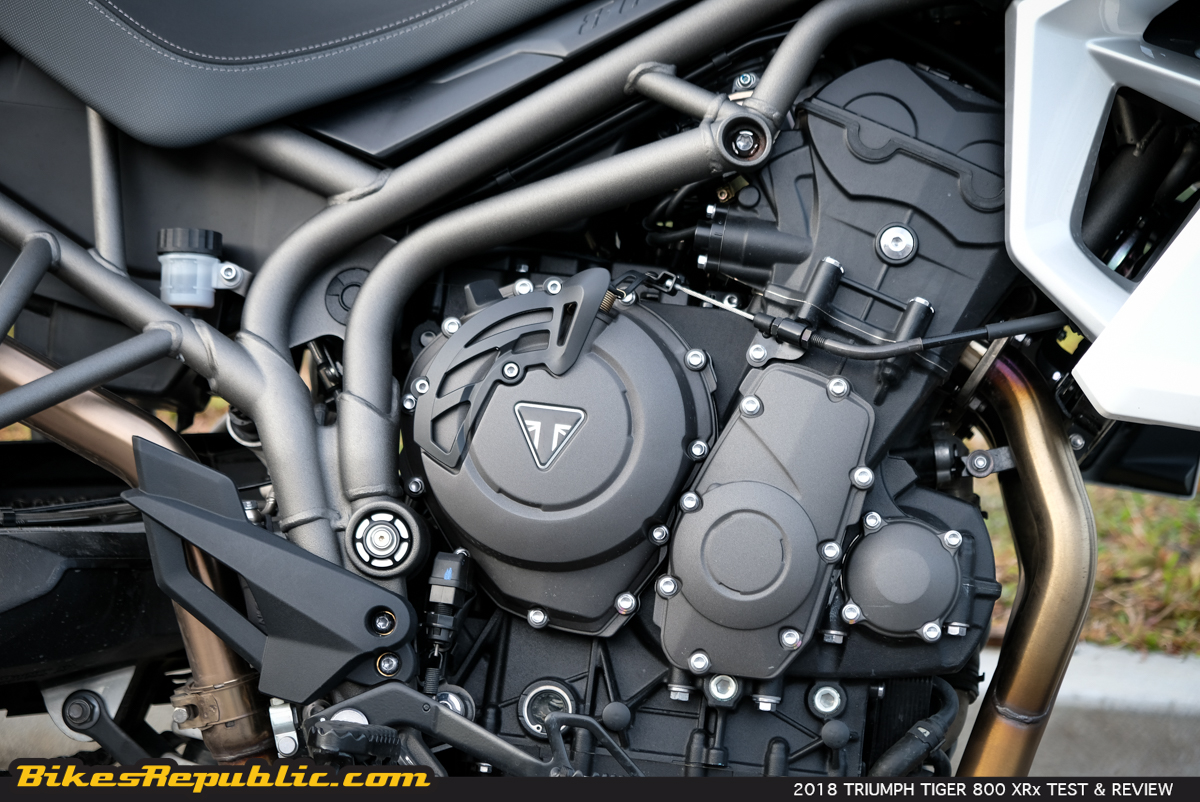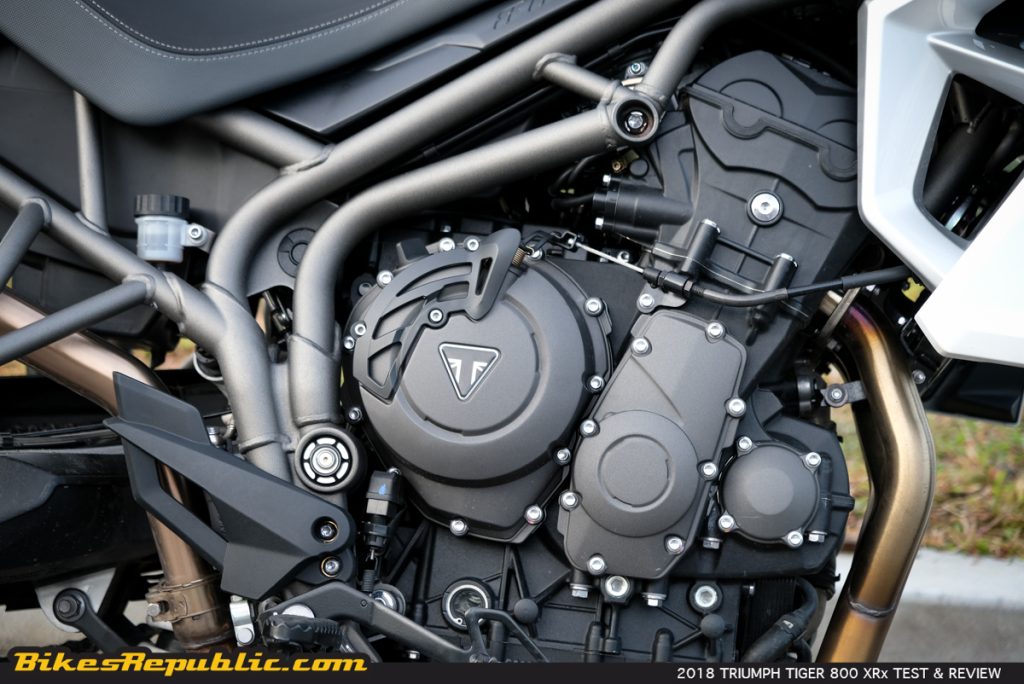 However, as stable as it was in mid-corner, it didn't hesitate when I had to alter my line or direction. If you've the chance to test both bikes, they'd feel so much smaller than they seem.
The Genting Highlands road alternated between total darkness to total whiteness during these hours. Still, I didn't have to worry much since the bike just took over, leaving me to actually enjoy myself even without full vision. I had so much fun I kept grounding the footpeg feelers on both sides. Had someone followed behind they'd surely be reminded of the fireworks on New Year's Eve (sorry, Triumph Motorcycles Malaysia).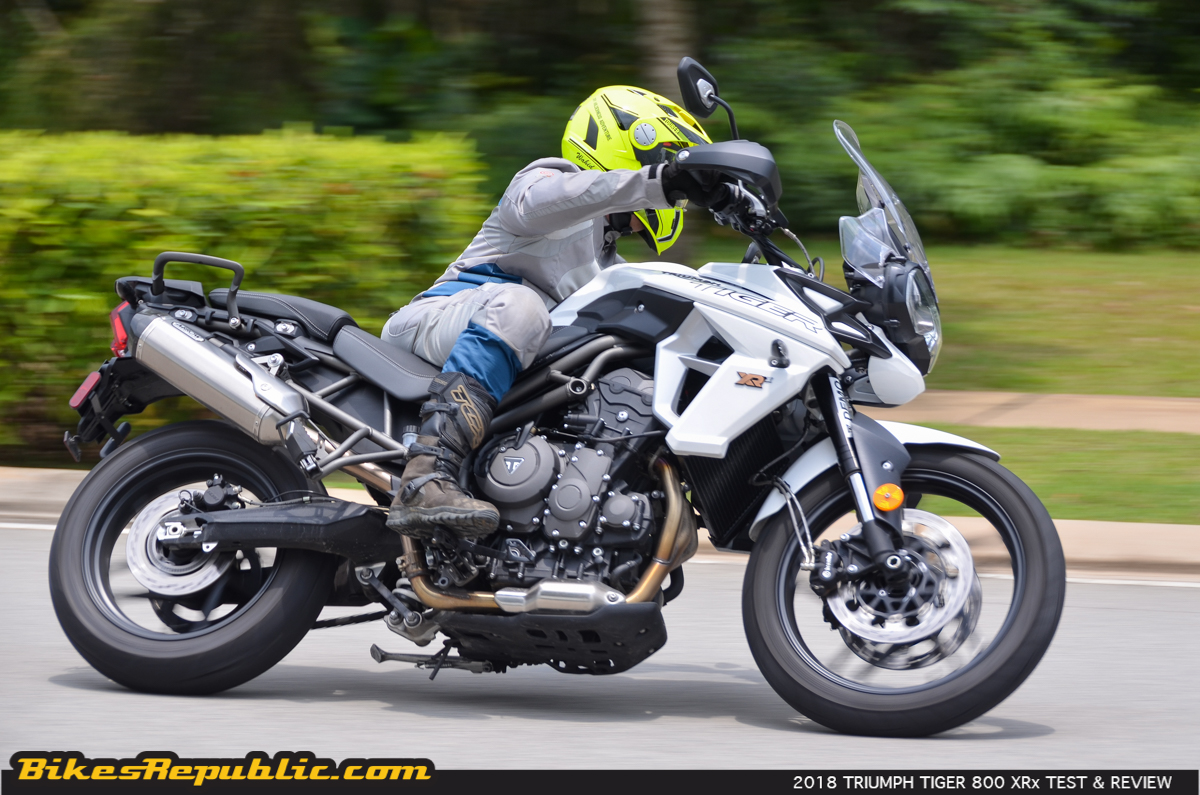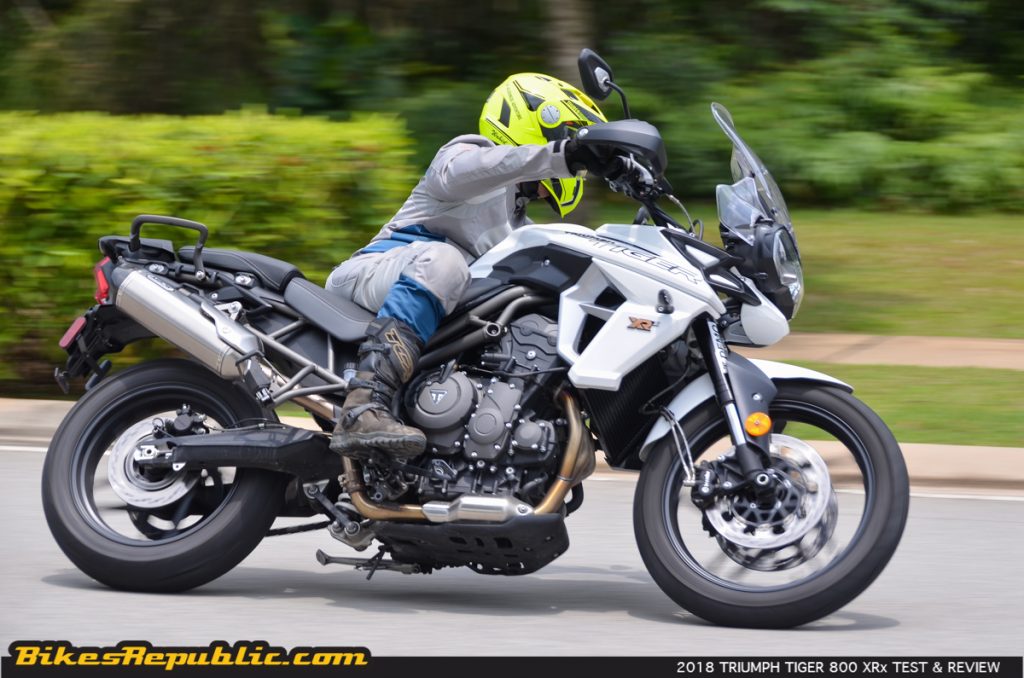 Then the rain poured down on us. In SPORT mode, the throttle felt as if my hands were connected directly to the butterfly valves, so I didn't switch to RAIN. I just kept riding and riding, invincible against the rain.
I soon came up to a fork in the road so I stopped since I didn't know the direction. One of the riders who had been following me on his Speed Triple all this while pulled up beside me. He flipped up his visor and yelled, "You crazy ah?!! You were doing 160 km/h in the rain!!! In Thailand!!!"
I reached the First World Hotel, aimed for the Petron station and made a left turn onto a newly tarred road. It was very narrow and as sinewy as a clump of intestines. I stopped at the summit with the Triumph Tiger 800 XRx juxtaposed against the backs of mountains and hills in the distance, just as the horizon started to turn to orange.
And I did this four days in a row in the five that we had the bike.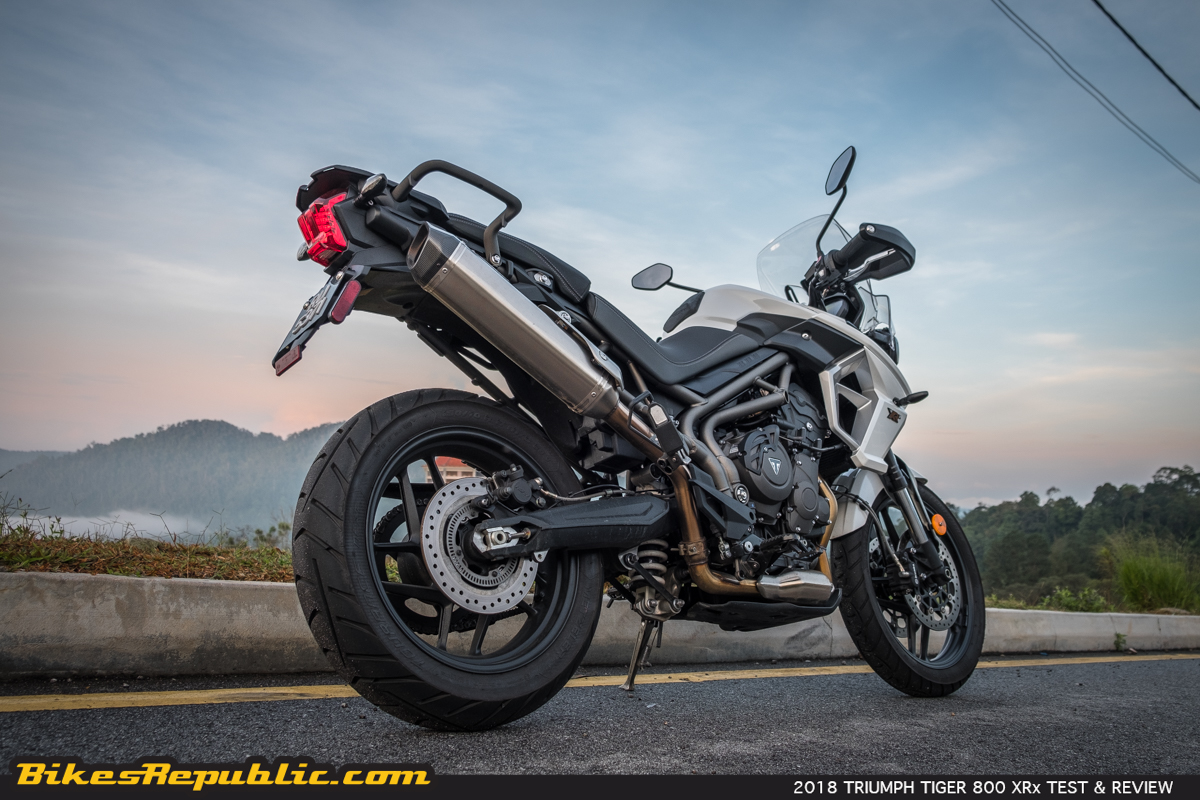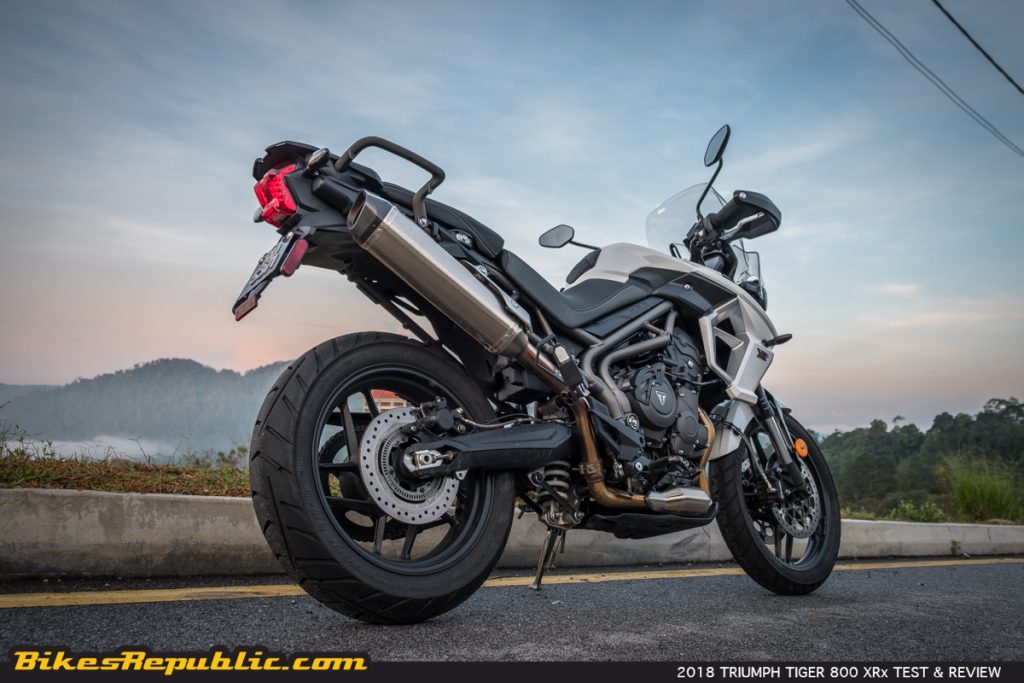 My surroundings turned bright quickly from then on. I felt on top of the world everytime that happened because not only had I climbed the mountain in the dark and fog, but I had also done it on wet roads. The Tiger 800 XRx and XCx were never fazed by soggy roads.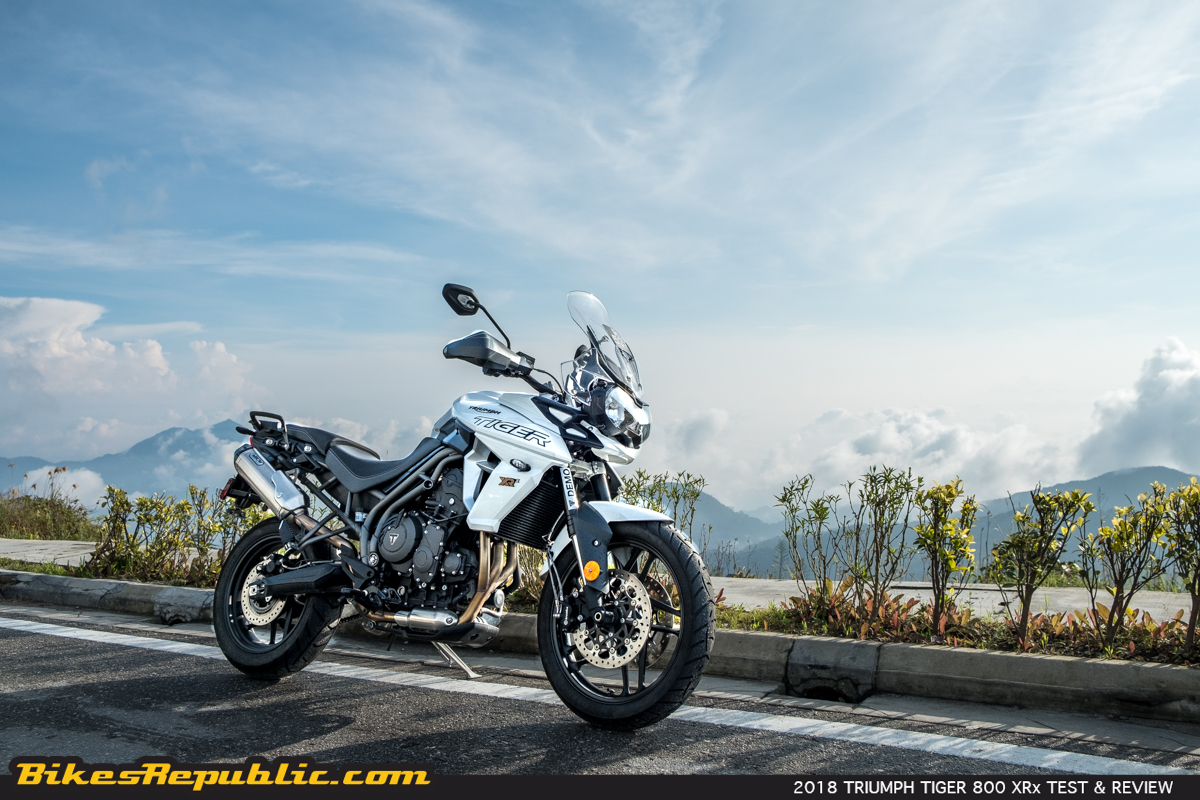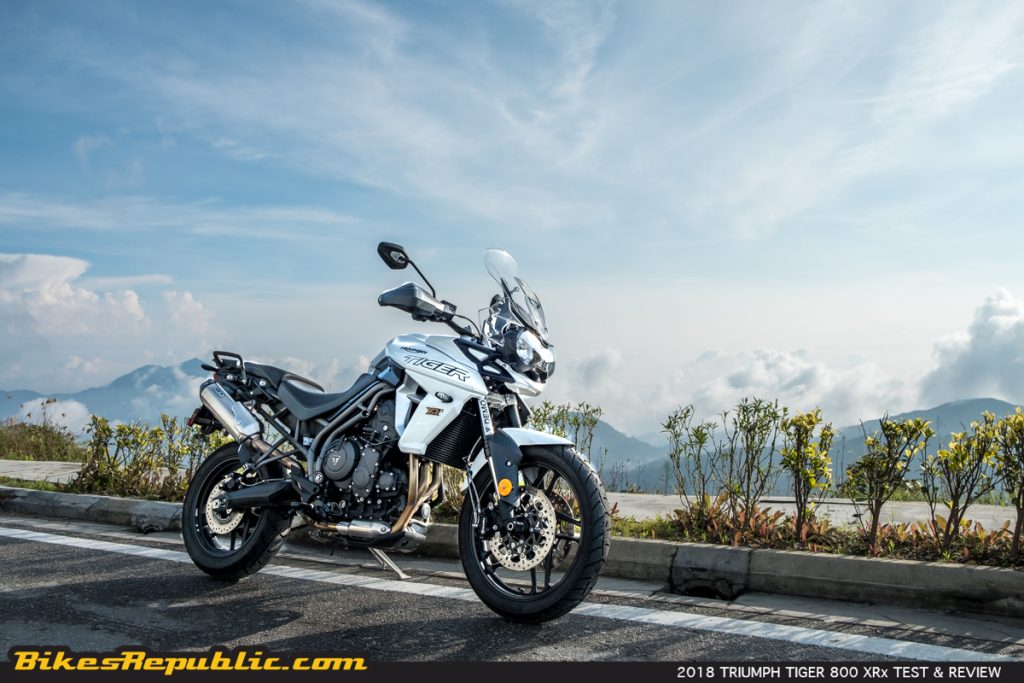 A few more deep breaths of the fresh air and it was time to head back.
Taking it easy this time due to heavier traffic, I flicked through the LCD display. It was so easy to use with the new switchgear, joystick and menu system. Every bit of pertinent information was there, presented in easy to read format.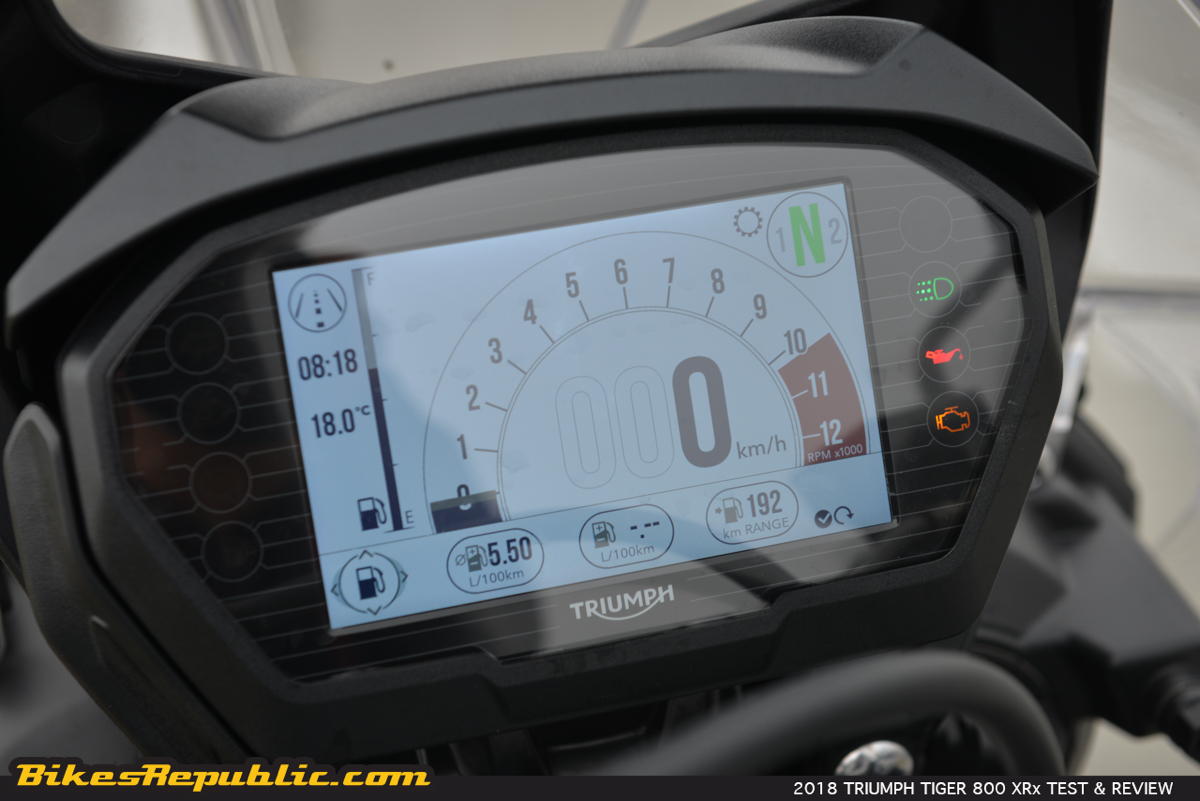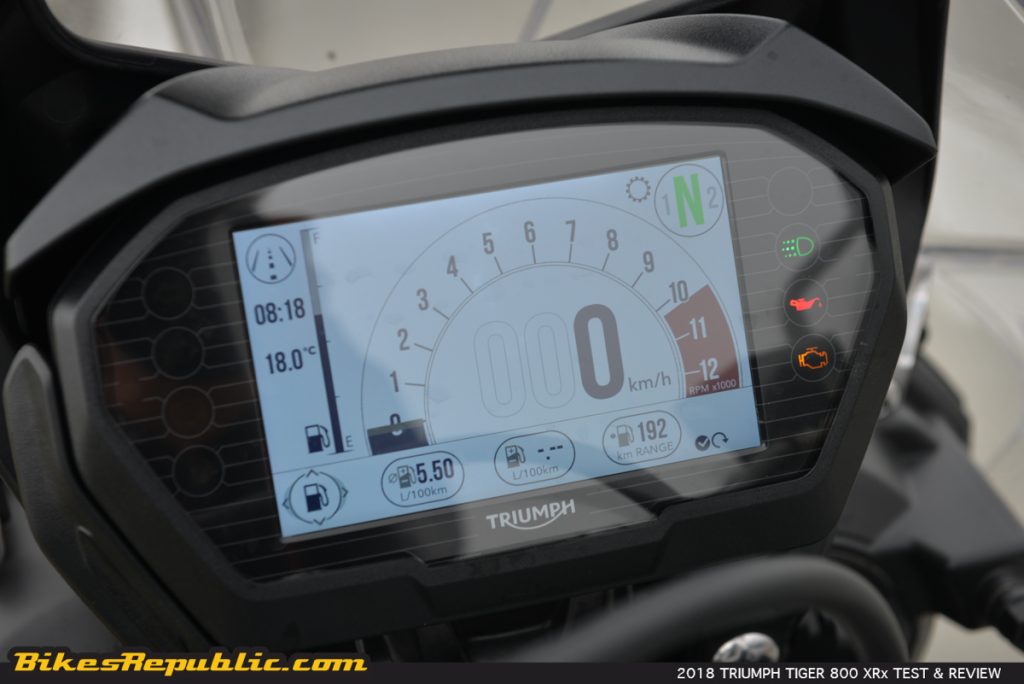 Back in the stifling traffic of KL, the Triumph Tiger 800 XCx continued to perform sweetly. It had gone from a daily commuter to a sport-tourer to a canyon blaster and back to daily commuter in supreme comfort without even having to touch a single ride mode switch, although it would've been so easy to do so.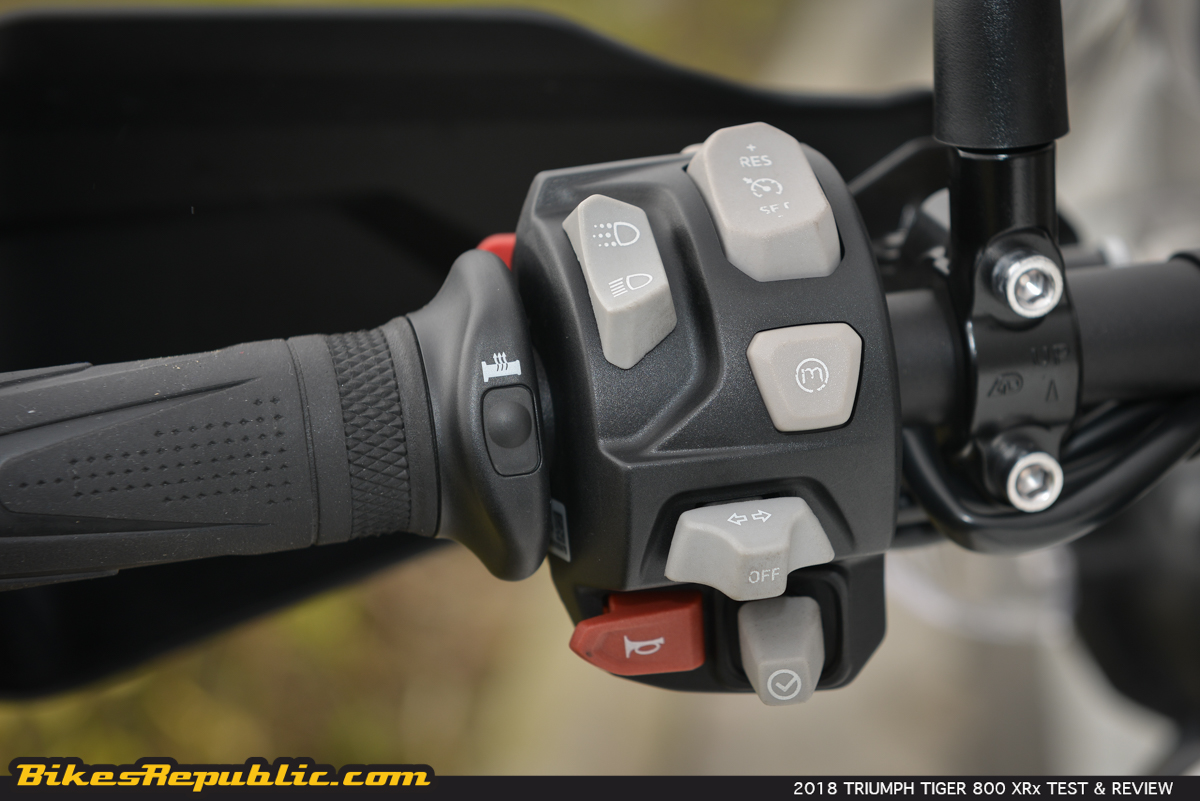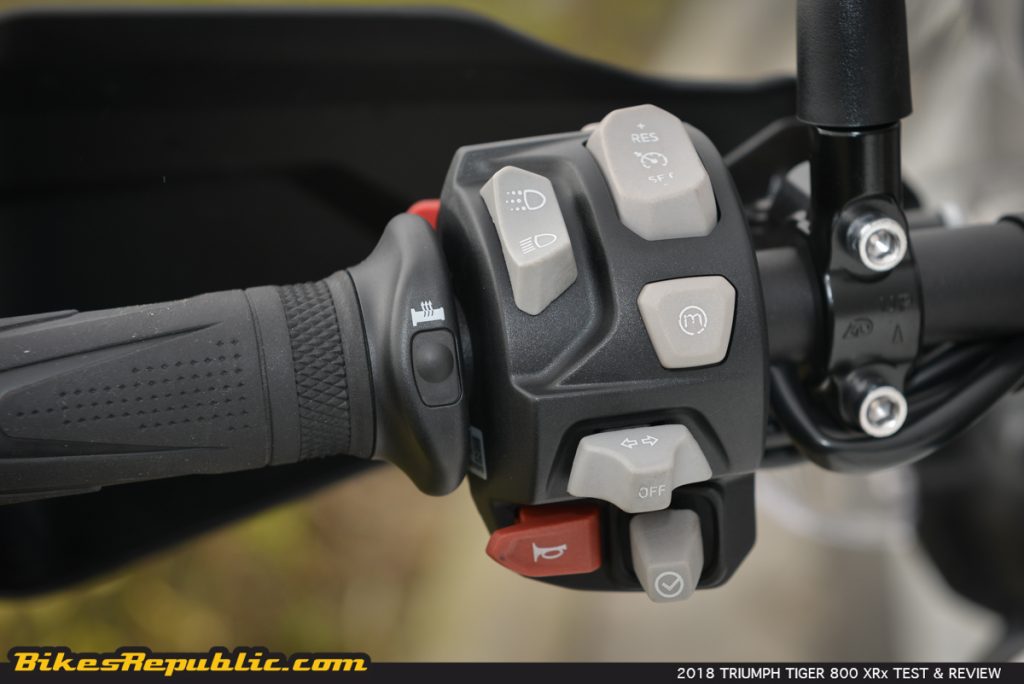 It must've been a match made in heaven because the Tiger 800 had gone beyond what I had expected of any bike. My paradigm had been shattered, shredded and scorched. But I didn't resist. I couldn't resist.
I had loved adventure-tourers from that point on, and it was the Triumph Tiger 800 that was responsible for the change.
I have a new problem now. It's no secret that I love the Tiger 800 XCx, but I've fallen in love with the Triumph Tiger 800 XRx, too. Especially the "White Tiger" such as this one we tested. The XCx is a superbly capable bike on both road and offroad, while the XRx is superbly capable on the road and can do some light offroading.
Why not both?
Oh dear.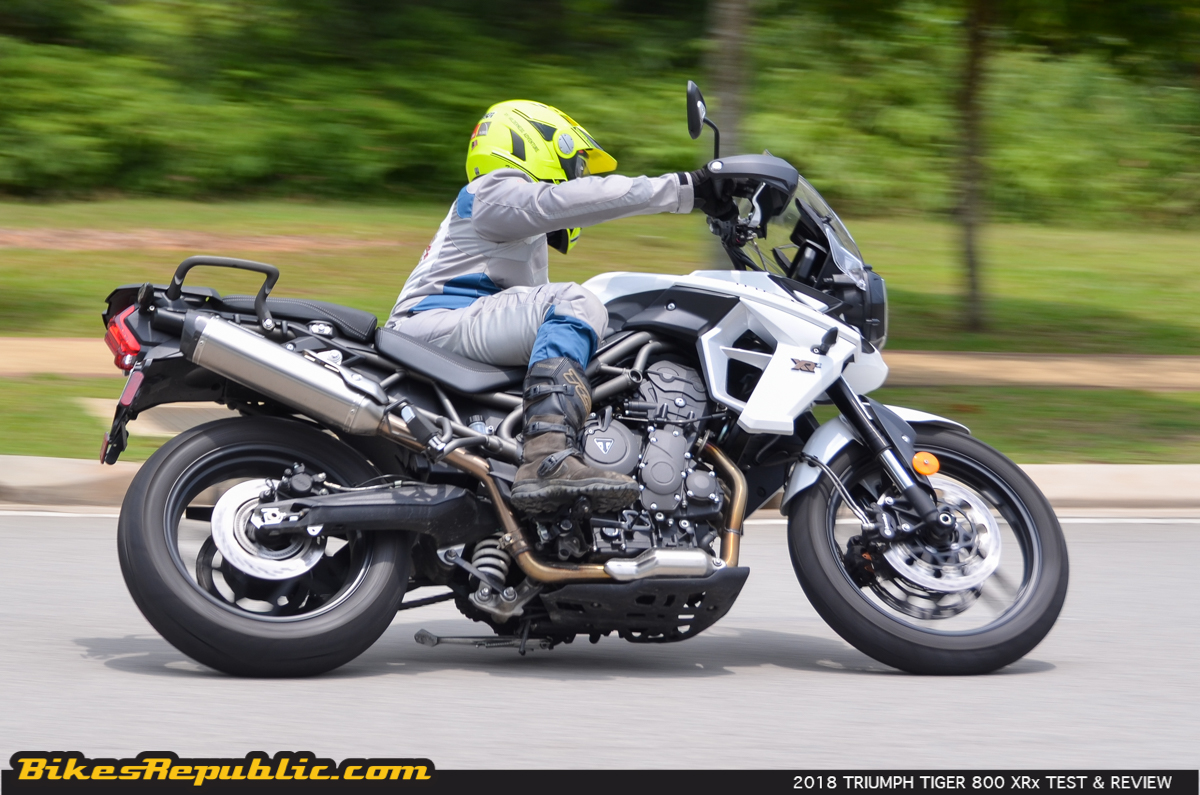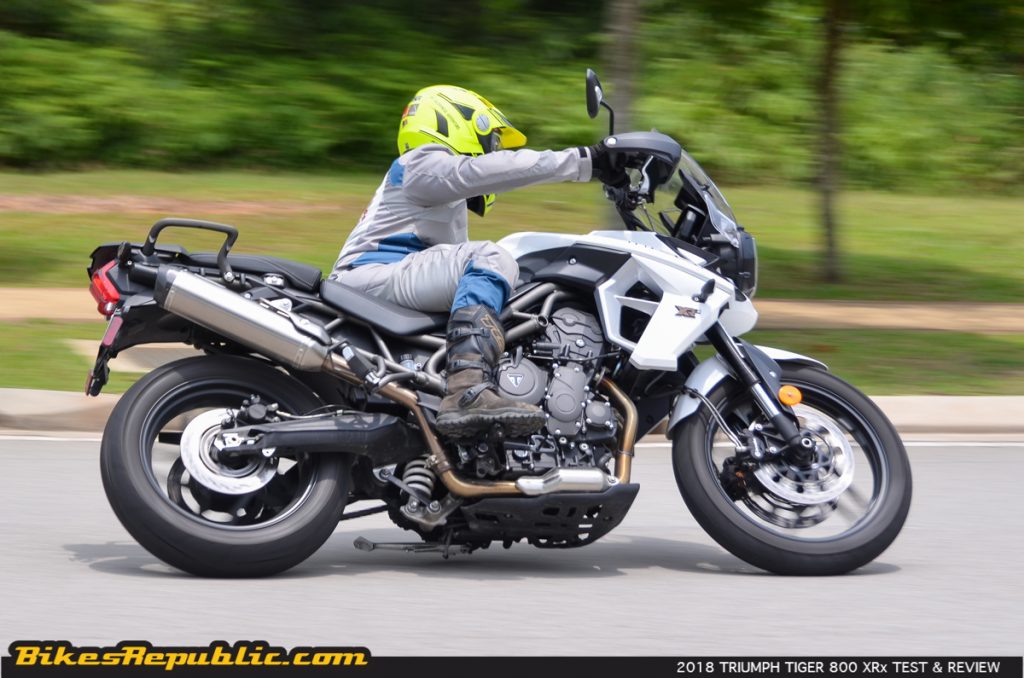 TECHNICAL SPECIFICATONS
| | |
| --- | --- |
| ENGINE | |
| Engine type | Liquid-cooled, 4-stroke, DOHC, 4 valves per cylinder, inline-Triple |
| Compression ratio | 11.3 : 1 |
| Bore X Stroke | 74.0 mm X 61.9 mm |
| Displacement | 800 cc |
| Fuel system | Multipoint sequential electronic fuel injection |
| Maximum power | 94 bhp (70 kW) @ 9500 RPM |
| Maximum torque | 79 Nm @ 8050 RPM |
| TRANSMISSION |   |
| Clutch | Wet, multi-plate |
| Gearbox | 6-speed |
| CHASSIS | |
| Front suspension | Showa 43mm upside down forks, 180 mm travel |
| Rear suspension | Showa monoshock with hydraulic preload adjustment, 170 mm travel |
| Front brakes | Dual 305 mm Brembo floating discs, dual Brembo two-piston sliding calipers |
| Rear brake | Single 255 mm disc, Nissin single-piston sliding caliper |
| ABS | ABS standard, swtichable on/off |
| Front tyre | 100/90-R19 |
| Rear tyre | 150/70-R17 |
| FRAME & DIMENSIONS | |
| Frame | Tubular steel trellis frame |
| Swingarm | Two-sided cast aluminium allow |
| Trail | 86.6 mm |
| Rake | 23.8o |
| Wheelbase | 1350 mm |
| Seat height | 810 – 830 mm |
| Dry weight | 200 kg |
| Fuel capacity | 19 litres |
PICTURE GALLERY