Motorcycle thief gang brought down by RM2 theft attempt

Stolen 17 motorcycles this year

Motorcycles stolen to feed drug habit
Whoever says there's no divine intervention should think again.
A motorcycle thief was caught red-handed by he committee members of a mosque when he attempted to steal money from the donation box, which had only RM2.
He was later handed over the police. A background search soon revealed that he had been riding a stolen motorcycle. The suspect soon admitted to having stolen 17 motorcycles in Kuala Sungai Baru since February this year.
The bikes were subsequently sold drug dealers for RM500 to RM600 in Kampung Pinang, Sungai Udang and Kuala Sungai Baru (all in Melaka) to feed his drug habit.
The revelation led the police to arrest two more suspects, aged 33 and 35, who colluded with him to steal the motorcycles. They were also drug addicts.
State Police Chief, Datuk Abdul Jalil Hassan said in a Press Conference, "We seized a Modenass Kriss, Honda Wave, Yamaha Y100 Sport from the first suspect, a Honda Wave from the second, and a Honda EX5 besides a mobile phone from the third."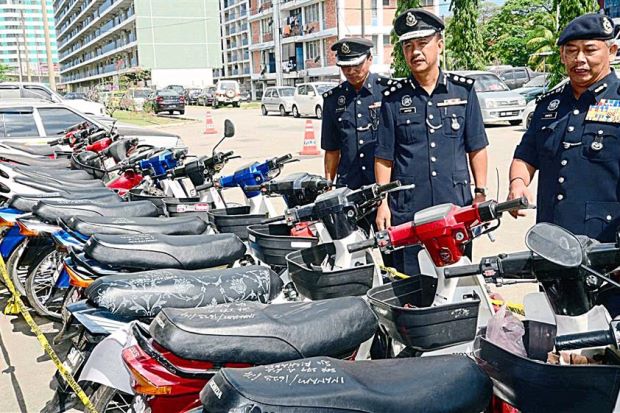 He added that the first suspect has prior records of drug cases and theft. He tested positive for methamphetamine.
The second suspect also has a drug record and tested positive for meth, while the third had no priors and was tested negative for junk.
Datuk Abdul Jalil added, "We have so far recorded 112 cases of motorcycle thefts in Alor Gajah out of 234 crime cases reported in the district from January till August this year," he said.
Motorcycle thefts was a huge concern in the Alor Gajah district as it represents almost 50 per cent (47.9 per cent) of the total crime cases there, he further revealed.
The suspects were remanded until Sept 24 to assist in investigations under Section 379a of the Penal Code for theft of a motor vehicle.
The story was reported by the News Straits Times.