Suzuki has been a vocal advocate of green and sustainable transportation for well over a decade. In 2023, at the Japan Mobility Show (formerly known as the Tokyo Motor Show), the company is all set to introduce its latest innovation in the form of the hydrogen-powered Suzuki Burgman.
The Burgman 400 scooter has been a familiar name among Suzuki enthusiasts, especially those interested in eco-friendly mobility solutions. Suzuki has been showcasing various iterations of hydrogen-powered Burgman scooters since 2010. However, what truly sets this latest innovation apart is the unique way in which hydrogen is harnessed for power. In contrast to Suzuki's previous hydrogen scooters, which relied on hydrogen fuel cells to drive electric motors, this new prototype adopts a groundbreaking approach by burning hydrogen in a modified version of the existing Burgman 400's single-cylinder internal combustion engine.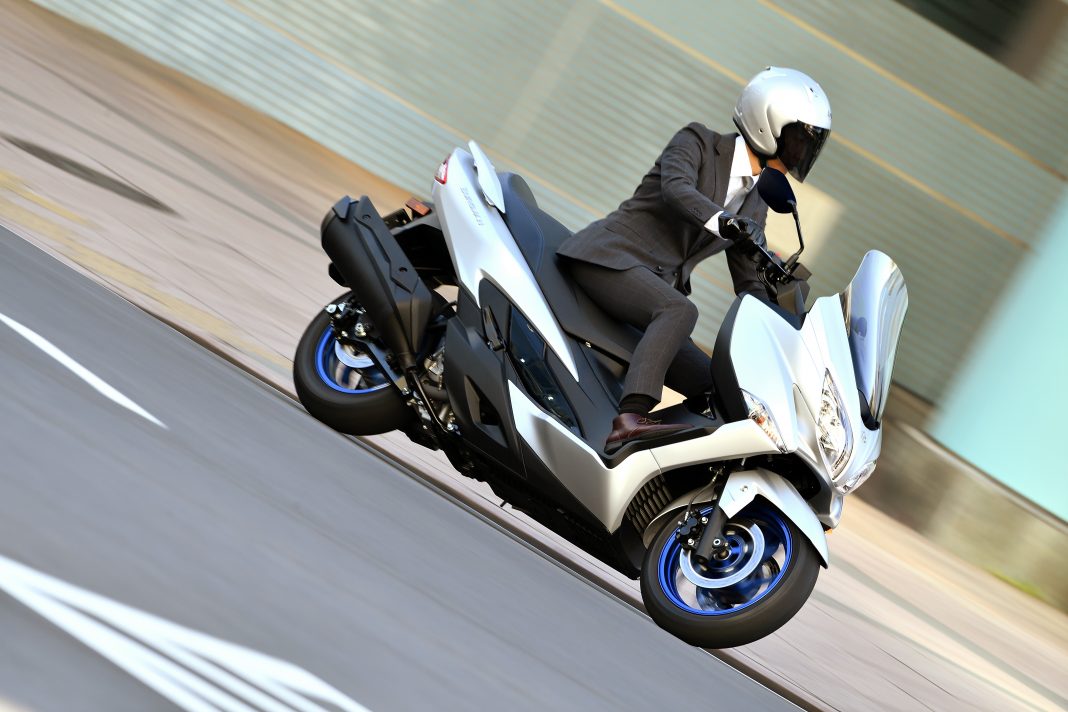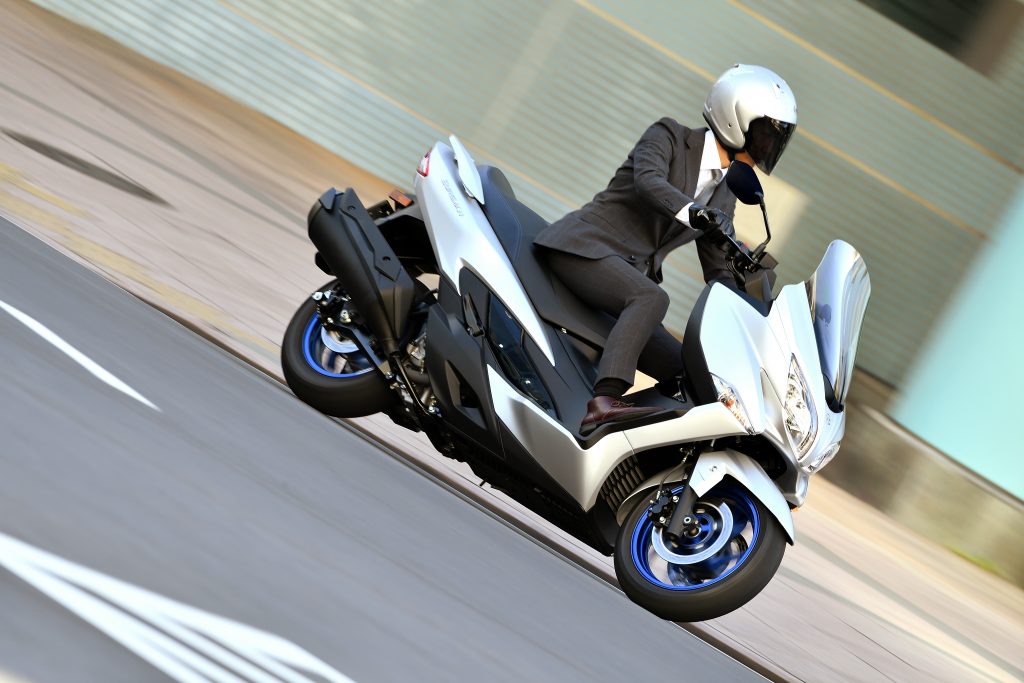 Suzuki's venture into hydrogen fuel cell technology began as far back as 2007 when they unveiled the Crosscage concept bike. Around the same time, Suzuki forged a partnership with Intelligent Energy, a British company renowned for its fuel cell system expertise, which became the foundation for all subsequent prototypes. The allure of fuel cells lies in their ability to combine the environmental benefits of electric power with the convenience of rapid hydrogen tank refueling, eliminating the need for long and often inconvenient battery recharging.
In a significant development earlier this year, Suzuki joined the HySE collaboration, alongside industry giants like Honda, Yamaha, and Kawasaki. Their collective mission is to pioneer hydrogen-fueled combustion engines for small vehicles, including motorcycles. Suzuki's specific role within this consortium is to focus on the "Element study on functionality, performance, and reliability of hydrogen-powered engines." This strategic involvement is precisely where the new Suzuki Burgman prototype enters the spotlight.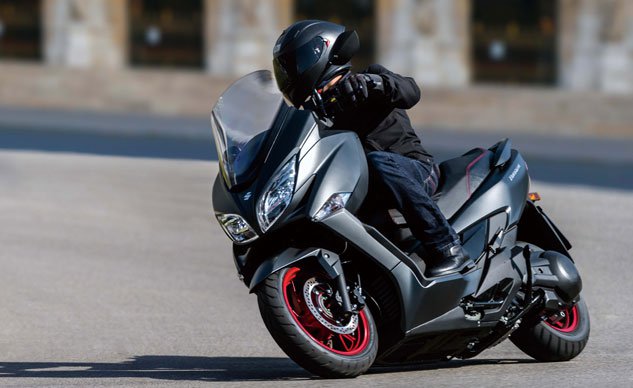 The prototype is built around the dependable Burgman 400 scooter platform, but substantial modifications have been made to the engine to enable it to run on hydrogen instead of traditional gasoline. While the intricate details of these modifications are yet to be fully disclosed, it is expected that these changes will include advancements like direct fuel injection. The hydrogen is stored under high pressure, at around 700 bar (equivalent to approximately 10,000 psi), in a tank conveniently located between the rider's feet. This tank can be effortlessly refueled through a socket thoughtfully positioned just below the right-hand side of the seat.
Accommodating this high-pressure hydrogen tank required design adjustments. Specifically, the swingarm and engine, which form a single unit, have been shifted backward by about 8 inches. This adaptation results in an unusually extended wheelbase for the prototype. However, a positive aspect is that this design alteration does not come at the cost of sacrificing the scooter's underseat storage space, as was the case with earlier fuel-cell prototypes.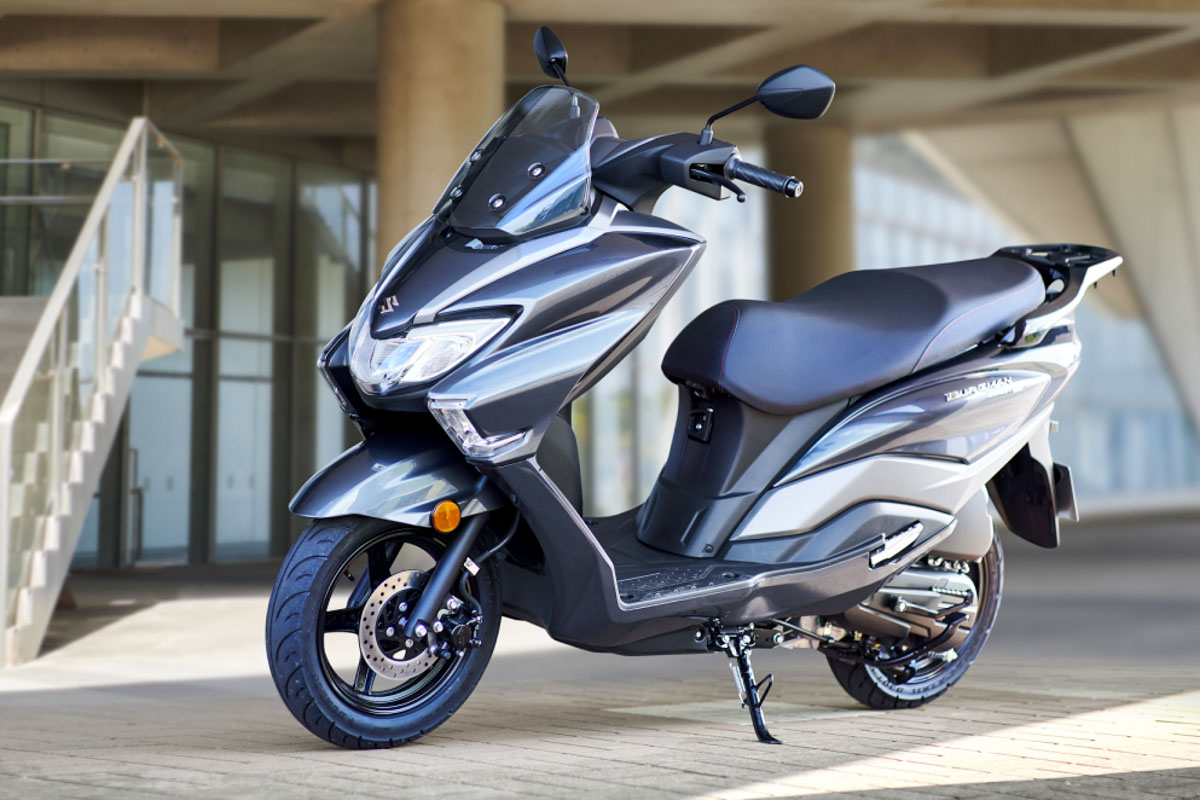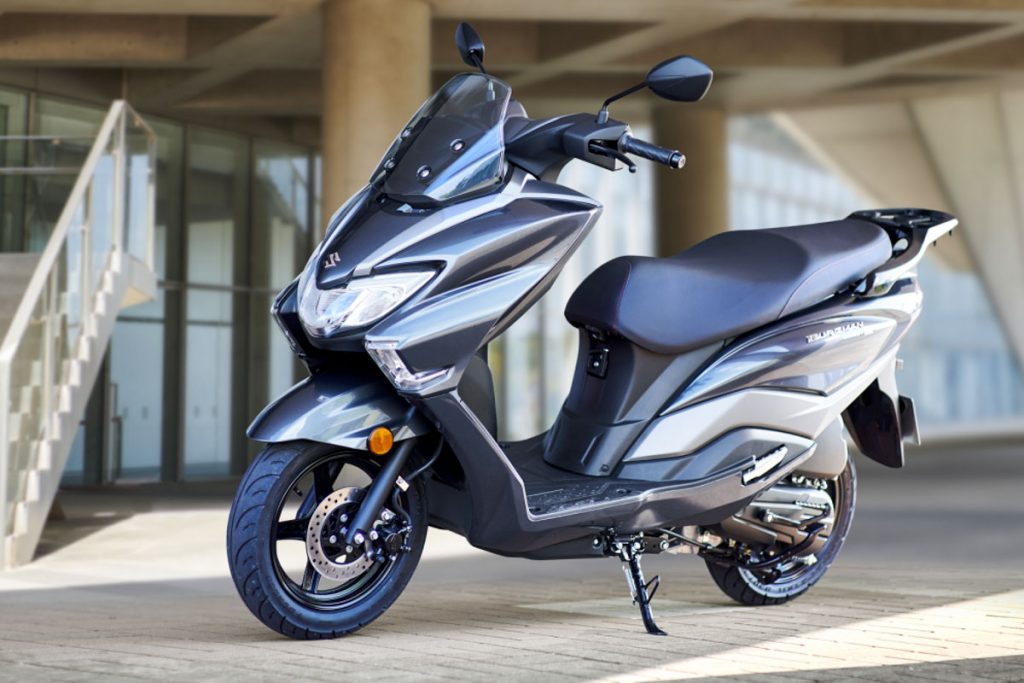 While Suzuki has unveiled the Burgman prototype, the production version is expected to take some time before an official debut is scheduled. The spotlight on the Suzuki Burgman at the Japan Mobility Show is a testament to Suzuki's dedication to pioneering innovative and sustainable mobility solutions, with a keen focus on hydrogen-powered technology in the Burgman scooter lineup.