Here's the conclusion to Ten Famous Motorcycle Racing Rivalries. You may click on the link below for Part 1.
5. Carl Fogarty vs. Scott Russell, WSB, 1992 – 1994
There has never been such intense rivalry in WSB since Carl Fogarty and Scott Russell's in the early 90s.
The two were WSB contenders, with the American Russell winning the 1993 crown on the Kawasaki Ninja ZXR-750, while Fogarty's (more popularly called "Foggy") reign started from 1994 on the new Ducati 916. The pair had even refused to shake hands on many occasions. Legend has it that Foggy named his pet pig after his No. 1 rival.
The intense hatred was even brought all the way to America in the 1994 Daytona 200 race which Russell won. They refused to look at each other on the podium and post-race press conference. When answering questions, they reached out to the microphone and yanked it away from in front of another.
4. Valentino Rossi vs. Max Biaggi, 500cc GP, 2000 – 2005
Valentino Rossi had moved up through the 125cc and 250cc GP ranks at a meteoric pace and moved up to the 500cc championship in 2000 and started playing mind games with anyone who had challenged him on track. While he built a massive army of followers worldwide through his on-track and off-track shenanigans, he's only a friend on the track when results are going his way. It's also due to his that tribalism exists among MotoGP fans: You're automatically branded as a Rossi fan-boy if you criticized other riders.
By 2001, he was ready to challenge Max Biaggi after the defending champion, Kenny Roberts Jr. faded. Biaggi, known as the "Roman Emperor" had to show the young punk a who's top dog.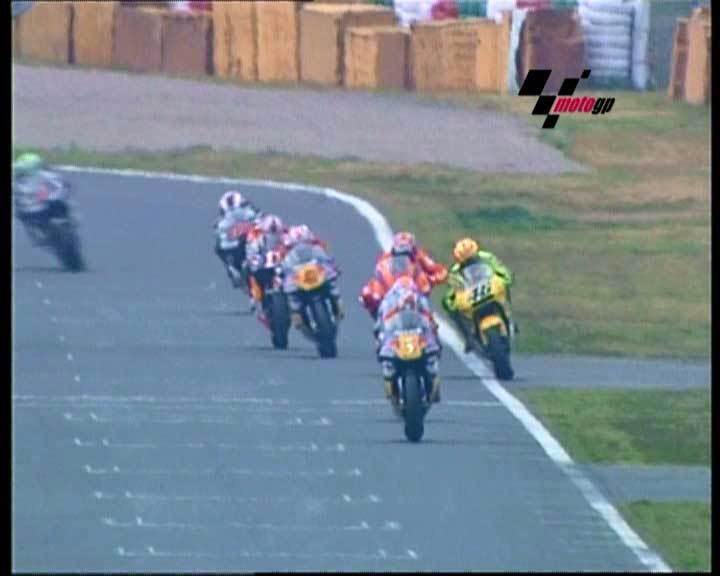 At the 2001 Suzuka 500cc GP race, Biaggi elbowed Rossi onto the grass while the pair was travelling at around 220 km/h. Rossi repassed Biaggi on the next lap and saluted the latter with his middle finger. Both riders were fined and given a stern warning for "unsportsmanlike conduct." The rivalry came to a head at Catalunya when the two scuffled on the steps leading up to the podium. When Biaggi was asked about the mark on his face, he replied that he was "bitten by a mosquito."
3. Valentino Rossi vs. Casey Stoner, Jorge Lorenzo – MotoGP, 2007 – 2011
2007 was the year of the 800cc four-stroke machines in MotoGP. Suddenly, it was Australian Casey Stoner on the Ducati who started beating Rossi. Rossi claimed that it was because of the Bridgestone tyres on the Ducati which let Stoner win. Stoner dominated the season by winning ten races and gave Ducati their first and still only MotoGP title.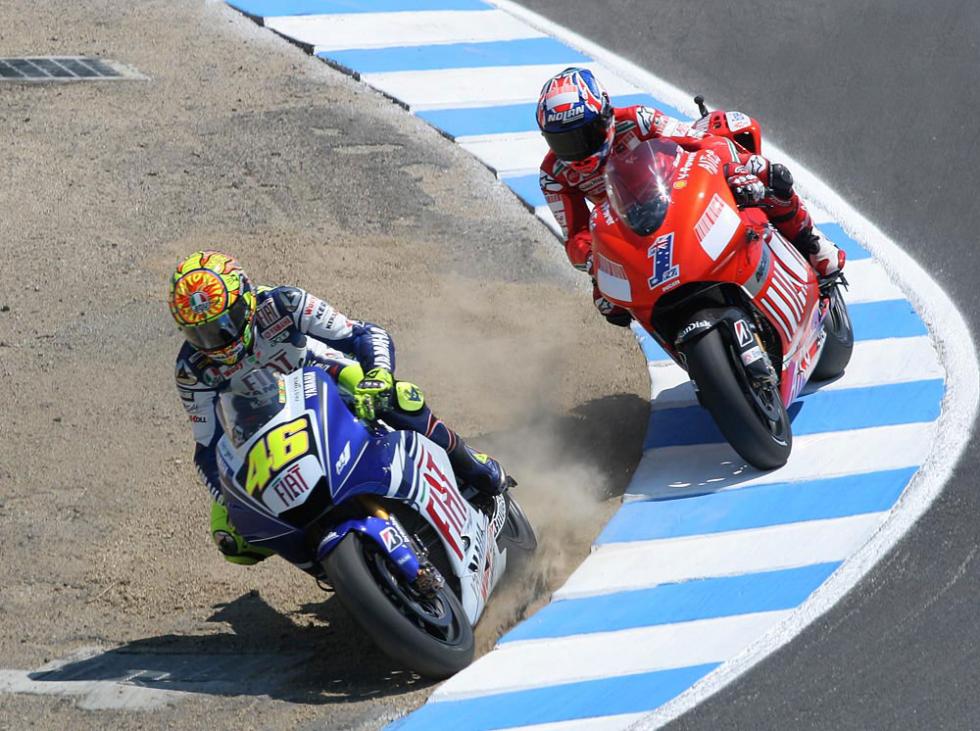 But things flared up further when the pair battled hard at the 2008 USGP at Laguna Seca. Rossi made an aggressive pass into the famous Corkscrew chicane, causing Stoner to drop his Ducati. Further angering Stoner was Rossi's comments after the race, "The fight was very funny," although some thought the Italian meant "fun." Stoner was of course more caustic in his reply, calling Rossi's tactics dirty and dangerous.
Stoner moved onto the factory Honda in 2011 and this was the year of another interface with Rossi. At a wet Jerez race, Stoner had been following the late-Marco Simoncelli. Rossi, who was now on a Ducati, lunged up inside Stoner on the way into Turn One, skidded and took both men out. However, all the marshals ran over to assist Rossi while no one did so for Stoner. Again, the Australian went on TV to criticize Rossi, saying "Your ambition outweighs your talent." Then fans of both camps got involved and it started a war of words on Twitter.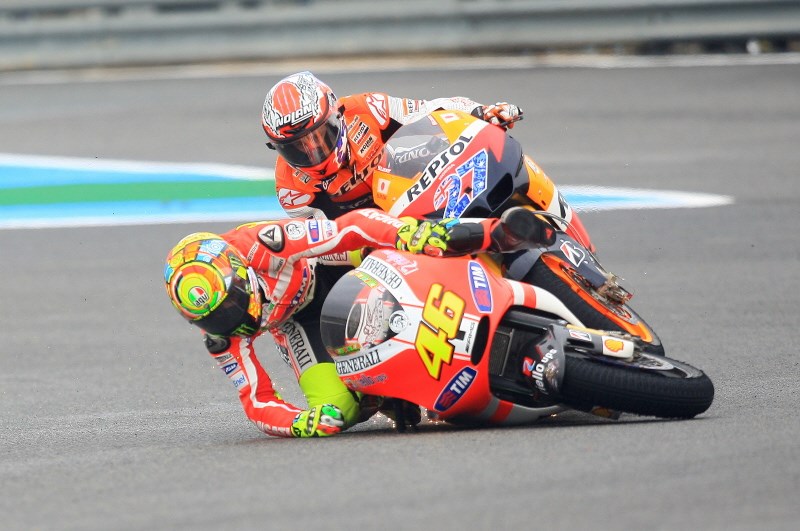 2. Kevin Schwantz vs. Wayne Rainey, AMA Superbikes and 500cc GP, 1986 – 1993
The rivalry between these two legends had begun way back even before we saw them on TV in the 500cc GP. Their intense dislike for each other had started when they were contesting in the United States and what we saw in the GPs was just a continuation.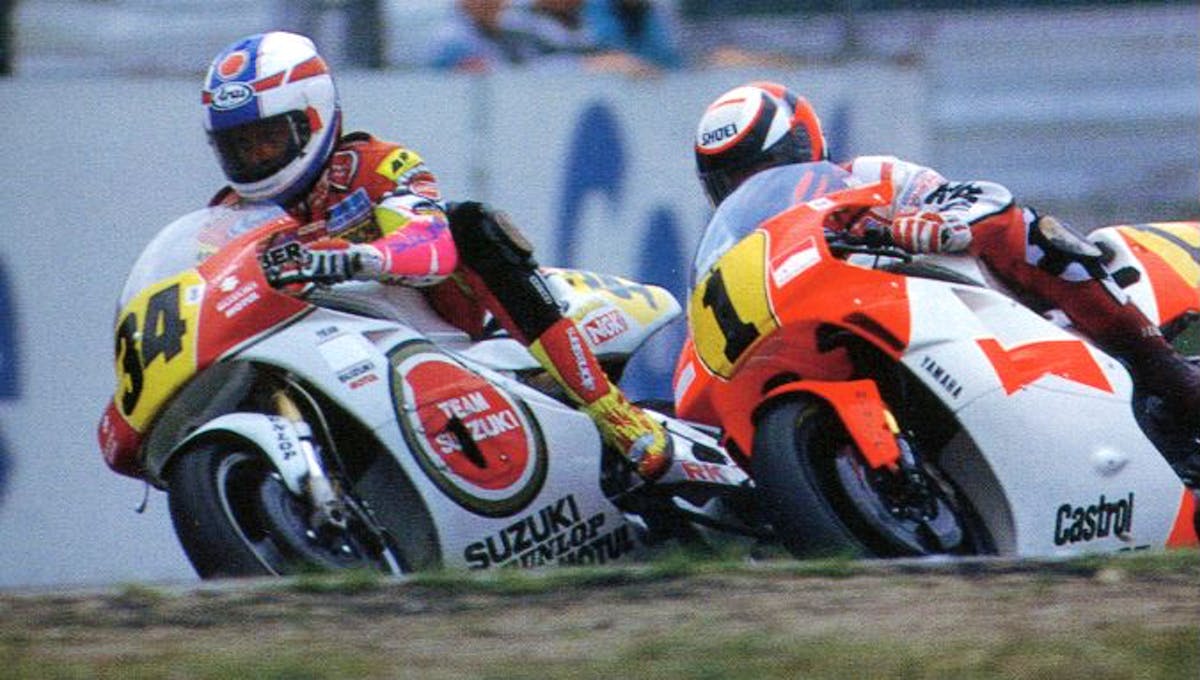 They had hated each other so much that they openly admitted to barging into each other and riding dirty. Schwantz said, "We would ride each other right into the grandstands." Their rivalry was so intense they couldn't look at each other on the podium.
Things took a different turn when Rainey was paralysed by his crash at Misano in 1993. That accident force Schwantz to reflect upon on his own mortality. Besides, with his greatest rival gone, his reason for pushing himself hard was gone too. It was when both riders realized that neither knew why they hated each other.
Schwantz decided the best thing he could do was support Rainey through his hardship and both have become good friends ever since.
1. Valentino Rossi vs. Marc Marquez, MotoGP, 2015 and ongoing
Schwantz vs. Rainey would have been the Number 1 rivalry if not for this very intense and very current state of affairs.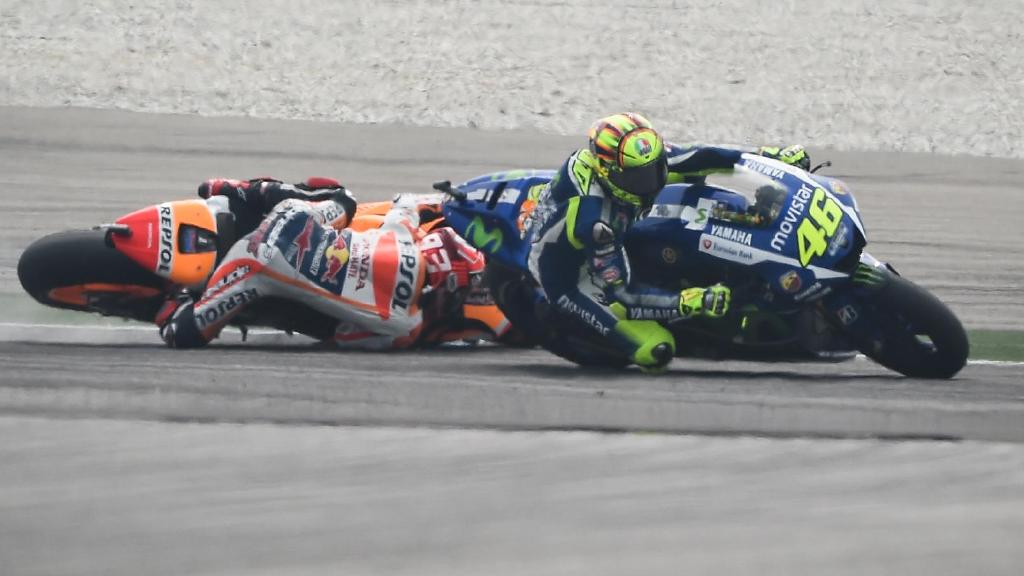 Both riders have been good friends even when Marquez had dominated and won from his very first season in MotoGP. It had seemed that Rossi may have mellowed out somewhat because they remained affable with each other despite a few aggressive passes on-track. However, it all changed from 2015.
Rossi had been battling with Lorenzo all season long and the former led the standings going into the penultimate round in Malaysia. Marquez had been third up to that point and was out of a title shot. Marquez turned up the aggression during the race, passing Rossi in do-or-die situations, while Lorenzo disappeared at the front. Rossi even signaled to Marquez to back off at one point, but there was no end to chopping and cutting off. An exasperated Rossi then pushed Marquez wide, causing the Spaniard to crash.
Rossi would later accuse Marquez of helping Lorenzo to win the title; an allegation Marquez had consistently denied. Many had speculated that Marquez had felt that it was Rossi who had cost him the title that year and was out for revenge.
Rossi was penalized and sent to the back of the grid for the final race in Valencia. He fought his way up the order but lost the title to Jorge Lorenzo.
Both riders made amends at the Catalan GP in 2016. It was a move welcomed by the racing community and fans alike.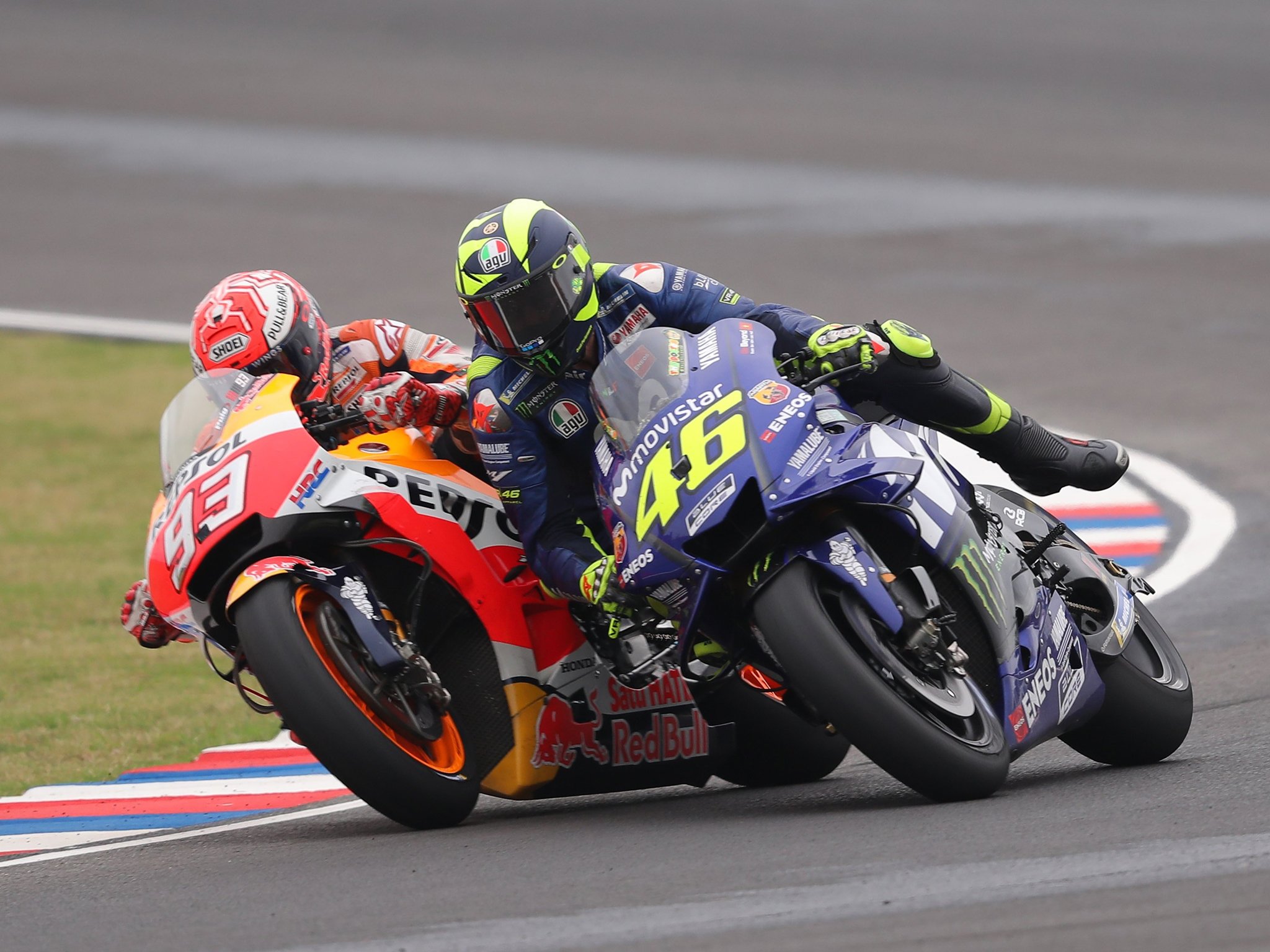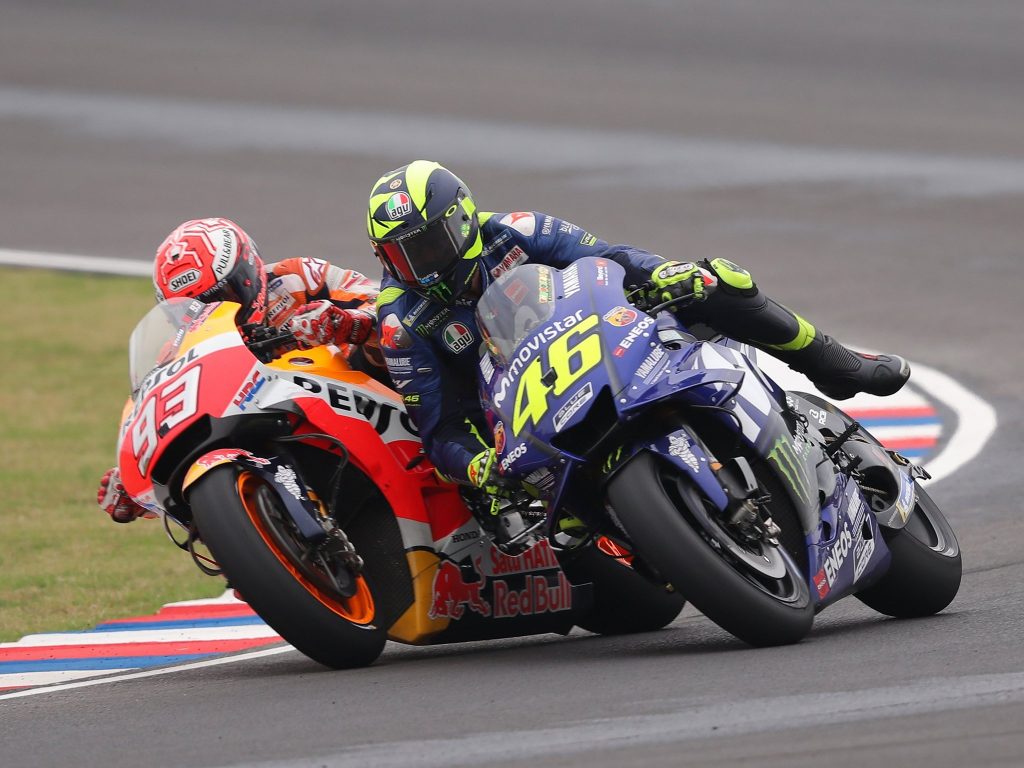 But, just as everyone thought that was the end, Marquez did a mistake during the 2018 Argentinian GP which knocked Rossi out. Rossi held a special press conference to call Marquez irresponsible, dangerous and damaging the sport as a whole.
Both riders have yet to talk to each other at the time of this article.