In an effort to ensure road safety during the upcoming Hari Raya celebrations, PUSPAKOM has launched a voluntary vehicle inspection campaign from April 10 to April 20, 2023.

 
The free inspection will run from April 10.
The initiative, which is aimed at all private vehicle owners and drivers, is being promoted with the hashtag #drivesafenoregrets.
PUSPAKOM is reminding the public, especially those traveling back to their hometowns during this festive season, to ensure that their vehicles are in top condition before starting their journey.
Vehicle owners who wish to take advantage of the free inspection, also known as Voluntary Vehicle Inspection (VVI), can walk in to any PUSPAKOM branch nationwide (except for the Shah Alam, Taman Bukit Maluri, and Pasir Gudang branches) between 8:00 am and 5:00 pm.
To further promote the campaign, PUSPAKOM is also organizing an easy competition for customers and deploying Mobile Inspection Units to offer free inspections at selected locations, including Wisma DRB-HICOM, MMU Cyberjaya (for staff only), Setia Alam Impian, and Lotus's Ara Damansara.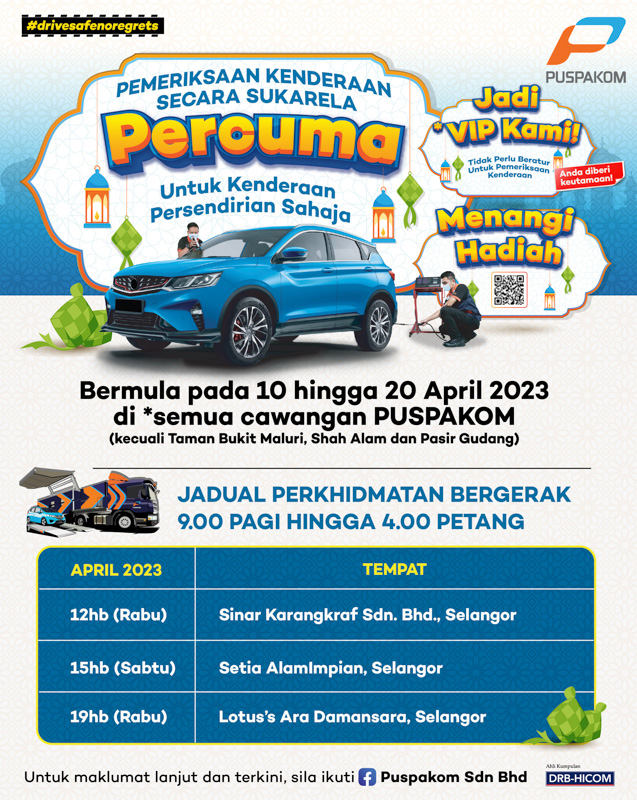 According to PUSPAKOM CEO Mohammed Shukor Ismail, "The free vehicle inspection campaign in conjunction with the Hari Raya celebration aims to help vehicle owners identify the condition of their vehicles through computerized PUSPAKOM equipment. They can then use this information as a reference to perform proper maintenance."
"We are offering VIP services to customers who undergo voluntary inspections, where they can walk in to PUSPAKOM without an appointment and enjoy priority service," Shukor added.
PUSPAKOM sees the free vehicle inspection campaign as a corporate responsibility in raising public awareness about the importance of vehicle safety, particularly during festive seasons, said Shukor.
The voluntary vehicle inspection is focused on safety aspects such as brake, side slip, tire, suspension, emission, lights, upper and lower parts of the vehicle, dark mirrors, and more.
For more information on the Free Voluntary Vehicle Inspection campaign and how to win prizes, please visit www.puspakom.com.my or Facebook PUSPAKOM Sdn Bhd.