Our homeboy Khairul Idham Pawi made quite a statement when he won two races of the Moto3 class in Germany and Argentina. Having swept the field with his immense wet weather talent, the Perakian who hails from Kampung Gajah was the first Malaysian to win a Moto3 class race ensuring that history will never forget him.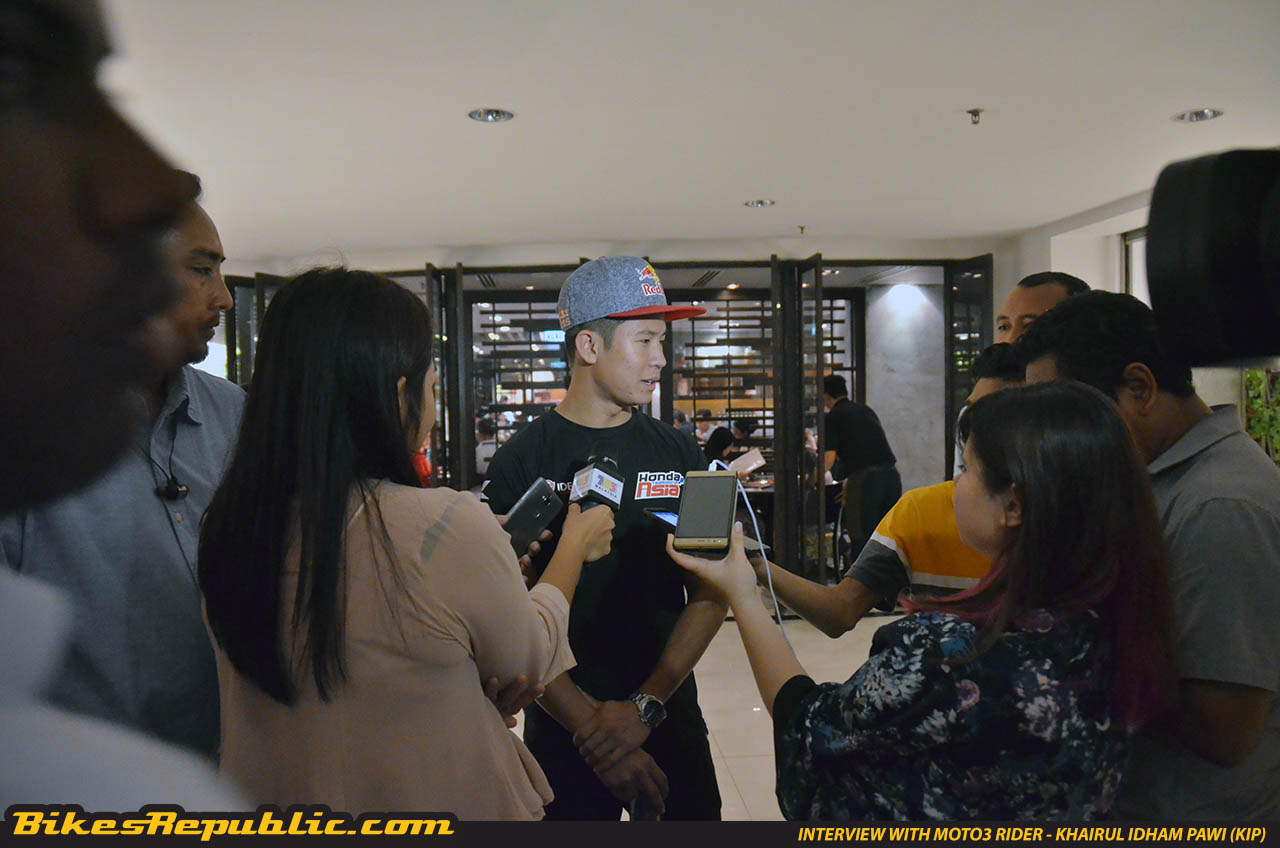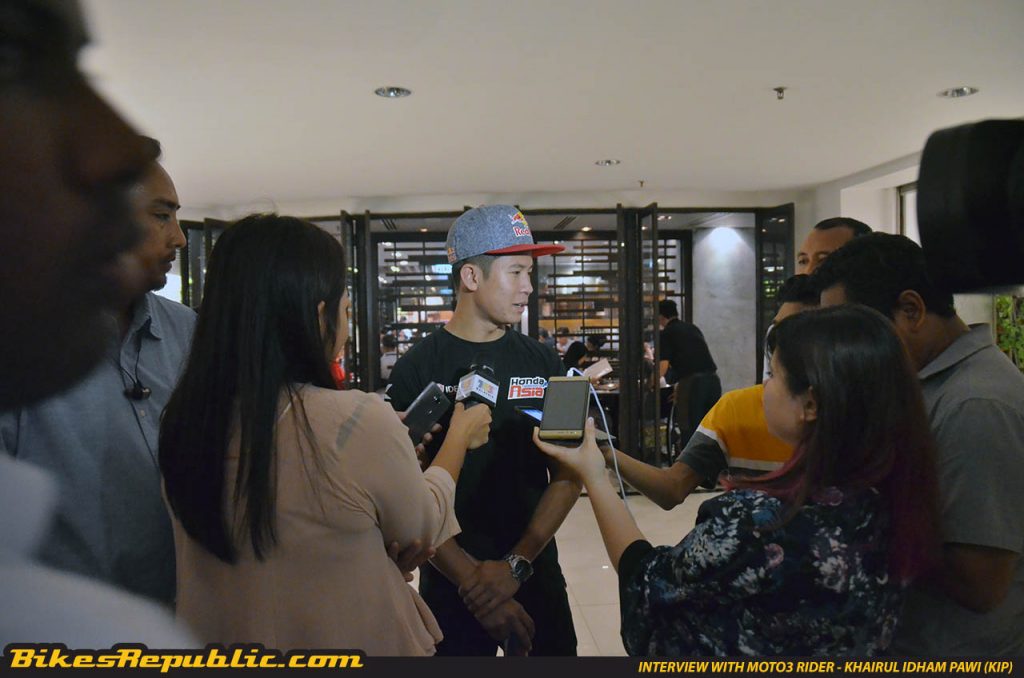 We recently got the opportunity to sit down over dinner with the man who is affectionately known as KIP, thanks to Red Bull Malaysia. The following is the conversation we had over dinner.
Q: Hey Khairul. A lot of people are asking, why do you perform better in the wet than you do in the dry?
A: In the rain, I have more confidence when I'm on my motorcycle, so I feel I can ride it faster. It's usually slippery and not slippery at the same time so I just have to control the throttle and manage it the best way possible.
Q: Did you learn to ride like this in the wet through experience?
A: Not really. Actually, I never thought I could be fast in the rain, and I have even raced in the rain before but never as fast as I am now. So I just need to have that level of confidence with the bike to make sure it'll be easier to ride fast.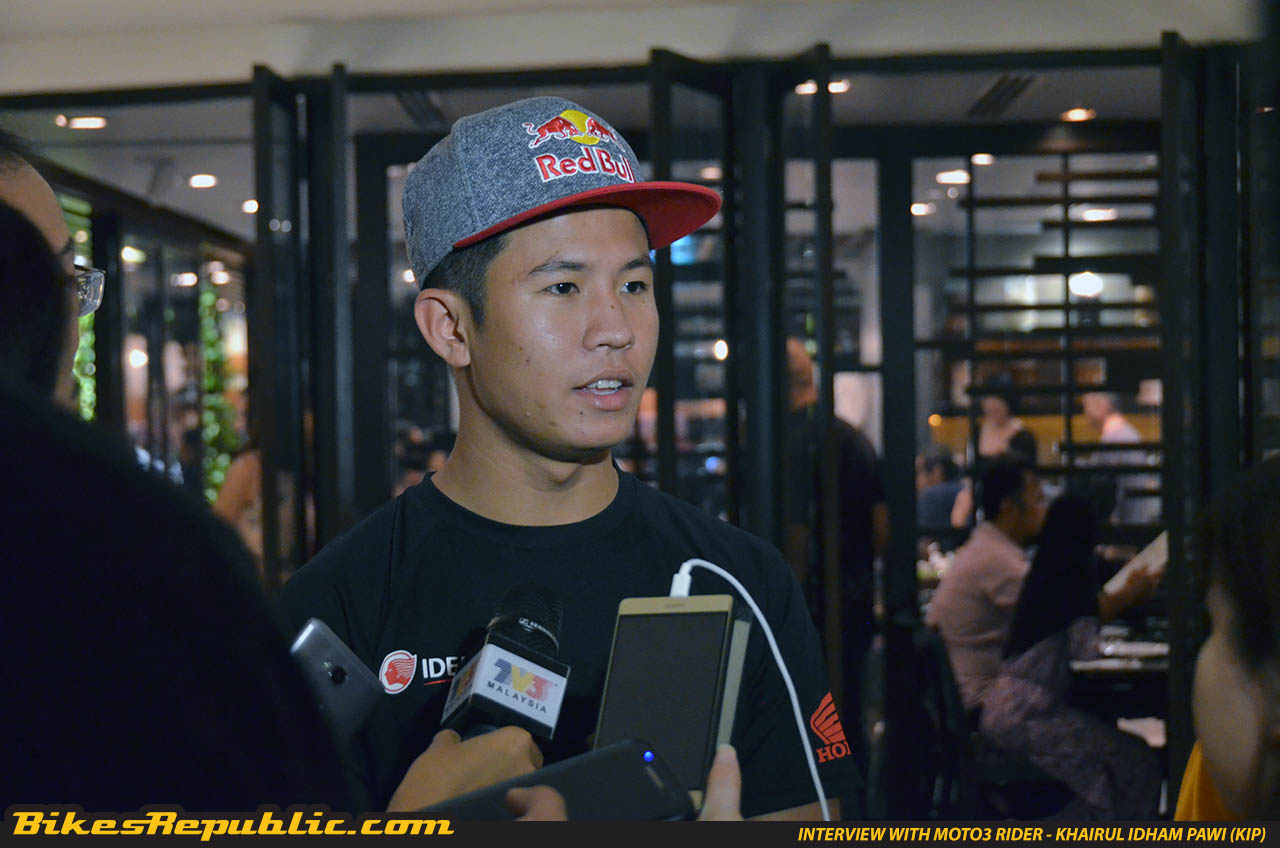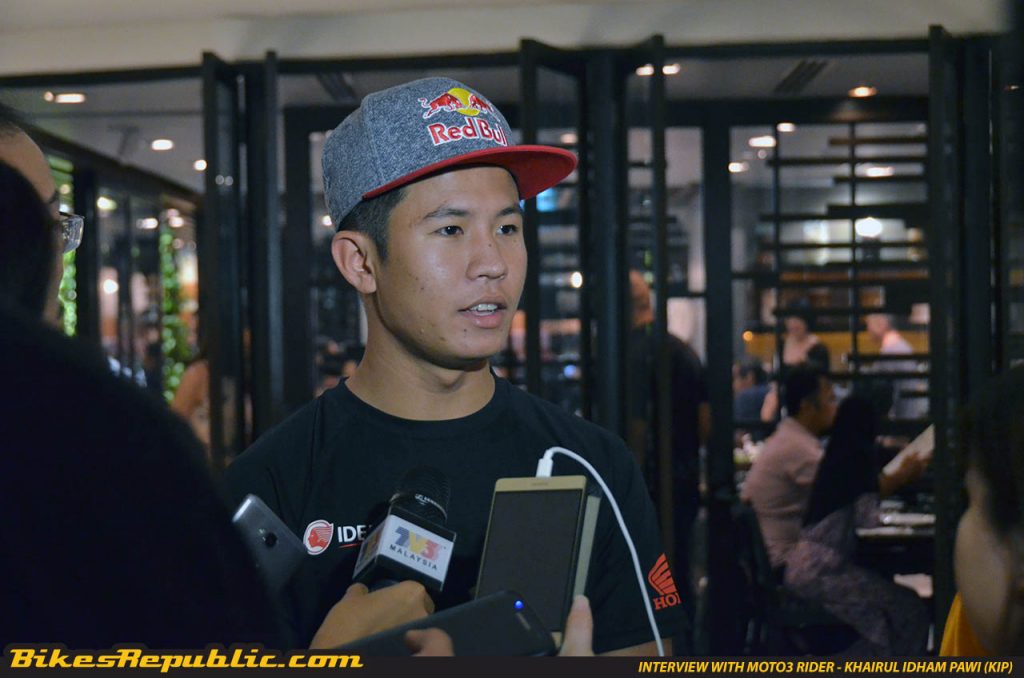 Q: Are the other riders friendly to a young Malaysian rider and are they willing to share their knowledge?
A: To me, my team and also my manager, Tadayuki Okada, have helped me a lot in terms of riding and much more. He has taught me a lot.
Q: Besides racing in Moto3, wanting to win races and the championship, what are some of the things you hope to achieve from this?
A: Of course all riders would like to reach the highest level of racing, which is MotoGP. So I will try my very best to reach a much higher level in racing.
Q: What have you learned so far from racing at this level?
A: Racing is definitely a sport with high risks, for example crashing out of the races and other things as well.
Q: One final question for Super KIP, do you have any special messages that you would like to send to your fans here in Malaysia?
K: To all my fans, thank you to all of you who have been supporting me throughout my career. Don't forget to come to Sepang this weekend and let's support all the Malaysian riders in the races on Sunday.
S: Alright, thank you so much KIP.
Q: Have you had any improvements in the past few races?
A: It was quite difficult for me especially after Germany. We didn't get the right setup for the motorcycle, so now more or less I have a much better feeling with the bike. I will try my best to get the best feeling of the bike as soon as I can, just as I did in Catalunya, Italy and the other previous races as well.
Q: How do you control the pressure when it comes to racing at home here in Malaysia? I am sure you know that there are a lot of supporters hoping for you to win the home race this Sunday.
A: Well, maybe the support is not just for me alone. There are other Malaysian riders that are participating in Moto3 and also Moto2. Most probably their support is for all of the Malaysian riders.
Q: Do you have a personal goal or target to finish in the top 10?
A: Of course I will try my very best. I will try my to get the best position, if possible, a podium finish for all Malaysians who will come to support me in Sepang this weekend.
Q: Do you actually prefer wet races or you don't really mind about any kind of weather?
A: To me, it doesn't really matter if it rains or shines, I will still race and give my all for Malaysians everywhere.
Q: How familiar are you with the Sepang International Circuit with the new improvements to the pavement?
A: I like the race track very much. It's just that I am still not used to it because of the new asphalt. So, in the first practice later, I will try to get a good feeling of it as I am still not too sure about the grain of the track.
Q: When was the last time you got to ride in the Sepang Circuit?
A: The last time was 2 years ago, back when I was racing for the Asia Dream Cup in 2014.
Q: Do you feel that you are satisfied with the season so far? Is it more than you have hoped for?
A: For my very first season in Moto3, I never thought that I would be on the podium! I thought that I would just collect a few points and gain experience in my rookie season.
Q: Is there a much bigger plan for you for the next season?
A: For now, I can't really say much as I too have no idea. Maybe later, Honda will make the announcement about any updates regarding myself.
Q: So KIP, you were involved in a crash in Phillip Island last weekend, right? Care to tell us about your experience?
A: Yes, I did crash at Phillip Island that day. It all happened in the starting lap at the second corner. It was very disappointing but there were other riders who fell right in front of me and I couldn't avoid them. I crashed and fell there.
Q: Final question, how to do feel about the home race?
A: To me, the home race is definitely making me more excited with high spirits. InsyaAllah I will give my very best!