Aprilia Malaysia has lined up a great number of interesting events leading up to the 2019 Shell Malaysia MotoGP.

It includes multiple meet and greet sessions with riders and convoys.

There will also be a booth and Aprilia Tribune at the Rooftop Paddock.
The Aprilia brand name has long been associated with GP racing and as such, Aprilia Malaysia will spice up the 2019 Shell Malaysia MotoGP from 1st to 3rd November even more.
The excitement will begin even before the Free Practice 1 kicks off on the track.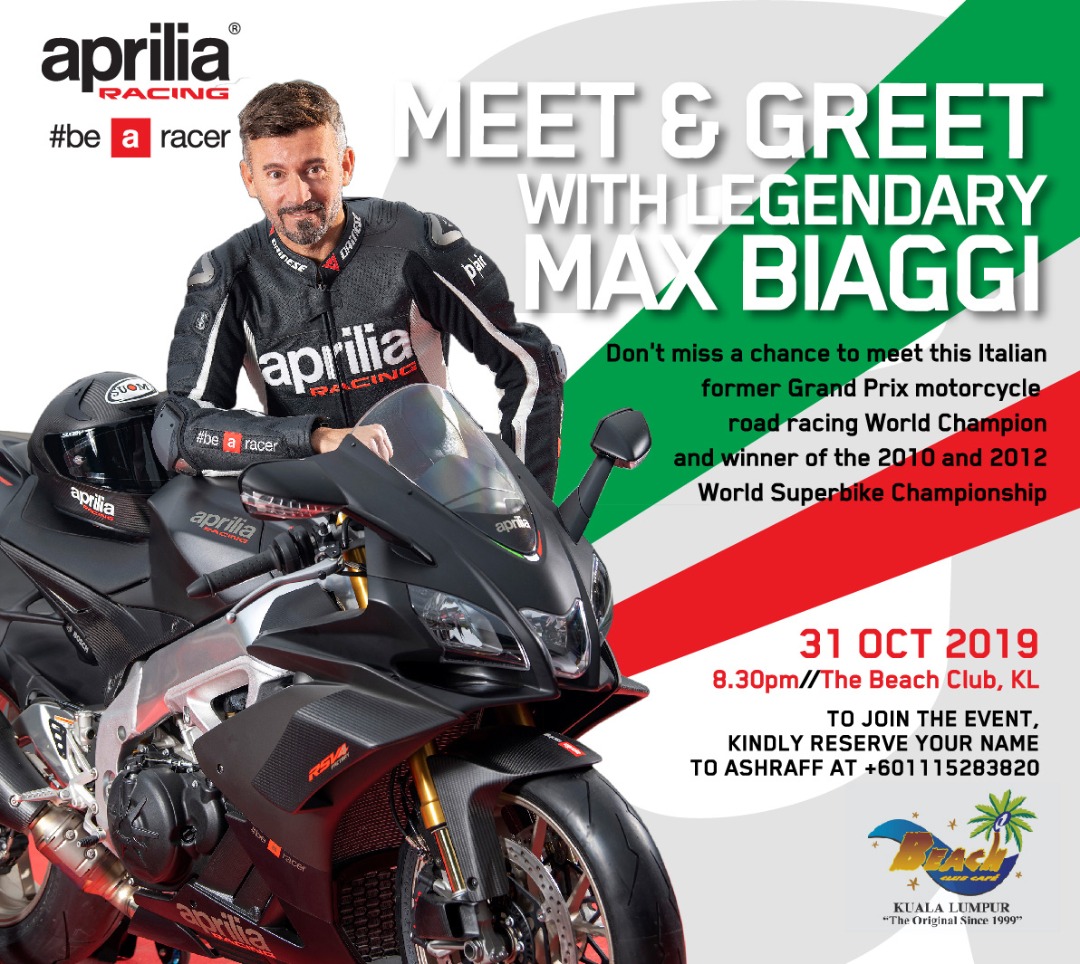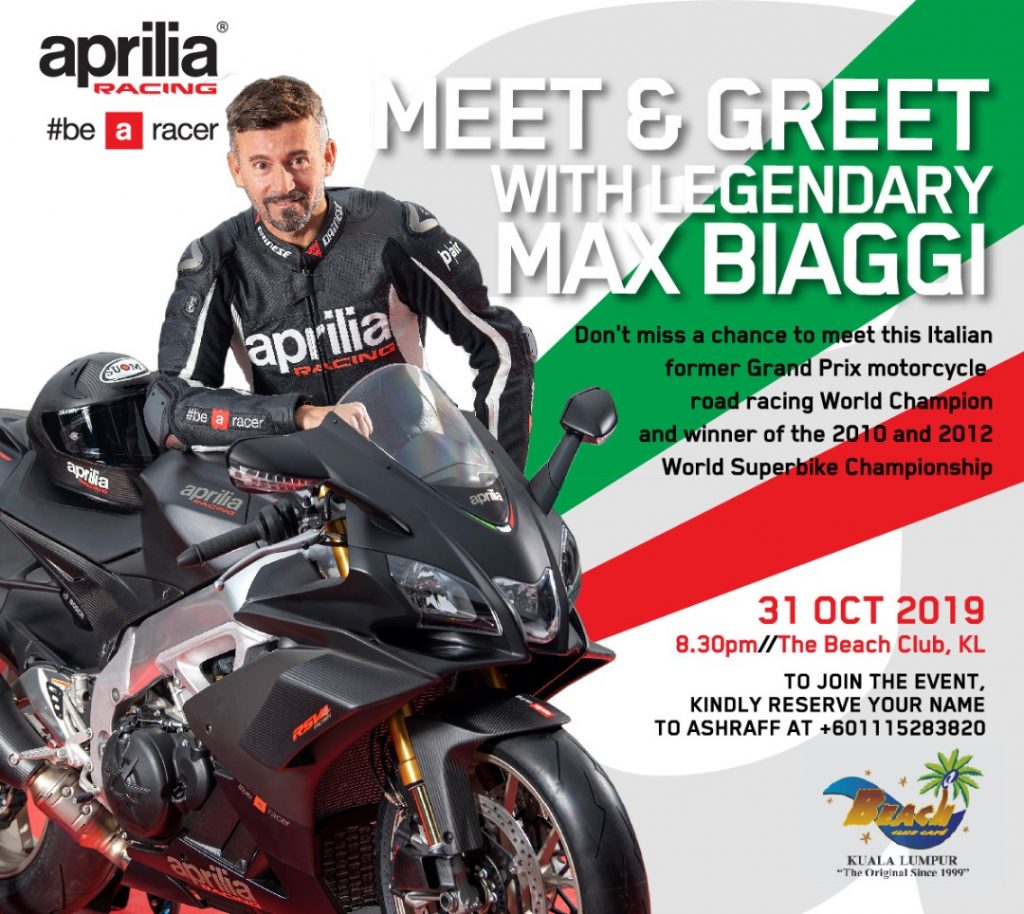 On Thursday, 31st October, there will be a meet and greet session with GP legend and Aprilia ambassador Massimiliano 'Mad Max' Biaggi. He will also host a an autograph and photography session for fans. The event will be held at The Beach Club, Kuala Lumpur starting from 7.30 pm.
It marks the first time an Aprilia meet and greet event will be held in downtown Kuala Lumpur. Besides that, members of the Aprilia Central Riders Club (ACRC) will convoy to the venue to show their support.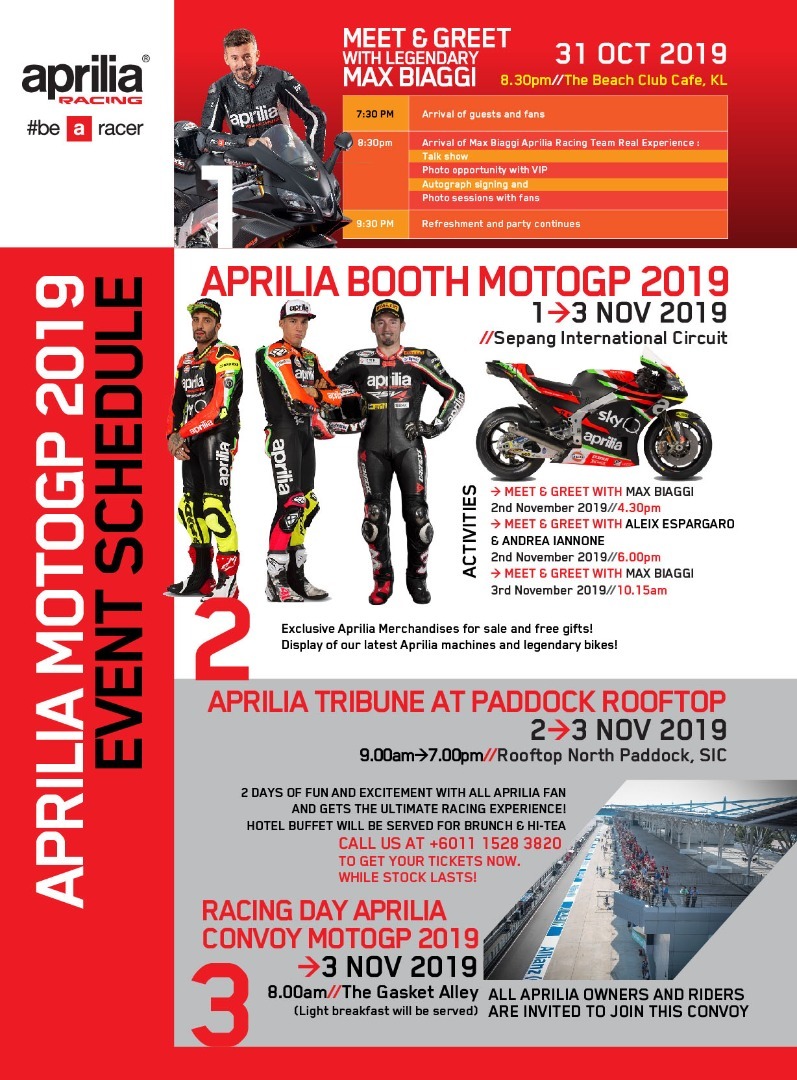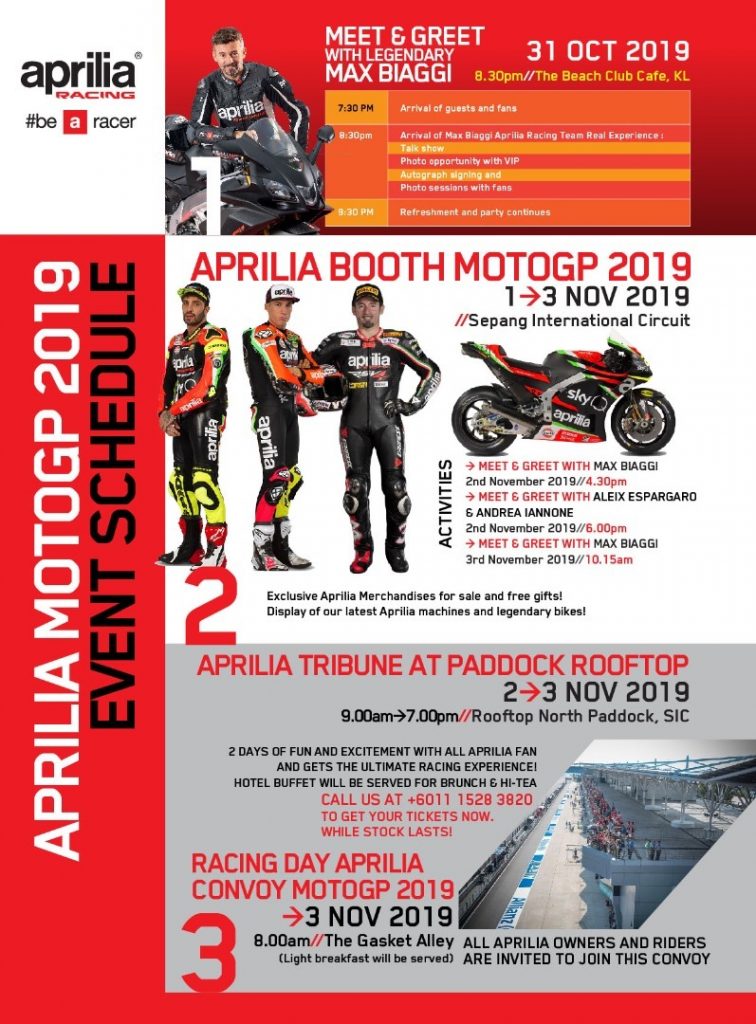 To further enhance Aprilia riders' MotoGP experience, this year's Aprilia Tribune is located at the prestigious Rooftop Paddock, where refreshments will be provided. The 200 tickets allocated to Aprilia riders have been sold out. The participants will convoy from the Gasket Alley to the Sepang International Circuit on race day, 3rd November 2019.
The Aprilia booth at MotoGP will be the first for the brand's custodian in Malaysia. As such, there will be a welcome centre.
Fans will get the chance to meet and greet Aprilia MotoGP riders there:
Max Biaggi on 2nd November from 4.30pm;
Aleix Espargaro and Andrea Iannone on 2nd November from 6.00pm;
Max Biaggi on 3rd November from 10.15am.
The booth will also feature the full range of Aprilia merchandise such as shirts, caps, umbrellas, keychains, pass holders, backpacks and so forth.
What's a booth without the bikes, right? Attendees will witness the new 2019 Aprilia RSV4 1100 Factory and for the first time, the 2019 Aprilia Tuono V4 1100 Factory which features electronically-controlled semi-active suspension (SAS). Max Biaggi's infamous RS250 and Sandro Cortesese's RSA125 GP bikes will also be on display. Fans will also see Andrea 'The Maniac' Iannone's HJC RPHA 11 race helmet for the first time in Malaysia.