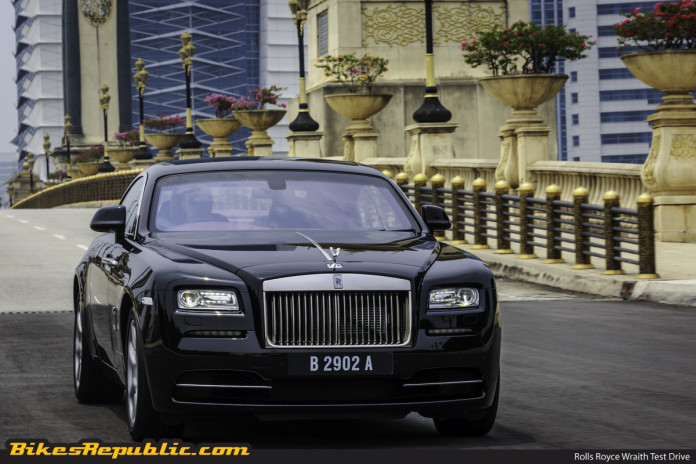 FOR as long as it has existed, the Rolls-Royce marque has stood as the ultimate benchmark as far as ultimate luxury in cars were concerned. With a strong image so synonymous in that particular trait, it is easy to see why it took some convincing when the marque decided to make its most dynamic and driver-focused creation ever, the Wraith.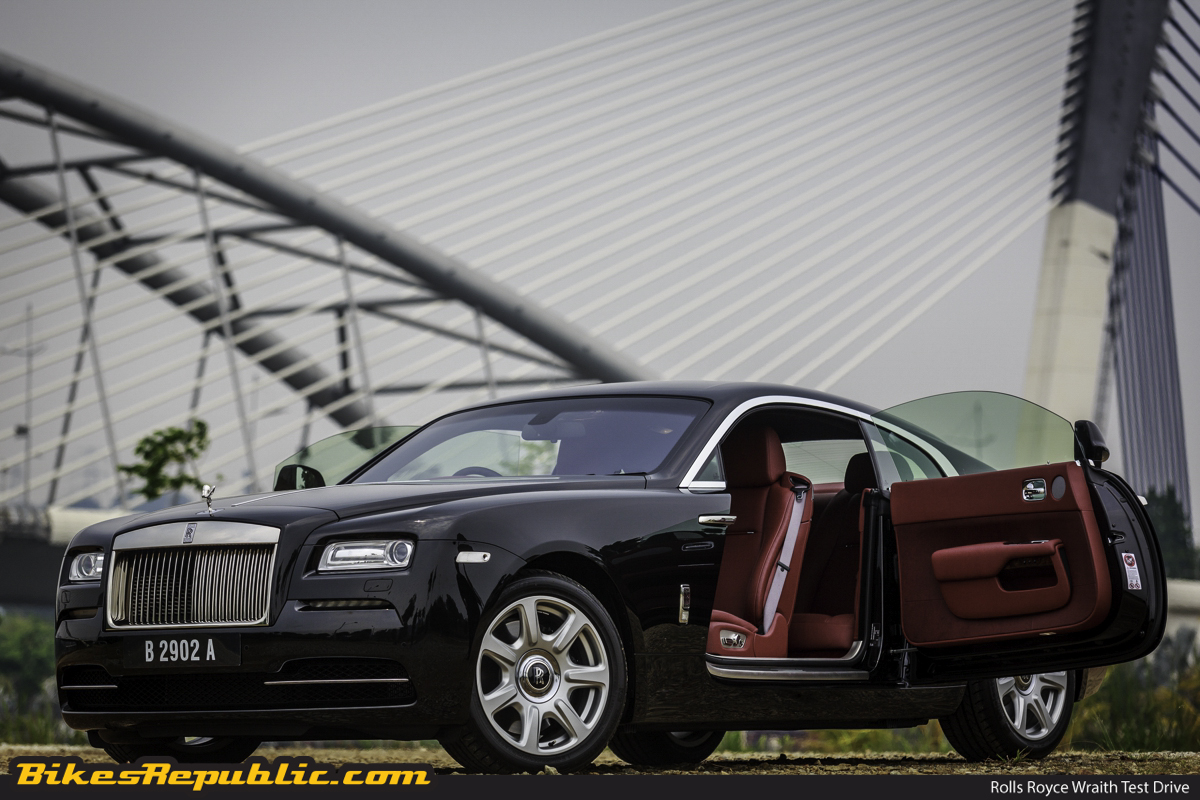 Based on the Ghost luxury sedan platform, the Wraith stands as its two-door coupe offshoot, offering a much sleeker stance and outlook as well. More importantly, the Wraith also stands as the brand's fastest and most powerful creation ever.
At first glance, the Wraith sports much of the typical design traits of many current Rolls-Royce, but it is undeniably dramatic in its overall. Our test unit's diamond black paint scheme may appear plain at first, but a closer inspection will let you see how it properly complements the Wraith's lower roofline and sleeker profile as a coupe. It also commands presence wherever it goes thanks to the large grille dominating the front fascia, those gargantuan 20-inch wheels with its floating double-R emblem, not forgetting the all-important retractable "Spirit of Ecstasy" ornament mounted proudly in front.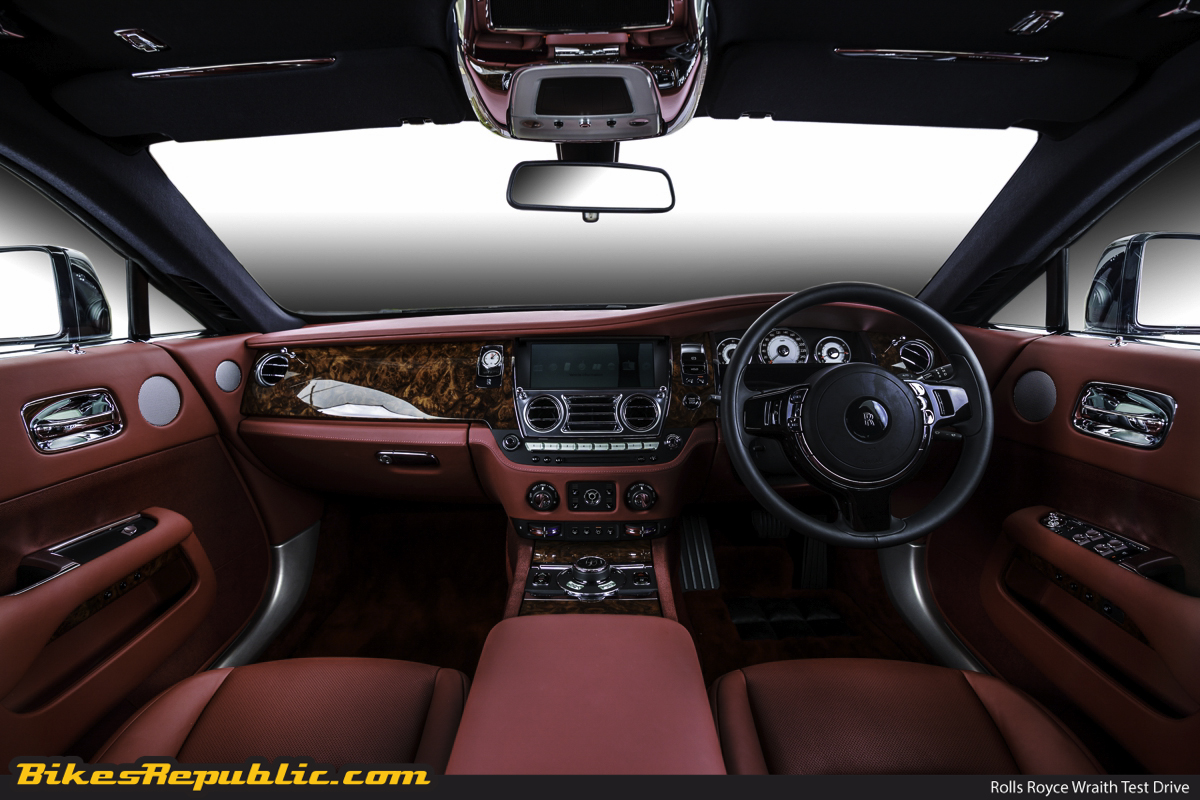 The drama continues yet again when you open and close the Wraith's 'suicide' or coach doors whilst stepping in and out of it. One still needs to open the doors manually by hand, which is a great nod towards classic luxury coaches of the past, but a press of a button is all it takes to close it back. Inside, the Wraith's cabin is indeed plush and exquisite, even in the most basic specification as our test unit. From the hand-stitched leather to the precisely hand-rafted wood veneer trims, right up to our test unit's cashmere headlining and subtle use of high quality and shiny metal trimmings, the Wraith's cabin is simply unrivalled in terms of luxury. And we also need not mention the generous real estate the cabin boasts all-round, allowing this two-door coupe to ferry four occupants effortlessly in high level of comforts.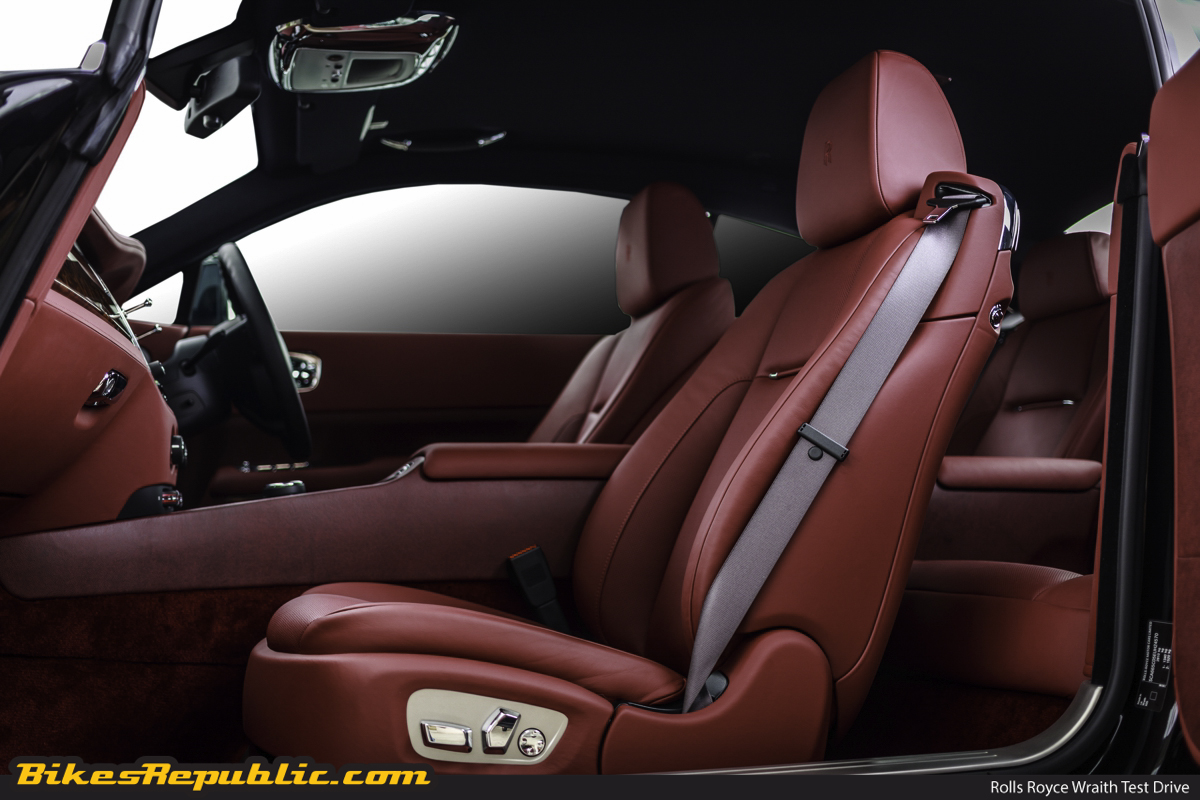 Of course, the Wraith's true magic comes to life the moment you hit the button that brings its 6.6-litre V12 twin-turbocharged heart to life. Developing a whopping 624hp and 800Nm of gravity-defying torque, it comes to no surprise that the folks at Rolls Royce Motor Cars Malaysia kept insisting us to just "tickle the throttle" gently and smoothly. And in our experience, they were right to warn us about it several times during our drive as it is simply staggering and sublime.
All power is sent to the rear wheels via an intelligent Satellite-Assisted Transmission as Rolls-Royce terms it. Built by ZF, the eight-speed automatic box is smooth and precise as it pre-selects the most optimal gear at all times by reading the road you are on using GPS data. There are no paddle-shifters or any sort of manual override shifting abilities as the GPS-aided intelligence negates such needs.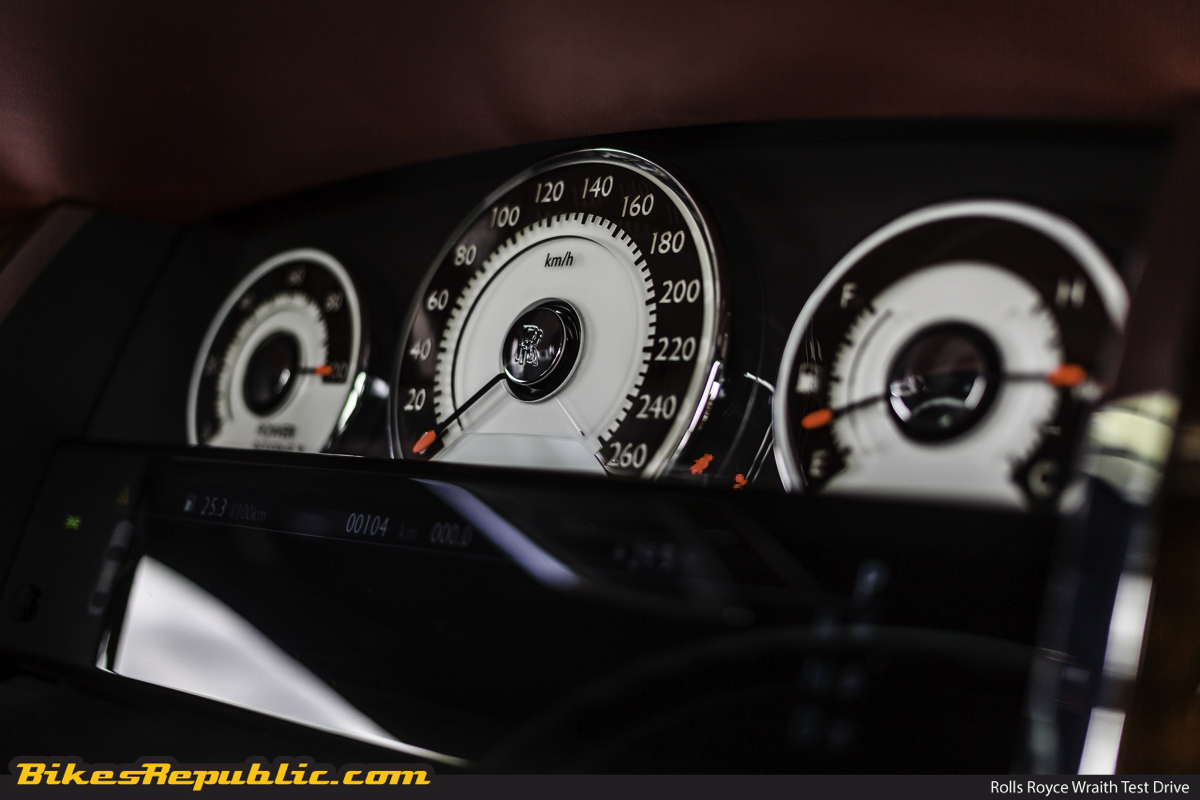 The biggest surprise here is the fact that it is able to propel this brute's claimed unladen weight of 2,360kg up to supercar-like speeds without any hint of effort, with the mill hiding the weight perfectly. Instead of a rev-counter, you get a Power Reserve meter placed to the left of the central and large speedometer. One does not even need to use more than 40 per cent power to reach two and a half times our national highway speed limit. What was truly impressive as well was how effortless the whole endeavour was, even with gentle throttle application. However, should you floor the accelerator hard, the Wraith will perform the century sprint time in a scarcely believable 4.6 seconds, where it will outrun even some of the most nimble yet smaller mid-engined Italian sports car.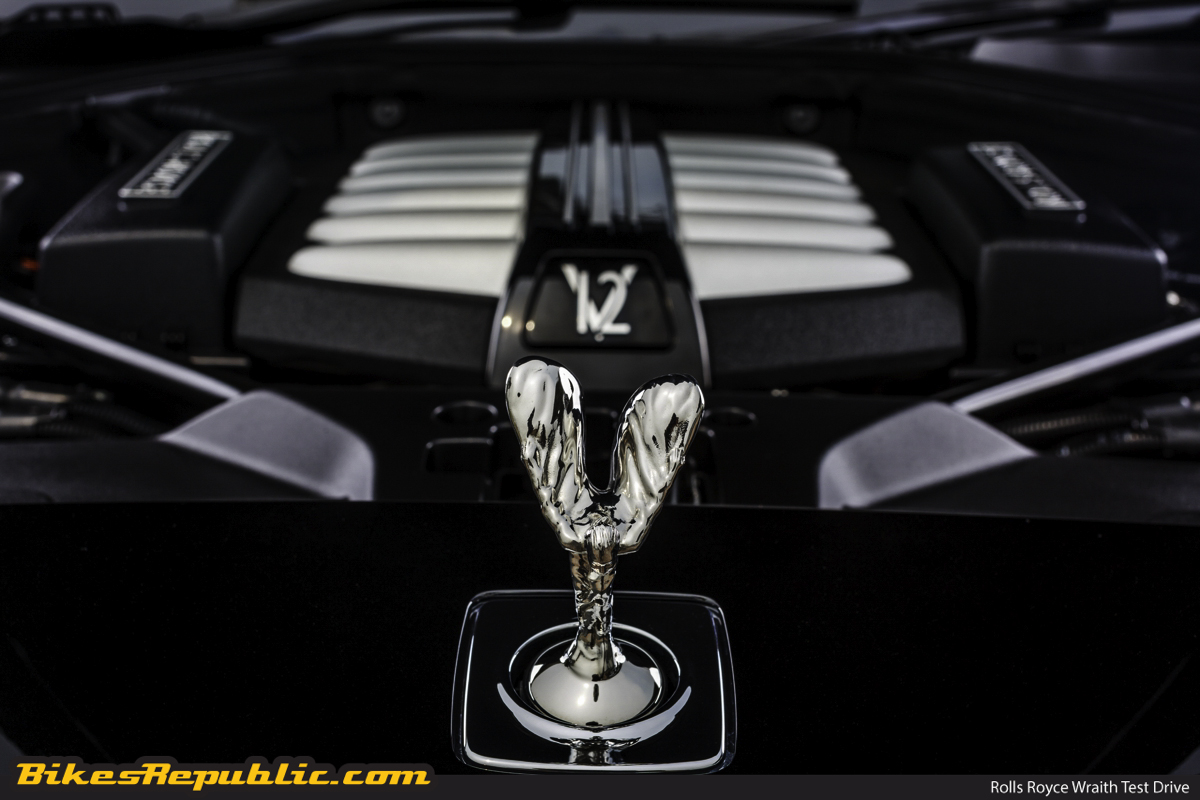 As far as the promise of a dynamic drive, Rolls-Royce were also somewhat on point here. The car's massive size only comes into full view once you take corners with it, which feels rather unnerving with the Wraith's 5,268mm length. You have got to actually use the famed Spirit of Ecstasy ornament as some sort of a yardstick to know where the front of the car is. The Wraith's sheer weight only shows itself whilst under slightly harder braking, but that is not us saying they are not any good as the advanced anti-lock brakes feels just as good with stopping the entire car's mass as how the powertrain gets it up to speeds.
This is no backroad storming mid-engined Ferrari 458 or Porsche Cayman, a fact proven by the noticeable body roll when you throw the Wraith into corners fast. But the way it does so and keeps up with most other small-sized sports cars in a high degree of comfortable compliance and stride is worth of praise. And we haven't even got to the Wraith's equally refined way of simply wafting and floating over bumps and road imperfections as if they did not exist either.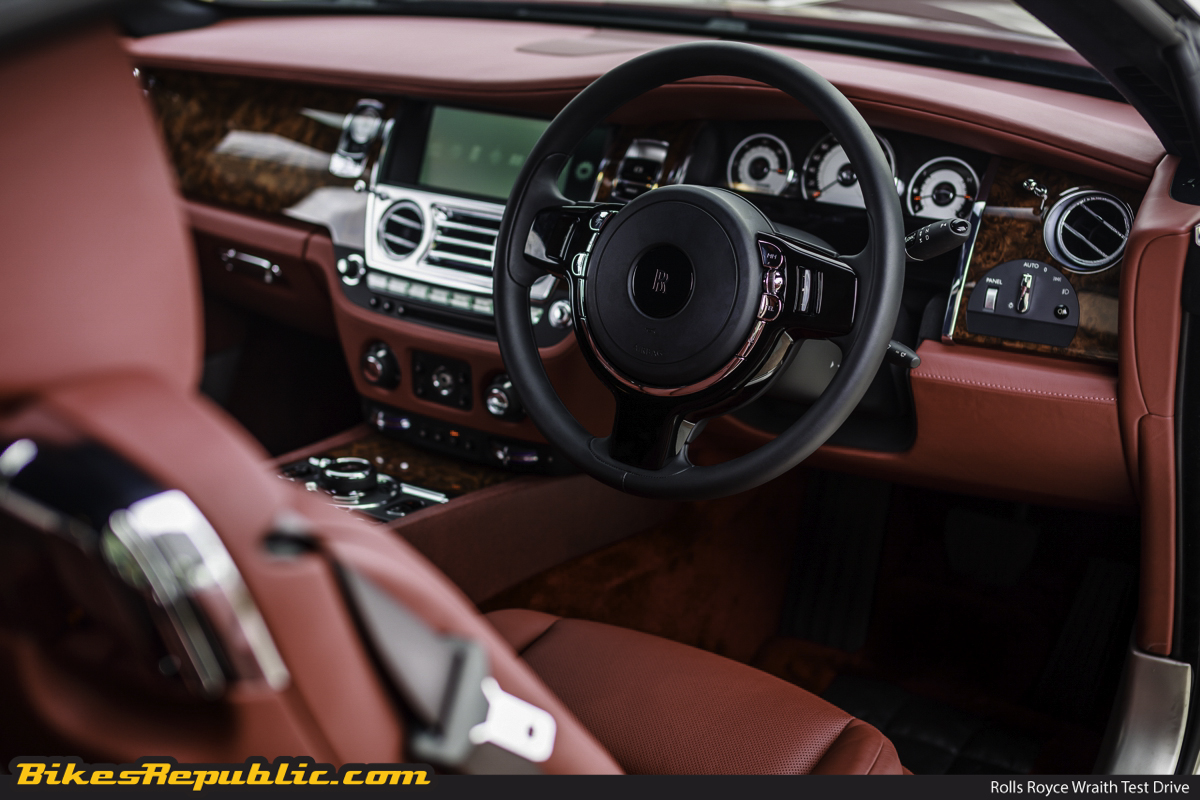 The same can be said about the steering, which felt very light yet precise with its operation, hiding the car's size and mass well yet again here. In short, the Wraith still offers the brand's famed magic carpet-like ride befitting for even the most demanding of buyers, with its powerfully intelligent powertrain adding more zing to the experience.
However, the way the Wraith excels brilliantly when it comes to cocooning its occupants on board in a highly luxurious and tech-laden bubble. Noise suppressions is indeed second to none, with only the air conditioning blowers breaking the silence on board should the choice of music playing through the  premium 14-speaker hi-fi system does not. And in case you were wondering, wind and road noises only becomes noticeable at speeds past 160km/h.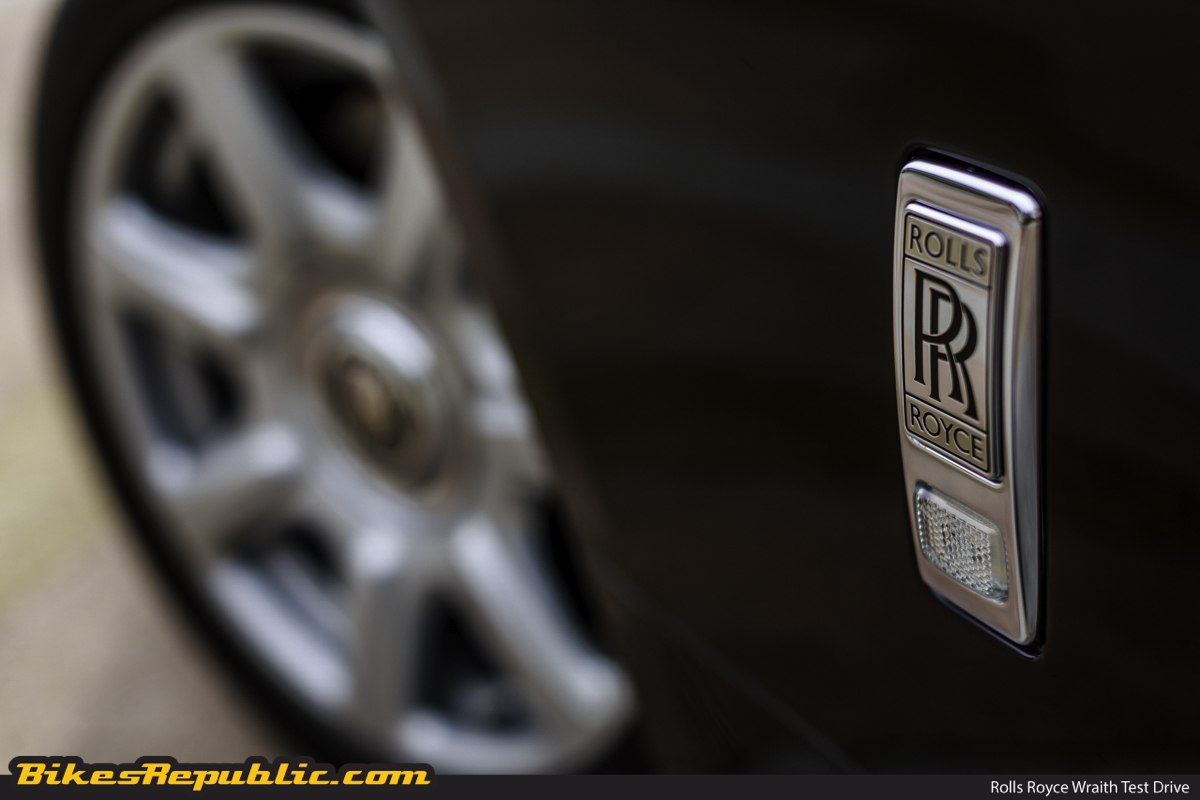 Making life much easier on board as well are things such as the intuitive and user-friendly BMW iDrive-esque infotainment unit complete with navigation, smartphone integration, as well as the very cool rotary touchpad control functions. There is nothing else that comes close to this experience, except another Rolls-Royce perhaps.
Packing a high-powered packaged with an unrivalled level of luxury, the Wraith's added athleticism makes it truly a special car. This is the Rolls-Royce for driving purists who enjoys some of the really finer things in life. Being a Rolls-Royce, the offer of making this car properly bespoke is just as enticing thanks to the seemingly limitless array of options available. As a result, each and every Wraith, or any other Rolls-Royce for that matter, is tailored to its specific owner, leading to prices that are staggering and different for each.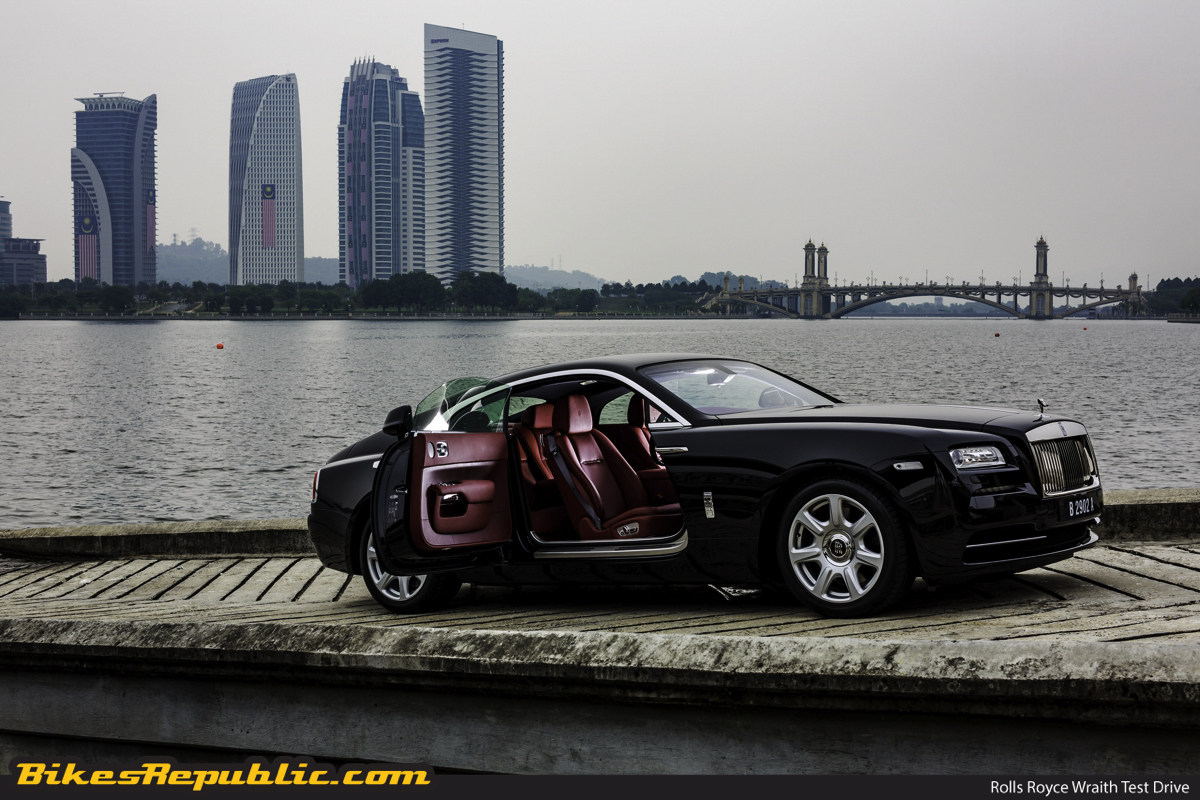 As the old saying goes, if you had to ask 'how much?', you simply cannot afford it. But just to sate your curiosity, Rolls-Royce Kuala Lumpur has set the Wraith's official base price sans options, duties and registration costs at RM1.3 million during its Malaysian launch about two years ago. If ever you wanted to make a statement on four wheels whilst, nothing else comes close to a Rolls-Royce indeed.
Rolls Royce Wraith
6.6-litre twin-turbocharged
V12 petrol
8-speed automatic
624hp@5,600rpm
800Nm@1,500 – 5,500rpm
4.6 seconds
250km/h (limited)
14 litres/100km (claimed)
POA
Gallery