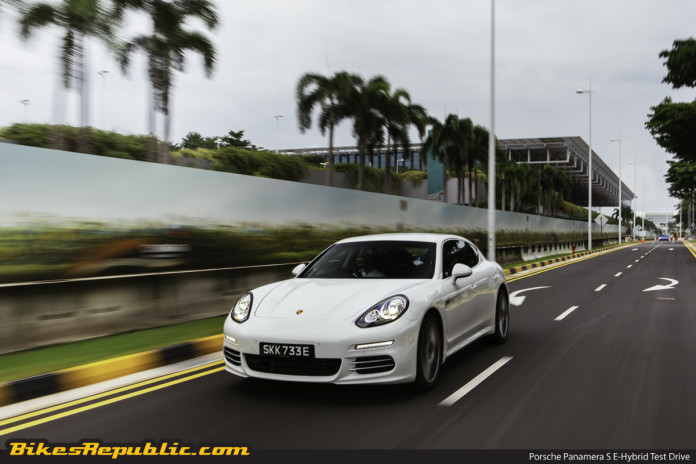 IN an age where fuel efficiency and low carbon emissions dictate the way carmakers make their cars, it comes to no surprise that hybrids have seemingly found their foothold in today's market trends. But for most hybrids, the apparent lack of performance is what has kept it away from most of the world's supercar owners, until very recently that is.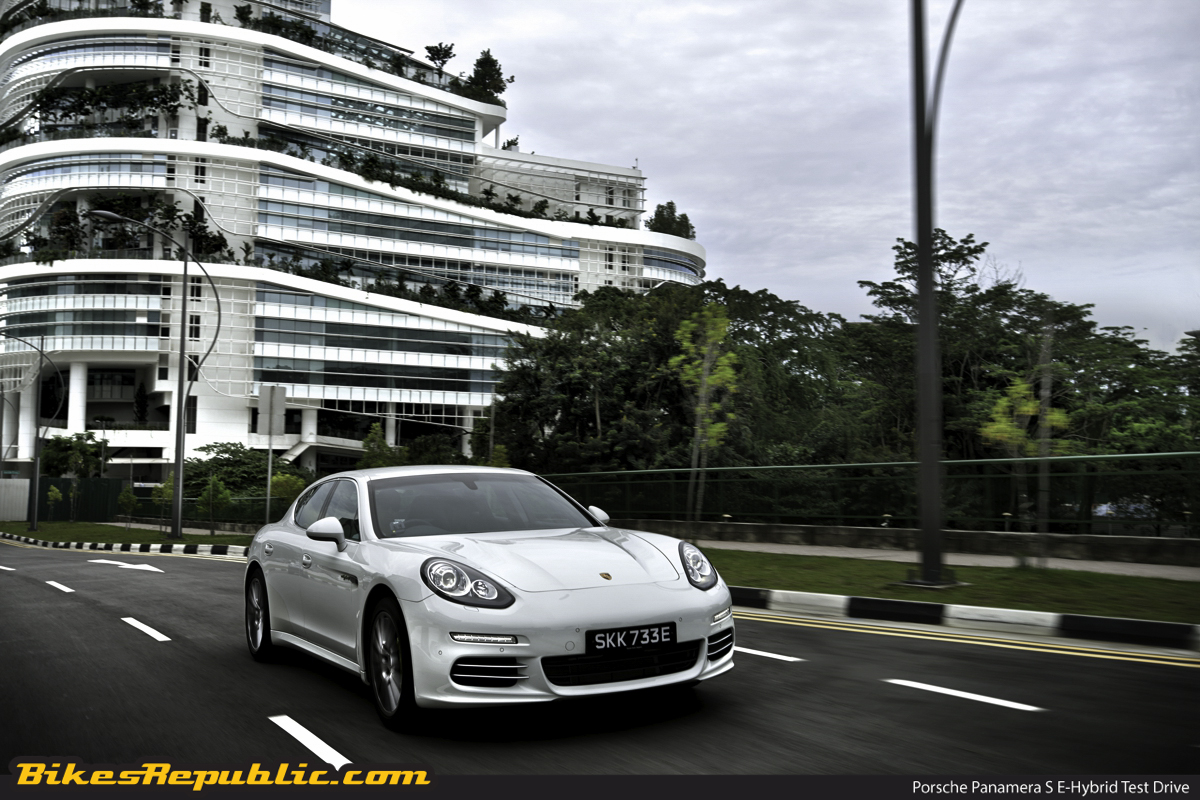 Enter the Panamera S E-Hybrid, Porsche's answer on how to make one of the world's fastest yet most efficient hybrid vehicle of its kind. It joins in Porsche's latest generation E-Hybrid range alongside the Cayenne S E-Hybrid and the mighty 918 Spyder hybrid hypercar. Effectively, this makes Porsche the world's only manufacturer to have three high performance plug-in hybrid vehicle (PHEV) models of their respective kinds in its current range of offerings.
In the Panamera's case, it has set out to become the only PHEV in the grand touring saloon segment, offering unrivalled levels of performance and efficiency whilst at it too. The recipe is fairly simple, and frankly speaking, quite German. By infusing a lot of the high-tech and advanced technologies spearheaded by the 919 Spyder and Porsche's 919 Hybrid Le Mans prototype racer, the Panamera S E-Hybrid stand out as a technological tour-de-force in its own right.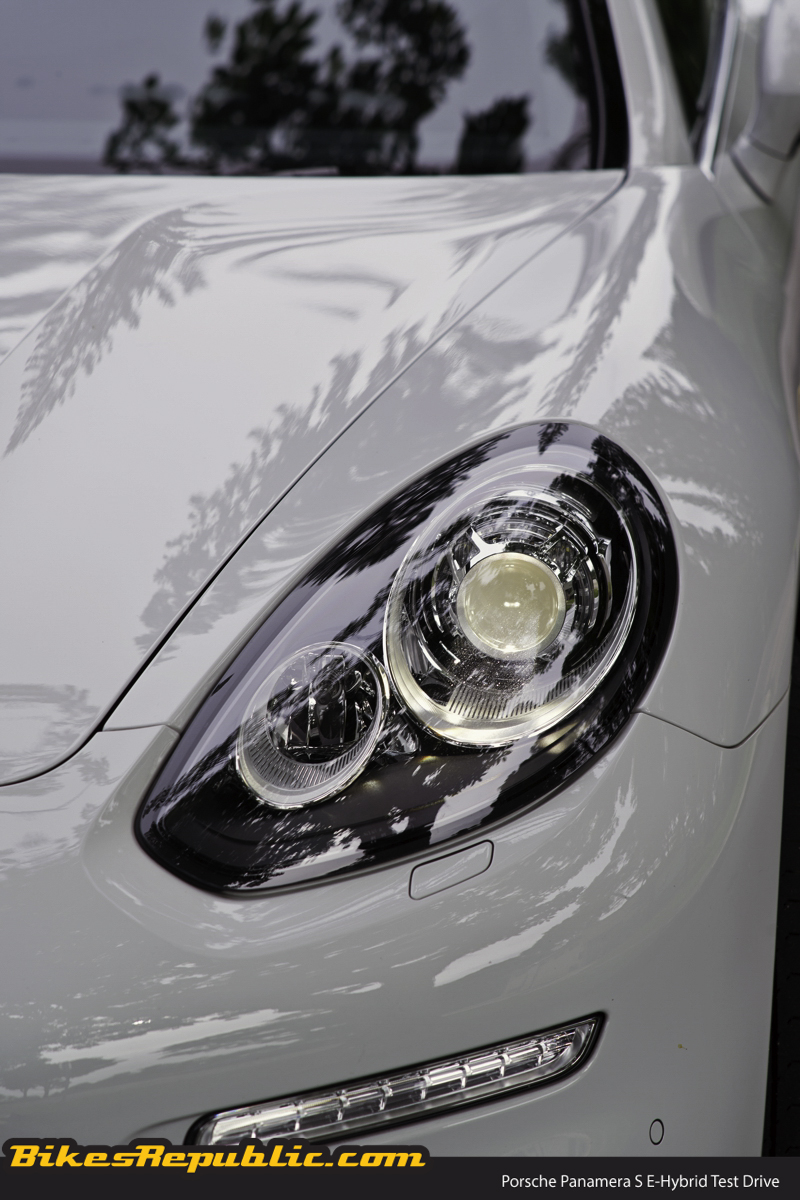 Unlike the regular Panamera, this S E-Hybrid variant utilises a highly intelligent plug-in hybrid powertrain system. The package is comprised firstly with a supercharged DOHC 3.0-litre V6 petrol engine that sits up front, generating 333hp on its own. It works in conjunction with Porsche's unique E-hybrid system that pairs the supercharged petrol V6 mill with Porsche's 'Permanently Excited Synchronous Motor' electric motor system. The motor draws power from a series of new and large 9.4kWh Lithium-Ion batteries placed under the boot, allowing the E-Hybrid system to offer an additional 95hp and 310Nm of torque on its own.
As a result, this Panamera boasts a combined output and peak torque rated of 416hp and 440Nm respectively. And, true to its form at being a sports car, all power is sent to the rear wheels via Porsche's own slick eight-speed Tiptronic S automatic transmission unit. These figures are indeed exciting, especially after considering the fact that this Panamera is a plug-in hybrid capable of full-electric drive as well.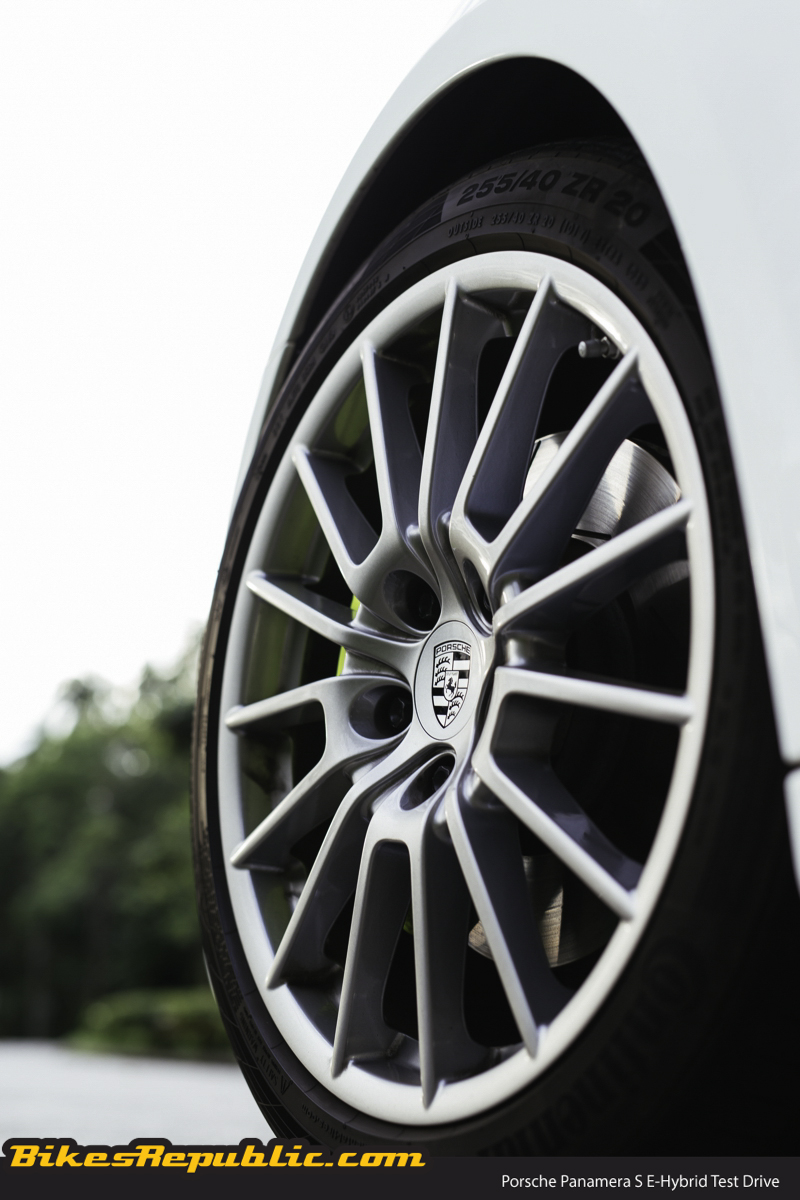 This then should explain how the Panamera S E-Hybrid could offer sportscar-like performance, specifically the 5.5-second zero to 100km/h sprint and the ability to hit 270km/h, with eco-car fuel economy and carbon emissions claims of 3.1 litres/100km (combined) and 71g/km respectively. Again much of these abilities is made possible thank to the aforementioned intelligent E-Hybrid system primed on board, which is unlike any other hybrid system the world has ever seen.
Uniquely, this Panamera offers four selectable driving modes in total, those being 'Hybrid', 'E-Mode', 'E-Charge', and 'Sport'. All of which can be changed at any time via three buttons located in the Panamera's transmission console. As you turn the ignition keys at start-up, the onboard systems engages into its default E-Mode program first, granting full electric drive, and making it unmistakable as a PHEV at the same time. What is quite impressive here is the electric motor's ability to hit high speeds up to 135km/h on electric power alone, feeling very brisk thanks to its silent and linear delivery.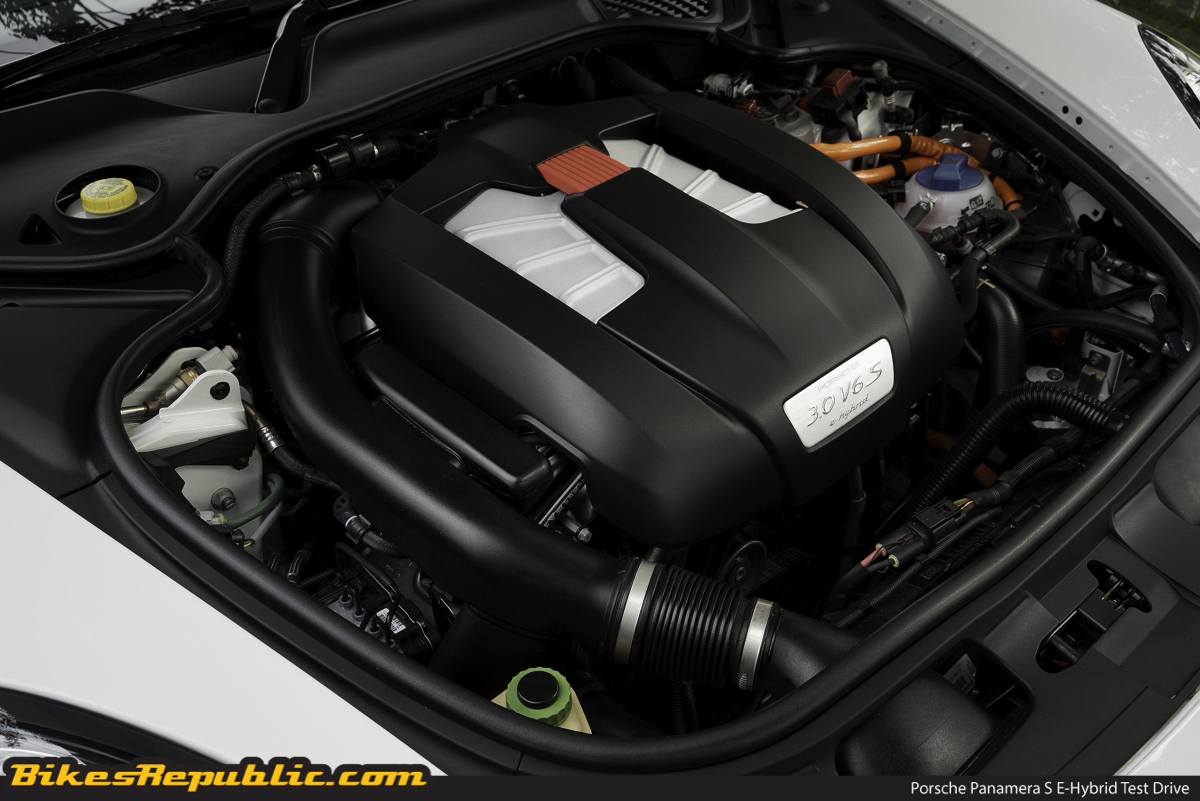 In E-Mode, the petrol engine only fires up into life if you apply more than 80% input in the throttle pedal, calling for a more frugal and light-footed approach to driving – something unheard of in a Porsche. Although Porsche claims this Panamera has a maximum electric-only travel range of 36km, driving under our hot and humid climate conditions, with the air conditioning typically set to  high settings saw us cover just 22km to 26km when we drove it recently.
Next comes the 'Hybrid' mode that automatically engages when the batteries depletes to a pre-determined level. This mode sees the system employing the electric drive more often at any given opportunity, which in turn allows the car to 'coast' when at travelling steady speeds, and demanding conventional power only when deemed necessary. This mode also sees the E-Hybrid system working in tandem with the petrol mill towards maintaining the batteries' charge levels. What was surprising here was the transitions between the petrol engine and the electric motor felt smooth and effortless.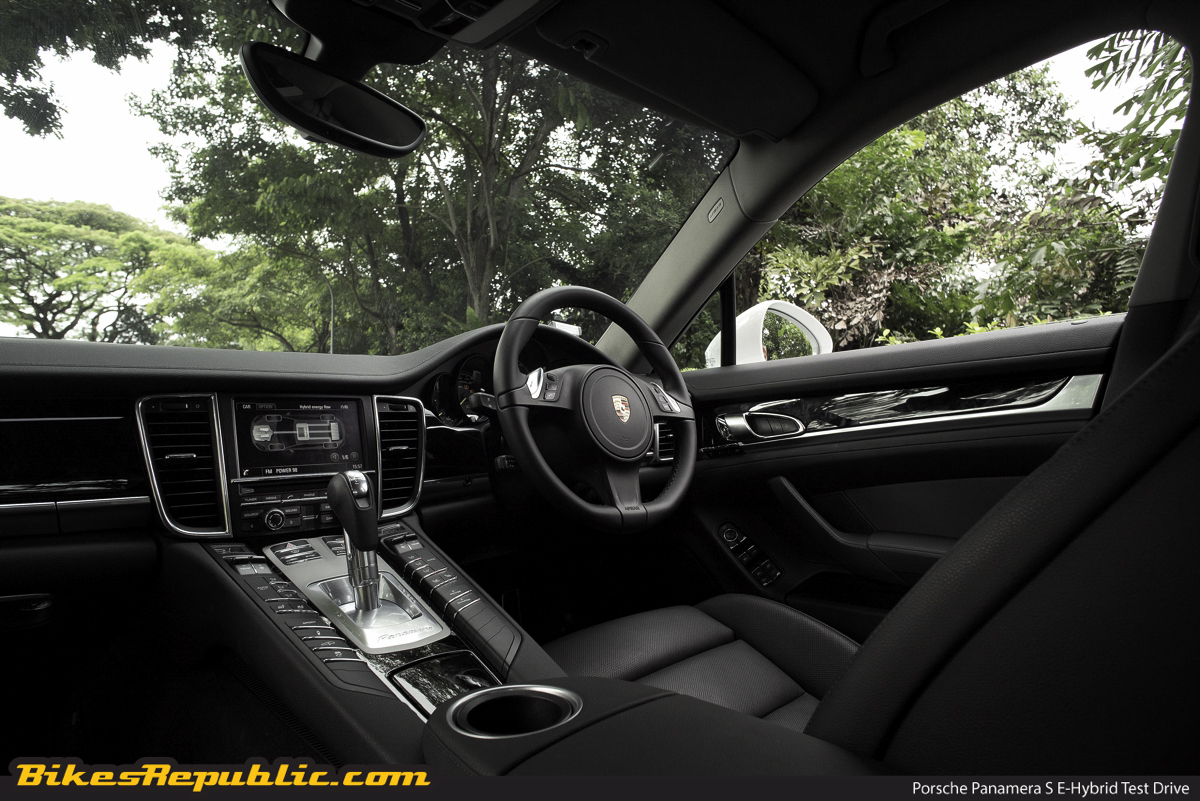 However, amongst the four driving modes, the 'E-Charge' mode is perhaps what defines the Panamera S E-Hybrid the most. Designed specifically to charge the battery on the move, this mode proved to be rather convenient should a fast-charging station be out of your reach, or you simply don't have the luxury of two and a half hours to charge the system from a wall socket.
How it works is fairly simple. At the price of fuel economy, this mode engages the petrol engine more frequently, running it at slightly higher speeds than usual to propel itself about, and simultaneously recharge the batteries. A full charge can be achieved with just 50km of light cruising, which of course does not take long with a high-speed grand tourer such as the Panamera.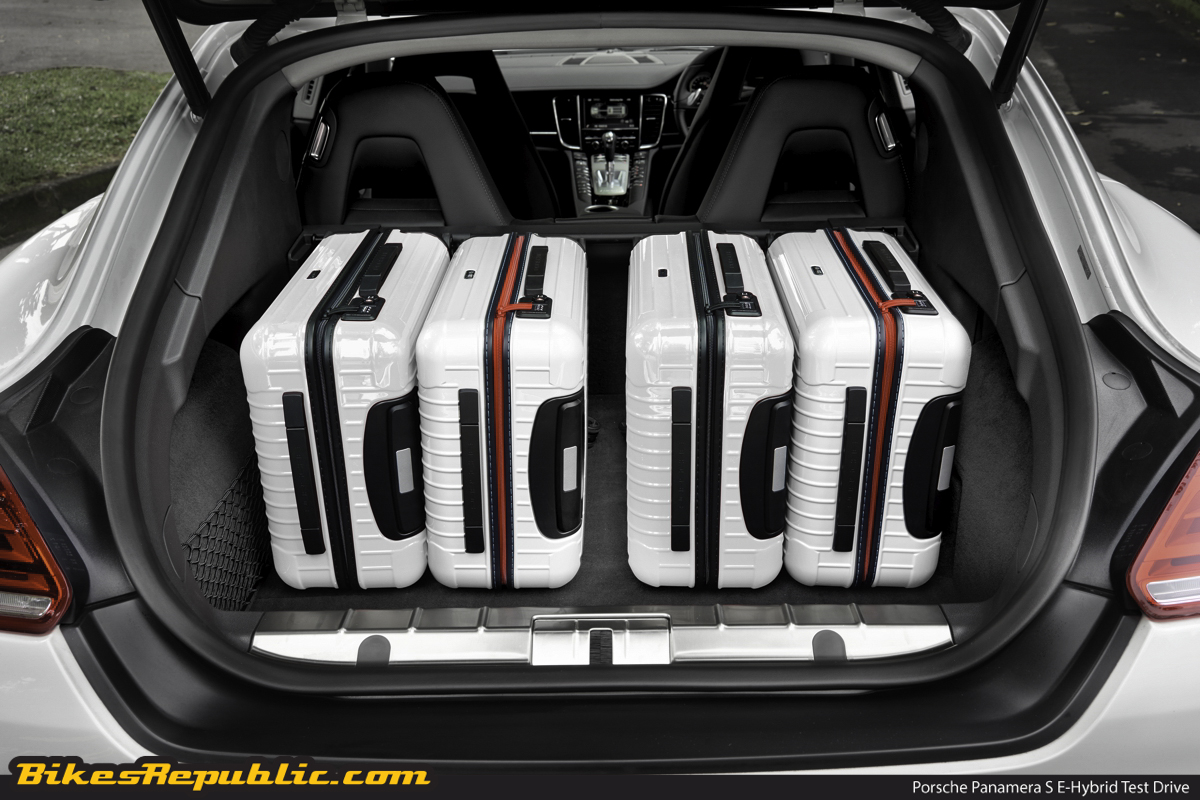 Of course, no Porsche is complete without its customary 'Sport' driving mode, and the Panamera S E-Hybrid does not disappoint here. Besides granting a crisper and more precise throttle response, as well as a more inspiring engine soundtrack, this mode fully exploits the performance advantages offered by this hybrid petrol-electric system, merging the best of what the supercharged petrol engine can muster with the silent yet direct assistance of the electric motor. Here, the petrol engine only deactivates when you come to an idling stop, but fires back to life in a more dramatic manner at even the slightest touch of the throttle pedal.
Again, unlike its other siblings within the Panamera range, this S E-Hybrid variant features a slightly different instrument panel. All the most vital information are displayed in rich detail as how most of Porshce's system typically do, with the exception of the centrally-mounted rev counter that also indicates the amount of boost offered by the electric motor. And the same rich amount of data can also be displayed with the Panamera's central touchscreen infotainment screen, giving both driver and passenger a clear indication that not only is this no ordinary Panamera, it also grants with a higher sense of purpose over its other non-hybrid siblings.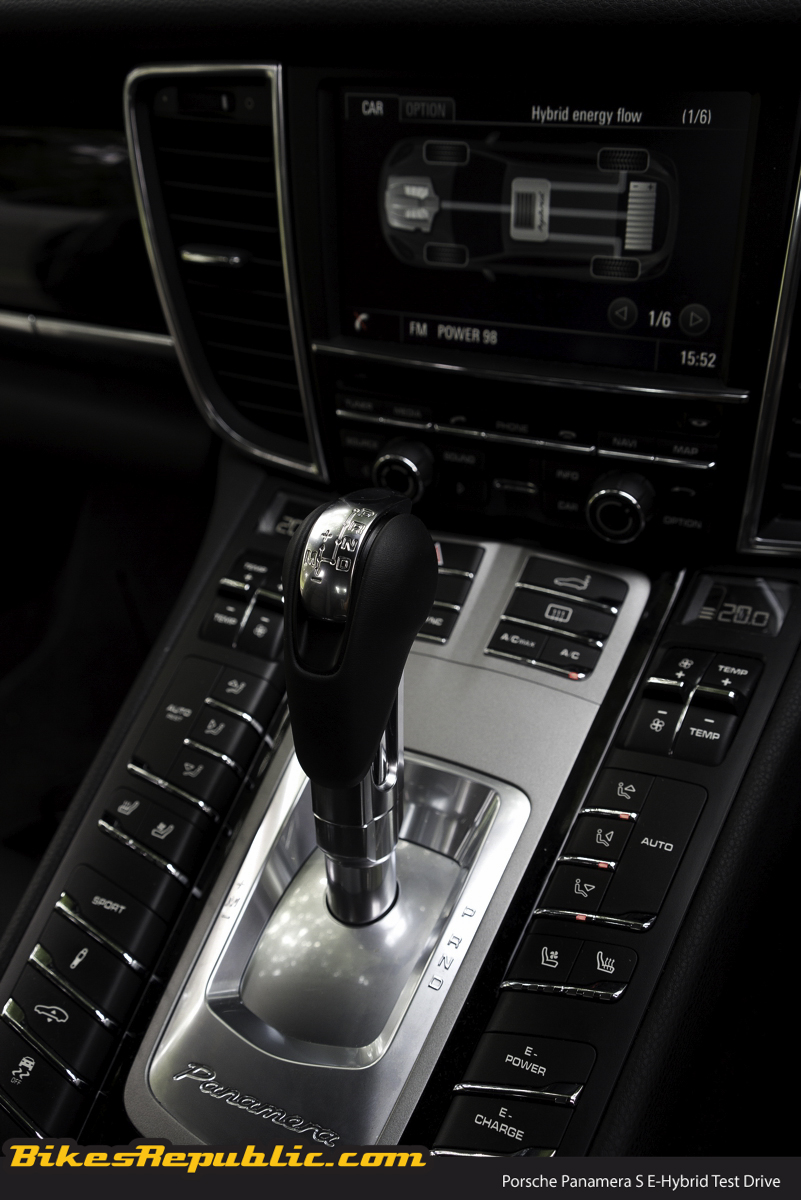 Perhaps our only niggle with the E-Hybrid system is its regenerative braking system primed on board. While it does not feel as numb as most similar two-step systems found in most hybrids, what need some getting used to is the long and pedal travel, as well as one's foot input modulation in order to get the best balance between charging and braking.
Of course, the Panamera S E-Hybrid is an unquestionably refined driver's car as it will easily meet and surpass all expectation levels all Porsches typically get. And, despite the E-Hybrid system's added bulk to the Panamera's slightly awkward long and wide dimensions, this 2.1-tonne saloon felt surprisingly agile and precise without needing much effort when tackling corners or a windy stretch of B-road.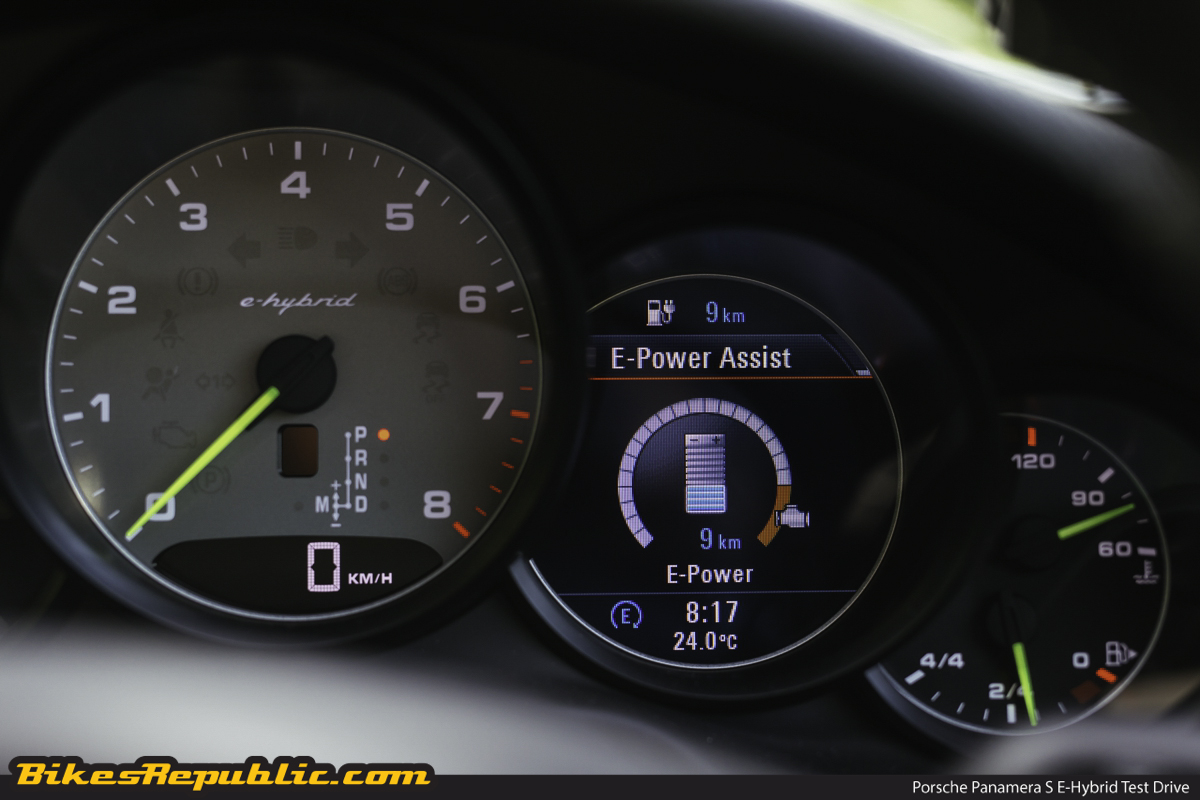 Though it did not set out to be the quickest or the most agile within the Panamera range, this S E-Hybrid's offer of the same hybrid performance technology found in the 918 Spyder and 919 Le Mans racer is a very unique and enticing offer indeed. Effectively, Porsche has proven that you can package both efficiency and performance at the same time.
Furthermore, it truly stands out at being the only one of its kind to offer a guilt-free eco-friendly motoring experience. This is one German-engineered hybrid petrol-electric dream that we believe will garner plenty of fans.
Porsche Panamera S E-Hybrid
ENGINE
3.0-litre DOHC V6
supercharged petrol
plus electric motor
TRANSMISSION
8-speed automatic
POWER
333hp@5,500 – 6500rpm (petrol)
416hp @ 5,500rpm (combined)
TORQUE
440Nm @ 3,000 – 5,250rpm (combined)
590Nm @ 1,250 – 4,000rpm (total)
PERFORMANCE
0-100km/h : 5.5 seconds
Top Speed : 270km/h
ELECTRIC SYSTEM
Top Speed : 135km/h (electric only)
Max Range : 18 – 36km (approx)
FUEL ECONOMY/CO2
3.1 litres/100km (combined)*
71g/km (*claimed)
Gallery