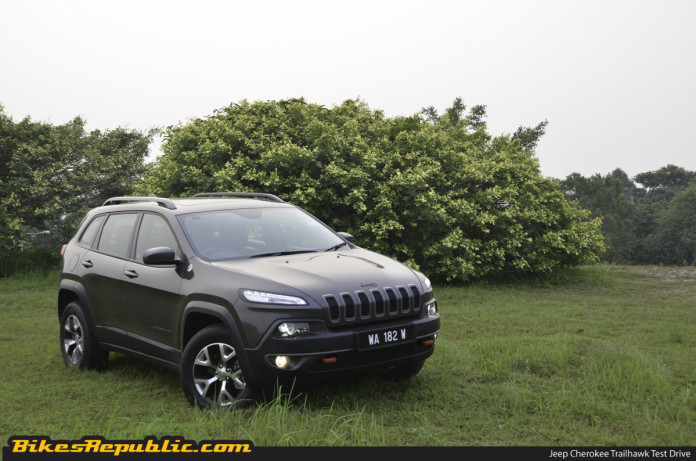 IN many ways than one, the Jeep Cherokee nameplate is something many in Malaysia are familiar with. The second-generation model, the Cherokee XJ, became quite a popular item on our roads sometime in the late 1990s. While its squared design and outlooks were nothing to shout about, it was its ability at being both a desirable on-road SUV and a highly capable off-roader that sealed its deal amongst many.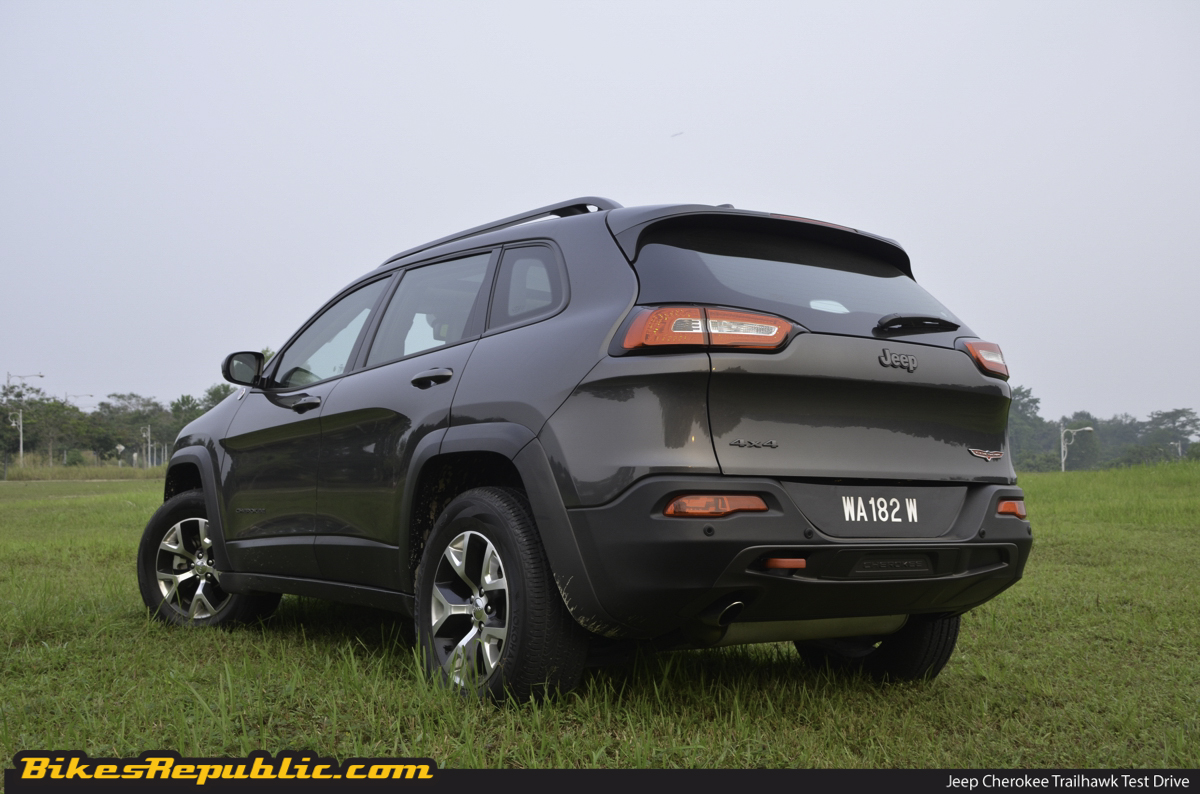 Fast-forward to the present day and things have taken a much different yet somewhat better path for the Cherokee model. The fifth generation Cherokee model as we come to know now has been in production since 2013. Unlike the XJ, this newer 'KL' model can be had in either Longitude or Trailhawk variants, with the former being better honed as an urban crossover SUV whilst the latter, which is featured on this page, stands as the more off-road focused variant of the two.
As far as looks go, this new generation Cherokee model does not look too bad overall. Whilst the basic and typically squared SUV shape is rather obvious, Jeep's designers have given this new model smoother with lines and curves all round. Complementing that are modern touches, namely the distinctive quad-split headlights arrangement that flank the Jeep brand's signature grille design that feature both LED daytime running lights and Bi-Xenon HID projectors.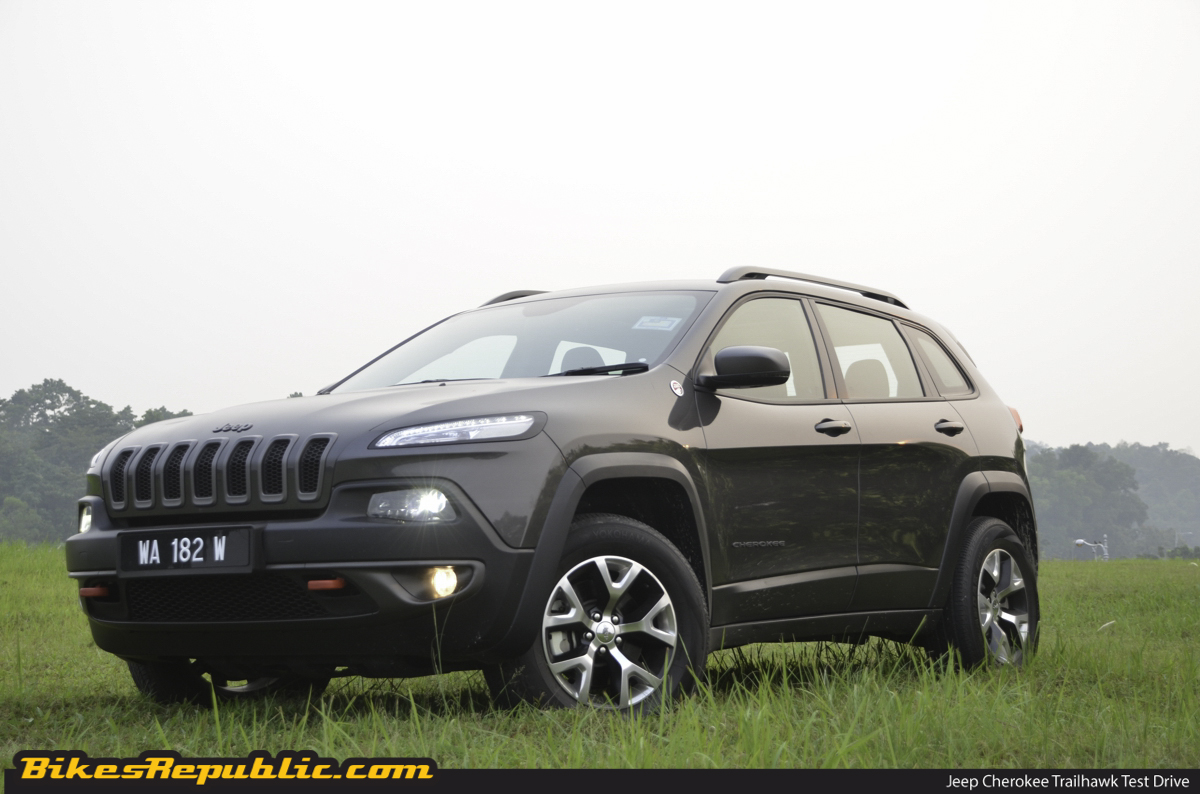 Unique to the Trailhawk though are the contrasting black-finished front and rear bumpers that offer better off-road clearance, not forgetting 17-inch alloy wheels that are wrapped in knobby all-terrain tyres, as well as the special 'Trailhawk' badges adorned on the front quarter panels and rear hatch. In short, the Cherokee Trailhawk's looks are best described as tough and rugged, which is indeed amatch for the capabilities it has in store.
Climb aboard into the cabin and it the first thing that surprises many first-timers is the abundance of space all-round. While it looks small at first glance, the Cherokee is indeed a sizable competitor in the mid-sized SUV game, offering plenty of leg- and headroom in its cabin. Other than the somewhat medium-level fit and finish quality, the cabin is actually a decent place to be in.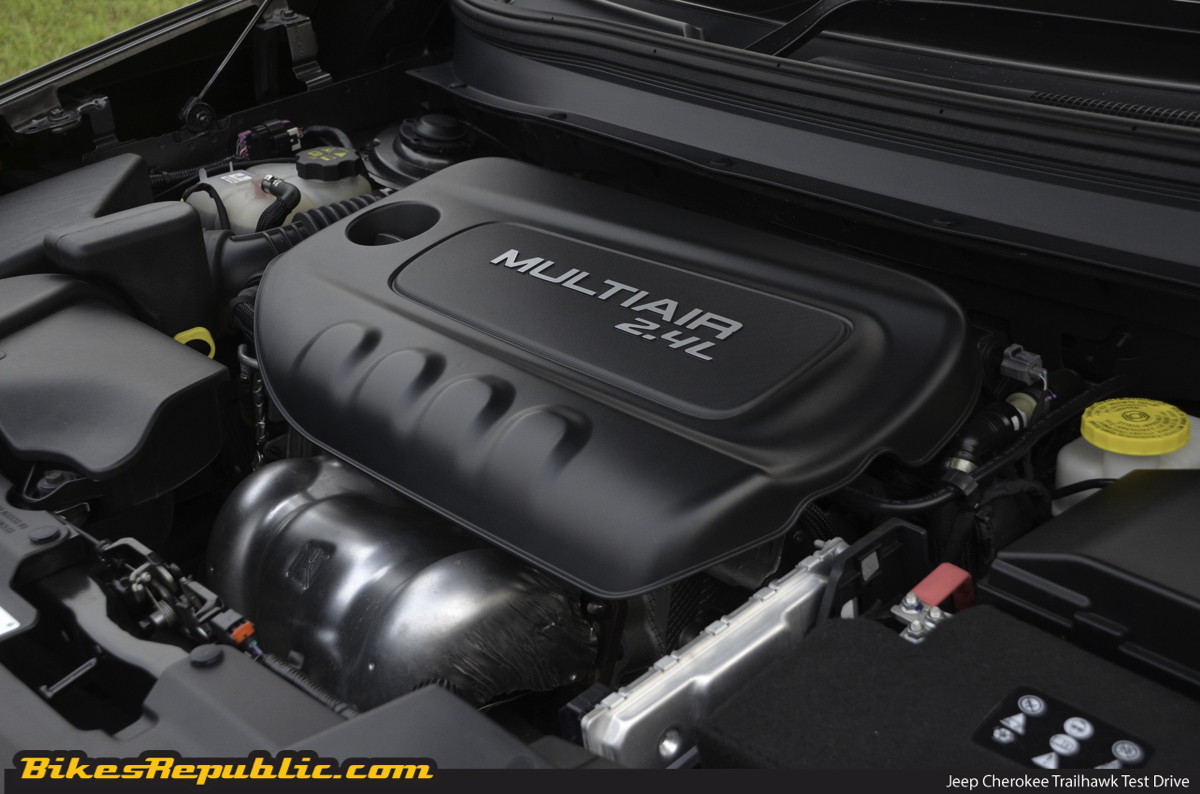 Some the things we loved here were the quirky American-styled practicality features, namely the high amount of cup holders all-round that would fit just about all cup sizes from major fast food chains, as well as the under-seat cubby in the front passenger seat. Another distinctively novel American feature here was the remote engine start feature too, which allowed one to easily warm up the car and cool the cabin first before entering.
Notable creature comforts here include a neat wireless charging pad for compatible smartphones in the centre console, adaptive cruise control, keyless entry, an 8.4-inch touchscreen infotainment unit with a nine-speaker and a subwoofer setup, not forgetting the all-important dual-zone automatic air-conditioning with rear cabin blowers as well. Without any doubts, the Cherokee Trailhawk's brilliant offer of an unrivalled creature comforts list is indeed enticing, making journeys across long hours or across the unbeaten path a lot more comfortable a bearable.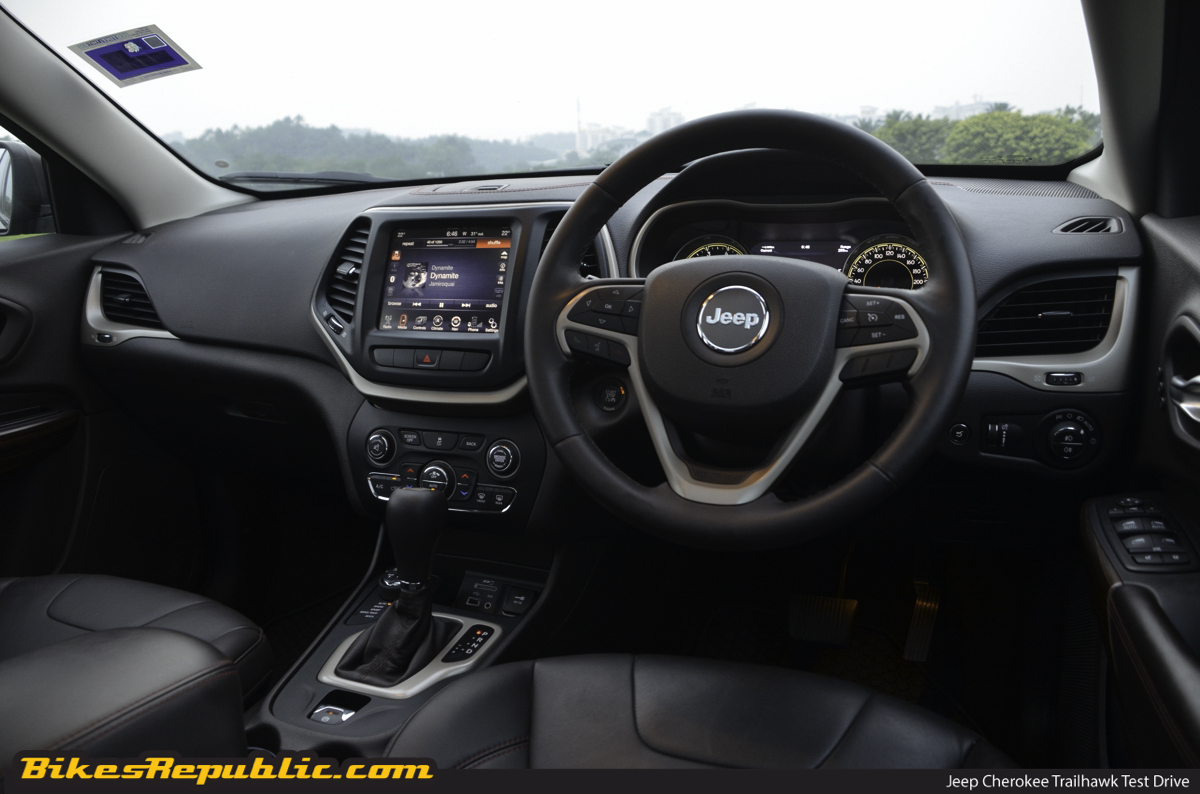 Next up comes the Cherokee Trailhawk's powertrain package. Tasked at propelling the Cherokee is a 2.4-litre Tigershark Multijet in-line four-cylinder petrol engine from the Fiat Chrysler Automobiles (FCA) group's vast arsenal, developing 174hp and 229Nm of peak torque. All that is transmitted to all four wheels via a nine-speed automatic transmission with this Trailhawk variant offering the added versatility of Jeep's multi-mode Selec-Terrain 4×4 system.
Whilst it does sound rather decent on paper, the performance of the engine and transmission were not what we expected initially. The engine favours mid- to high-end torque and high-end power generation, which meant that fuel economy was not its strongest suit when the accelerator is floored. The other thing we loathed was the nine-speed automatic's performance, which felt as if had mismatched ratios with the tendency to up- or downshift a little too often.
Nevertheless, despite the powertrain's quirks, it is sufficient at propelling this Cherokee Trailahwk's somewhat hefty mass about up to speeds. And should you master both the engine's and transmission's sweet spots, you would be able to meet Jeep's claimed highway fuel economy rating of 13.18km/litre or a maximum travel range of up to 789km.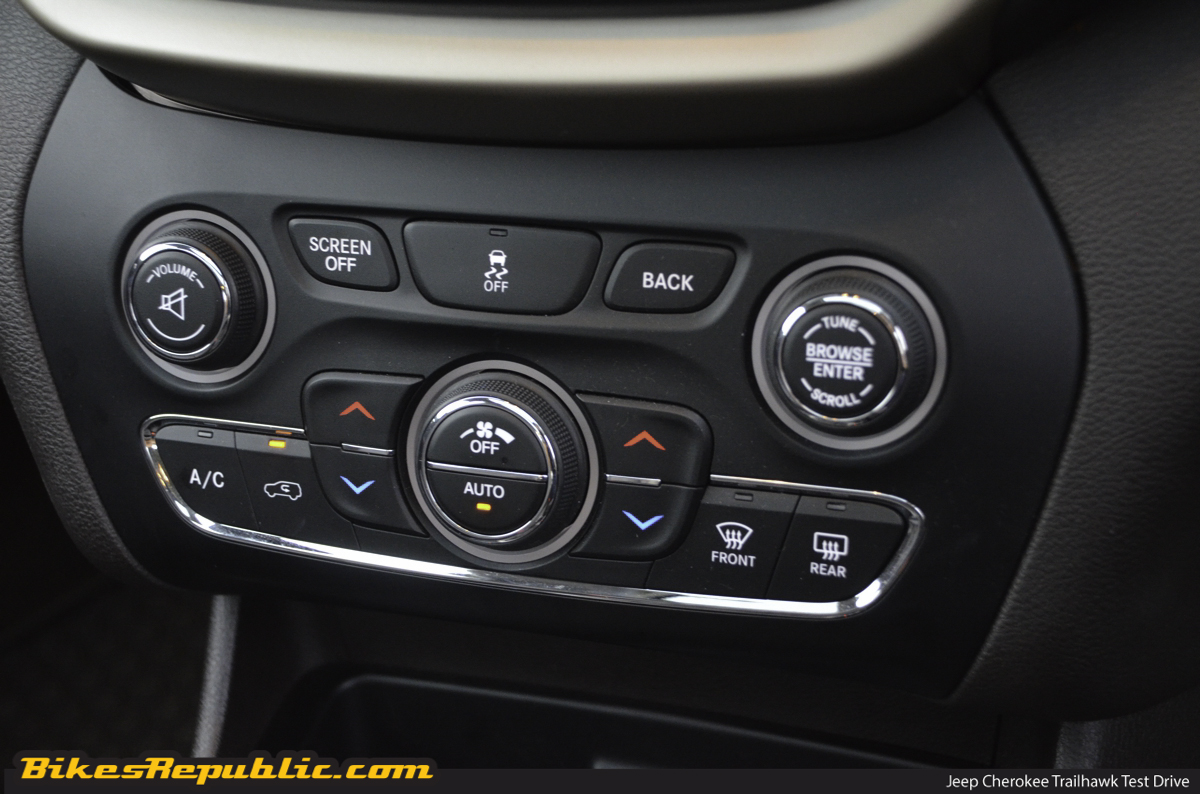 For the Cherokee Trailhawk, its best party trick has to be its ability to conquer all terrain types when you demand it to. The aforementioned Selec-Terrain feature offers plenty of 4×4 modes based on weather or surface types including mud and snow. Complementing that are hill ascent and descent controls, as well as the presence of rear differential lock controls, all of which makes the Jeep Cherokee Trailhawk an extremely capable off roader indeed.
And, despite having the off-road-focused wizardries plus and knobby 245/64-sized all-terrain tyres, the most surprising aspect about the Cherokee Trailhawk was its rather refined on-road manners. The long suspension travel and soft dampers are not only well-suited with high comforts levels when off the beaten path, it felt equally good even when performing the regular urban commute and long-haul highway journeys.
What adds to that further are the Cherokee Trailhawk's roomy and plush cabin, as well as the aforementioned creature comforts plus several other premium features, most notable of which being the panoramic glass roof. Added peace of mind zlso comes from knowing that the Cherokee Trailhawk is covered with a full spectrum of safety features that includes seven airbags lining the cabin, a rear cross-traffic alert integrated with the reverse camera unit, along with the all-important anti-lock brakes and electronic stability control suites too.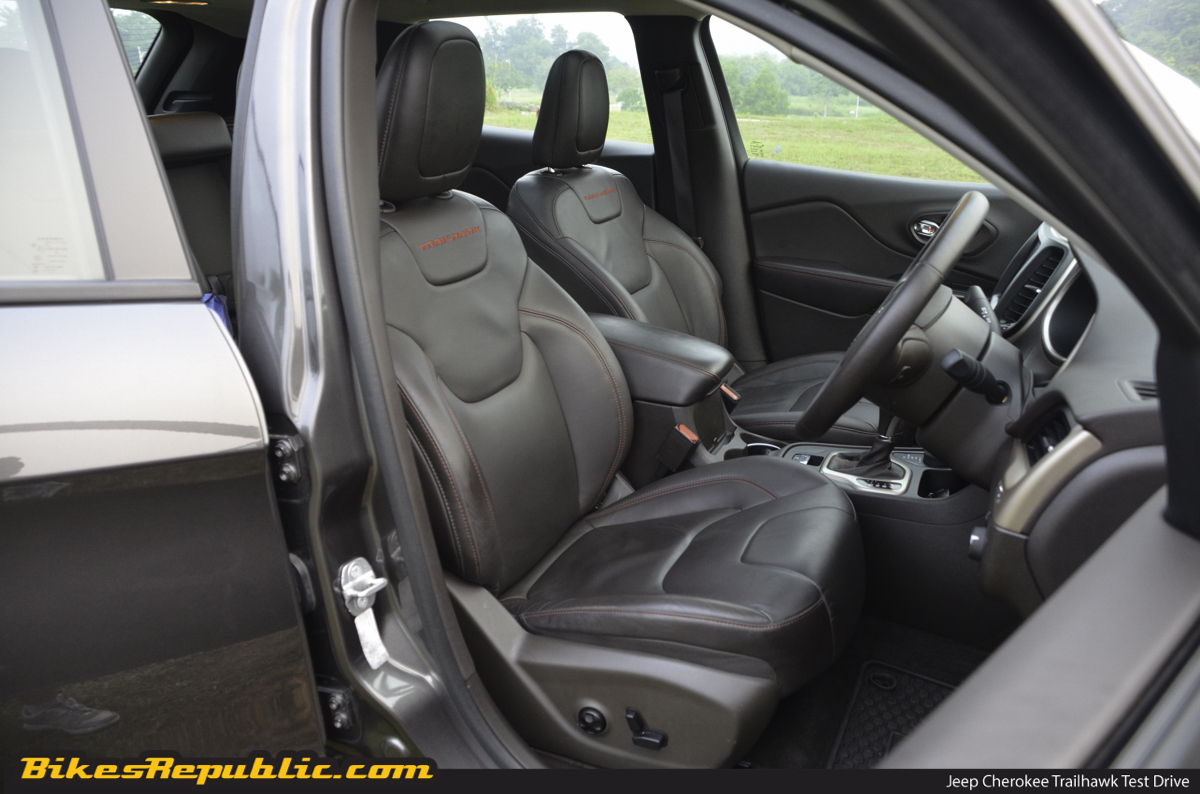 The Cherokee Trailahawk's other brilliance lies in its talent for maximum utility and practicality that perfectly matches up with its go anywhere nature. Key in this specific aspect has to be the Cherokee Trailhawk's standard boot space of 506 litres, which can be extended further up to its maximum of 1.3 cubic metres with the 60:40 split rear seats folded down. On top of that is the presence of a 12-volt socket in the boot to power a variety of appliances like a mini cooler, as well as the motorised rear hatch with remote key operation that makes loading and unloading so much easier.
To sum things up, the Jeep Cherokee Trailhawk in one of the most highly capable and well-equipped SUVs presently available in the market. Despite the powertrain's quirks, the Cherokee Trailhawk's overall brilliance through its fully loaded features list, impressive off-road abilities and maximum utility are somewhat unrivalled. The only hurdle left is whether is one willing to shell out the steep RM378,889 starting price it commands as a fully imported (CBU) model that comes straight from America.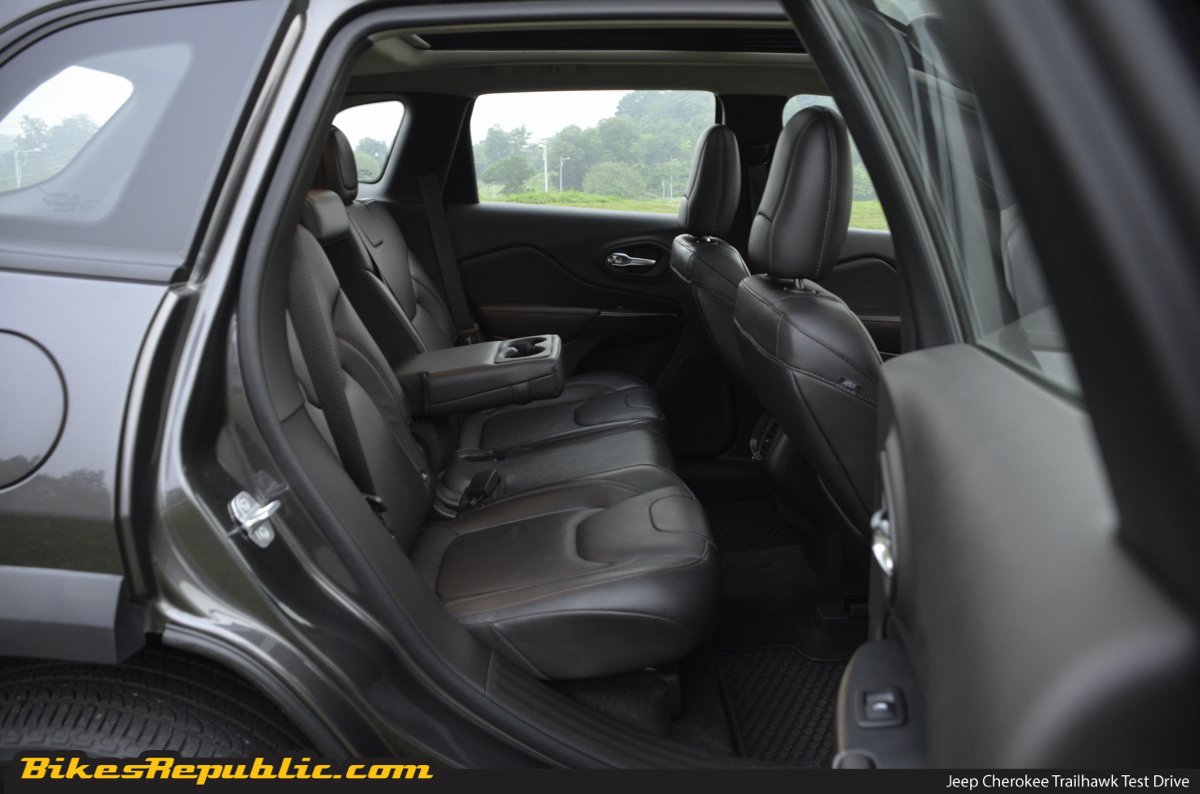 If you are a fan of Jeeps to begin with, then the asking price is of little consequence. If not, perhaps then you are better off with a comparable European or Japanese rival of the same size. However, said rivals do not offer what the Jeep marque stands for, that being the promise of going just about anywhere without sacrificing too much on comfort levels. As it is, the Jeep Cherokee Trailhawk is indeed second to none in the maximum utility SUVs game.
Gallery