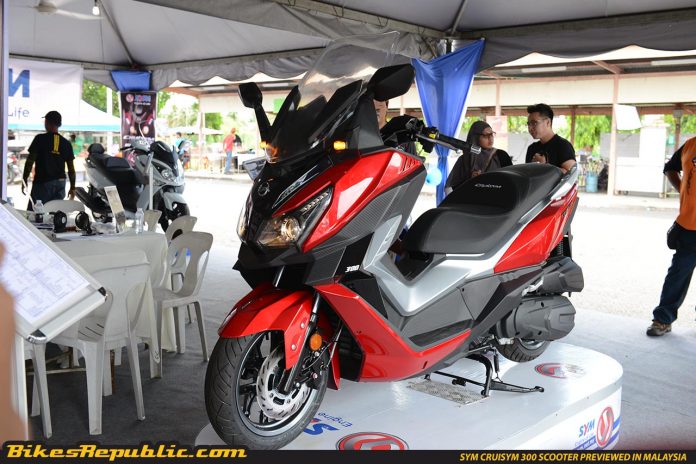 Back in November of last year, we reported that SYM Malaysia, which is represented locally by M Force Bike Holdings Sdn Bhd will be offering the Cruisym 300i model sometime this year. Well that time has come and we were invited to Seberang Jaya, Penang to a preview of the latest maxi scooter.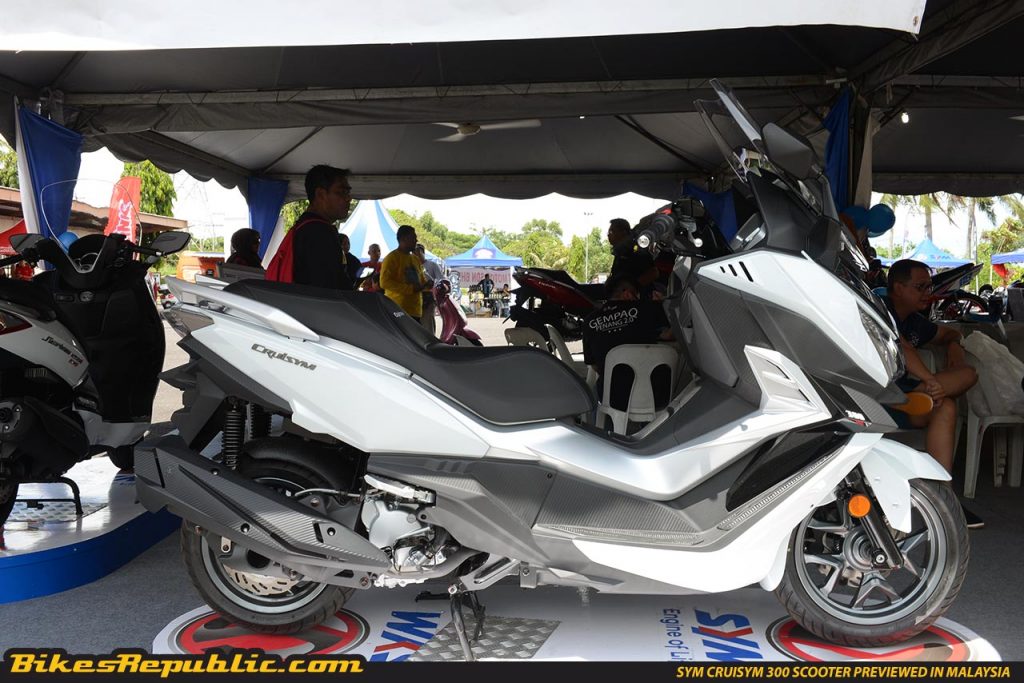 Back then, we reported that the Cruisym 300i will go on sale sometime in the second quarter of this year, but after poking our noses around and grilling the staff, there seems to be no indication yet on when the scooter will officially go on sale. But considering that only two models of the Cruisym's have made it to Malaysia yet, the wait could go past the second quarter mark.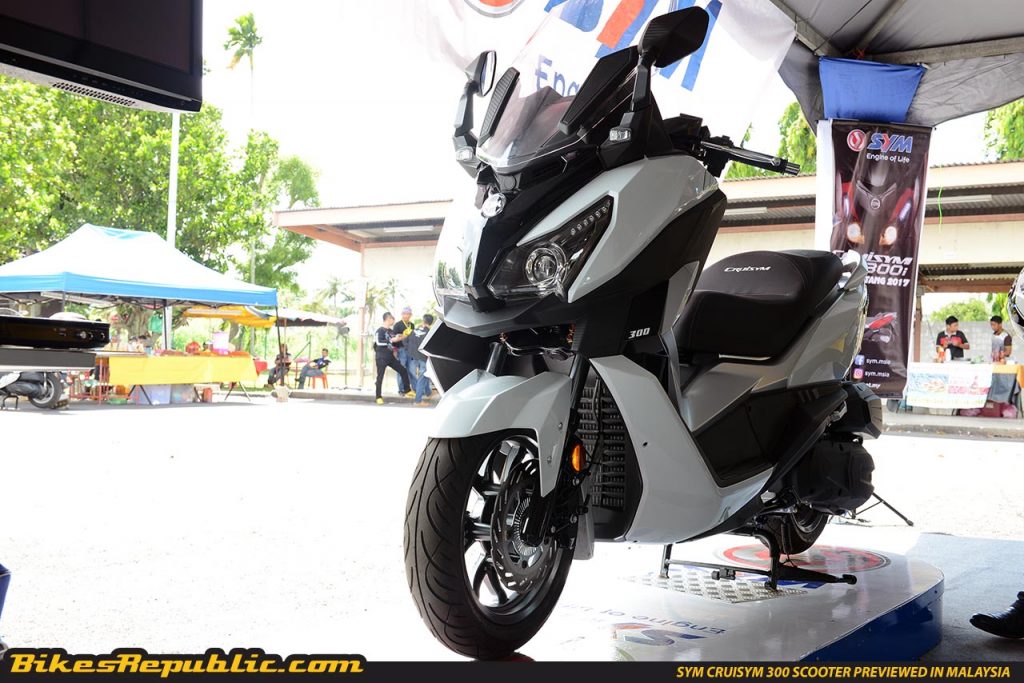 As for the price, no indication yet but we don't expect the Cruisym 300i to be priced more than RM23,000. Last year, a press release sent out by the company indicated a price range of between RM15,000 to RM20,000, but since then, Donald Trump has become President of the United States and the Ringgit is a lot weaker against the US Dollar, so last year's predicted price could no longer be relevant now.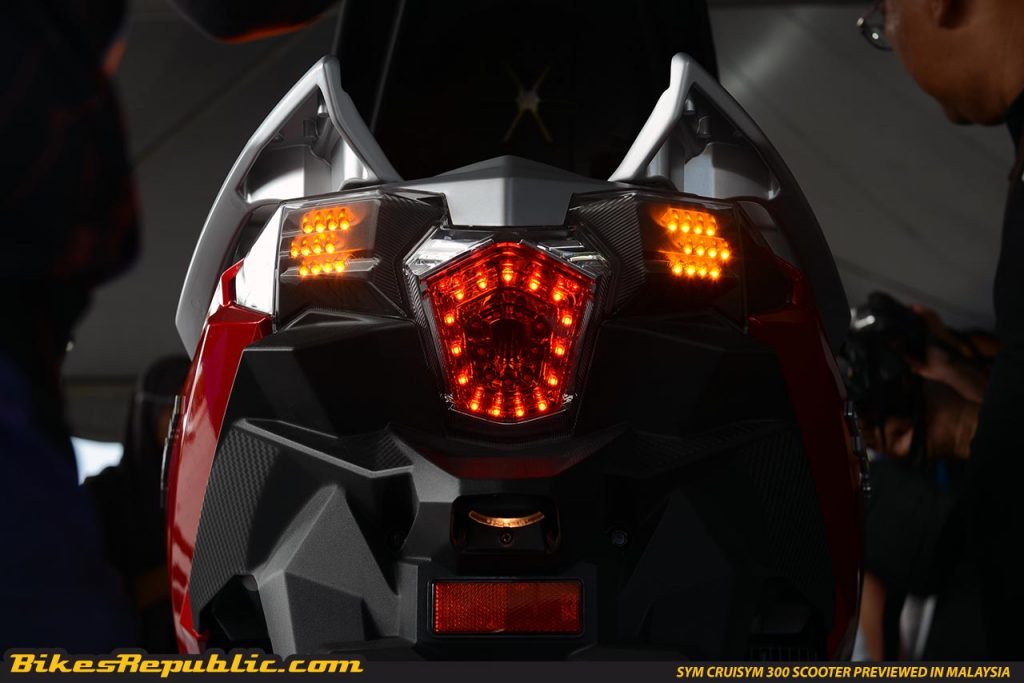 Specifications – the Cruisym 300i is powered by a liquid-cooled, four-stroke, 278.3cc single-cylinder SOHC engine. Power output is rated at 27hp and 27.3Nm of torque, while overall weight is 198kg and top speed is more than 130km/h. And unlike other Taiwanese maxi scooters, the Cruisym does not come with a speed limiter. The engine is mated to a CVT automatic transmission with an automatic tensioner.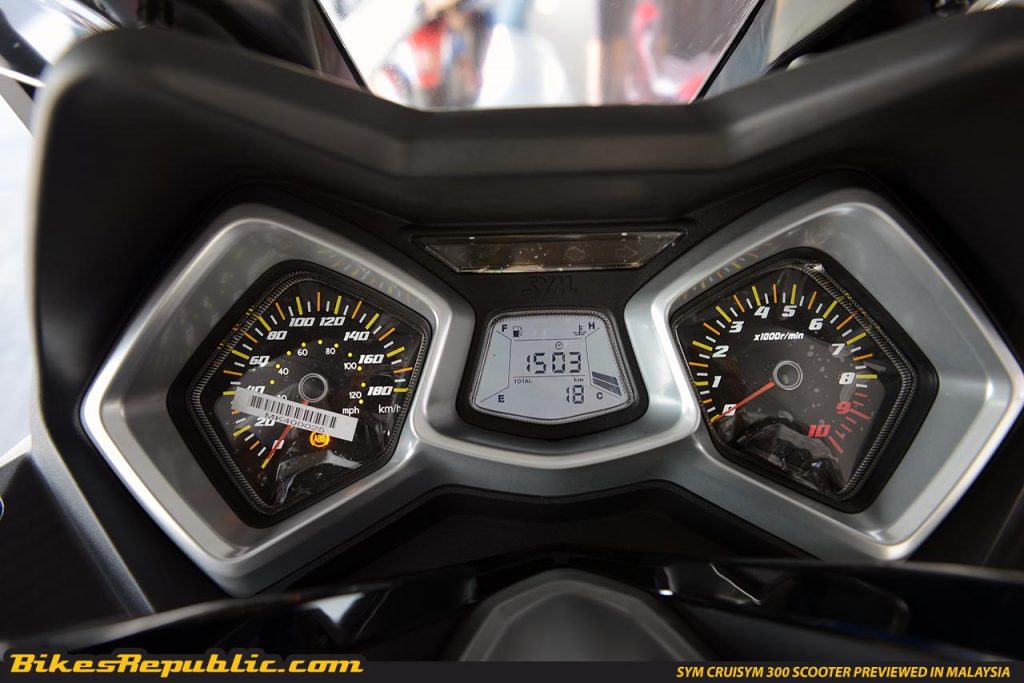 The chassis of the maxi scooter is made up of a steel pipe underbone while the suspension consists of a telescopic fork up front with 88mm travel, and the rear consists of adjustable twin springs with unit swing with 92mm of travel. Brakes discs up front and the rear provide stopping power and are backed up by ABS, while a 12-litre fuel tank will give you a healthy range as consumption is rated at more than 38 kilometres for every litre of fuel.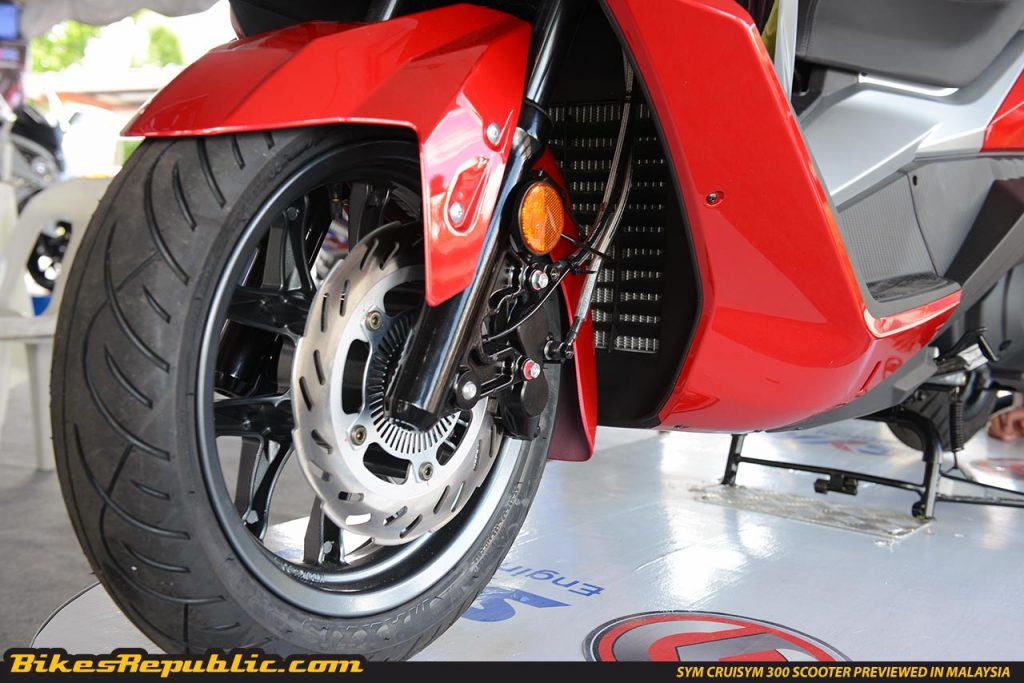 Wheels are made of aluminium and size is 14-inches wrapped in 120/70-14 55P tyres up front, and 13-inches with 140 60/13 63P tyres at the rear.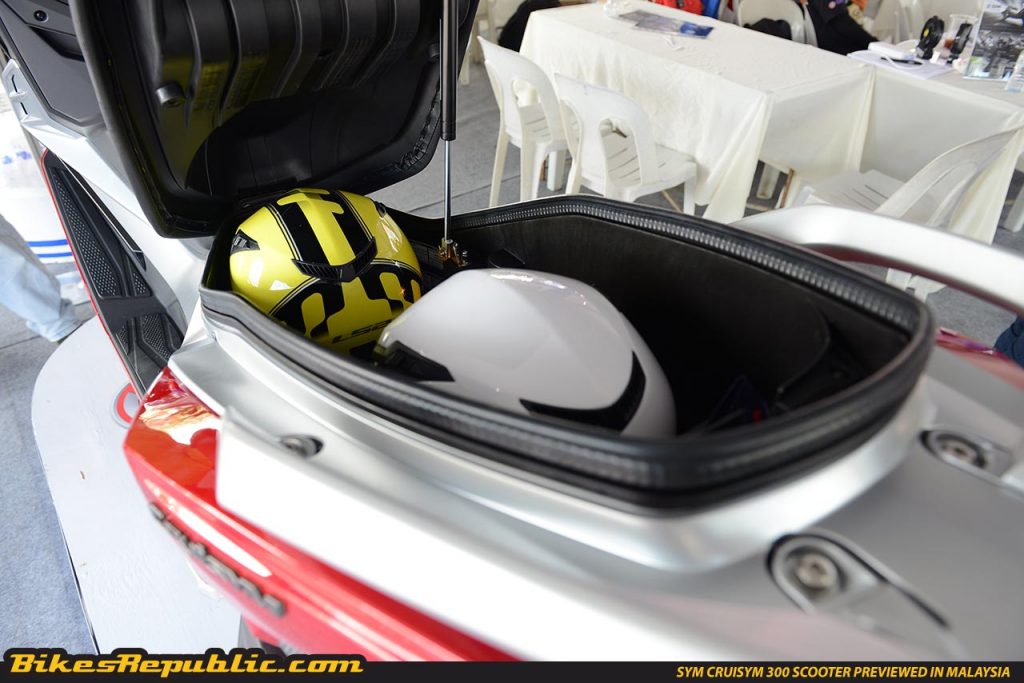 The Cruisym 300i is one of the better looking scooters in the market today with a big, comfortable seat and aggressive, sporty looks. The LED daytime running lights look great, and the signals and tail lamp are also made up of LEDs.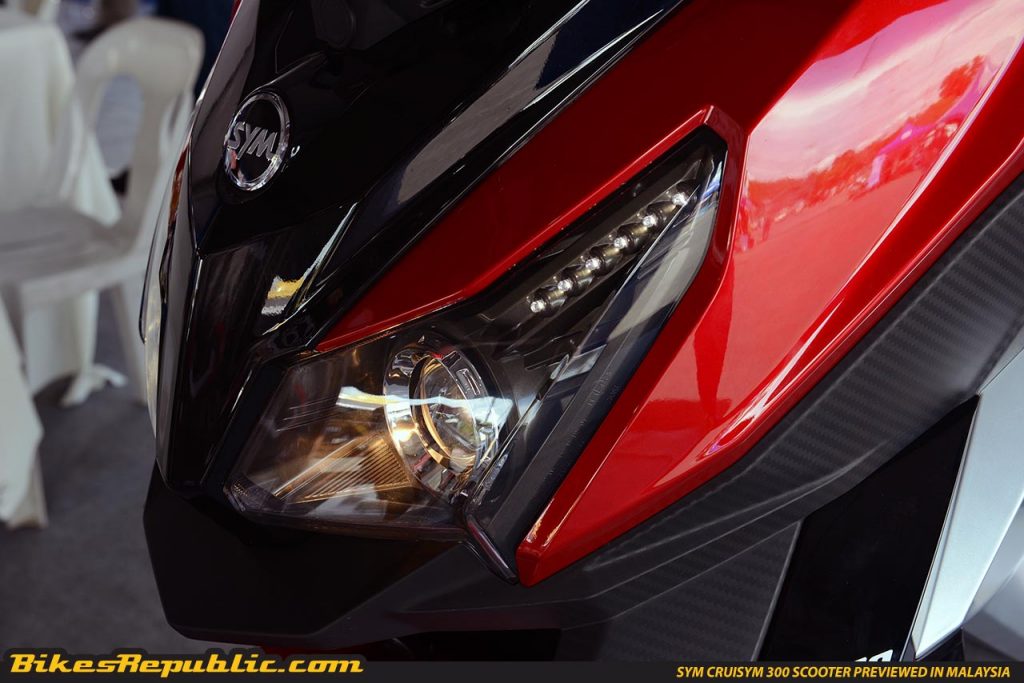 There's also plenty of storage space as the under seat storage space is capable of holding two half shell helmets. There's also a USB port, handy for charging almost anything that can be charged by a USB port.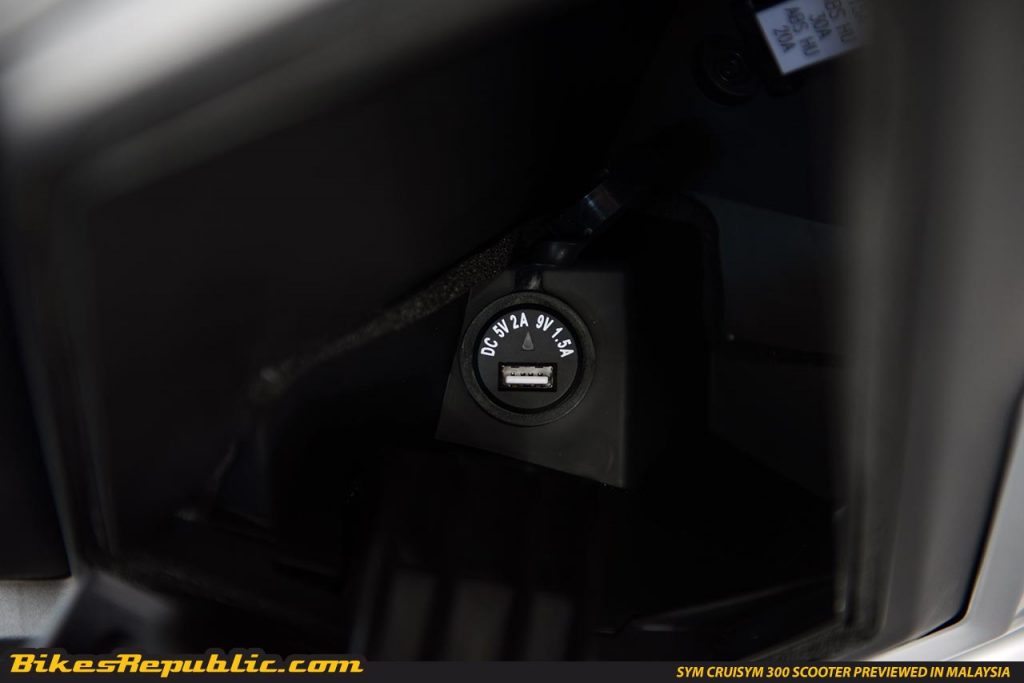 We'll bring you more information on the Cruisym as we get it, but if you are looking for a maxi-scooter, this could just be worth the wait.
More photos and information here.