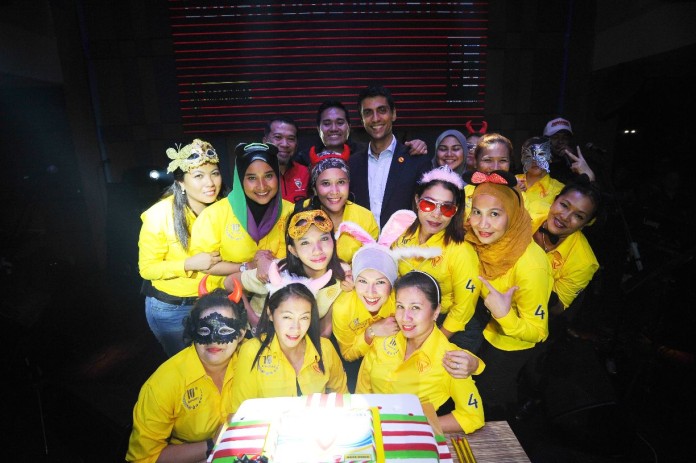 In conjunction with the Asia Ducati Week, the Malaysian Ducati Club celebrated its tenth year since it was formed at the Beach Club on Saturday night.
But the limelight was stolen by the newly created Desmodonna, the female side of the club. Not the first for Ducati as they have similar setups in numerous locations across the globe.
The idea behind the Desmodonna is to honour and embrace female Ducati owners in Malaysia who are just as passionate and involved in the Ducati happenings as all males of the Ducati Club.
"The Desmodonna Club was established in Malaysia to honour the involvement of women in local Ducati activities, events and adventures.
Over the years, we have seen more females buying and riding Ducatis and increased participation in Ducati activities, proving that the Ducati way of living does not only develop brotherhood, it fosters the nature of family," said Datuk Wira HJ SM Faisal Tan Sri SM Nasimuddin, Joint Group Executive Chairman.
"People are often under the impression that riding big bikes is a 'male thing' and they don't realise there are thousands of women across the globe who are just as enthusiastic and passionate about these exquisite machines.
With the formation of this club, we are joining hands with our fellow Ducati damsels of the world and breaking the mould. As we remain supporters of the parent Ducati Club, we are also proud to be able to express our love of this brand and the unique Ducati lifestyle with our own stylish feminine flair," shared NurulAlis, President of the Desmodonna Malaysiawho rides a Diavel.
Currently the Desmodonnas consists of 24 sportive women who are from a variety of professional backgrounds and aged between mid 20's – early 40's.
Membership is on an annual-renewal basis and any female Ducati owner can join the DesmodonnaMalaysia, whether they bought their bike directly from Ducati Malaysia or from an official dealer.
Like the Ducati Club, the Desmodonnas shall organise rides, charitable events, track days and more thrilling events for its members throughout the year.
"But of course we will have different plans from the boys, maybe a spa day where the girls would ride to a spa and get pampered," said Alis smiling.
And that's not all for the Desmodonnas, according to Alis they are getting quite popular with motorsport events as the Desmodonna seems to get invitations to make an appearance in such occasions.