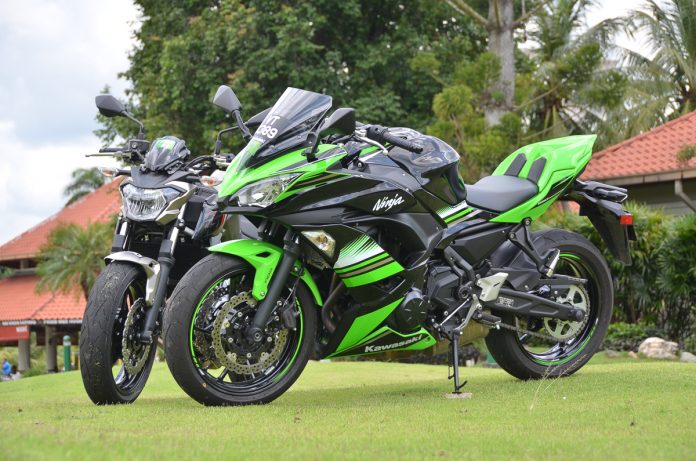 Accessibility to wide range of riders, ability to fulfill many roles, stylish and fun are cited as main reasons.
Updates make the Kawasaki Ninnja 650 and Z650 more agile and smoother to ride.
Both motorcycles are new from the ground up.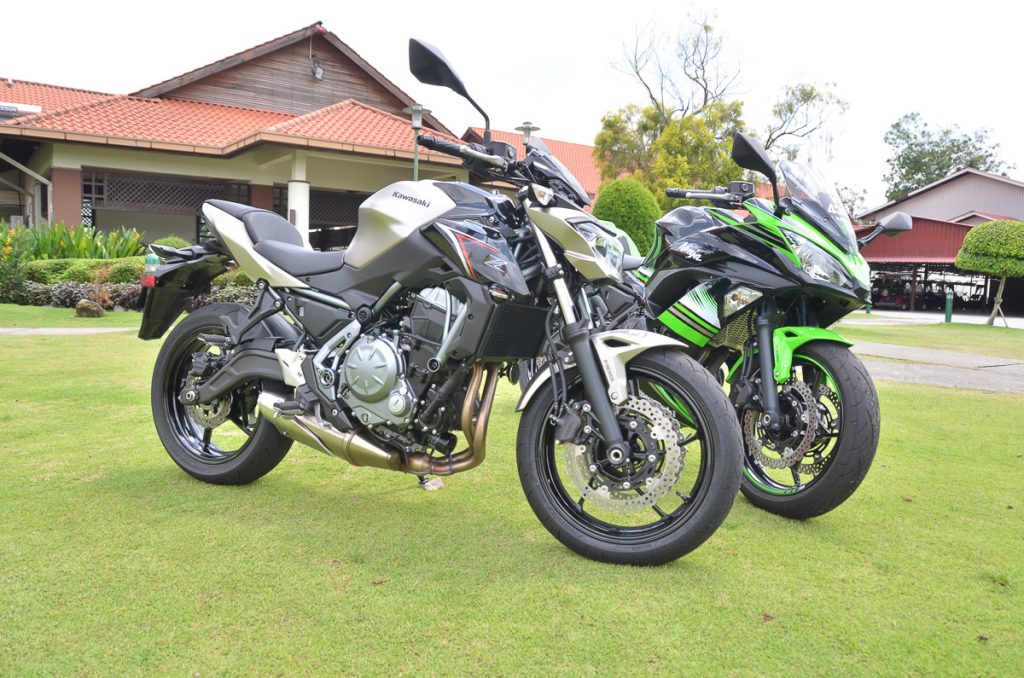 For many years from 2009 to 2015, three models of midrange large capacity motorcycles ruled the Malaysian streets. The Kawasaki ER-6f, ER-6n and Versys 650. (We're leaving the Versys 650 out of this article, however.)
There are many factors contributing to their popularity. The fully-faired ER-6f looked sporty, while the naked ER-6n looked "fierce". But since they were built around a common platform of engine, frame and chassis, they shared common traits among them: A torquey and tractable engine, street tuned suspension, easy handling, good brakes, and upright seating position. They were both easy to cut through traffic and haul luggage on long rides. They became the bikes that a rider could do everything with them. Topping off those endearing features was the affordable price, since they were the first CKD big bikes.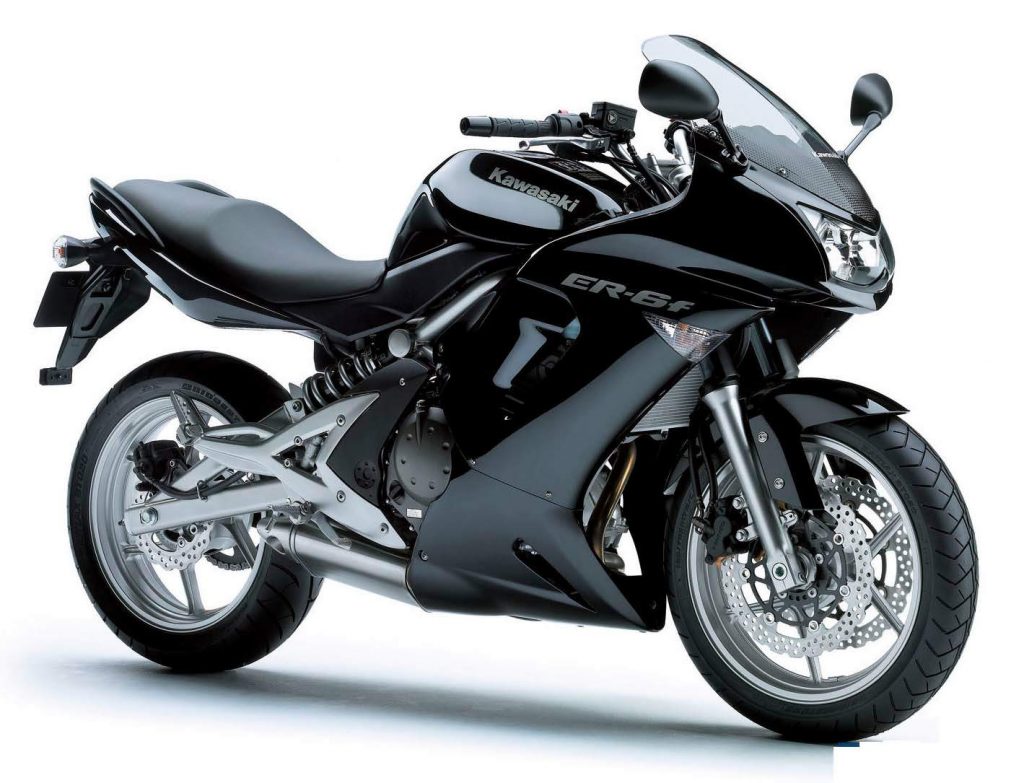 Both bikes were ideal for beginners, commuters, weekend riders, riders who returned to motorcycling, veterans and there were those who took it down to the track. It was the most popular model for club racers in the United States.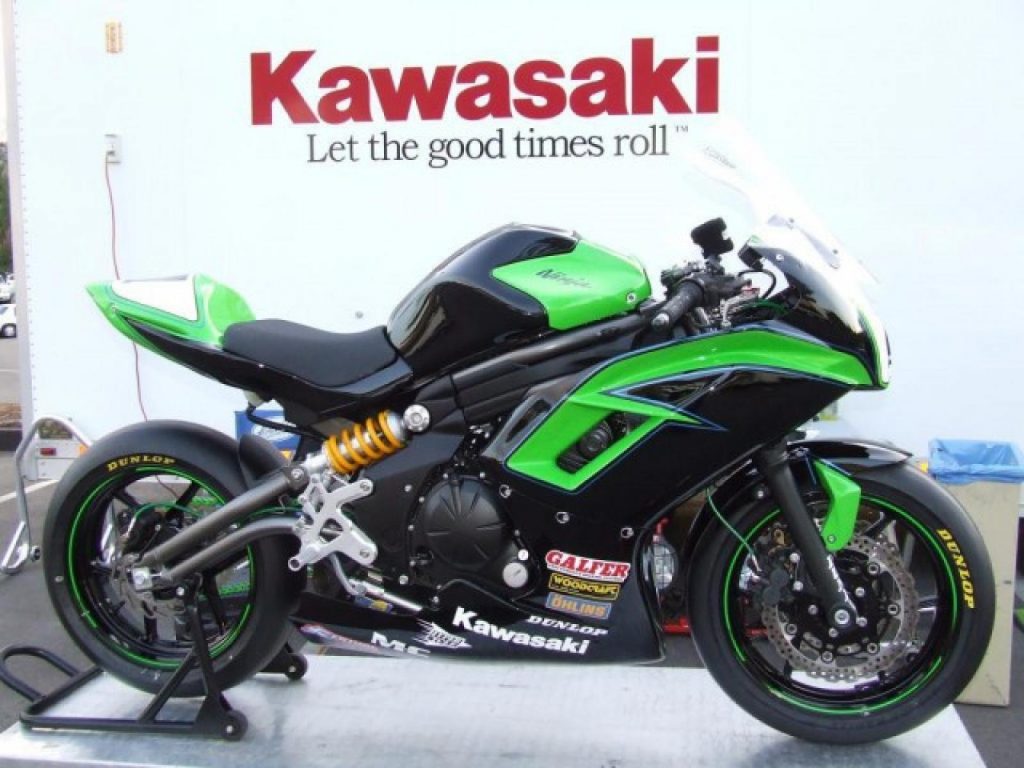 So popular was the ER series that even Malaysian riding schools started using them as bikes for newbie training and "Full B" license exams.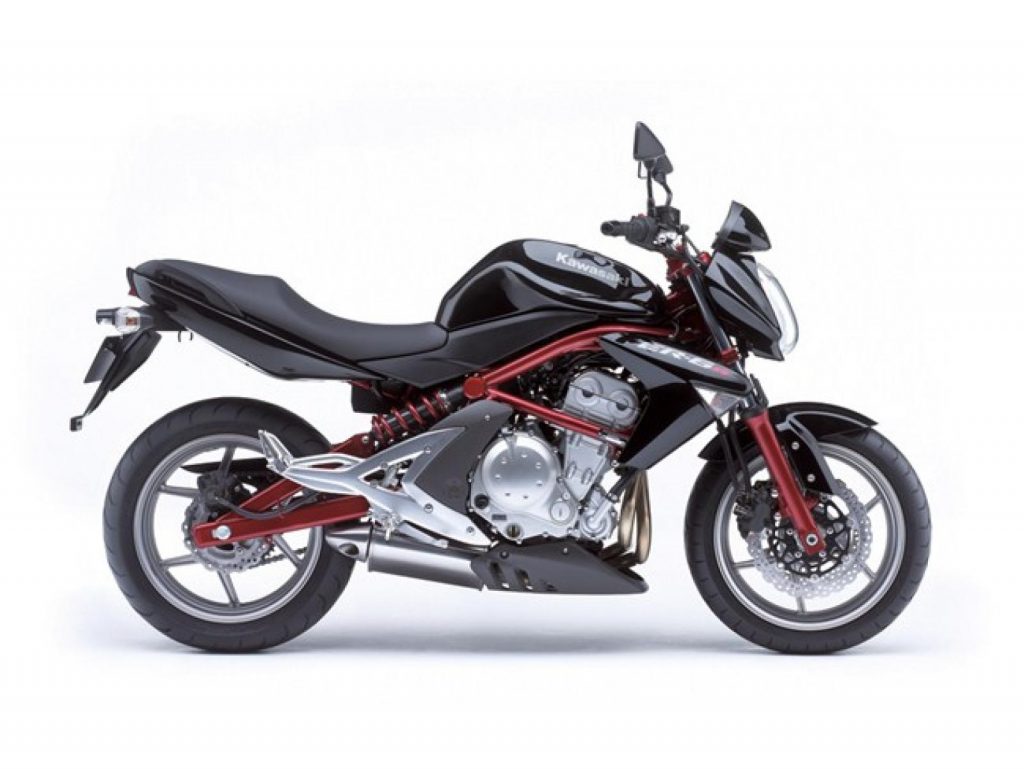 One could hear the distinctive exhaust note, resulting from a unique 180-degree crank, anywhere. The engine was a simple, liquid-cooled, DOHC, eight-valves, fuel-injected, 649cc, parallel-Twin. It pumped out a healthy 71 bhp and between 66 Nm (2006 to 2011) and 64 Nm (2012-2016) of torque.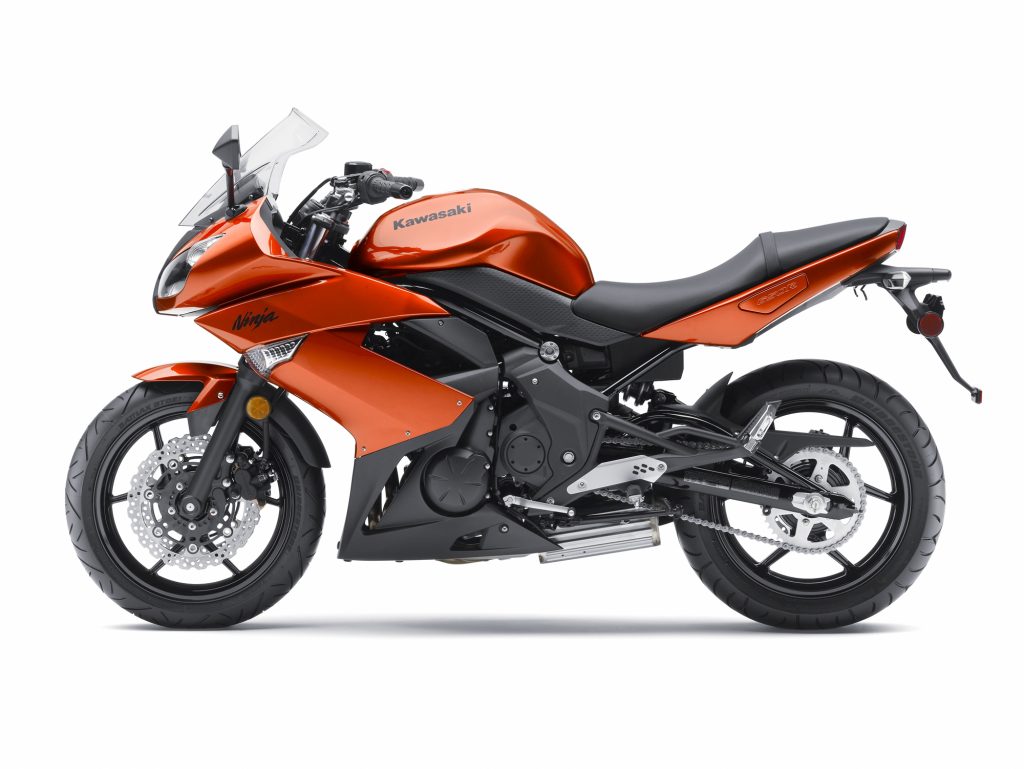 And I do not want to hear about "reliability issues." My 2011 ER-6f has covered nearly 100,000 km without a single engine problem, valve adjustment or rebuild. I ride my bike very hard, day in, day out. In fact, ER-6 engines went on to power flat track racing in America to a high level of success. Click here for the articles.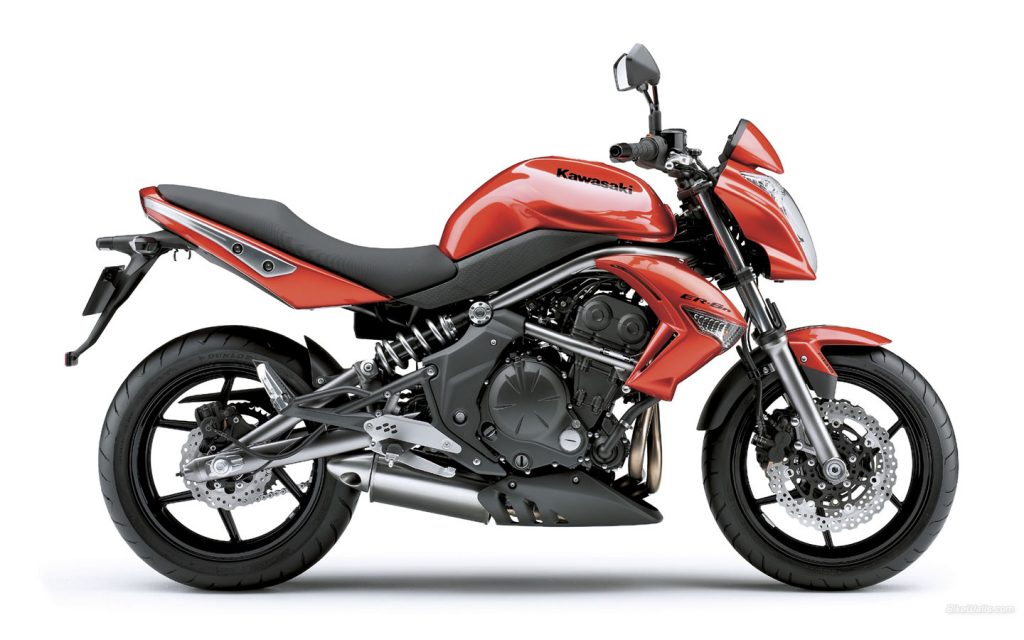 EVOLUTION
The ER-6 variants (called Ninja 650R in some countries) made their debut in 2006. The second generation ER-6 made their appearances in 2009 to 2011, before being superseded by the third generation from 2012 to 2016.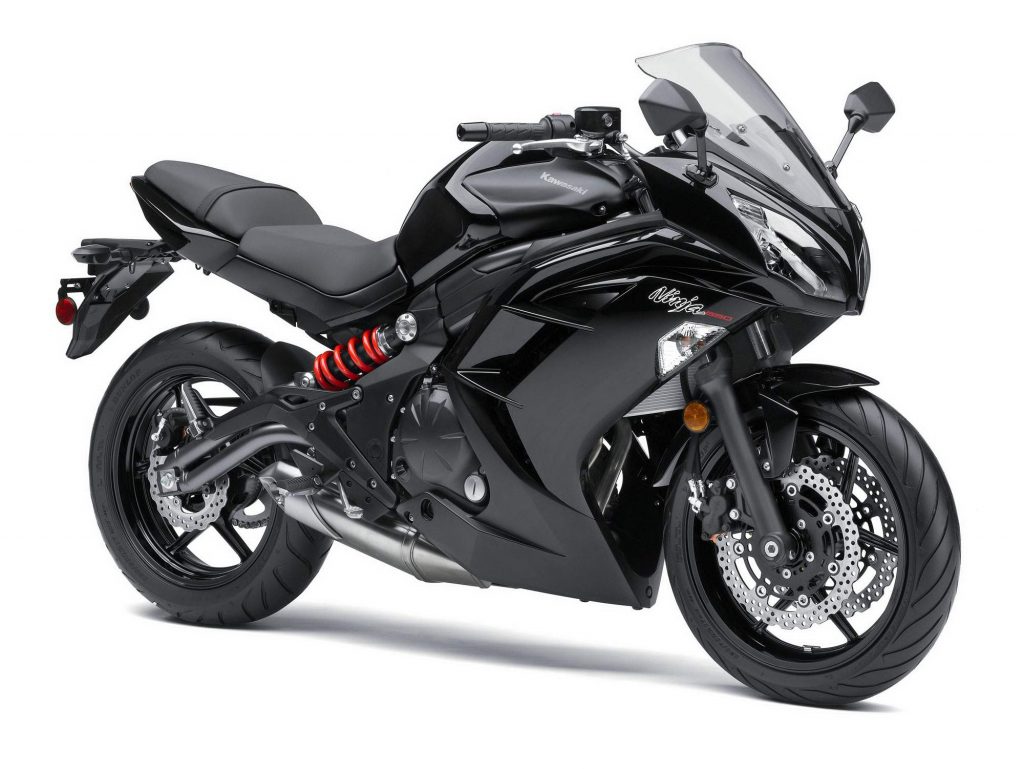 There were only major exterior and internal mechanical changes between 2006 to 2011. The 2012 ER-6's signified many changes including styling, stepped seats, a bigger fuel tank capacity, a new frame, and suspension with added travel. The ER-6f now looked even sharper and sportier, while the ER-6n looked muscular.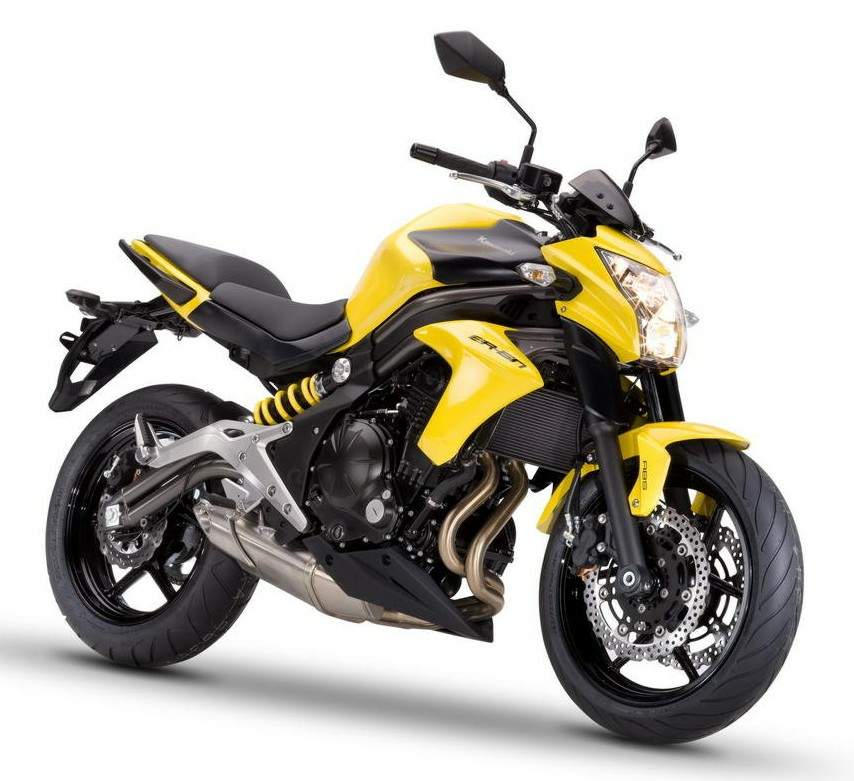 The engine was left almost untouched except for a small reduction in compression ratio. Spent gasses was pumped through a revised exhaust system. A new engine management mapping was tuned to spread torque further down the engine range, which lowered the peak power slightly. Kawasaki also debuted the ECO indicator in the LCD.
Since I own a 2011 model, I had felt that the 2012 version represented the peak of the ER-6 model evolution, when I tested both the –f and –n versions. Power was delivered smoother, the seats were comfier and most of all, it handled way better and was more stable than my own bike. It started right up every time and never once coughed through the throttle bodies.
Then Kawasaki took the covers off the 2017 models. Oh boy.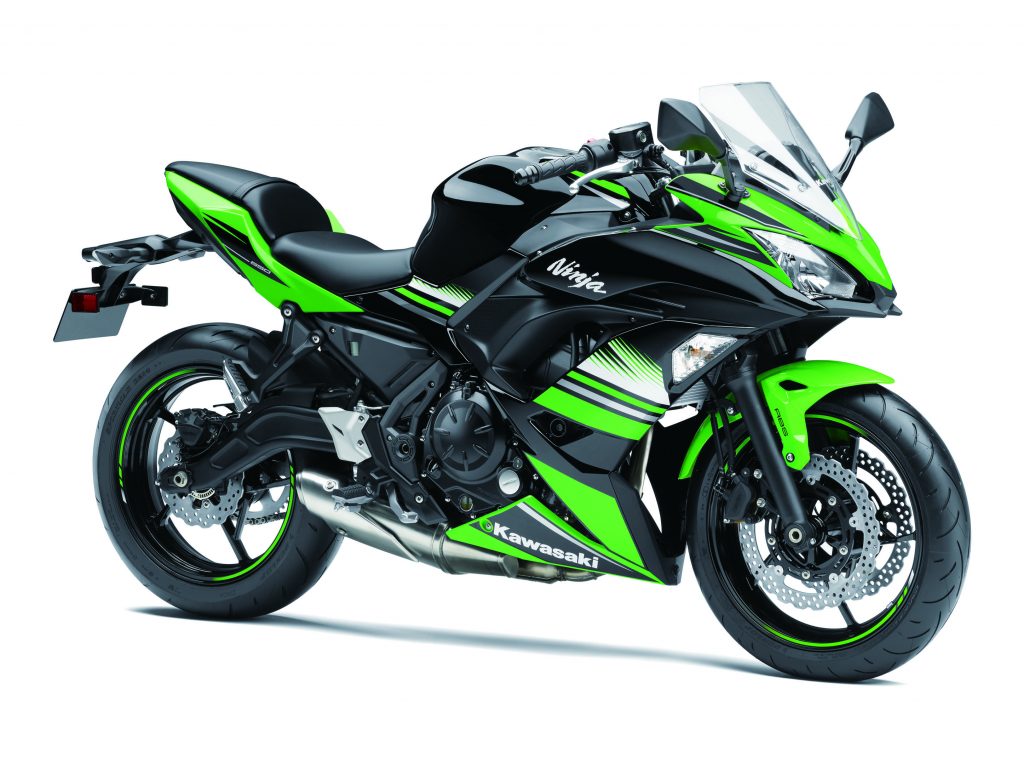 Kawasaki has dropped the ER-6 name. The fully-faired version is now called the Ninja 650, aligning it as one universal designation. The naked version, on the other hand, is called the Z650, and inducted into Kawasaki's family of naked bikes. Both the Ninja 650 and Z650 share the same engine and chassis components.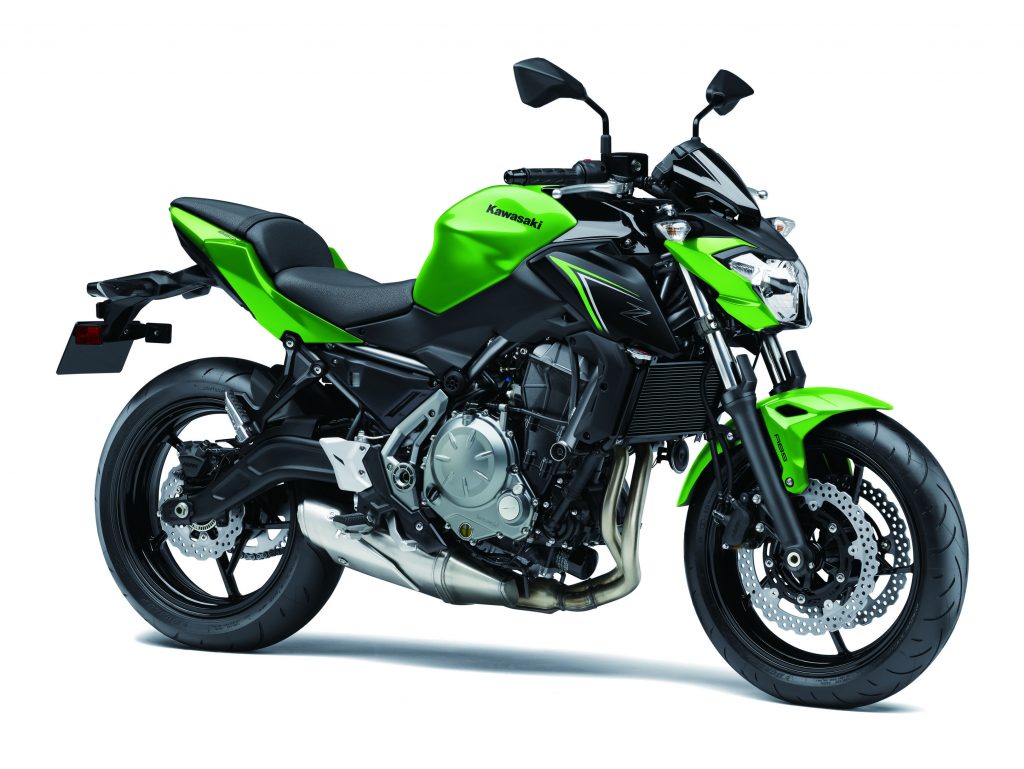 We had expected only cosmetic changes but it turned out otherwise, because Kawasaki had gone ahead to totally update an already great format.
STYLING
The Kawasaki Ninja 650 now looked almost exactly like the company's range-topping ZX-10R superbike, especially when decked out in the special-edition KRT colour scheme. Those headlights have gone "raptor-like" and the fairing wraps tightly around the body.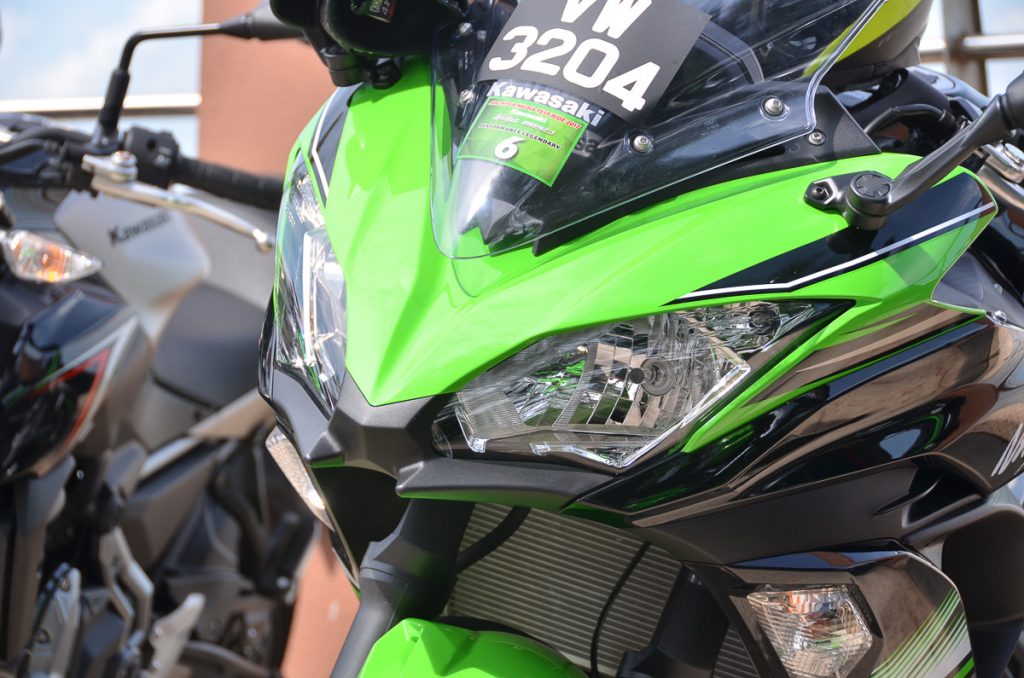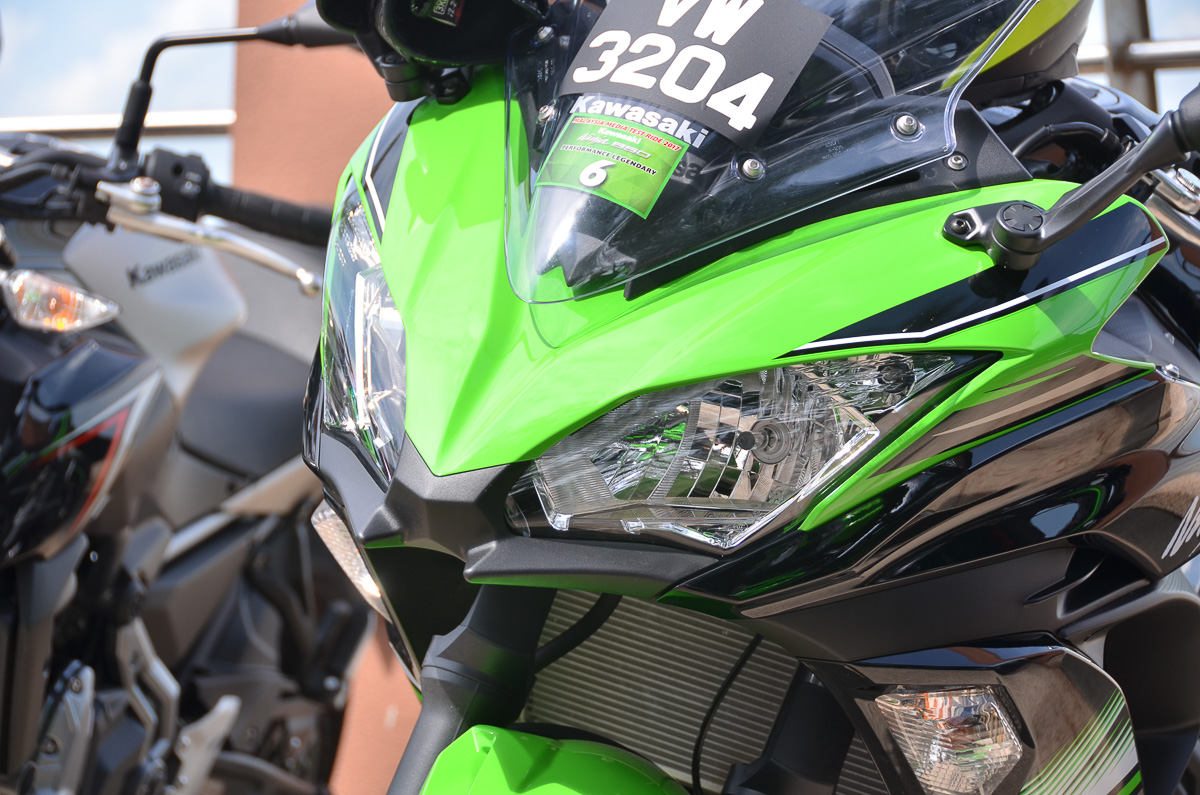 However, as sporty as the Ninja 650 may look, Kawasaki has wisely designed the ergonomics to be friendly to a broad spectrum of riders. The handlebars are set high and slightly forward, the rider's seat is low (790mm seat height), and the levers are 5-way adjustable.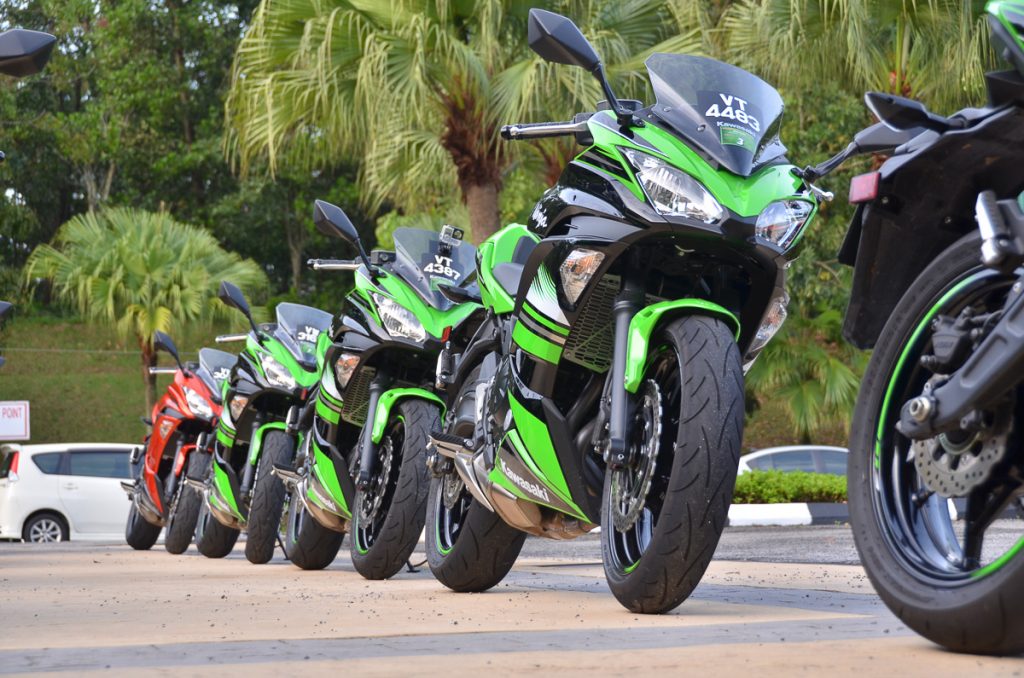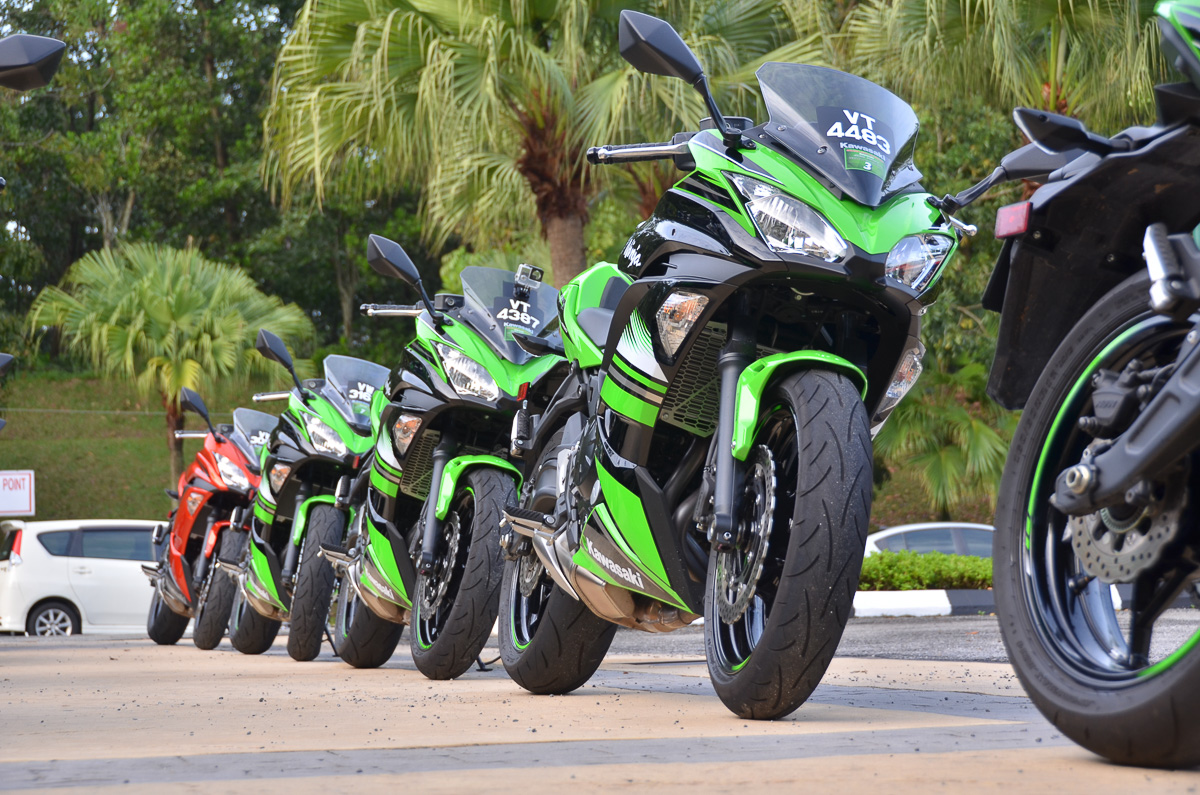 A new multifunction instrument panel is installed which includes a much-welcomed gear position indicator, shift light, and ECO indicator. The tach needle changes colour from white to pink to red as it swings up.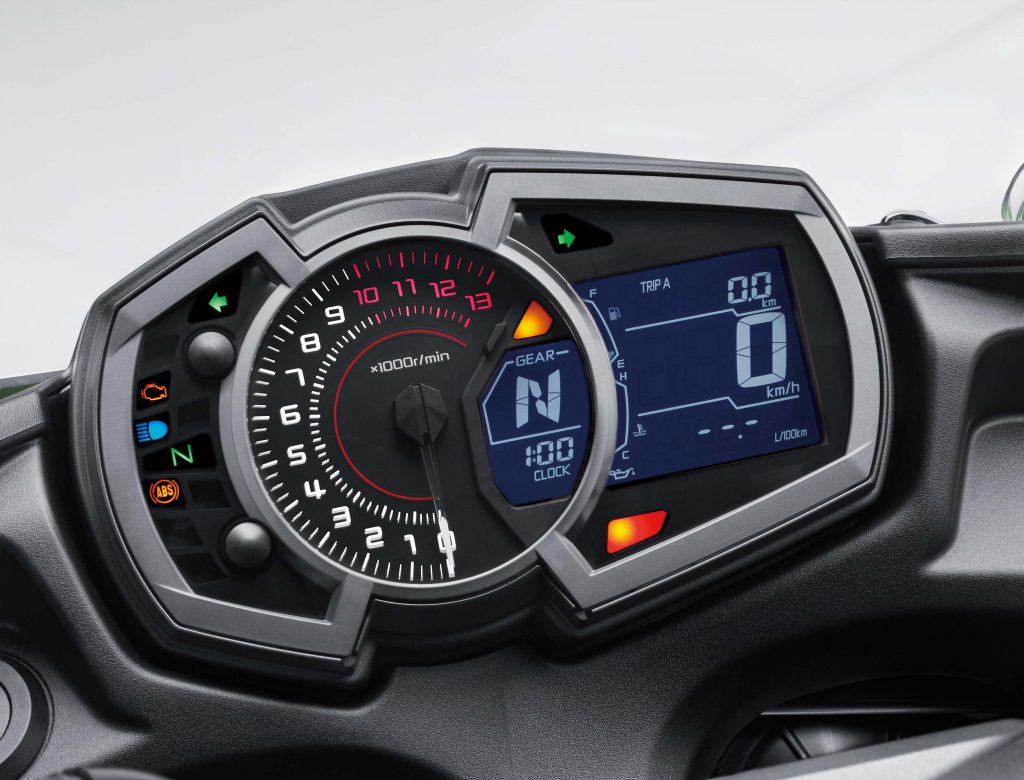 The Kawasaki Z650, meanwhile, has been given the Kawaski Sugomi ("sugomi" means "awesomeness" in Japanese) design treatment for a distinctively organic look. Kawasaki explained that they see the Z650's stance as that of a black panther stalking its prey, in a crouched stance, with its head low and tail upswept.
A naked sportbike has to look fierce and that's a great inspiration.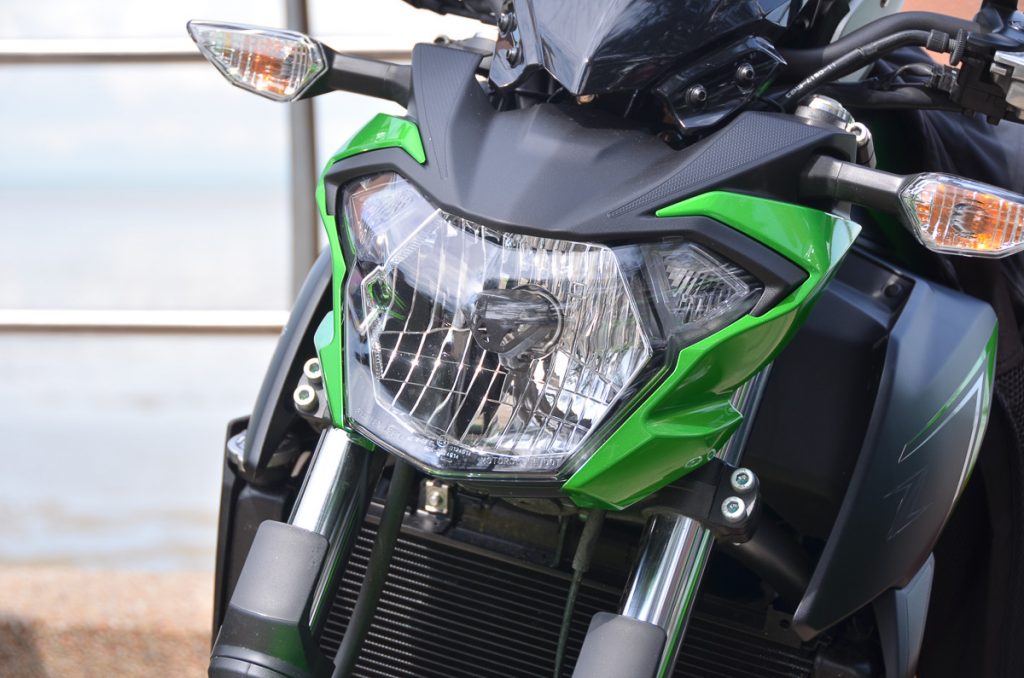 Unlike the Ninja 650, however, the instrument panel has a different design in order to fit behind that "flyscreen." The tach is stacked on top of the LCD display, with the gear position indicator in the middle. The tach needle flashes at the rider's preset rev limit.
The Z650 shares the same architecture as the Ninja 650 (more on this below), and as such it has the same seat height of 790 mm.
ENGINE
Kawasaki reengineered the familiar parallel-Twin engine to feature new cam profiles to reduce valve overlap duration (for better low-down and midrange torque); smaller, 36mm throttle bodies for smoother and precise throttle response; and a new exhaust system. These changes collectively result in a broader torque curve to provide the rider with power anywhere (in the rev range) at anytime it's called upon.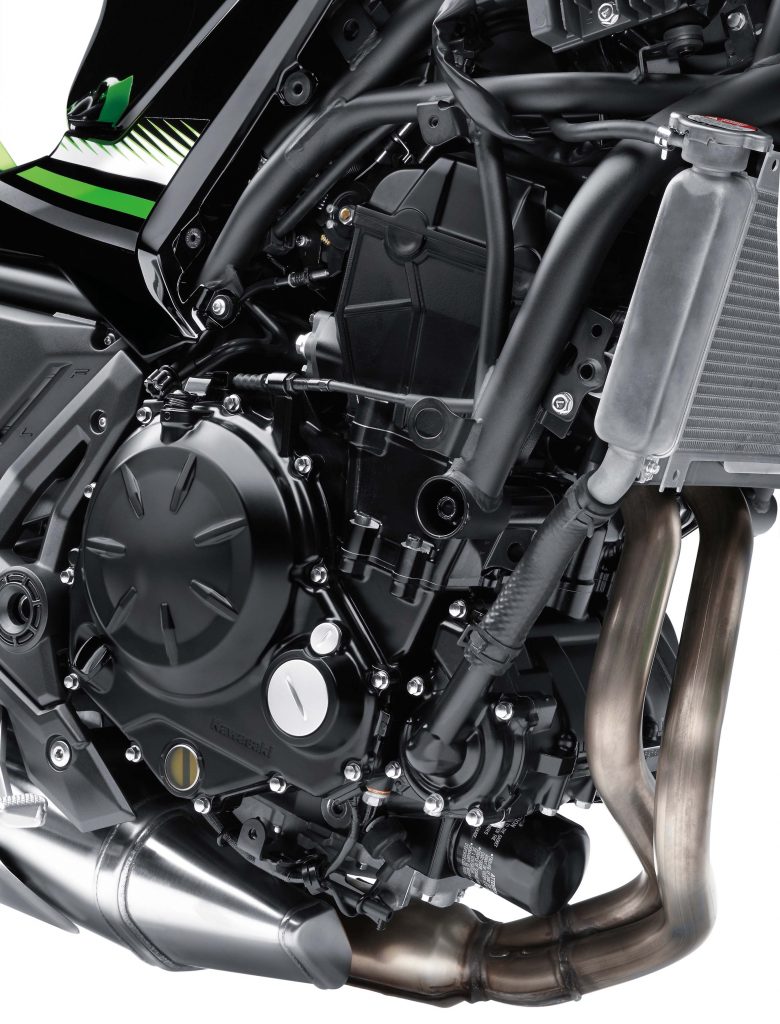 Any previous ER-6 owner, myself included, could tell you that the engine's strong back torque (engine braking) could sometimes impede smoother cornering transitions (as you're dragged back by heavy engine braking, which causes the bike to loose speed, followed by instability and the reluctance to turn, ultimately resulting in the rider losing confidence), besides encountering rear wheel hop (or even skid) if we downshifted too aggressively.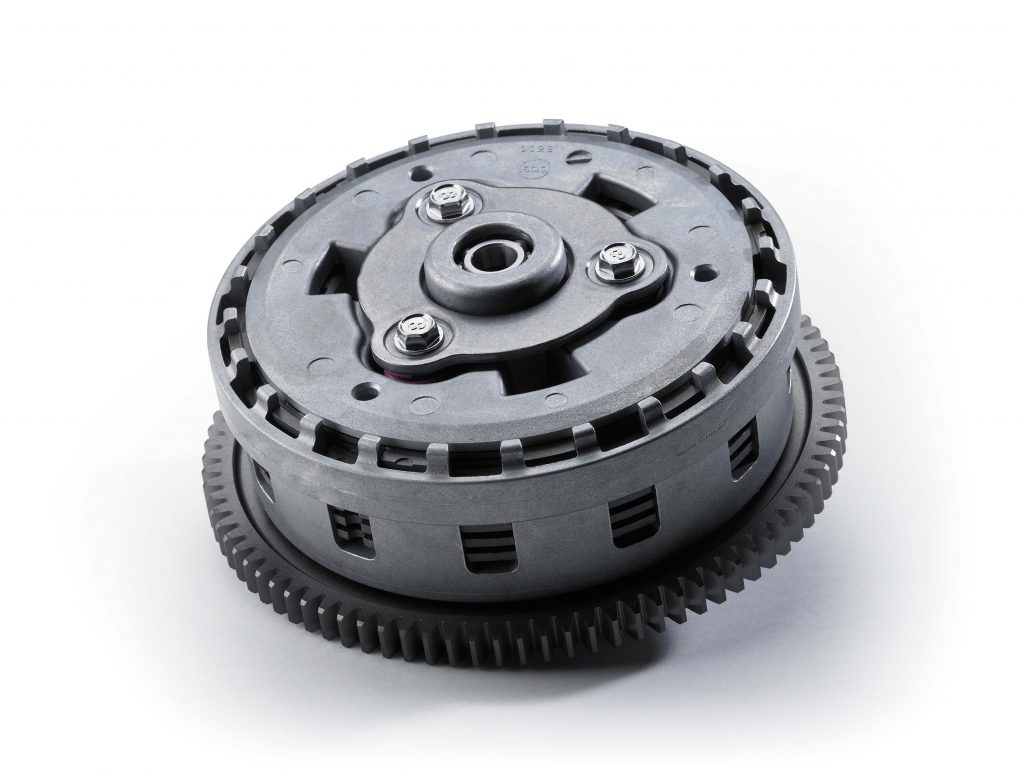 Kawasaki countered this by adding an assist and slipper clutch. The slipper function is a nice addition, allowing for smoother corner entries and eliminating wheel hop. The assist function provides easier gear upshifting, by using cams that function as a servo mechanism which pulls on the clutch hub and and operating plate together, to compress the clutch plates.
FRAME AND CHASSIS
Kawasaki has also given the new 650's a new trellis steel frame, which is 15 kg lighter than its predecessor –  contributing to a light 193 kg and 187 kg overall weight for the Ninja 650 and Z650, respectively. The sections are made as straight as possible to tune the frame for shock and load dispersion. Rake is at a sporty 24-degrees.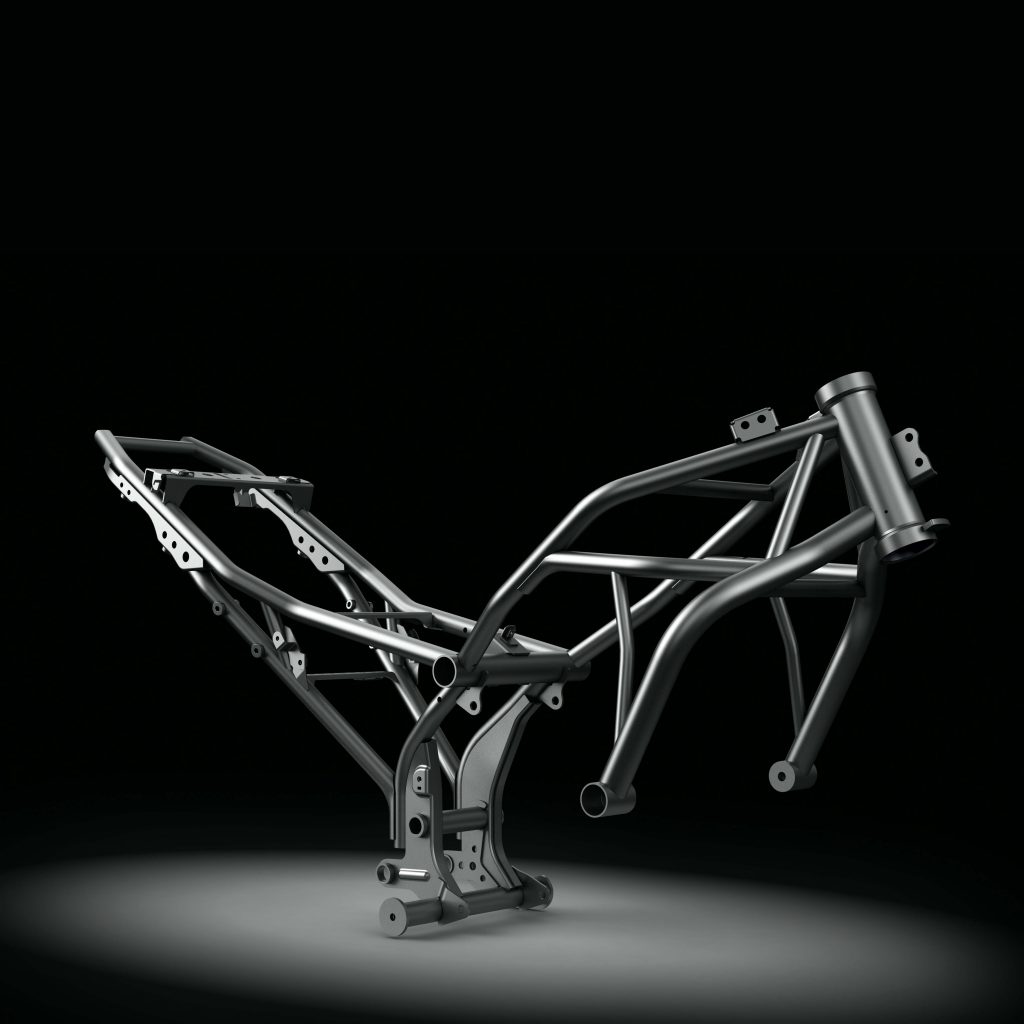 Moving downwards, the old ER-6 (and Versys) mounted their rear shocks on the right side of the motorcycle, connecting the frame and swingarm directly without a link. Adjusting the shock's preload couldn't be easier, but there are riders who complained of cornering imbalance. (Although this is subjective, as many motorcycles utilize this solution.)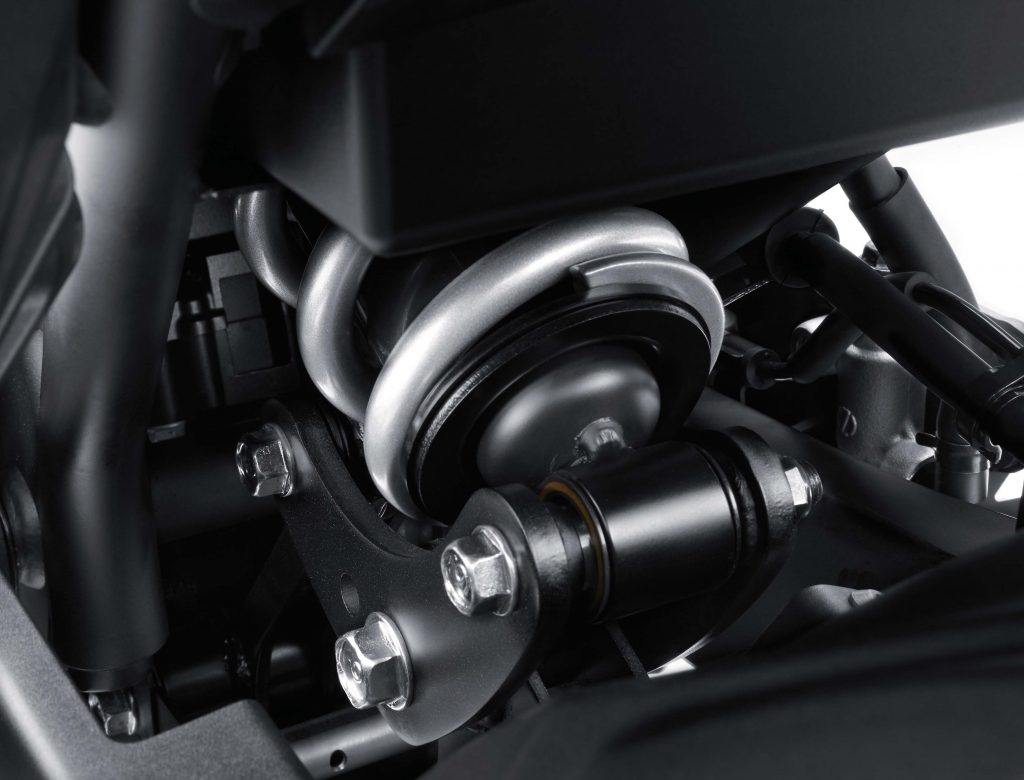 The Ninja 650 and Z650's new shock is now mounted in a horizontal back-link format for a more progressive action. But instead of having the part of the shock and linkage underneath the swingarm, they are positioned on top. This also ensures the components are moved away from the engine's heat. The swingarm is now a curved unit.
BRAKES
Braking is handled by a pair of dual-piston Nissin calipers gripping 300mm petal discs up front, while the rear is stopped by a single-piston caliper gripping on a 220mm petal disc. ABS is standard on both ends.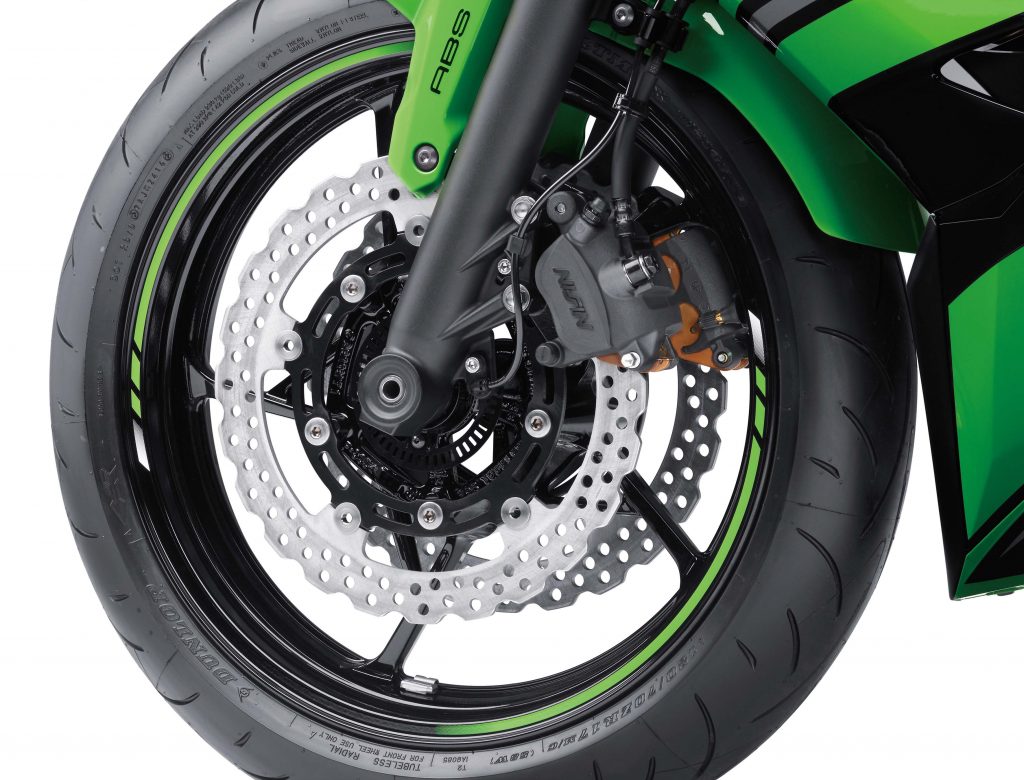 If a motorcycle is the sum of all its parts, then the it's easy to see why the Ninja 650 and Z650 is enjoying overwhelming success in America ad Europe. The answers are: Easy to approach, practical, economical, stylish while still being able to provide an exhilarating ride for both new and experienced riders.
Plus the price. An unbeatable value.
Pictures by Kawasaki Motors Malaysia and Sep Irran
TECHNICAL SPECIFICATIONS
Engine type
Liquid-cooled, 4-stroke, DOHC, 8-valves, parallel-Twin
Compression ratio
10.8 : 1
Bore X Stroke
83.0 mm X 60.0 mm
Displacement
649 cc
Fuel system
Fuel injection, 38 mm throttle body with dual throttle valves
Maximum power
67.3 bhp (50.2 kW) @ 8000 RPM
Maximum torque
65.7 Nm @ 6500 RPM
CHASSIS
Front suspension
41 mm telescopic forks
Rear suspension
Horizontal Back-link, adjustable for preload
Front brakes
Dual semi-floating 300 mm petal discs, two-piston calipers
Rear brake
Single 220 mm petal disc, single-piston caliper
FRAME & DIMENSIONS
Frame
Trellis, high-tensile steel
Trail
100 mm
Front wheel travel
125 mm
Rear wheel travel
130 mm
Wheelbase
1410 mm
Ground clearance
130mm
Seat height
790 mm
L x W x H
2115 mm x 740 mm x 1135 mm (Ninja 650)

2115 mm x 775 mm x 1080 mm (Ninja 650)

Curb weight
193 kg (Ninja 650) / 187 kg (Z650)
Front tyre
120/70-ZR17 (58W)
Rear tyre
160/60-ZR17 (69W)