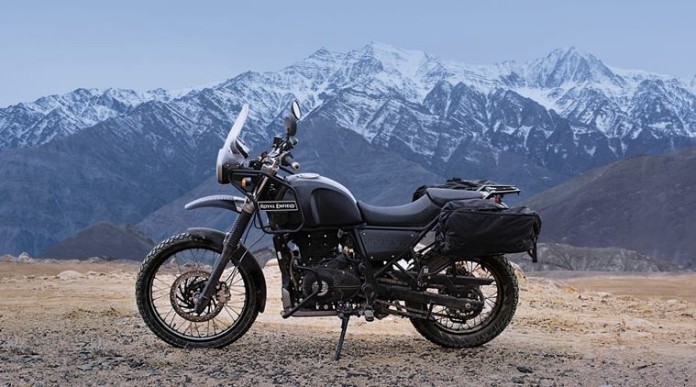 The Royal Enfield Himalayan is a new model from the Indian motorcycle maker that marks its departure from the old classic designs and into more modern adventure bikes.
It is powered by a 411cc, single-cylinder, air-cooled, four-stroke SOHC engine that produces 24.5bhp and 32Nm of torque. Combined to a traditional five-speed constant mesh gearbox, the fuel supply system is also a traditional carburettor with a throttle position sensor.
The Himalayan is being hailed as a proper Adventure bike, one that can be repaired nearly anywhere in the world thanks to its old school technology.
So, while India celebrated the arrival of the highly anticipated Royal Enfield Himalayan, the joy was short lived by the fact that the Indian government banned the sales of Royal Enfield's first adventure bike in New Delhi.
Indian motoring website Motorbeam.com reported that the new motorcycle will not be sold in the capital of India because it does not meet the Bharat Stage IV (BS-IV) emissions standards, which is based on but differs from the European Emission Standards.
Though the new emissions standard only takes effect on the 1st of April 2016, the state government of New Delhi has decided to not allow the sale of new two-wheelers which do not comply with the BS-IV emissions standard. The Royal Enfield Himalayan is only BS-III compliant.
However, though the new bike will not be sold in Royal Enfield showrooms in Delhi, fans will still be able to use the bike in the capital city, they just can't register the bike there.
Buyers will not be able to get a 'DL' (number plate for vehicles from Delhi), but rather will be able to get a 'HR 26' registration (given to vehicles from Gurgaon near Delhi), 'HR 5' (Faridabad, also close to Delhi) and 'UP 16' (Noida) registration numbers.
As for the emissions standards, the Indian government has declared that all two-wheelers that are launched till 31st March 2016 need to be BS-IV compliant by 1st April 2017.
What is Bharat Stage IV standard?
It is based on the European Emission Standards but with some differences to suit Indian conditions, and the Stage IV standards were introduced back in 2010. The Indian government recently announced that it will be skipping the introduction of the Stage V norms altogether and jump straight to the Stage VI standards by 2020.
The Bharat Stage IV standard is in effect in 13 major cities across India, and New Delhi is one of them.