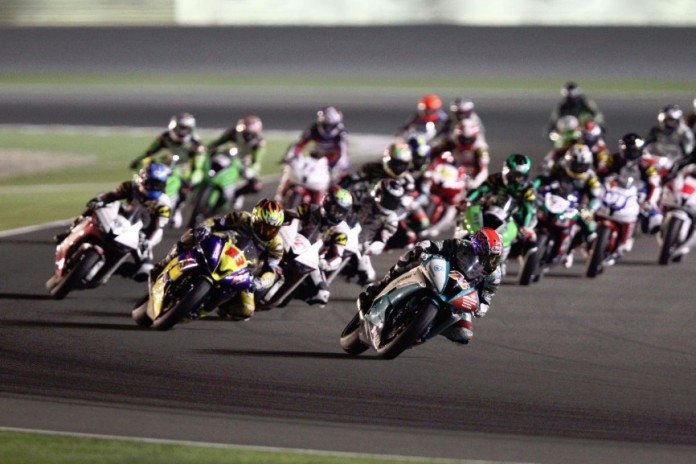 Zaqhwan Zaidi snatched the SuperSports 600cc crown from the grasp of Katsuaki Fujiwara and Yuki Ito to become the youngest rider to win the premiere class in a thrilling PETRONAS Asia Road Racing Championship season finale at the Losail International Circuit in Qatar on Sunday.The Musashi Boon Siew Honda Racing rider was third in the standings with a 22-point disadvantage heading into the final round but was able to secure the title having finished second in Race 1 and Race 2 as champion thanks to teammate, Zamri Baba who held off his immediate title rivals.
Retiring Katsuaki Fujiwara (BEET Kawasaki Racing) who initially led the standings missed out on what could have been his second Asian title after he completed both races outside top-10 following technical difficulties with his front-end suspension.
It was a dramatic end to an enthralling season and gave Honda, who sealed the SuperSports 600cc team awards with Zaqhwan's victory at the floodlit desert circuit, their third riders' title after Ryuichi Kiyonari (2012) and Azlan Shah Kamaruzaman (2013). The final standings had Zaqhwan on top with 170 points, one point ahead of Yuki Ito (PETRONAS Hong Leong Yamaha) in second and 15 above retirement-bound Katsuaki Fujiwara (BEET Kawasaki Racing) in third place.
"You dream about being champion and dedicate your whole life to it, so when it comes true it is very special and amazing! I'm just really happy to make my country proud," said an emotional Zaqhwan after the race.
He added, "Honestly we did not expect to win because this is only my third year racing in the premiere class. But when we saw Yuki and Fujiwara finish outside top five in Race 1, it became clear we actually stood a chance so Zamri and I cooked up a strategy together."
"I owe it to Zamri, Without him holding Yuki and the rest of the field back, it would have been impossible to win and personally I think he is the man of the match. I would also like to extend my sincere thanks and appreciation to the team, sponsors, family, friends and fans for believing and supporting me all this while."
In an intense battle that saw the leaders swap positions on multiple times, Zamri aced Race 1 in 31'37.305s followed by Zaqhwan second and Yudhistira (Manual Tech KYT Kawasaki) third with 31'37.371s and 31'37.529s respectively.
Zaqhwan signed off the season with his second premiere class victory to secure the SuperSports 600cc title in Race 2, wrapping up the grueling 15-lap battle in 31'24.717s while Yuki fought courageously to finish second with 31'25.097s. 31-year old Zamri came in third with 31'25.119s.