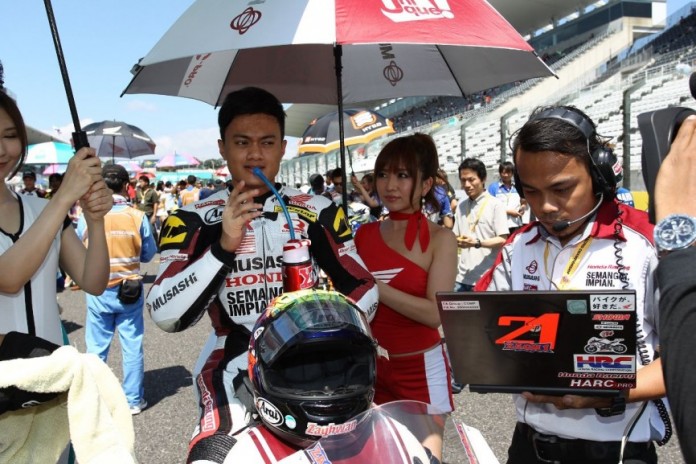 Malaysian SuperSports 600cc rider, Mohd Zaqhwan Zaidi is looking to set the newly completed Chang International Circuit (CIC) in Thailand ablaze in this weekend's PETRONAS Asia Road Racing Championship following his recent success in the Malaysian Cub Prix.
Zaqhwan clinched his maiden CP130 title at Jempol, Negeri Sembilan last Sunday – an outcome that had long looked inevitable as he won six out of nine races ahead of closest challenger, Norizman Ismail. The Honda rider insisted the victory had taken off a lot of weight off his shoulders and he is more focused on hunting for wins in the remaining two rounds of the Asian Championship. The last time Zaqhwan won a SuperSports 600cc race was back in Indonesia (Round 2) in June.
Zaqhwan who competes for Musashi Boon Siew Honda Racing Malaysia in the Asian Championship is currently ranked fifth overall with 89 points, 43 points adrift leader, Katsuaki Fujiwara (BEET Kawasaki Racing) with 132 points.
"Last weekend was very special for me, the team (Givi Honda Yuzy Racing) and my family. I am still over the moon from winning the Cub Prix crown so naturally I'm hoping to do well in Thailand as well. I am feeling extremely motivated and optimistic I can fight for the chequered flag or at least a podium here," said Zaqhwan. He added, "In the previous round (Suzuka), I had the opportunity to finish on the podium but the lack of experience saw our rivals get the best of me. But I believe things will be different at the CIC. None of the riders have competed there before so it will be fair game for all."
Speaking about his overall target this season , "Mathematically we are still in the running to fight for the title but given the point deficit with Fujiwara, chances are quite slim. So I am only aiming to end the year among top three overall and return next season as a serious title contender."