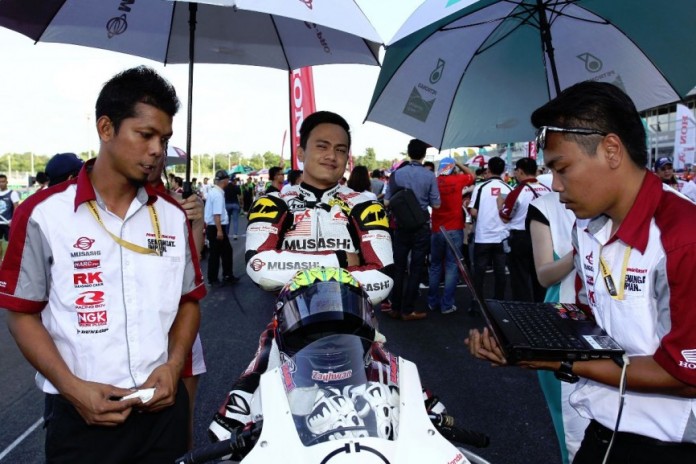 Zaqhwan Zaidi has claimed that winning the 2014 PETRONAS Asia Road Racing Championship title this weekend is not impossible given Honda's good track record at the Losail International Circuit in Doha, Qatar.
Musashi Boon Siew Honda Racing has enjoyed a string of unbroken wins at the desert circuit with former riders, Ryuichi Kiyonari and Azlan Shah Kamaruzaman winning the races to secure the SuperSports 600cc overall title in 2012 and 2013 respectively. Zaqhwan is further boosted by a remarkable set of performance in 2014, improving on his 2013 form with a win and two podiums – in his third premiere class campaign.
The 19-year old is currently ranked third overall in the standings with 125 points, 22 points adrift championship leader, Katsuaki Fujiwara (BEET Kawasaki Racing) while Yuki Ito (PETRONAS Hong Leong Yamaha) is sandwiched between them with 140 points.
The newly crowned Cub Prix Champion gave an assessment of his chances and said, "It is not impossible that I can win the title because Honda performs exceptionally well at the Losail Circuit that demands for superior and smooth handling. I will be banking on that to fight for the podium and the championship." However, Zaqhwan also acknowledged, "But at the same time I anticipate this weekend to be extremely tough because firstly I expect Yuki Ito to be strong.
Since Autopolis he's been exceptionally quick, so he is a real contender. Then with Fujiwara we cannot forget that he won the 2011 title and his experience is more than Yuki and mine combined and I am certain he still has a few tricks up his sleeve." "So to try to fight for the championship with these two guys we have to push our limits."