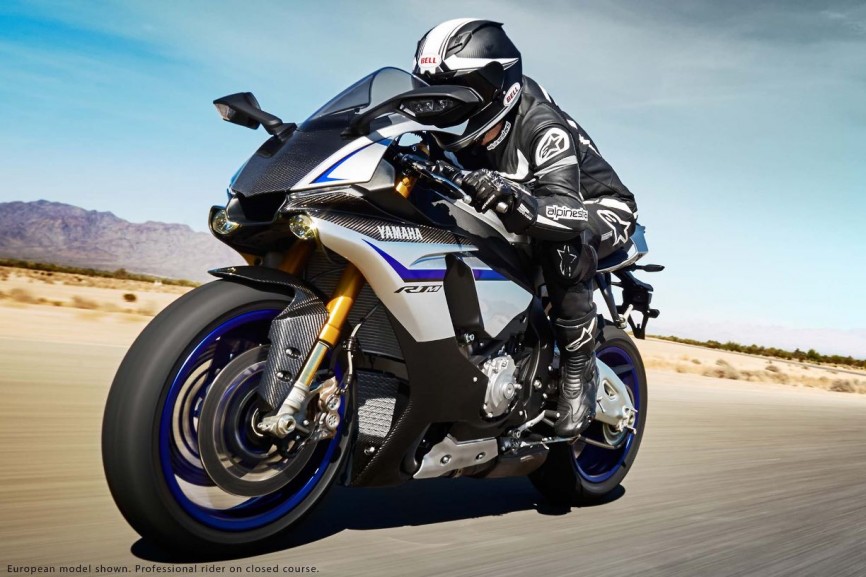 As the acclaimed 2015 Yamaha R1M sells out in Europe, questions now rise surrounding patented 'R1S'.
Since its debut last year, the new 2015 Yamaha YZF-R1 and YZF-R1M has reached critical acclaim. If our extensive test-ride wasn't enough proof, then the fact that Yamaha's European announcing that all of its 2015 allocations of the YZF-R1M variant for Europe has sold out should prove this point.
As previously reported, the limited edition track-ready R1M edition reportedly has a worldwide production cap of just 500 units, each carrying a reported price tag of £18,499 (RM99,977) in Europe. The M variant offers an extensively optimised electronics suite that is paired with the 2015 R1's manic crossplane 998cc CP4 in-line four-cylinder screamer. This allowed Yamaha to proudly claim the R1M as the "closest thing to the YZR-M1 MotoGP machine" in its mass production arsenal, hence the 'M' in the R1M's nameplate.
While the R1M is already sold out in Europe, questions now nowlinger around a supposed new edition called the 'R1S'. Yamaha had previously filed patents in the United States for the 'R1S' nameplate,but the model is yet to be seen.
Furthermore, initial teasers and design sketches released before the 2015 R1's EICMA debut hinted of a bike adopting a single-sided swingarm layout. Many now believe that the 'R1S' name could be used to introduce yet another special variant of the acclaimed superbike that adopts the single-sided swingarm layout.
Given the fact that the 'R1S' name was patented in America only, said variant's eventual creation still remains to be seen. However, sources believe Yamaha would consider creating yet another high-spec, limited-run variant and profit from it lucratively as how it has with the R1M.
Source: Asphaltandrubber and Visordown