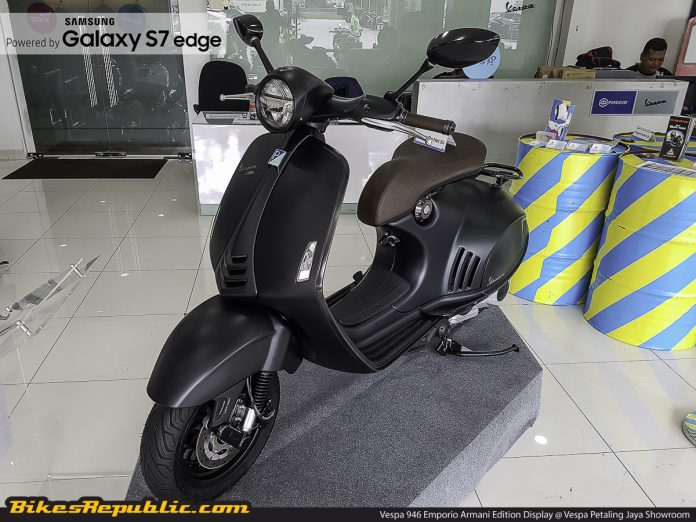 Stylish and limited Vespa 946 Emporio Armani Edition lands in Malaysia @ RM68,551.10 (OTR).
Every once in a while, we find ourselves oogling over something truly special. One of which happens to be this, the Vespa 946 Emporio Armani Edition.
We recently spotted this limited edition special on display at the flagship Vespa Petaling Jaya showroom in the Naza Auto Mall. According official importers and distributors Naza Premira Sdn Bhd, the firm had brought in 6 units initially, with another six on the way from Italy.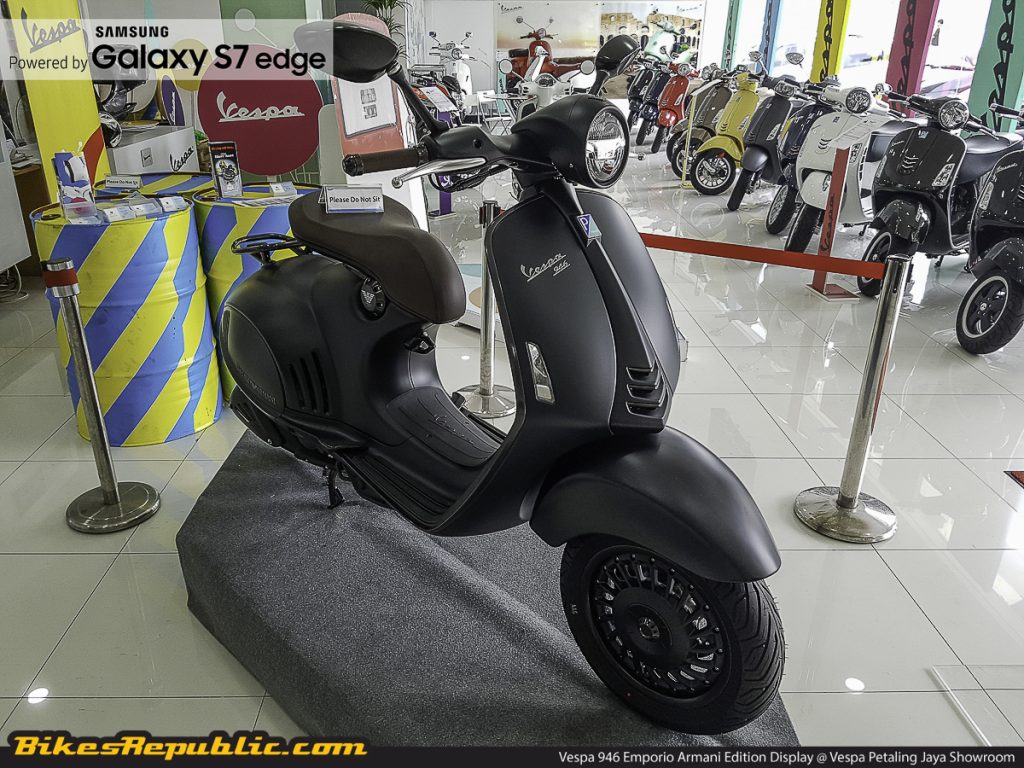 The firm added that the initial six were already sold to avid local fans and collectors prior to their arrival whilst bookings for the upcoming six units arriving later are being taken up fast.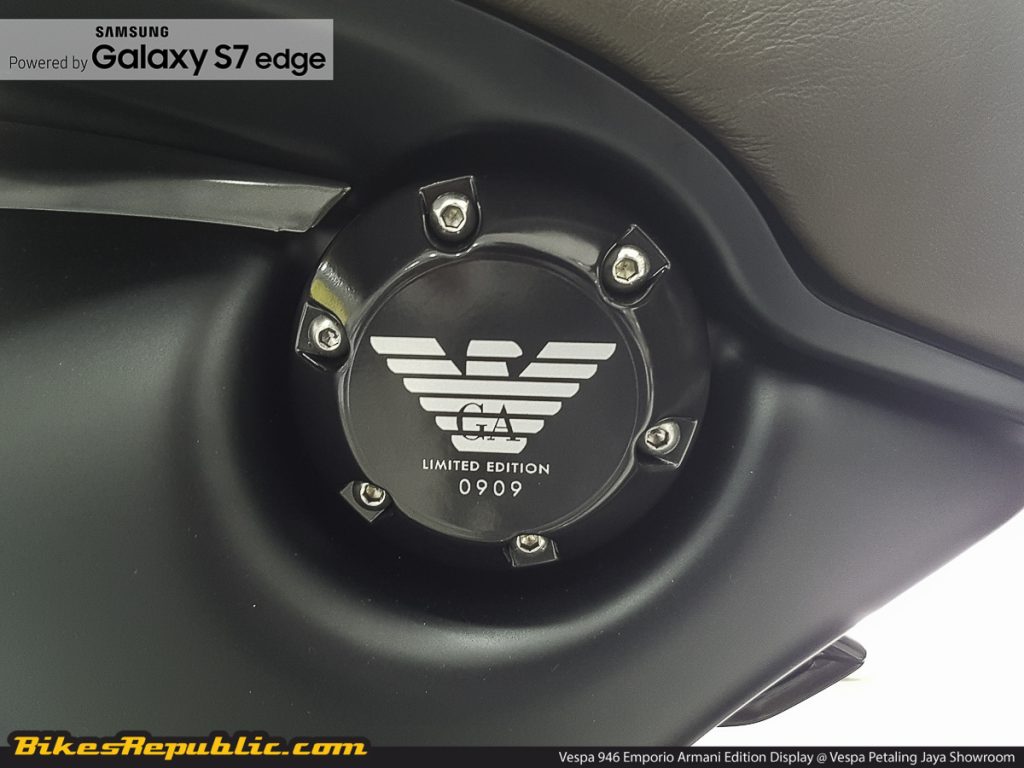 The Vespa 946 Emporio Armani Edition was created and released last year to celebrate the 40th anniversary of iconic Italian fashion powerhouse Giorgio Armani and the 130th anniversary of Vespa's parent company Piaggio.
As you can see, the fruit of this collaboration between these two highly celebrated Italian names is nothing short of stunning and stylish. What catches the eye almost immediately is the exclusive matte colour scheme devised by Armani called Armani Gray.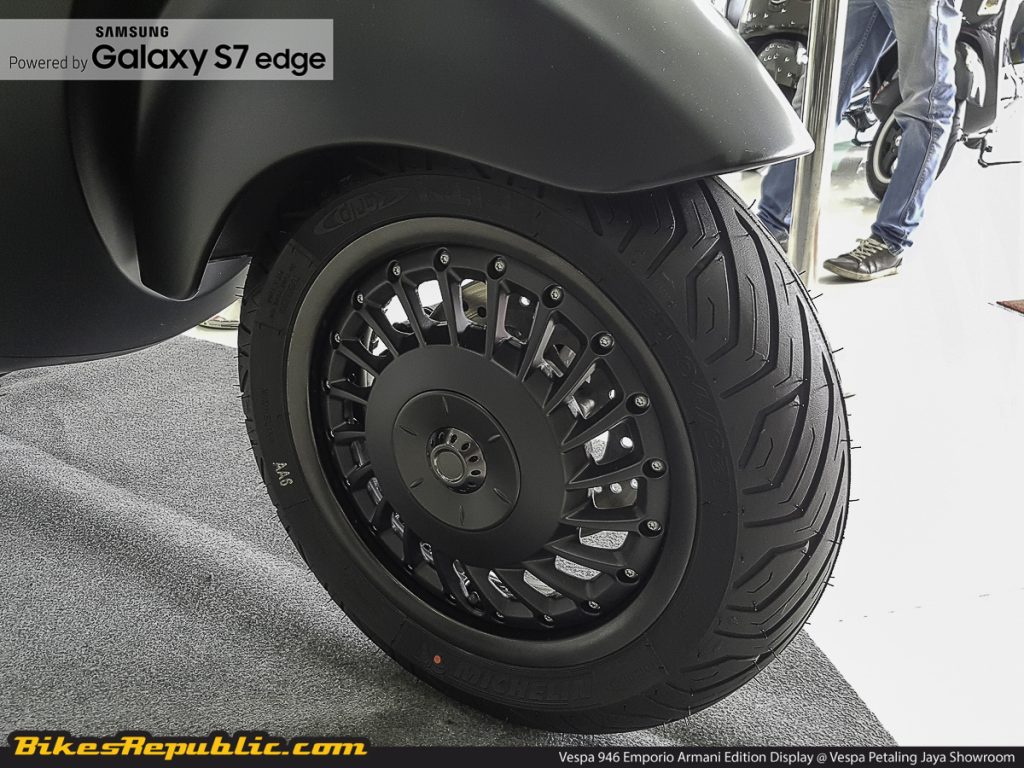 The colour is actually a dark shade of matte gray that boasts a touch of green that only pops up under specific lighting conditions. This paint covers all the metallic elements of the Vespa 946's body and rolling gear – wheels included.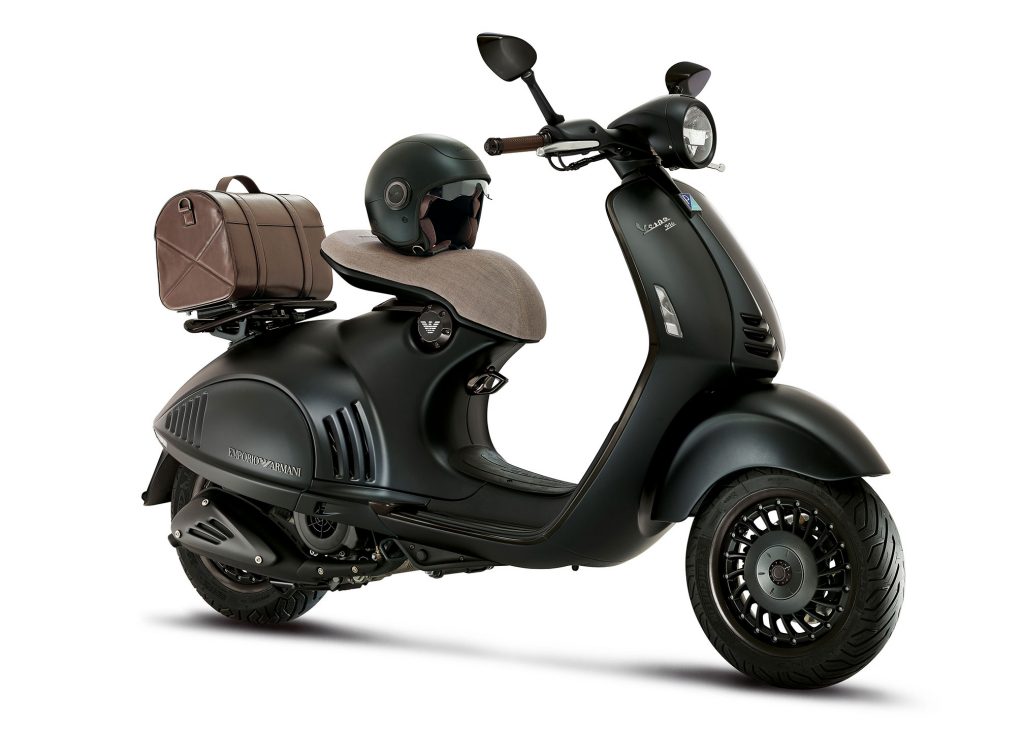 Armani also went to town in tailoring the seat trim, grips and an optional leather bag the scooter comes with, matching all of them with colour coordinated leather.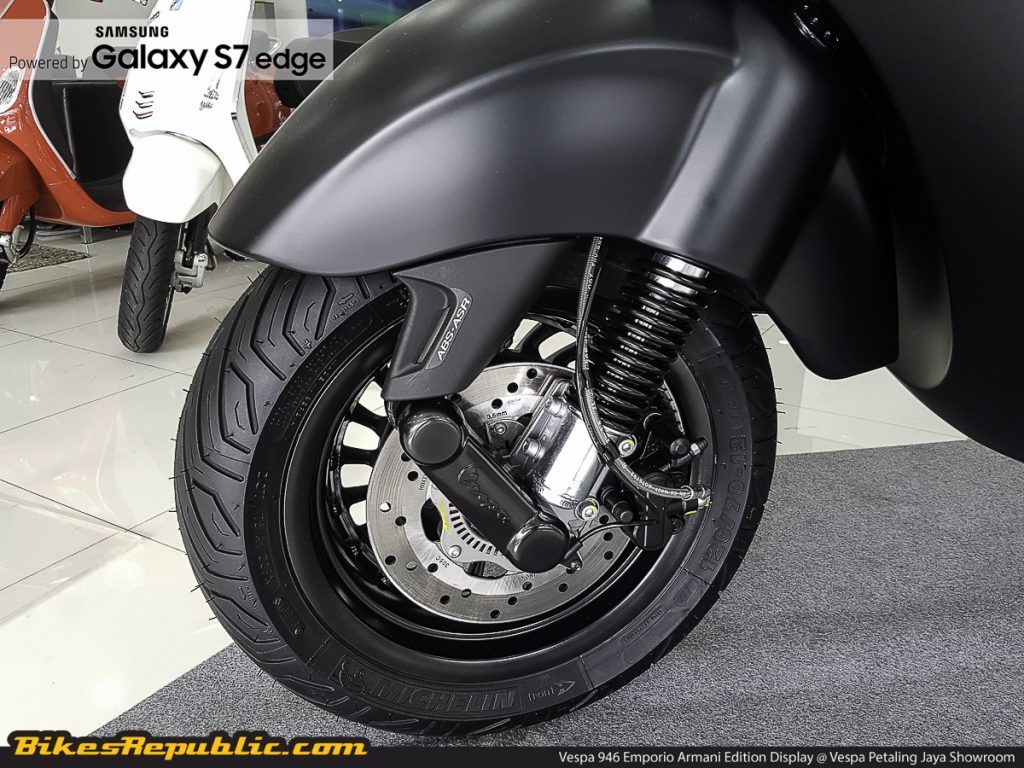 Styling cues aside, the Vespa 946 Emporio Armani Edition also boasts some of the brand's most advanced mechanicals and tech underneath. Highlights include its sheet aluminium construction of its body panels, all-round disc brakes that's complemented with two-channel-ABS, traction control, plus internet connectivity.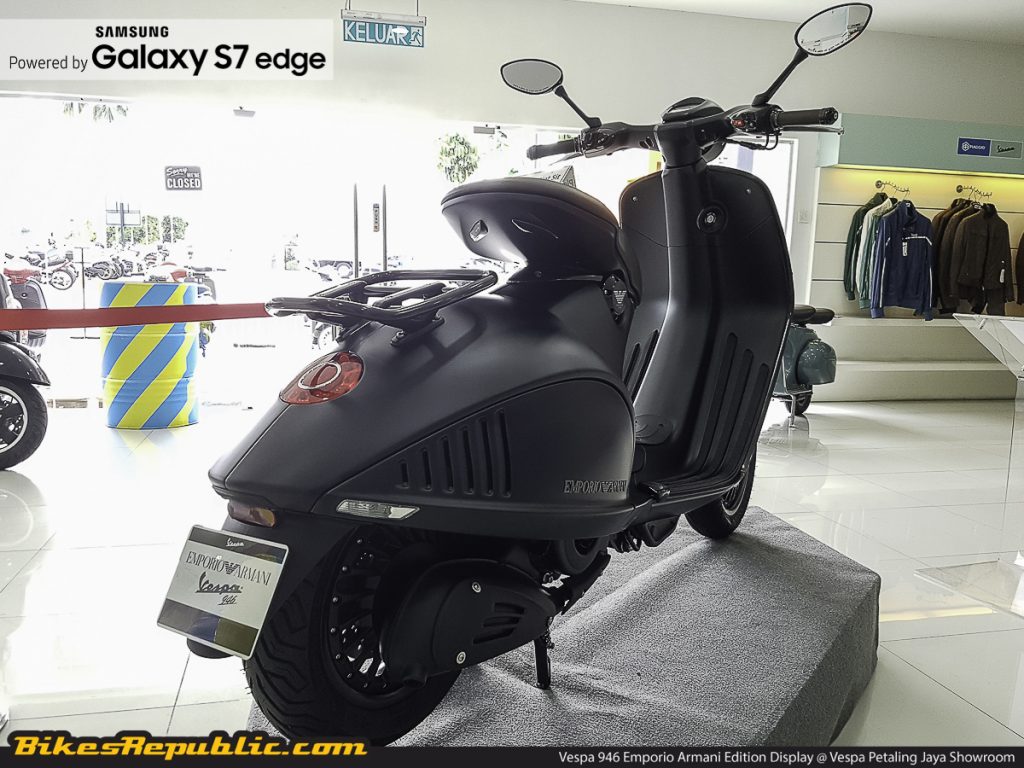 The powertrain, on the other hand, consists of Vespa's signature air-cooled SOHC 155cc single-cylinder mill primed with electronic fuel injection. The mill is paired with a twist-and-go CVT automatic gearbox that channels all power to the rear wheel to propel its 147kg kerb weight up to speeds.
And to top things off, Vespa has placed the 946 Emporio Armani edition on a limited production run. Each unit is individually numbered with a laser-engraved serial just behind the signature Armani emblem on the side.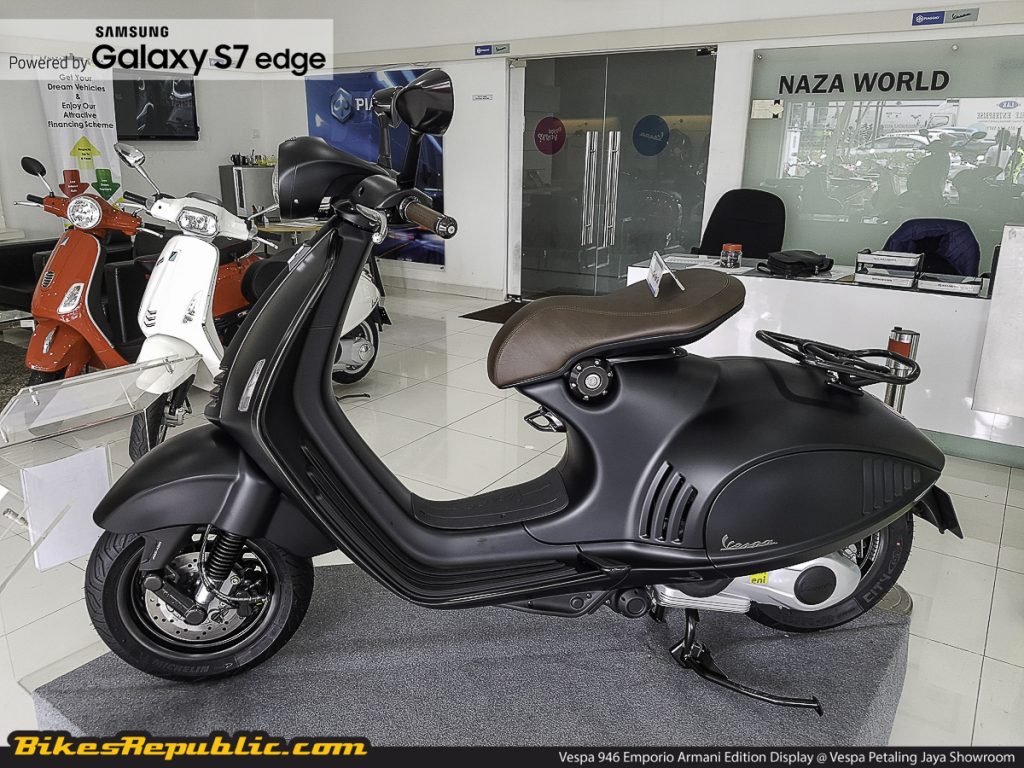 So, how much does all this chic, luxurious and limited edition Italian celebration of style costs? The Vespa 946 Emporio Armani Edition rightfully commands RM68,551.10 – OTR with GST, insurance, road tax, etc.
Yes, that's a princely figure for a seemingly simple scooter, but we cannot argue the fact that this limited edition model is second to none when it comes to style.