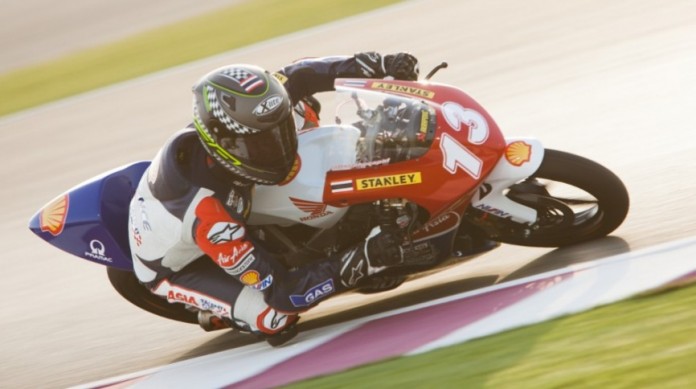 It is a wonder why the qualifying times of nine riders from the Shell Advance Asia Talent Cup were below the best lap time achieved in the same series at Losail Circuit last year.
However, raising above the rest was Thai rider Nakarin Atiratphuvapat, who set the fastest time in qualifying.
Nakarin also won Race 2 of the first race of the season in Buriram, Thailand last week.
Japanese rider Sasaki and Indonesian Izdihar completed the first row.
Malaysian rider Shafiq Rasol set the fastest time during practise, but he only managed to qualify in 3rd place.
In fact, the highest ranking Malaysian in qualifying was Helmi Azman in 5th place, followed by Fakhrusy Rostam in 6th, Adam Norrodin in 9th, new boy Azroy Anuar qualified in 15th place.
The qualifying results indicate that the two races this weekend will follow the trend set in Buriram last week when a group of 9 to 10 riders battled it for the race win until the very last corner.
At that time, Nakarin was 0.361 seconds ahead of the 2nd placed Sasaki, with Izdihar 0.648 seconds off in 3rd place. The next six riders were separated by just half a second. The race pace this year however has been deemed as very good, with nine riders going under the pole time set last year by Kaito Toba.
Race 1 is set to happen this evening, we will bring you live reports from Losail.