The Shell Advance On-Wheels tour is currently in the southern state of Johore this weekend!
The Shell Advance On-Wheels roadshow has kicked off its southern leg here in Muar, Johore. From 2pm to 6pm today, the roadshow will be active in Chai Heng Motor Spareparts along Jalan Hashim, Bandar Muar, Johore.
All bikers and members of the public are welcomed to visit. The roadshow will offer Shell Advance motor oils (all grades) at promotional prices. Visitors who purchase any motor oil will also receive special goodies courtesy of Shell Advance and BR. This includes a complimentary round on our exclusive GP bike simulator, BR merchandises, as well as Shell Advance Asia Talent Cup goodies.
Also, children and youths between the ages of 12 to 20 are welcomed to register their interest for upcoming Shell Advance Asia Talent Cup selection event later this year.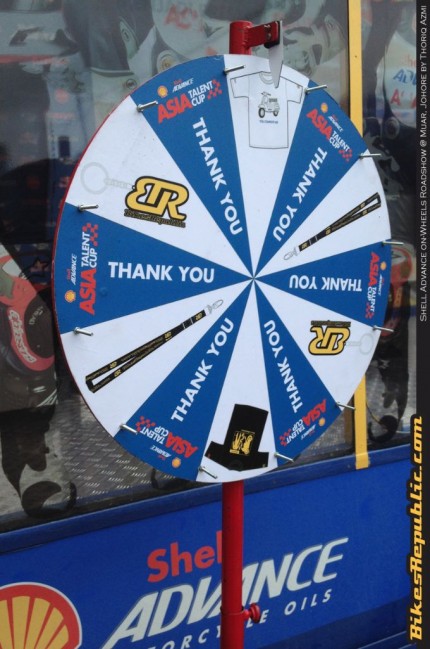 Don't forget, visitors who purchase any Shell Advance motor oil (any grade) will also get a chance to participate in the exclusive SMS-based contest. Participants will stand a chance to win an exclusive Shell Advance Asia Talent Cup bike plus a VIP experience at this year's Shell Advance Malaysian MotoGP.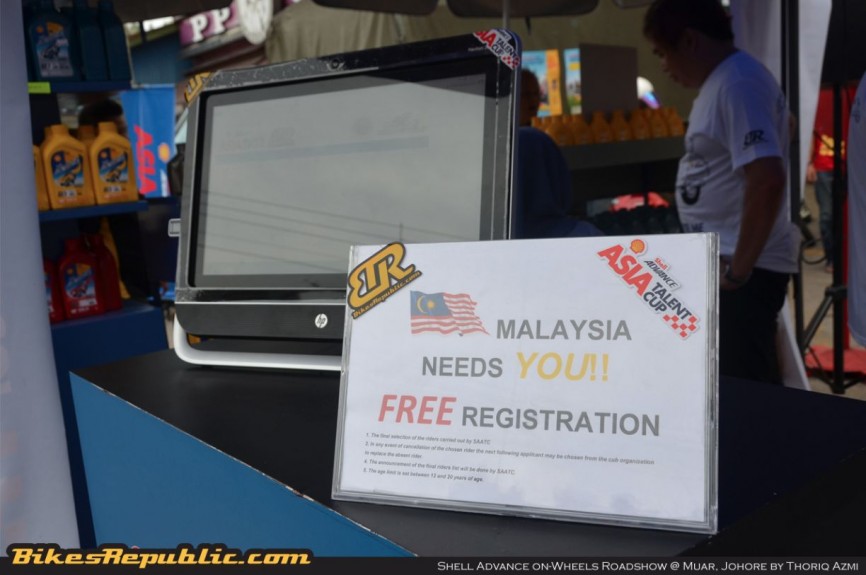 If you missed our roadshow today, don't worry, the Shell Advance On-Wheels campaign will also be held tomorrow (May 31) in Champion Motor located in Taman Indah Kempas Baru, Johor Bahru. Tomorrow's leg in JB town will run starting from 10am until 2pm.
Check out the calendar below to see when the Shell Advance On-Wheels roadshow will hit your town!
May 24 – Keong Kuala Berang Trading, Taman Kuala Berang 2, Terengganu (10am to 2pm)
May 25 – Chin Huat, Jalan Sultan Mahmud, Kuala Terengganu, Terengganu (10am to 2pm)
June 5 – LTP Motor Trading, Bandar Baru Bangi (10am to 2pm)
June 7 – Entrance of Shell Refinery, Port Dickson (2pm to 6pm)
June 13 – Speed Cycle Corporation, Bandar Baru Sungai Buloh (2pm to 6pm)
June 14 – Jalan Sentul, Kuala Lumpur (10am to 2pm)
June 19 – MH Jaya Motor Trading, Balakong, Cheras (10am to 2pm)
June 20 – Watali Motor, Taman Selamat, Ayer Tawar, Perak (2pm to 6pm)
June 21 – Weng Motor, Sg. Bakap, Pulau Pinang (10am to 2pm)
Shell Advance On-Wheels Roadshow @ Chai Heng Motor Spareparts, Muar, Johore