Sasaki scores second Shell Advance Asia Talent Cup win whilst Shafiq Rasol steals another podium finish.
The fifth round of the Shell Advance Asia Talent Cup took place last weekend in the Motegi Circuit of Japan. The seventh of nine scheduled races this year, the Motegi round brought out its fair share of nail-biting actiong and surprises.
Qualifying on Saturday saw championship leader Yuta Date qualifying himself in first place, claiming the grid's pole position with a fastest time of 2:02.468 around the 4.8km-long Motegi race course. However, not far off his pace was second place qualifier Kaito Toba, who's fastest time was just 0.536 seconds off of Date's.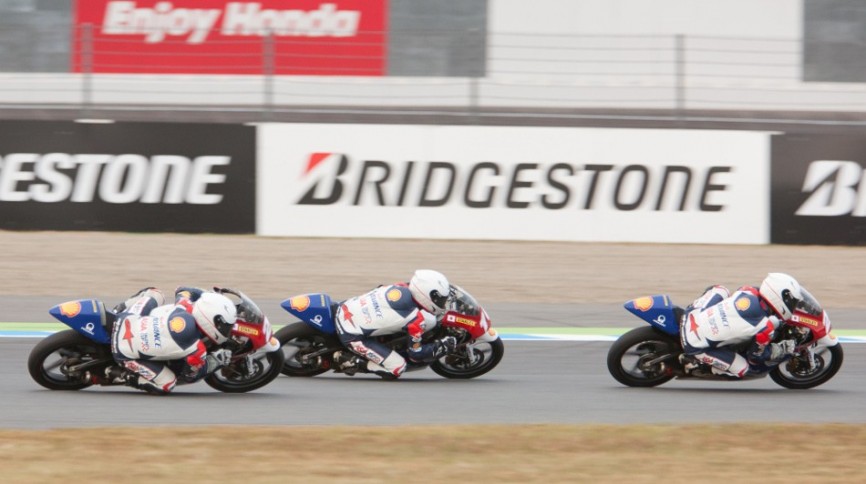 The first surprise was the performance of Malaysian rider Shafiq Rasol. The soft-spoken Malacca native managed to score his fastest time of 2:03.532, placing him third on the grid and in the first row alongside Date and Toba. Besides Shafiq Rasol, only Adam Norrodin and Fakhrusy Rostam ranked themselves in the top 10 after qualifying ninth and tenth respectively.
Things intensified during the race on Sunday. The 13-lap race saw all riders having their skills tested as the Motegi circuit required them to devise creative lines and manage some really hard braking for its corners.
The first drama of the race came after Fakhrusy Rostam crashed out in the opening stages of the first lap, narrowly missing the lead pack of riders, forcing Japanese rider Ryo Mizuno wide into the gravel as well. After that, it was an eight-way battle up front led by championship rivals Date and Toba.
The battle continued on up until the very last lap where both Date and Toba both committed costly errors. A last ditch attempt by Toba to overtake Date in the last corner forced both riders wide, compromising their lines and opening a gap for the other riders behind them.
Taking advantage of this was the pint-sized local Ayumu Sasaki and Malaysian rider Shafiq Rasol. After overtaking Date and Toba, both Shafiq and Sasaki made their charges for the chequered flag. Sasaki took the win, but only by a bike's length ahead of Shafiq in second. Taking the final podium spot was another Japanese rider Takuma Kunimine.
With their errors, both Date and Toba missed out on a podium finish. Futhermore, Date's lead in the championship still remains slim, with his total of 121 points so far just two points ahead of Toba in second with 119 points, whilst Sasaki in third also appears to have a fighting chance with his total of 111 points.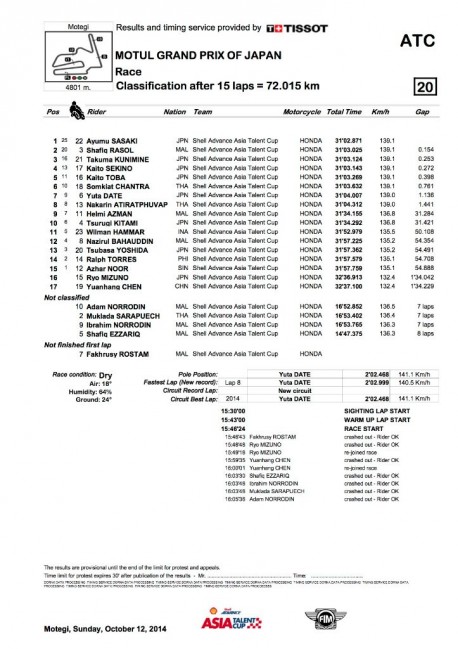 All in all, the series' first champion will only be crowned in the final two races in Sepang where it will be held as a support event to the Shell Advance Malaysian Motorcycle Grand Prix. The final two races of round 6 will be held from 24 Oct to 26 Oct.
2014 Shell Advance Asia Talent Cup Rd 5 – Motegi, Japan
Pictures sources from: asiatalentcup.com