Tricky weather greets Shell Advance Asia Talent Cup grid leading up to Rond 4 in Sepang.
The Shell Advance Asia Talent Cup Round holds its inaugural race weekend in the Sepang International Circuit (SIC) this weekend. Running along with the weekend's Malaysian Super Series event, two races will be held, each lasting 14 laps.
Things got off to a good start early on Friday morning's Free Practice 1 session (FP1). Conditions were excellent and all riders got to put in valuable lap times around the 5.5km-long circuit.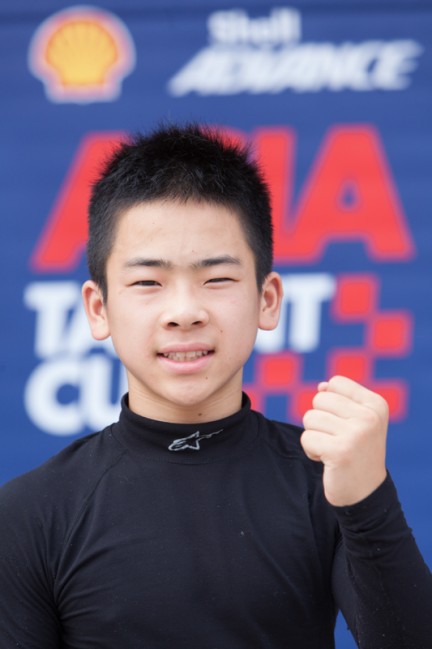 Topping the time sheets in FP1 was the pint-sized 14-year-old Japanese rider Ayumu Sasaki. Sasaki topped FP1's time sheet with a fastest lap time of 2:19.371 on the championship's Honda NSF250R race bikes.
Pressure is on for the seven Malaysian boys racing on home turf though. FP1 saw Pasir Gudang youngster Fakhrusy Rostam clock in the session's third fastest time at 2:19.966 – just 0.595 off Sasaki's pace.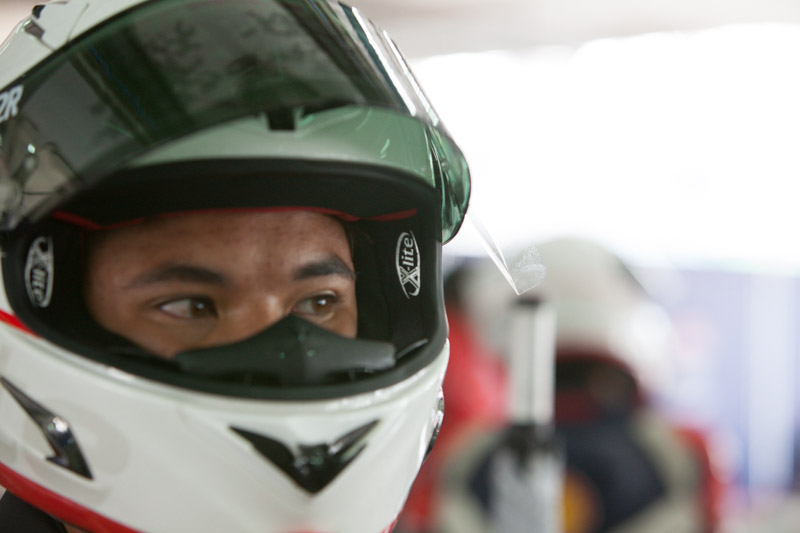 Elsewhere down the order, the soft-spoken Malacca native known as Shafiq Rasol claimed the session's fifth fastest time at 2:20.600. Despite engine troubles, Helmi Azman managed to clock in the session's tenth fastest time with a timing of 2:21.993 – a respectable feat given the circumstances.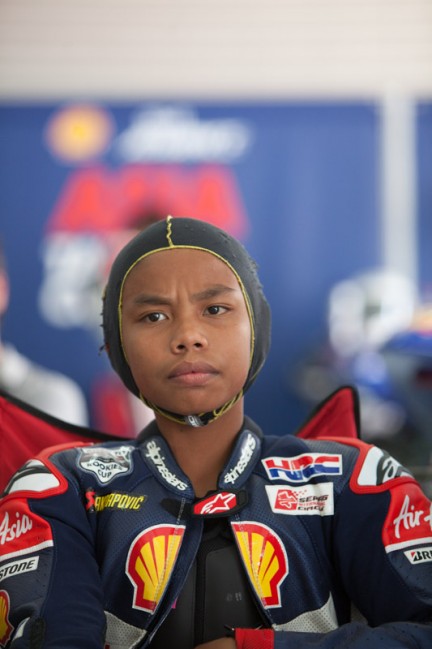 As always, Sepang's regular late afternoon storm rolled in as predicted, bringing Friday afternoon's Free Practice 2 (FP2) session to a brief halt. Nevertheless, Sasaki once again proved his riding prowess here, clocking in 2:19.902 to top the time sheets.
Taking advantage of the slightly damped conditions, Shafiq Rasol improved his timing in this session. FP2 saw Shafiq improve from fifth in FP1 to claimed the session's second fastest time at 2:20.608 – just 0.706 off of Sasaki's best time in FP2.
Rain returned once again to challenge the Shell Advance Asia Talent Cup grid during Saturday's late morning Qualifying practice. Primed with rain tyres, riders took to SIC's black top and gave their very best efforts.
Unfortunately, Helmi Azman and Japanese rider Tsubasa Yoshida suffered falls, with Helmi high-siding whilst tackling Turn 1. Suffice to say, the wet weather conditions proved to be a handful for the Shell Advance Asia Talent Cup's riders given the slower lap times.
Pulling the biggest surprise here was Thai rider Nakarin Atiratphuvapat. The Thai snatched pole position after clocking in the session's fastest time of 2:29.323. Not far off the pace was championship leader Yuta Date who clocked 2:29.392 to qualify second on the grid. Despite shining through both FP1 and FP2, the tiny wonder that is Sasaki only mustered the session's third fastest time of 2:29.402.
For the Malaysian camp, it was a mixed of high and lows. The biggest improvement of the weekend so far came from Adam Norrodin's performance. Despite less than ideal practice times, Adam took full advantage of the partially wet circuit to qualify fifth on the grid with a fastest time of 2:29.953.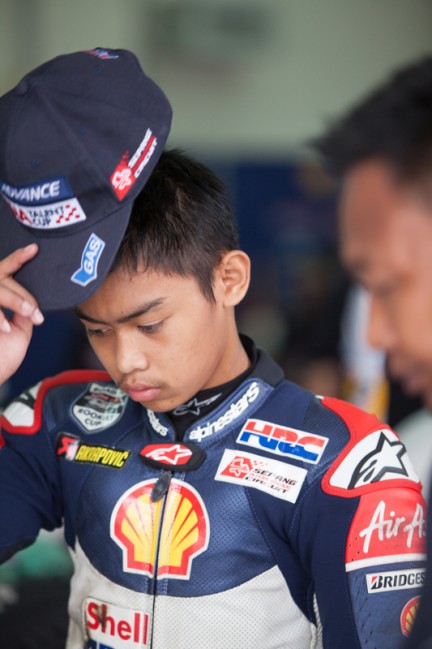 Adam is the only Malaysian rider to qualify in top 10 and will start on the second row of the grid. Just missing out on a top 10 spot was Shafiq Rasol, where his best time of 2:31.371 only landed him in 11th place. Just behind him on the fourth row of the grid.
Elsewhere down the order, Helmi Azman qualified in 13th, while Shafiq Ezzariq and Ibrahim Norrodin qualified 16th and 17th respectively. Rider Nazirul Bahauddin, on the other hand, could only settle for the grid's 21st slot.
The weekend's first race, which is Round 4, is scheduled to take place later on Saturday afternoon at 2:45pm. Race 2 will be held tomorrow on Sunday at 1:15pm. Both races will last for 12 laps each.
Watch this space later on for updates and race results. In the meantime, you could also check out the extensive gallery below of snapshots taken by the Shell Advance Asia Talent Cup's official photographer, Mauro Talamonti.