Fakhrusy Rostam takes second podium finish for Team Malaysia after dramatic Race 2 of the Shell Advance Asia Talent Cup 2015 Round 3 in Sepang.
As Race 2 of the Shell Advance Asia Talent Cup 2015 Round 3 unfolded in the Sepang International Circuit (SIC), it was hard to guess how the race would fare. Unlike yesterday, the Japanese brigade of riders got off to a strong start, but a red flag midway through the race and a last lap incident brought out several upsets.
At the start, Japanese riders Ayumu Sasaki, Ai Ogura, Kazuki Masaki and Takuma Kunimine stormed ahead, with Thai rider 'Chip' Nakarin Atiratphuvapat not far in tow. Also in the lead group were Malaysian Adam Norrodin, Fakhrusy Rostam, and Shafiq Rasol. Despite being bumped down the order, the Malaysian trio kept on fighting to stay with the lead group.
The first incident came after just 10 minutes into the session when Chinese rider Yuanhang Chen high-sided out of Turn 6. Soon after, Chen's fellow countryman Pengyuan Chen suffered the same fate in Turn 15, forcing officials to red flag the session after completing just six of the scheduled 13 laps. The race would resume soon after debris and injured riders were cleared off the circuit, with just five laps left.
Little did many know, the remaining five laps would become one of the most dramatic moments in the series' history. Again, the Japanese brigade got off to a good start here, but hot on their heels were the Malaysian riders plus Indonesian rider Andi Izdihar. Unfortunately, Malaysian rider Adam Norrodin lost control of his bike whilst under heavy braking into Turn 1, taking out fellow countryman and rookie Azroy Anuar plus Izdihar out of contention. This was a huge blow to Adam after taking second place in yesterday's Race 1.
For the next four laps, the battle raged on between Sasaki, Masaki, Takuma Kunimine, and Chip Nakarin in the lead group whilst Malaysians Fakhrusy Rostam and Shafiq Rasol was battling Yuta Date and Gerry Salim in the second pack.
Drama again struck in Sepang's infamous final hairpin turn on the final lap when riders Kazuki Masaki and Ayumu Sasaki collided whilst challenging for the lead. This then allowed room for Chip Nakarin and Takuma Kunimine, who were battling each other for positions three and four, to advance up the order, but it was Thai sensation Chip Nakarin that had the advantage through the corner exit, and was first to claim the chequered flag ahead of Kunimine in second place.
Malaysian Fakhrusy Rostam, who was running in fifth position, also took advantage of this, and crossed the line in third. In the process, Fakhrusy recorded his first podium finish and series best finish record simultaneously. It also brought Malaysia's podium count up to two whilst racing on home soil this weekend.
"Today's race was indeed tougher than yesterday's, and I struggled quite a bit. But in the last part, I managed to create a gap ahead of Shafiq Rasol down the back straight. Then, when I saw Sasaki and Masaki's collision from afar, I knew I just had to keep it steady," explained the towering Pasir Gudang native shortly after the race. Though it was a hard race for him, Fakhrusy was indeed delighted and elated with the podium finish.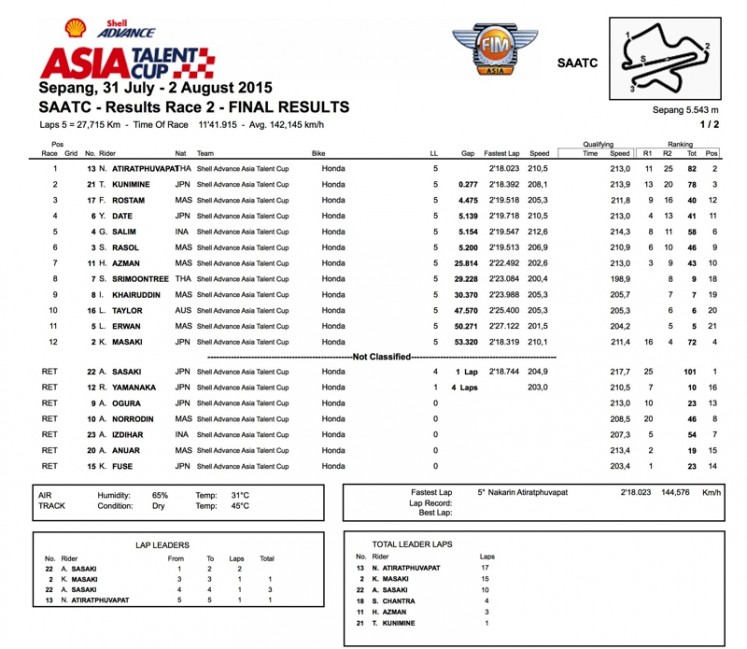 As the weekend concludes here in Sepang, Ayumu Sasaki still leads the championship standings with his total score of 101 points so far. However, Chip Nakarin has also scored major points over the weekend, with his second series win elevating him up to second place in the standings after collecting 82 points in total. Takuma Kunimine ranks third with 78 points.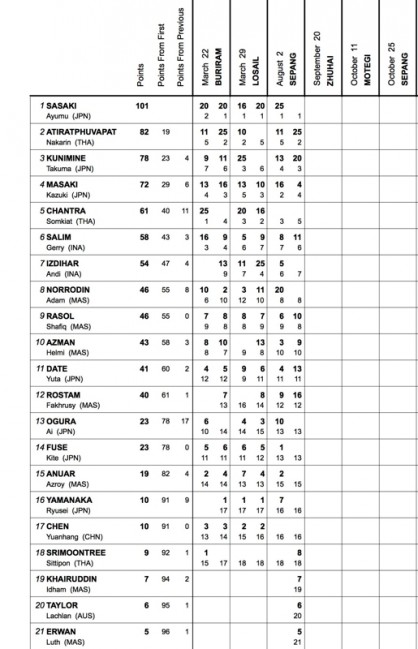 Three Malaysians are in the top 10 for now, starting with Adam Norrodin in eighth and Shafiq Rasol in ninth, both sharing the same score of 46 points. Helmi Azman ranks tenth with 43 points in total.
Round 4 of the Shell Advance Asia Talent Cup 2015 will commence in China next month. The series will race in the Zhuhai International Circuit from Sept 18 to Sept 20. Stay tuned to our site for more updates. In the meantime, you can check out our extensive photo gallery below or more on the official BikesRepublic.com Facebook page.