Adam Norrodin makes nation proud after finishing second in Race1 of the Shell Advance Asia Talent Cup 2015 Round 3 in Sepang.
Team Malaysia has finally scored its first podium finish of the season after rider Adam Norrodin crossed the line in second place today in Race 1 of the Shell Advance Asia Talent Cup 2015 Round 3 here in the Sepang International Circuit.
The 13-lap race unfolded with the Japanese riders taking the initiative at the start. The lead pack was comprised of the bulk of the top performing Japanese riders – Ayumu Sasaki, Kazuki Masaki, Takuma Kunimine and Ai Ogura – plus Adam who started from fifth position in Row 2.
With just two laps to go, Adam and Sasaki were able to pull a manoeuvre on the final corner to overtake a few riders in the lead pack. From then on, it was a straight battle between the Malaysian and Japanese riders, with Adam even holding the race lead for a brief moment. However, Sasaki had the upper hand, and was able to clear the final corner with a big a enough gap to secure the race win – his first race win of the season in fact.
Adam, on the other hand, settled for second place just 0.220 seconds behind Sasaki. Joining Sasaki and Adam on the podium was third place finisher Kazuki Masaki who crossed the line 0.265 behind race winner Sasaki. Yes, the finish was indeed close, with Adam becoming the best of the seven Malaysians lining up the grid.
As for the rest, things did not fare out too well, but results are indeed promising. Fakhrusy Rostam, who started from fourth, crossed the line in seventh whilst Shafiq Rasol, who had high promise after qualifying third, dropped down the order and finished in tenth. Despite his injury, Helmi Azman managed to finish the race in 13th place just ahead of Azroy Anuar in 14th.
Malaysian wildcards Ahmad Idham Khairuddin and Luth Harith Erwan also brought out respectable performances. Both riders finished the race in 19th and 20th respectively.
"I am extremely happy with my performance today. I know the chance to win was there, and I will try my best tomorrow for Race 2,"said 17-year-old Adam when we spoke to him after the race. This comes as sweet vindication for him since his last appearance in Sepang for the Asia Talent Cup's season finale last year where he was penalised.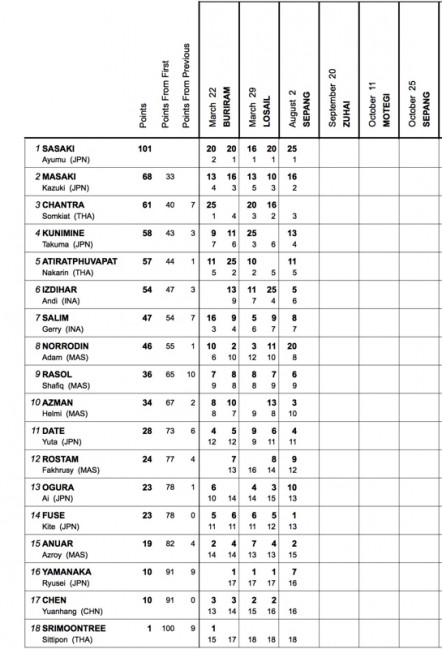 With Race 1 completed, Sasaki leads the championship standings still with 101 points in total, and he looks poised to claim the title this year. Adam, on the other hand, has elevated in the standings from 12th up to up to eighth thanks to today's podium finish.
Race 2 will commence tomorrow at 12:00pm (noon) before the day's scheduled WSBK and WSSP races. Check out the gallery below and our official Facebook page for more pictures.