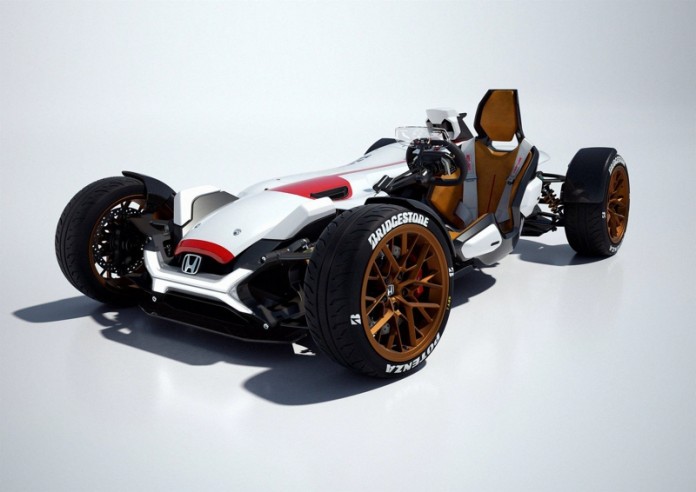 Honda Project 2&4 concept is a radical RC213V-powered sports car-superbike hybrid concept.
After teasing it initially earlier this month, Japanese automotive powerhouse Honda has taken the wraps off its latest concept called the Project 2&4.
The only words that perfectly describe the Honda Project 2&4 concept are 'radical' and perhaps 'futuristic'. As previously reported, Honda designers and engineers stated that the concept merges the open-air freedom of a superbike with the manoeuvrability of a proper four-wheeled sports car.
In terms of design, the Honda Project 2&4 concept draws its inspiration from the H-brand's RA272 Formula 1 race car from 1965. Notably, its boasts an open-air 'floating seat' design meant to being drivers "closer to the action" just like when astride a superbike.
Now, for the most important bit: the powertrain. Like previously reported, underneath the Honda Project 2&4 concept sits a modified version of the red-wing marque's 999cc V4 four-stroke petrol engine lifted straight off the Honda RC213V MotoGP race bike and RC213V-S street-legal replica.
Developing 212hp and 118Nm, the mill presumably powers the rear wheels via a six-speed dual-clutch transmission. Combined those power figures with the car's claimed weight of 405kg, it does not take long to theoretically determine that is one very quick car indeed.
The Honda Project 2&4 concept will make its public debut during the 2015 Frankfurt Motor Show scheduled for later this month.
Source: Worldcarfans