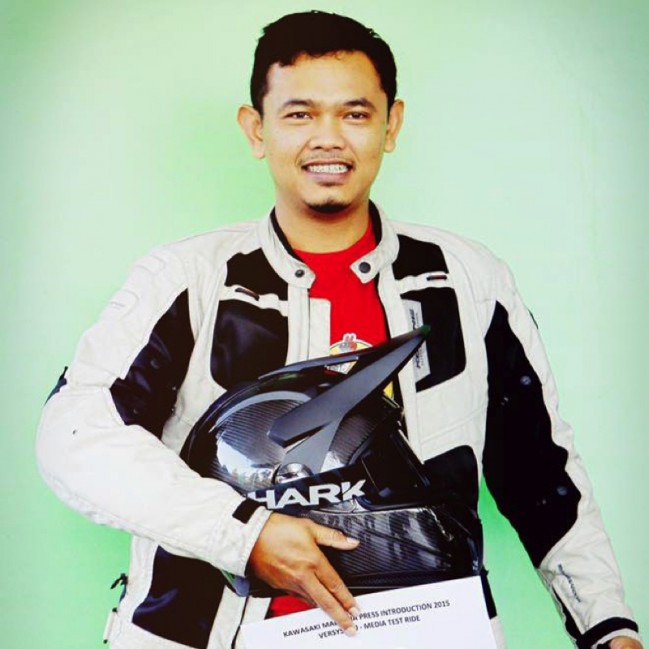 Malaysian motoring journalist Nik Norul Hidayat Nik Mustafa passes away after tragic highway accident.
For the BikesRepublic.com and MotoMalaya.net team, it pains us to report news of a fellow colleague who passed away early this morning. Nik Norul Hidayat Nik Mustafa, aged 31 tragically passed away at 6:41am this morning in the Putrajaya Hospital.
Nik is not an unfamiliar face in our field as he is one of the main motoring segment writers for local Malay daily Sinar Harian. Through credible sources, we understand that Nik was involved in an accident on kilometre 19.6 of the ELITE Highway bound towards KLIA from Shah Alam. Both Sinar Harian and local newswire Bernama report that Nik, who was astride a large capacity test bike, lost control of his machine and crashed after being squeezed off the road by another vehicle at about 3:30am.
A few passer bys were at hand providing first aid to Nik before he was rushed to the Putrajaya Hospital's ICU. Doctors did their utmost best to stabilise Nik to no avail before breaking the bad news to Nik's widow, Anis Naziha Abdul Rauf, and several other industry colleagues who were also present and waiting. Nik was buried earlier today shortly after Zohor prayers in his hometown of Kampung Tali Air, Morib, Banting.
Again, both Sinar Harian and Bernama further reported that the accident is currently being investigated by authorities under Section 41 (1) of the Road Transport Act of 1987.
For us, the soft-spoken Nik was not just an excellent colleague; he was also an equally pleasant person in general with a very enjoyable presence, especially in the many press events and press rides we've attended together. Nik's passing has left a huge void in our small industry to say the least, and he is sorely missed.
Our sincerest condolences and deepest prayers are with Nik, his widow, as well as his family. Al-Fatiha.
In light of this recent tragedy, we feel it is our duty at BikesRepublic.com and MotoMalaya.net to continue reminding you, our loyal readers and followers, on the importance of safe riding. Always be alert, have the right riding attitude, and always practice ATGATT (All The Gear All The Time). Stay safe and keep on riding folks.
Sources: Bernama and Sinar Harian Online
Images sourced from Facebook unless stated otherwise.