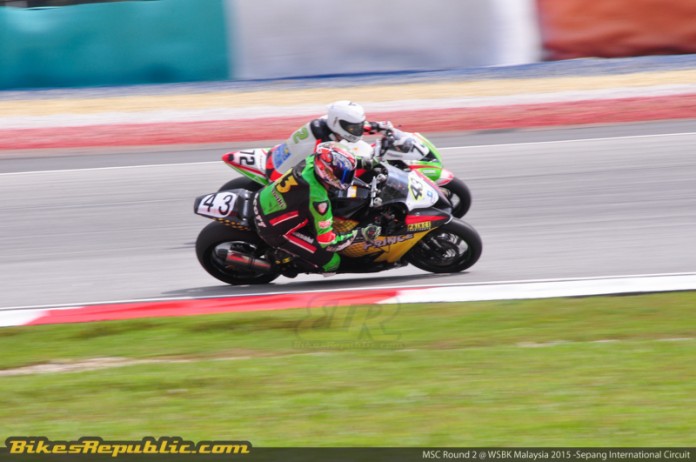 Prince Lubricants Racing Team marks a bittersweet outing in Round 2 of the Malaysia Superbike Championship 2015 (MSC 2015) held during WSBK Malaysia 2015.
The hype may be on the WSBK Malaysia 2015 race weekend main event, but this did little to stop many talented local aces in the Malaysia Superbike Championship 2015 (MSC 2015) support event from taking their spots on the grid. However, for the Prince Lubricant Racing Team, it would a bittersweet one.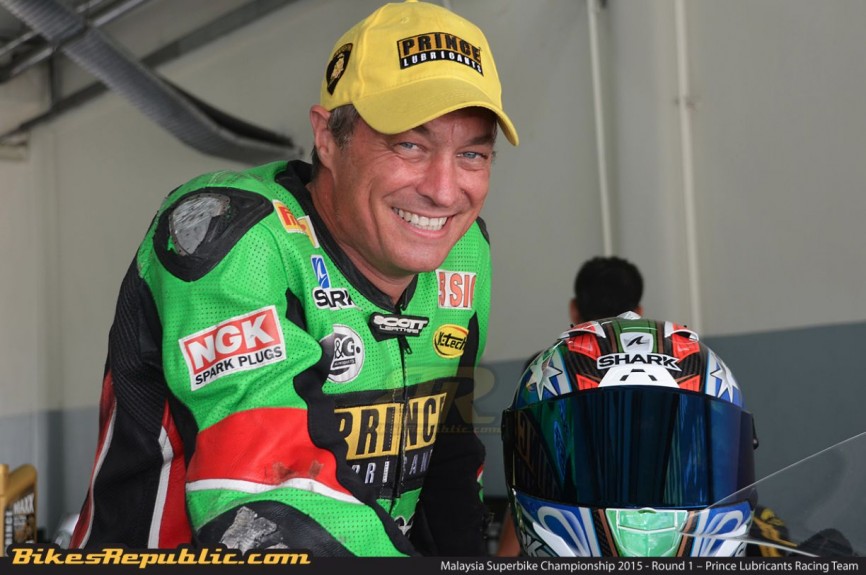 We say this because the team's lead rider, Colin Robin, marks perhaps his final outing in the championship last weekend. Colin, one of the most colourful personalities on the series' grid, ended the weekend on a pretty high note by scoring one podium finish in Race 2 of the premier Superbike (A) class held on Sunday.
The MSC 2015 weekend for Round 2 began early on Friday with Practice and Qualifying. Tricky weather conditions brewed by a mid-afternoon shower plus heavy cloud overcast saw Colin only managing to Qualify sixth in his category, and seventh overall.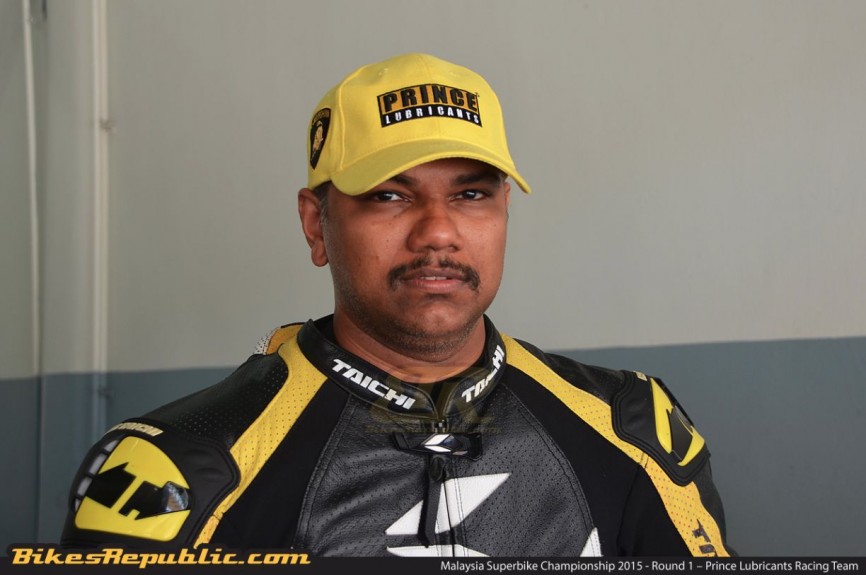 Teammate Linggam Rammoo, on the other hand, had an even bigger challenge on Friday whilst competing in the Superstock (B) class. Due to the time constraint, the Superstock (A) and Superstock (B) class' qualifying session was run simultaneously together with the supporting Ducati Desmo Cup event's qualifying as well, causing heavy on-circuit traffic and little room for hot laps. Nevertheless Liggam was able to end the day by Qualifying fifth in the Superstock (B) class, and 13th overall.
Race 1 of both the Superbike and Superstock classes were held on Saturday. Unfortunately, Linggam's day came to an early end after colliding with another rider in Turn 1 during the first lap, forcing the series rookie to retire. Thankfully, his Kawasaki ZX-10R superstock racer was not too badly damaged and the team were able to restore it for Linggam to compete in Race 2 the next day.
Saturday was also not a day for Colin in the Superbike class' first race. Astride his Kawasaki ZX-10R SBK race bike, Colin only managed to finish Race 1 in seventh overall and sixth in class.
Sunday fared out better for both Colin and Linggam, with both riders finishing their respective races as well. For Linggam, a bad start saw him drop down the order, but he managed to soldier on with his Kawasaki ZX-10R to finish the race in 23rd overall and 16th in class. Despite the less than ideal results, the race was important as Linggam raked up more miles and experience.
For Colin, Sunday was a day of pure vindication instead. The Aussie managed to fight his way up the order with his Kawasaki ZX-10R, eventually crossing the finish line in third overall and second in the Superbike (A) class. As this was to be his last outing in the championship, the result from Race 2 was indeed a sweet one for the Aussie who marks his first podium finish for the season.
As the weekend drew to a close, we are again faced with the sad reality of Colin's exit from our local scene. We hope to see his return into our little national field. Rest assure that Colin's absence will be felt by the entire paddock.
Prince Lubricants Racing Team @ MSC 2015 Rd.2 / WSBK Malaysia 2015