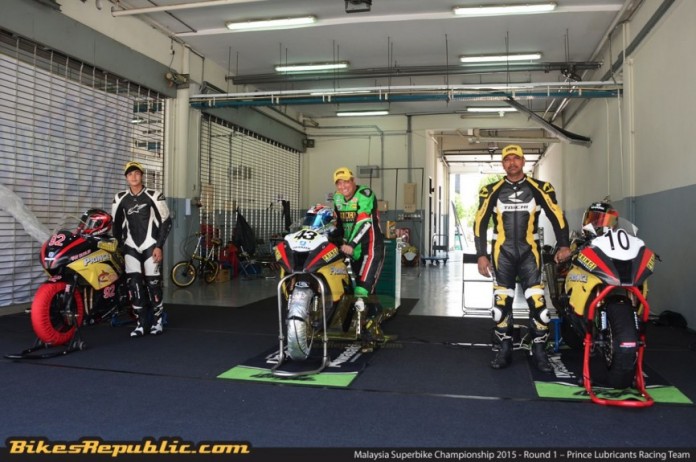 Prince Lubricants Racing Team riding trio gears up to take on the season-opening weekend of the Pirelli Malaysia Superbike Championship 2015 (MSC 2015).
After undergoing a rebranding exercise earlier this year, the Malaysia Superbike Championship 2015 (MSC 2015) kick-started itself this weekend for its season-opening first round. And, making their return on the grid this year is the venerable black and yellow-liveried Prince Lubricants Racing Team.
This time round, the team competes on three fronts of the MCS 2015 series, specifically in the Superbike, Superstock, and Open 250 categories. Spearheading the team's riding hierarchy is non other that Colin Robin. The 50-year-old Australian racing veteran is no stranger to the Malaysian domestic two-wheeled racing series and competes in the series' premier Superbike category.
Accompanying Colin this year is yet another familiar face from the Prince Lubricants racing family is 14-year-old local riding talent Ian Robert Dublin who competes in the Open 250 category. Completing the brand's two-wheeled racing roster is 35-year-old rookie Linggam Rammoo who marks his professional racing debut competing in the series' Superstock (B) class.
As both Friday and Saturday concludes, things look promising for the outfit with all three of its riders making the grid is respectable positions. Despite facing some slight technical difficulties, 250 Open class racer Ian ends Saturday on a slightly more upbeat note, qualifying third on the grid after clocking his fastest time of 2:47.954.
"It was a bit tough for me today because it was a little difficult to catch up with the other bikes, but we'll see tomorrow. I'm hoping to get a good start then," said the 14-year-old when we spoke to him shortly after the day's qualifying session. Despite the challenging start to the weekend, Ian remains confident that he can perform well for Sunday's races.
Rookie Linggam also appears to be in good form as well, qualifying rather well in fifth place in the Superstock (B) category, clocking in his fastest time of 2:23.549 on the team's ZX10R Superstock racer. The 35-year-old boasts an exceptional level of physical fitness, having performed long stint during the Practice session in both Friday and Saturday. One thing for sure is that this will be an advantage for Linggam to compete against the Superstock's grid of 41 bikes.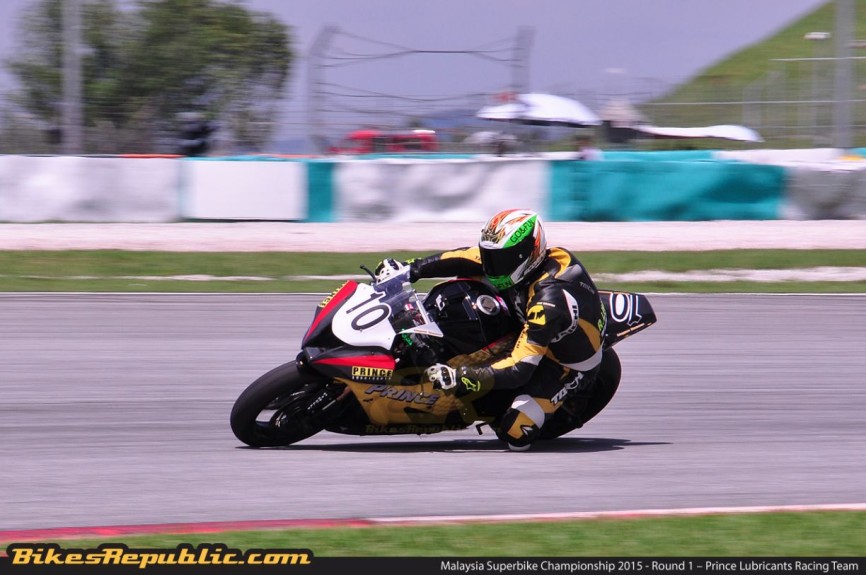 "I am glad to be apart of a team like this, and I am excited and I know it will be fun," said Linggam, showing no sign of nervousness at all. He further added, "The more laps I do, the more exciting it gets!" when describing how his first Qualifying session went, where the rookie stayed out on track for the entire session – an ability rarely seen in rookies.
One thing both Ian and Linggam share are their coaches, which is non other than teammate Colin, who has been giving them plenty of pointers and coaching throughout the weekend whilst racing himself. Like the two Malaysians, the Aussie veteran also ended Saturday on a good note, having shown good pace and qualifying fifth on the premier Superbike Category's grid after clocking in his fastest time of 2:17.892 astride his Kawasaki superbike.
"I didn't go as fast as I wanted to during the Friday practice sessions, but the times were relatively 'comfortable' for me and I know I can push harder," said Colin on how the weekend began. He also noted on the improved pace of his category rivals, stating "One thing's for sure, everybody here has raised the competition level for this year."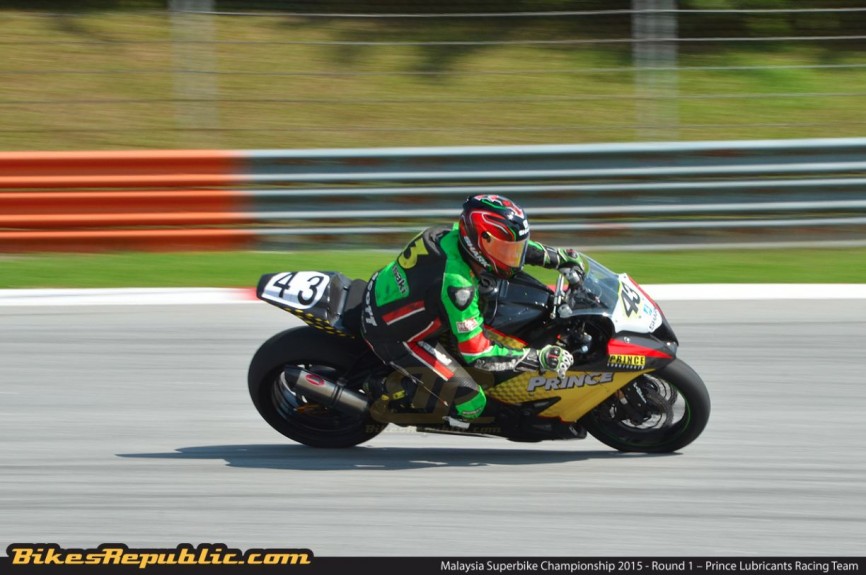 All three riders will be vying to end the weekend on a high note come raceday on Sunday. Check out the gallery below, and our official BikesRepublic.com Facebook page to see more images of the team from Saturday in the Sepang International Circuit.