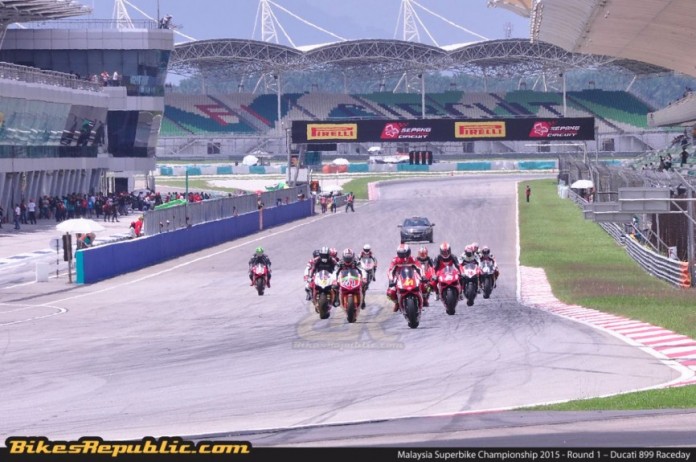 Inaugural Ducati 899 Cup Race Series Malaysia ends debut race weekend with its first two winners.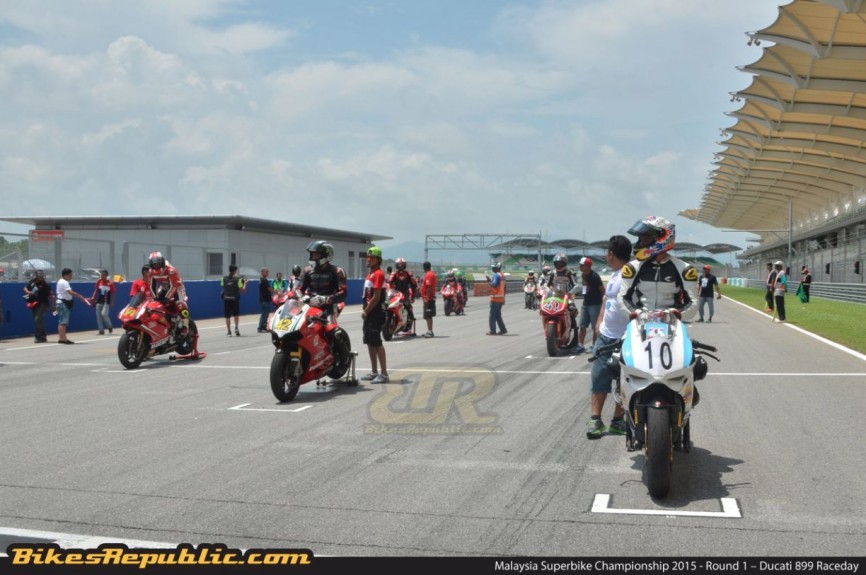 The inaugural Ducati 899 Cup Race Series Malaysia ends its debut race weekend on a high note after crowning its first two winners.
Organised by the Ducati Club of Malaysia (DCM), the new support event of the revamped Pirelli Malaysia Superbike Championship 2015 (MSC 2015) saw 13 riders form up its grid and competing over two categories – 899 Superstock and the 1199 Superstock. Two races were held on Sunday, each lasting 8 laps around the 5.5km-long Sepang International Circuit (SIC).
Whilst things got off to a smooth start for Race 1, drama soon ensued when it was red-flagged after just three laps. This came after one of the grid rider's experienced mechanical issues and began leaking fluids on the track. As a result, three other riders and their machines fell victim to this, forcing the race's suspension.
Race 1 resumed after circuit officials cleared most of the leaked oil, continuing with three more laps instead. Though shortened by two laps, the first race was a memorable one indeed for rider Syamsul Bakhtiar Bin Esa as he was the first of the remaining eight riders to claim the chequered flag.
Syamsul also took victory in the 1199 Superstock class, sharing the podium with Muhammad Akhimullah Zalani in second, Zulkiply Bin Yahya in third, and Mohd Khairul Baharudin in Fourth.
In the event's 899 Superstock category, Muhammad Hidayat Bin Harun claimed victory. He in joined on the podium by Hasli Abdul Hamid in second, Muhammad Aeri Azlan in third, and Amir Rafiq Abd. Rahman in fourth.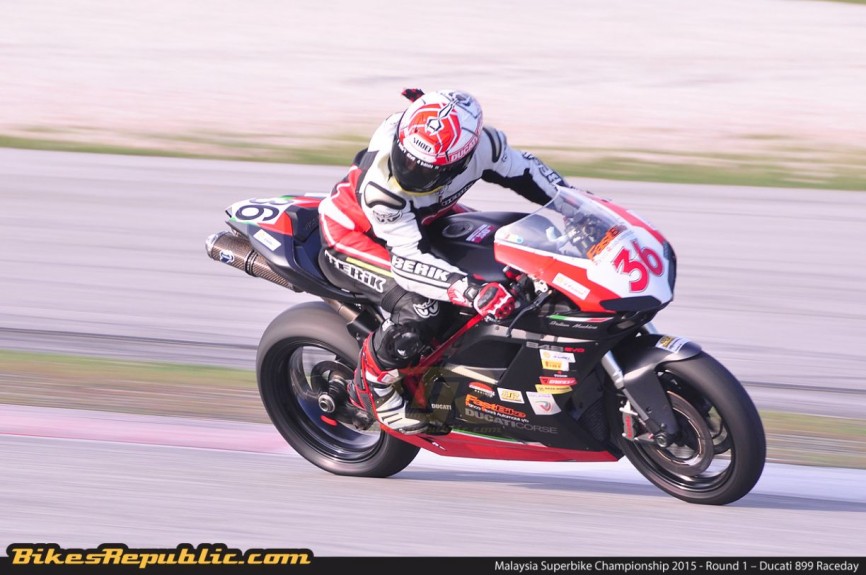 Syamsul would later repeat that feat in Race 2 scheduled in the later part of the day, only this time without any disruptions. Race 2 ran without incident for its scheduled eight laps. The 1199 Superstock category podium rostrum saw a repeat of Race 1, with Syamsul in first, Akhimullah in second, Zulkiply in third, and Khairul Baharudin in fourth.
The 899 Supestock category, on the other hand, saw a slight change in its podium rostrum. Whilst Hidayat retained his top spot on the podium, rider Muhammad Aeri Azlan managed to move up into second, relegating Hasli Abdul Hamid down into third, whilst Amir Rafiq rounded up the podium in fourth.
The day ends with Syamsul Bakhtiar crowned as the overall winner in the 1199 Superstock category, whilst Muhammad Hidayat takes the overall win in the 899 Superstock category.
The Ducati 899 Cup Series is set to return for its second round along with the second round of the MSC 2015 at the end of July. Check out more photos from the weekend in our extensive gallery below and on our official BikesRepublic.com Facebook page as well.