Ducati ends six-year drought of wins after 1-2 finish in the 2016 Austrian MotoGP weekend.
Last weekend's Austrian MotoGP heralded several firsts for MotoGP's own record books. Firstly, MotoGP marked its first modern day outing in the Red Bull Ring (formerly A1 Ring) having last appeared here back in 1997.
More importantly, it also marked the first win after a six-year drought for the scarlet Italian team known as Ducati. Here's what transpired over the weekend for Round 10 in Speilberg, Austria.
MotoGP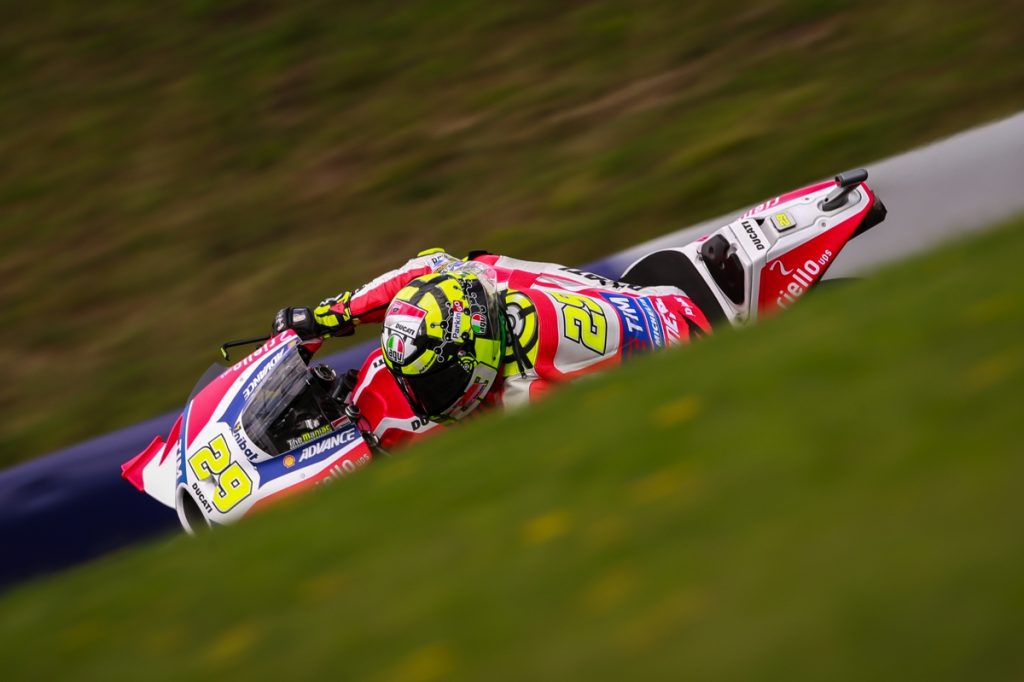 Qualifying saw an all-Italian lockout of the front row led by Ducati's Andrea Iannone in pole, Yamaha's Valentino Rossi in second and Ducati's Andrea Dovisiozo.
The 28-lap race began with both factory Ducati machines being chased down the two factory Yamaha bikes of Rossi and defending world champion Jorge Lorenzo who started from fourth. Alas, it didn't take long before both Dovizioso and Iannone pulled away using the sheer power available in their red machines.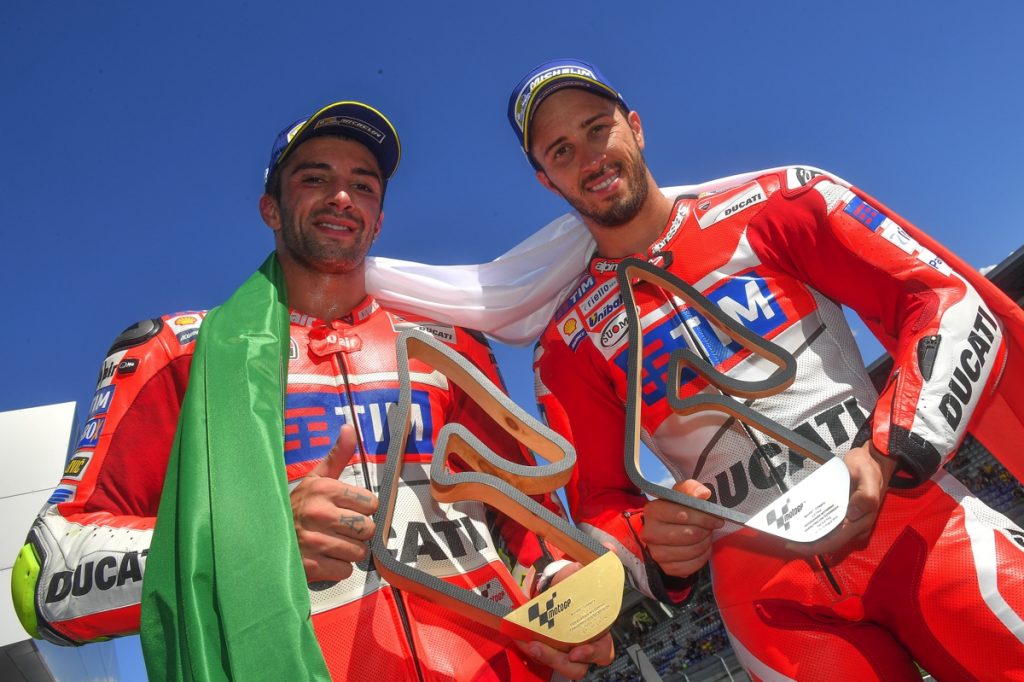 Dovizioso stole the lead from Iannone for about 11 laps before the latter Italian's mastery over his tyres gave him the late-stage advantage. Iannone would later win the race with a gap of 0.938 seconds ahead of teammate Dovizioso in second.
Iannone not only scored his first MotoGP race win in Austria, he also scored Ducati's first race win in six years the last one scored by Casey Stoner in 2010. Iannone also led the first Ducati 1-2 finish scored in a long time as well.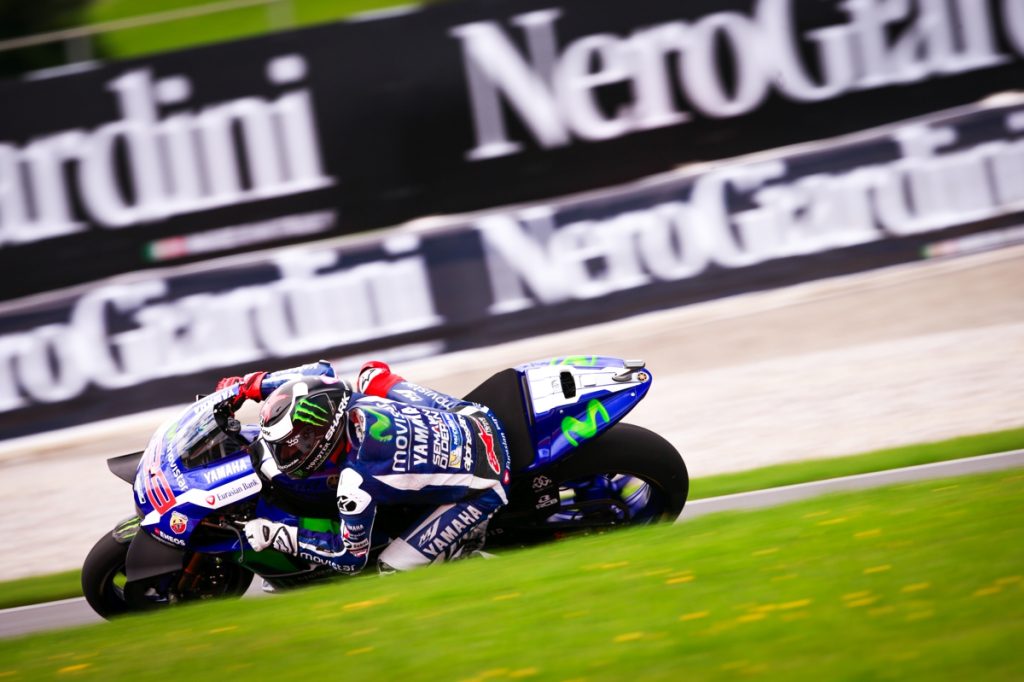 Equally jubilant here too was reigning world champion Jorge Lorenzo. The Spaniard vindicated himself after the dismal results from the last two races. Though he still trails Repsol Honda's Marc Marquez with a significant number of points, there seems to be hope still for Lorenzo to clinch the title
Valentino Rossi, on the other hand, settled for fourth place instead after not able to match his pace with the two leading Ducatis and teammate Lorenzo. Nevertheless, both Lorenzo and Rossi benefitted from an injured Marc Marquez who could only settle with a fifth place finish in Austria after dislocating his shoulder over the weekend.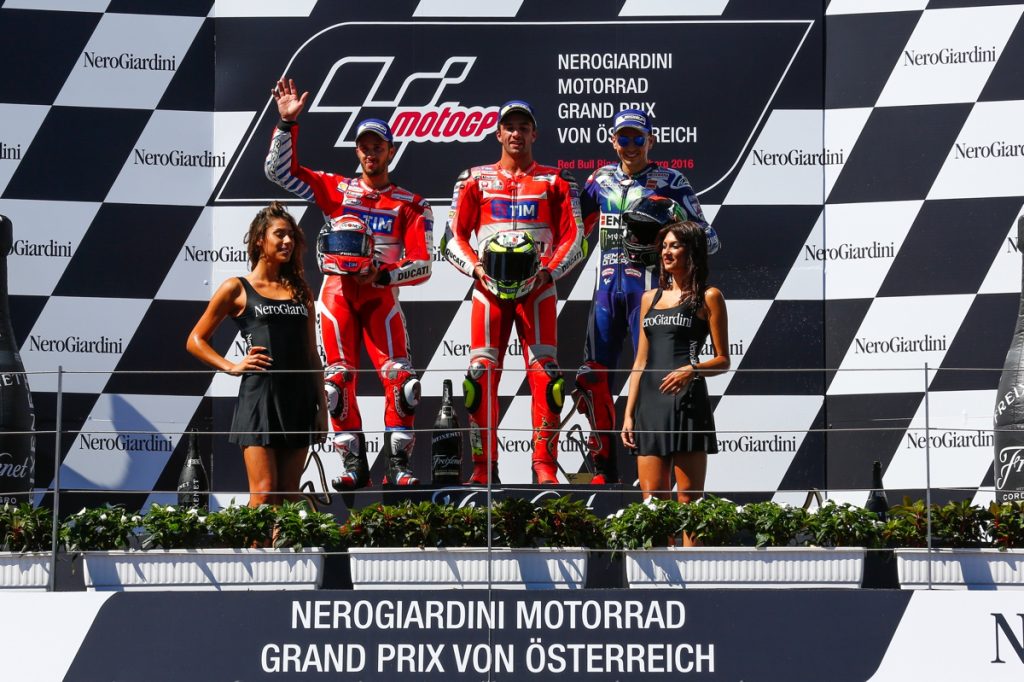 Marquez still leads the championship standings with 181 points, with Lorenzo still in second with 138 points followed by Rossi in third with 124 points.
Moto2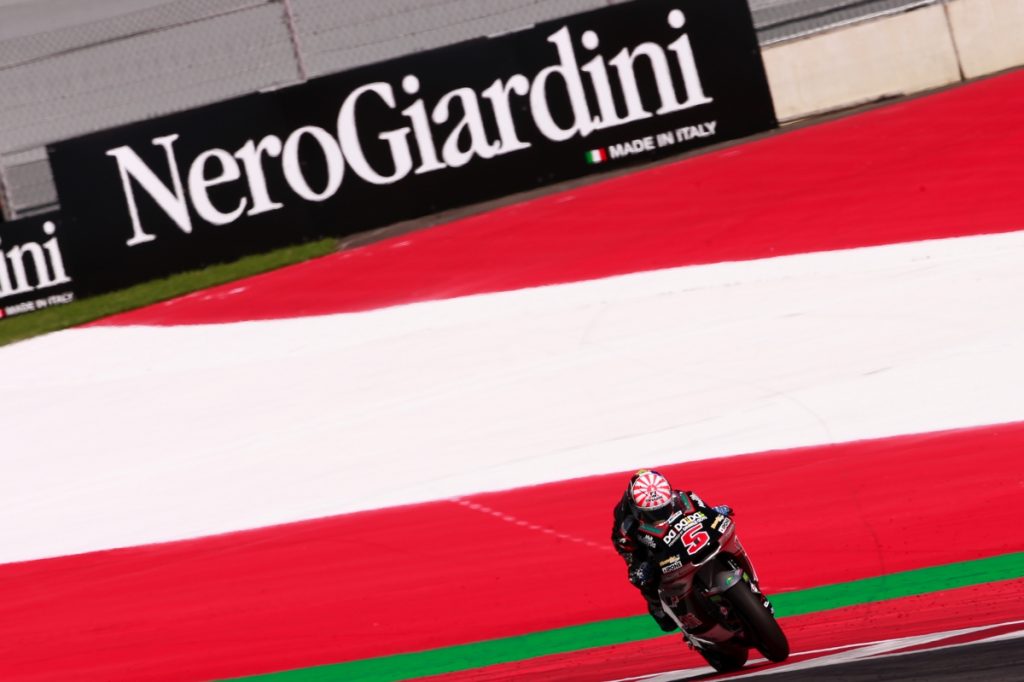 The supporting Moto2 race again saw defending class champion Johann Zarco taking a deserving win. Not only did the Zarco solidify his lead in the Moto2 title race, he also leaves Austria as MotoGP's most successful French rider in history.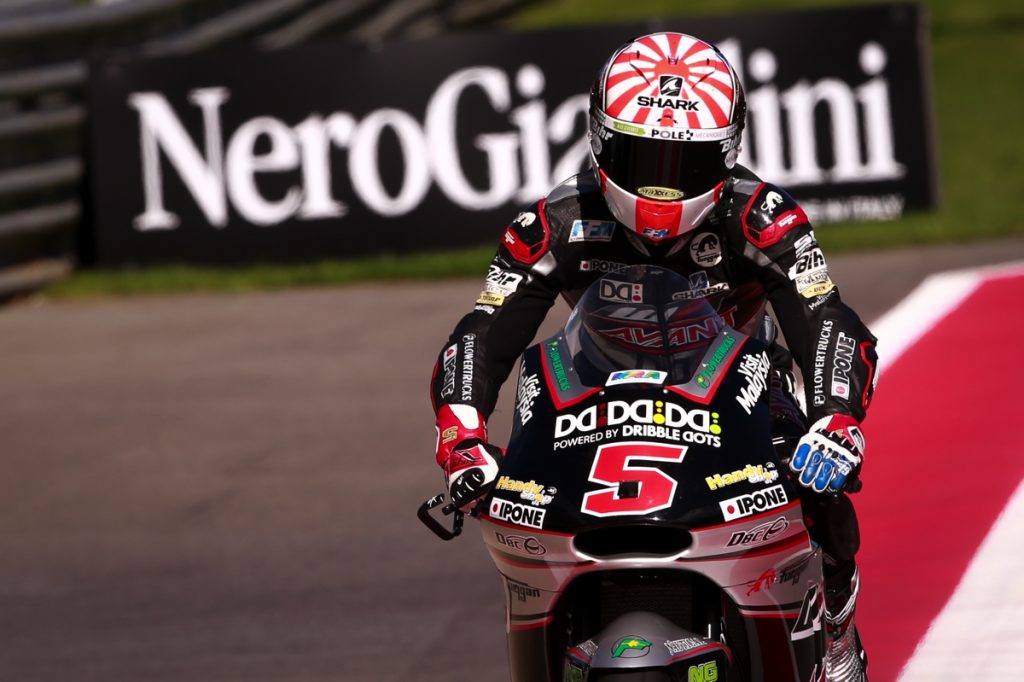 Despite losing the lead early, on, Zarco's excellent tyre management was on point yet again. By mid-race point, Zarco was able to push his Ajo Motorsports Kalex machine further and reclaim the lead from Italian rider Franco Morbidelli.
Astride the Estrella Galicia 0,0 machine, Morbidelli would eventually settle for second place behind Zarco followed by Spaniard Alex Rins astride the Paginas Amarillas HP40 machine who came in third.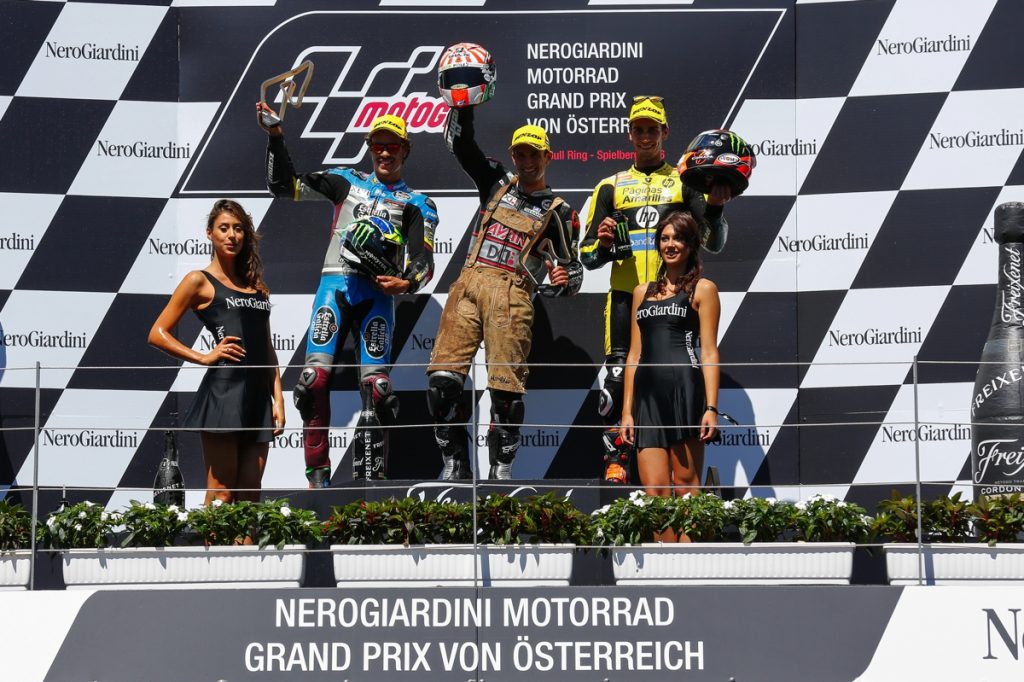 Zarco still leads the Moto2 standings with 176 points, followed by Rins in second with 142 points and Briton Sam Lowes in third with 121 points.
Moto3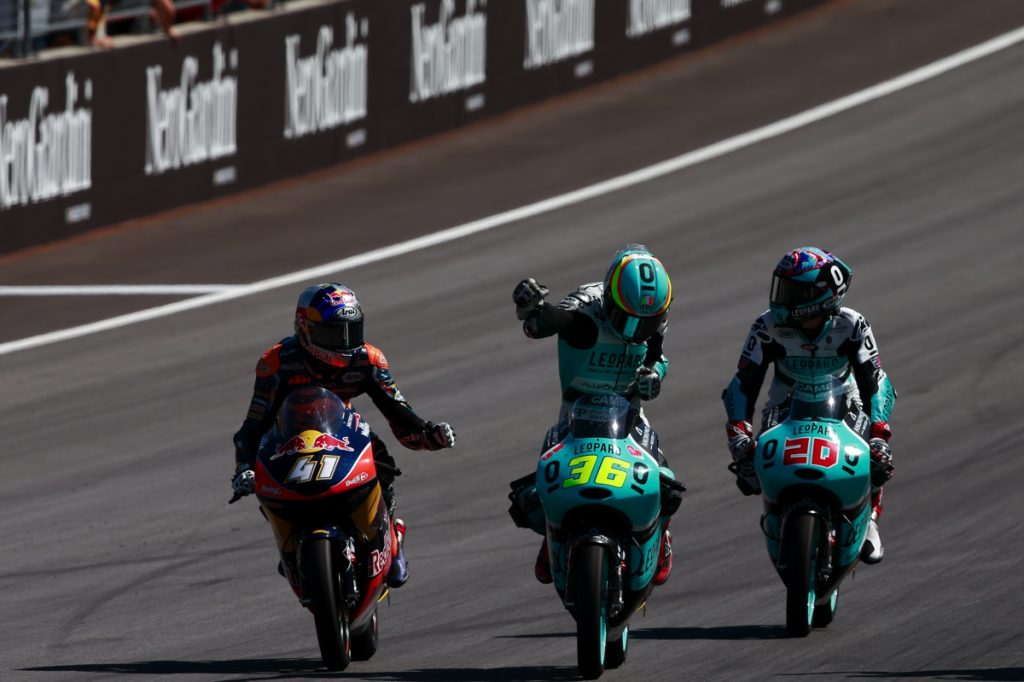 Last but certainly not the least was the day's first and most thrilling multi-bike battle in the Moto3 class. The day's victory here belonged to Spanish rookie Joan Mir astride the Leopard Racing KTM machine. Mir became the first Moto3 rider to score a race win from pole position in the class since 2015 as well.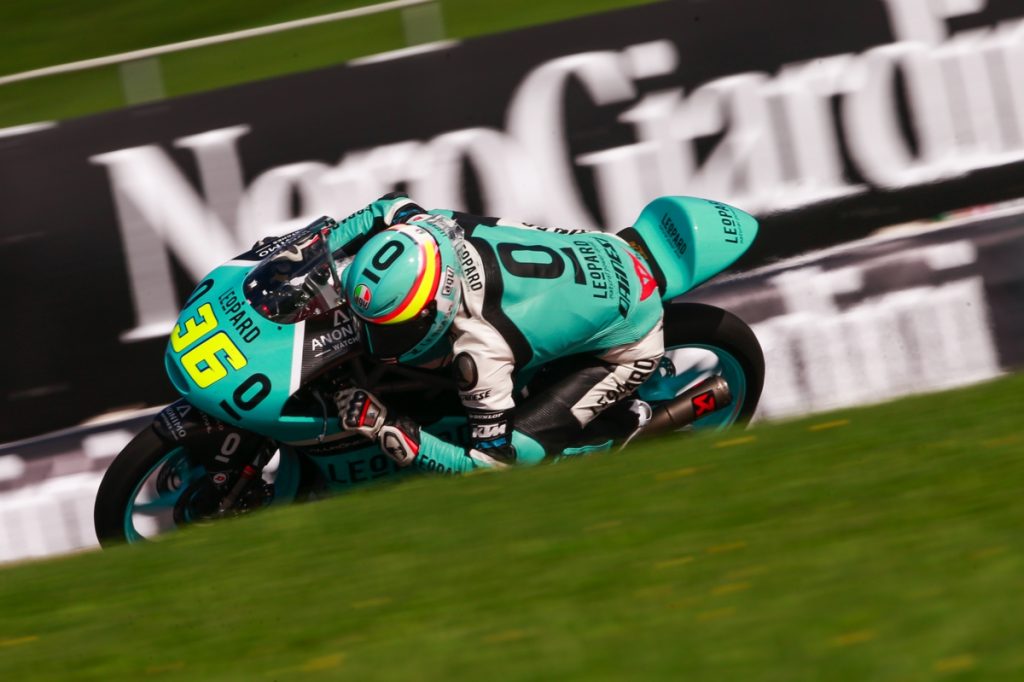 For the win, pole-sitter Mir had to fend off the charges of other front-runners including championship leader Brad Binder who finished second. Italian rider Enea Bastianini astride the Honda-powered Gresini Moto3 Team machine broke what would've been an all-KTM podium lockdown by finishing third.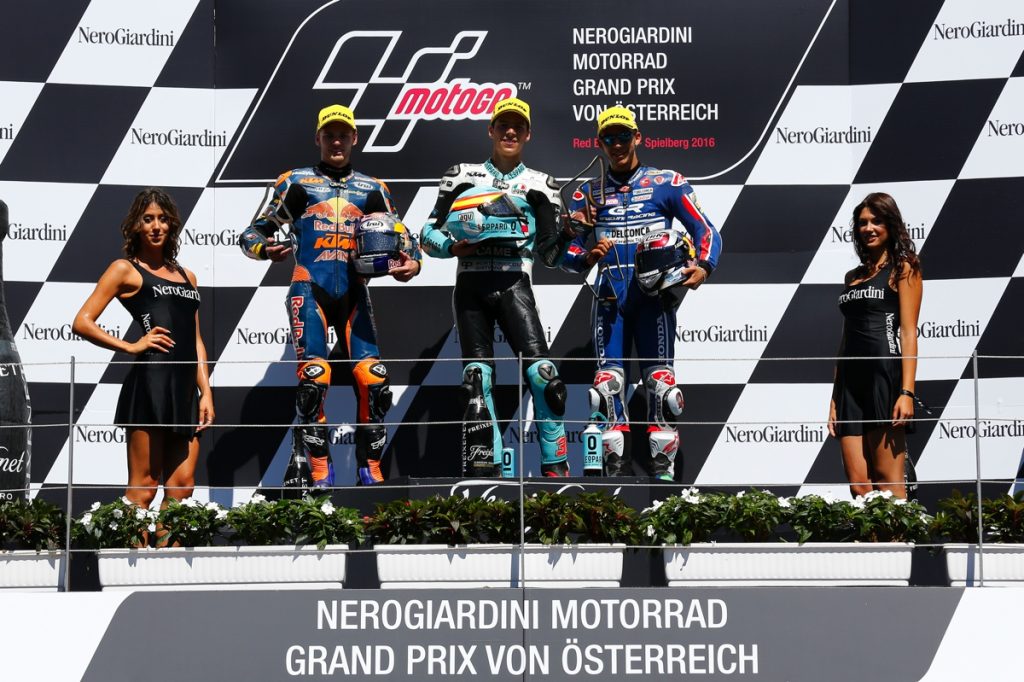 South African rider Binder would eventually settle for second place, but the Red Bull KTM Ajo rider retains his lead in the championship standings with 179 points. Binder, who's bound for Moto2 next season, looks likely to clinch the Moto3 championship this year indeed.
Round 11 – Brno, Czech Republic
With its return into Austria done and dusted, Round 11 is scheduled for this coming weekend in the famed Brno circuit of the Czech Republic from Aug 19 to Aug 21.
Raceday schedule on Sunday starts with Moto3 at 5pm*, followed by Moto2 at 6:20pm* and the premier MotoGP class race at 8:00pm*.
(*Local Malaysian times. Check your local listings for more)