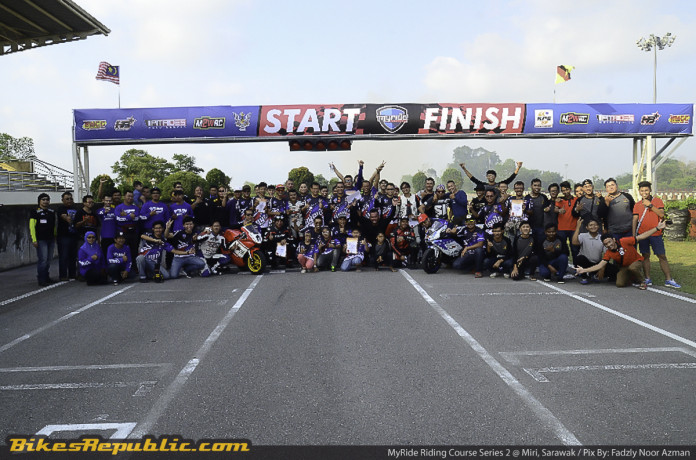 Learning to ride right in the MyRide Riding Course organised by M2WRC in Miri, Sarawak.
Specially organised riding course by M2WRC
Focused on creating safety awareness for riders
Course conducted using Kayo MiniGP bikes
Officially supported by Sarawak State Government
Features former Moto3 rider Hafiq Azmi as guest coach
For anyone who has been to the bustling coastal city of Miri, Sarawak, you'd be well aware of it being the second major hub of motorcycling activity after the state's capital of Kuching. The rapid growth of riders and bikes led to the formation of the Miri Two Wheelers Recreational Club (M2WRC) late last year with an aim to develop Miri's motorcycling movement further.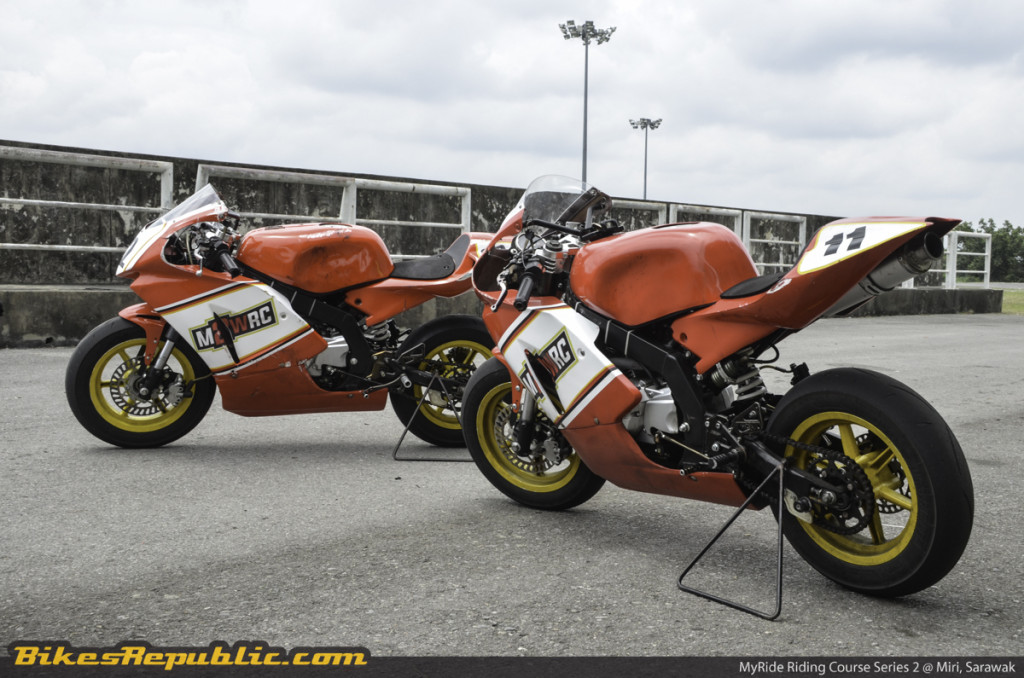 In a short amount of time since its formation, the M2WRC has done rather well for itself as it has garnered the recognition and support of the local Sarawak state government with its efforts. The club's pinnacle achievement came after it successfully partnered up with Peninsula-based MiniGP bikes pioneers Pitrides Motorsports in creating the MyRide Academy where it conducts its MiniGP-based MyRide Riding Course clinics.
The first MyRide Riding Course clinic was held late last month in the Permjaya Go Kart Circuit located in the fast-developing Permjaya district of Miri. The central highlight for participants during this inaugural edition was the presence of special guest coach and national race rider Azlan Shah Kamaruzaman. It was undoubtedly one fruitful session as it led organisers towards scheduling its second MyRide Riding Course clinic last weekend.
Flying lap with Azlan Shah – Miri Gokart TrackThis is a flying lap done by a professional world class rider #azlanshah25 (Moto2 Rider) using MiniGP bike at Miri Go-Kart Track. He visited Miri for '2 Days Riding Course' organised by MyRIDE Academy in collaboration with Miri MiniGP (M2WRC), KPSU, PiTRIDES Motorsports and HB Motorsports. He clocked his best time around 1:07″ just after a few sighting laps. Truly a world class racer!!

Posted by Miri MiniGP – M2WRC on Tuesday, March 1, 2016
The folks at M2WRC and Pitrides Malaysia Kindly extended BikesRepublic with an invitation to join the clinic's second edition last weekend where we got to experience first hand on how this two-day course was conducted.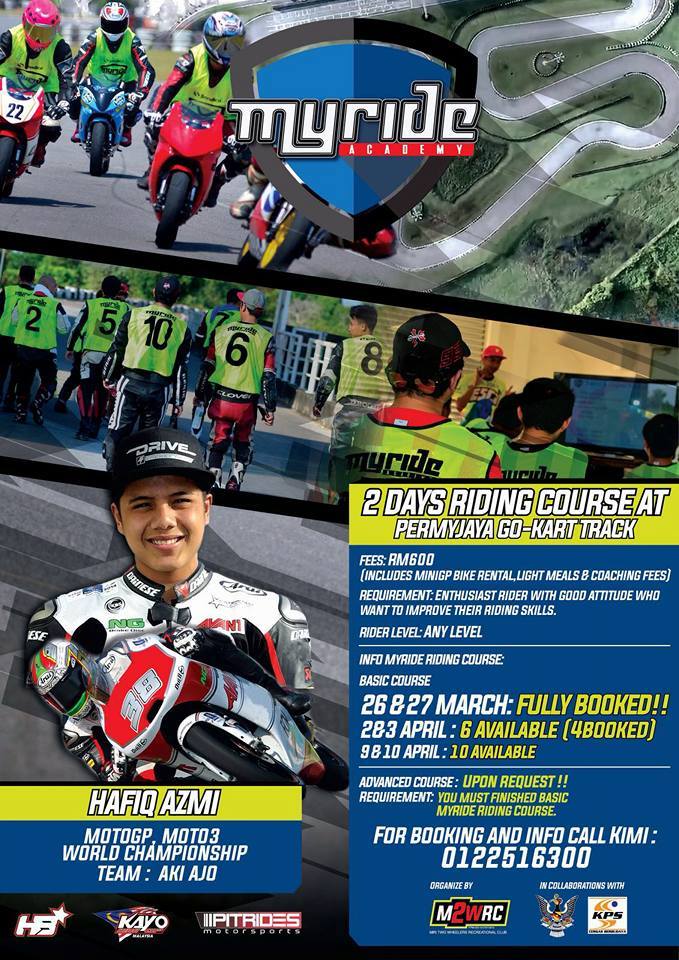 Adding to the excitement for this second run was the presence of yet another special guest coach in the form of former national Moto3 rider Hafiq Azmi.
MyRide Riding Course – "Ride It Right"
The MyRide Riding Course is the brainchild of its chief instructor and M2WRC's managing director Hakim Mutalib @ Kimi.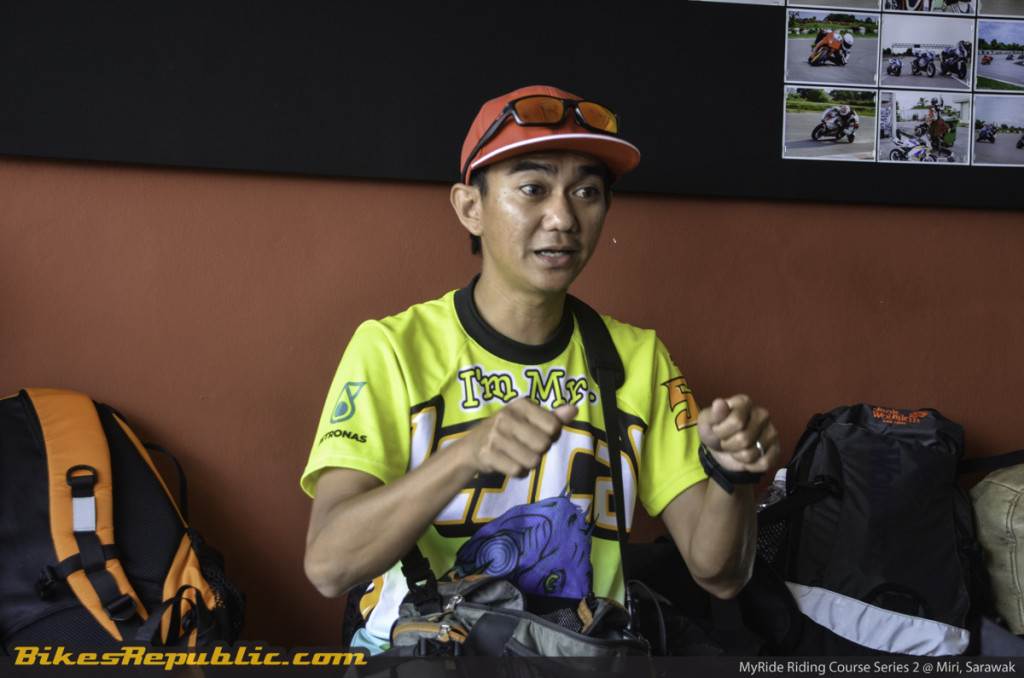 A native of Johore state, Kimi is an alumni of the acclaimed California Superbike School (CSS) and holds a Level 4 certification from the institute having completed its courses in both America and Australia. Much of the course's modules were formulated using the teachings Kimi attained from his endeavours at CSS.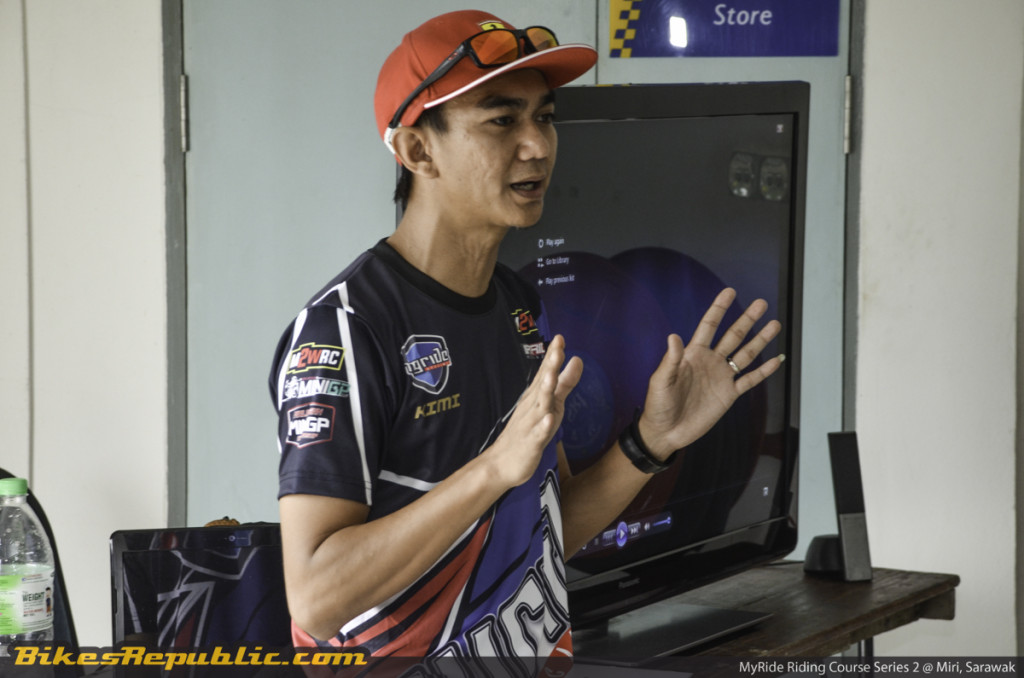 "The mission with the MyRide Academy lies in our motto of 'Ride It Right'. And contrary to popular perception, this isn't a race-riding or marshalling course as many would've initially thought," said Kimi when asked about the academy's mission.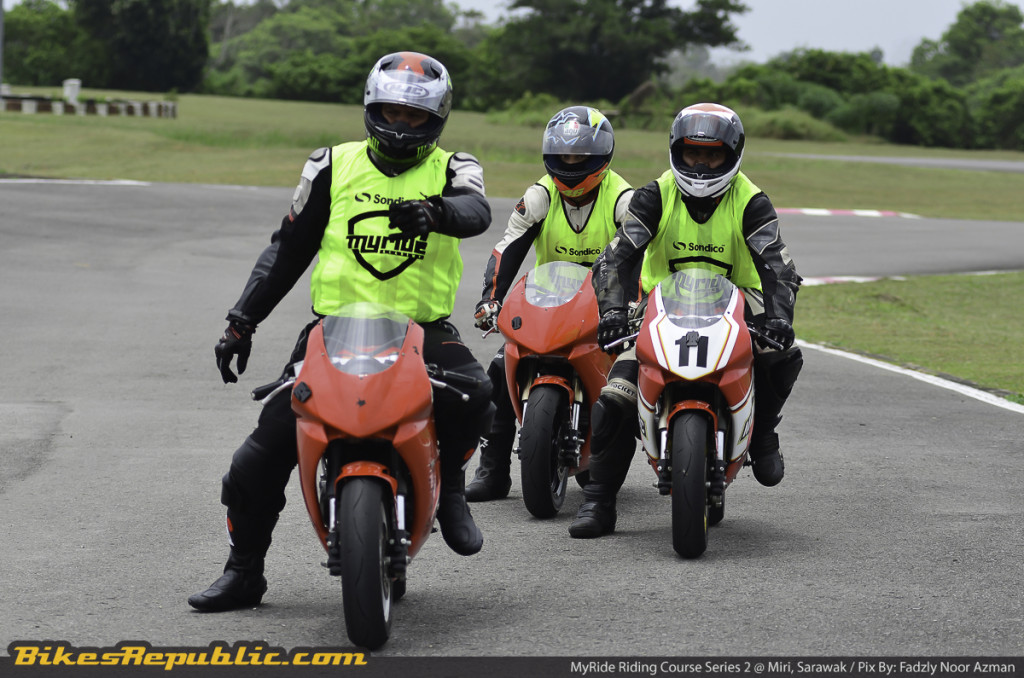 The academy's chief instructor continued further by adding, "By conducting the course in the safe controlled environment of the Permjaya Go Kart Circuit and using affordable MiniGP bikes, we aim to create safer road riders out of our graduates in an effective and interactive manner."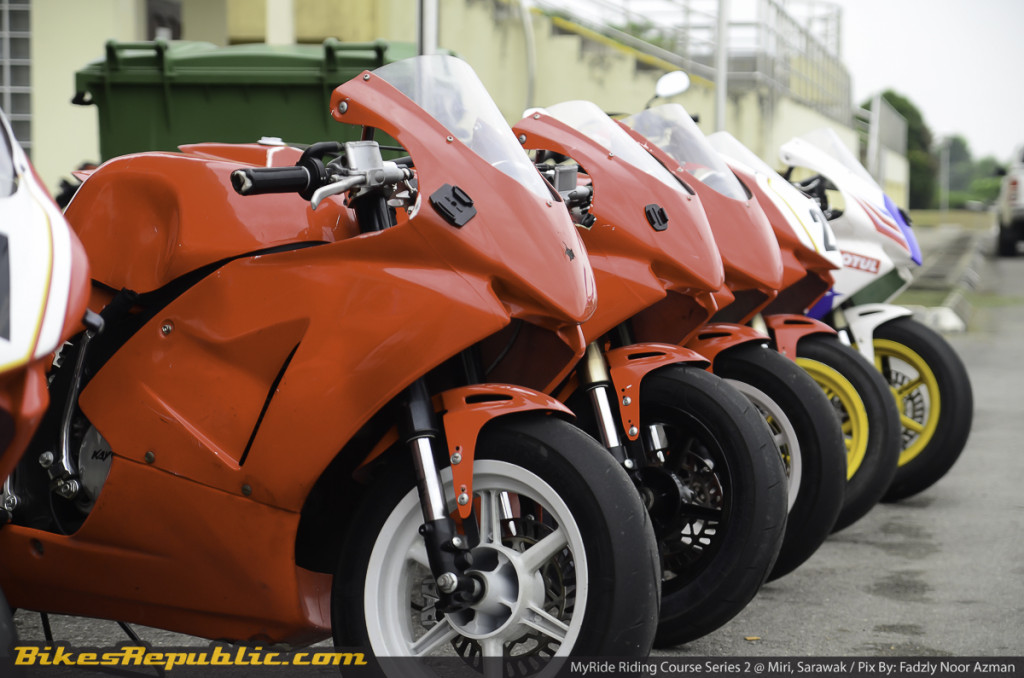 Entry fee for the second edition of the MyRide Riding Course clinic stood at an affordable price of just RM600 for each participant. Limited to just 10 slots per series, the price also covers MiniGP bike rental costs plus light meals as well.
The Course – 40% Theory, 60% Practical
For this second edition of the clinic, Kimi was assisted by Pitrides Motorsports' co-founder Masrul Mahidin – a highly experienced rider himself – and former national Moto3 rider Hafiq Azmi in coaching the participants.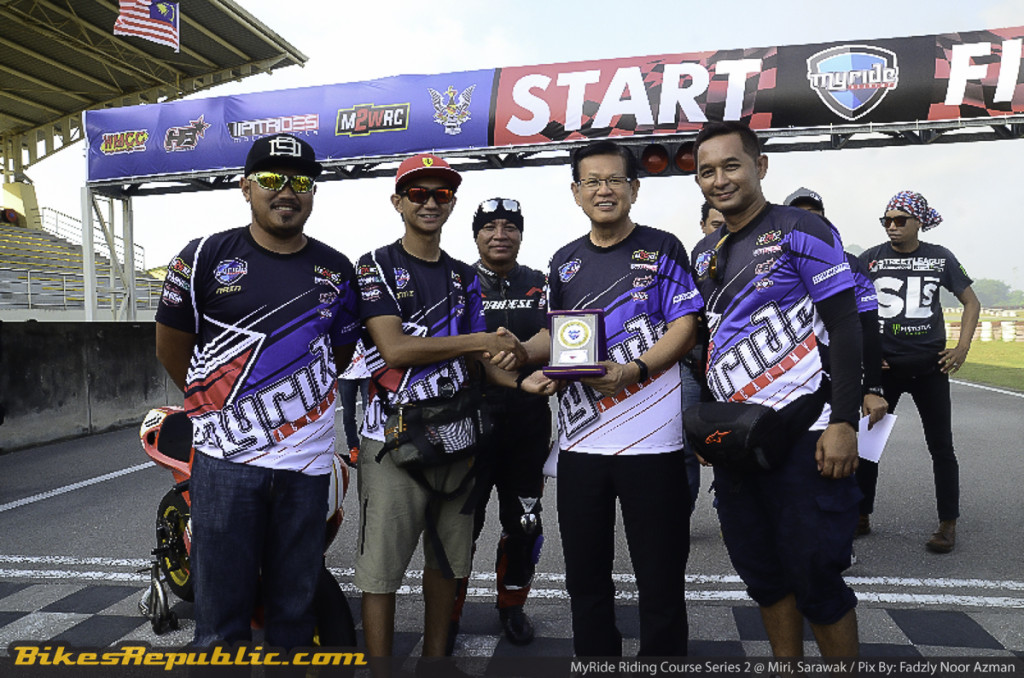 Besides local Miri bikers, this edition of the clinic hosted participants from Labuan, Kota Kinabalu, Kuala Lumpur and neighbouring country Brunei as well.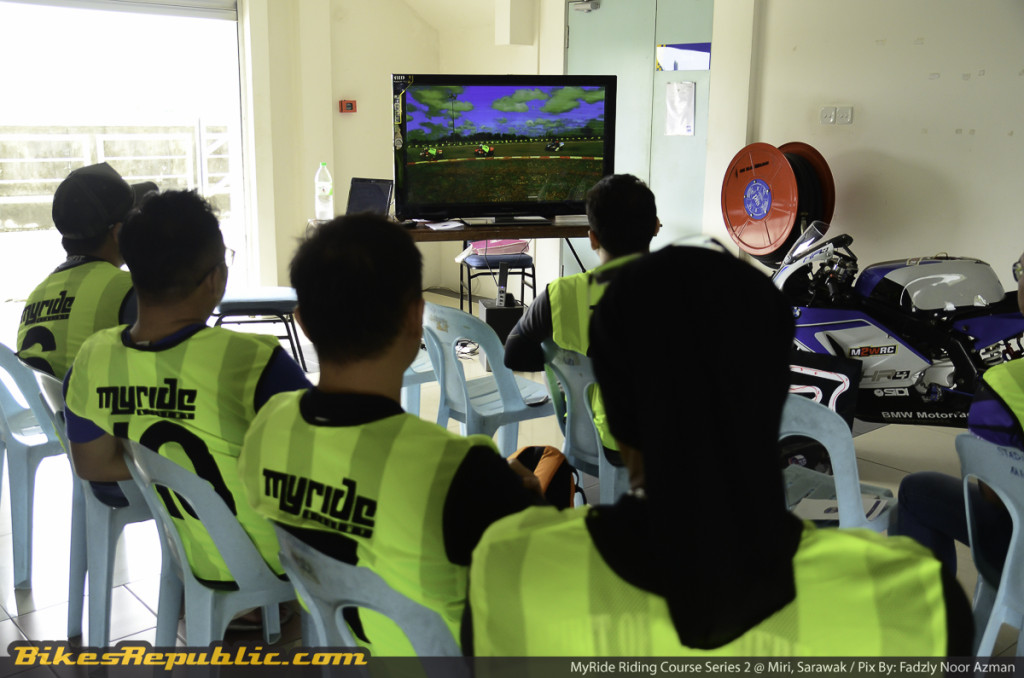 Unlike the one-day ATAC MiniGP course we attended not too long ago, the MyRide Riding Course adopts a different teaching style that spanned across two days. The first day is packed with intense classroom theory lectures that are followed up almost immediately with on-track drills. The second day featured an 'Open Trackday' format instead for participants further practice and apply the teachings from the first day.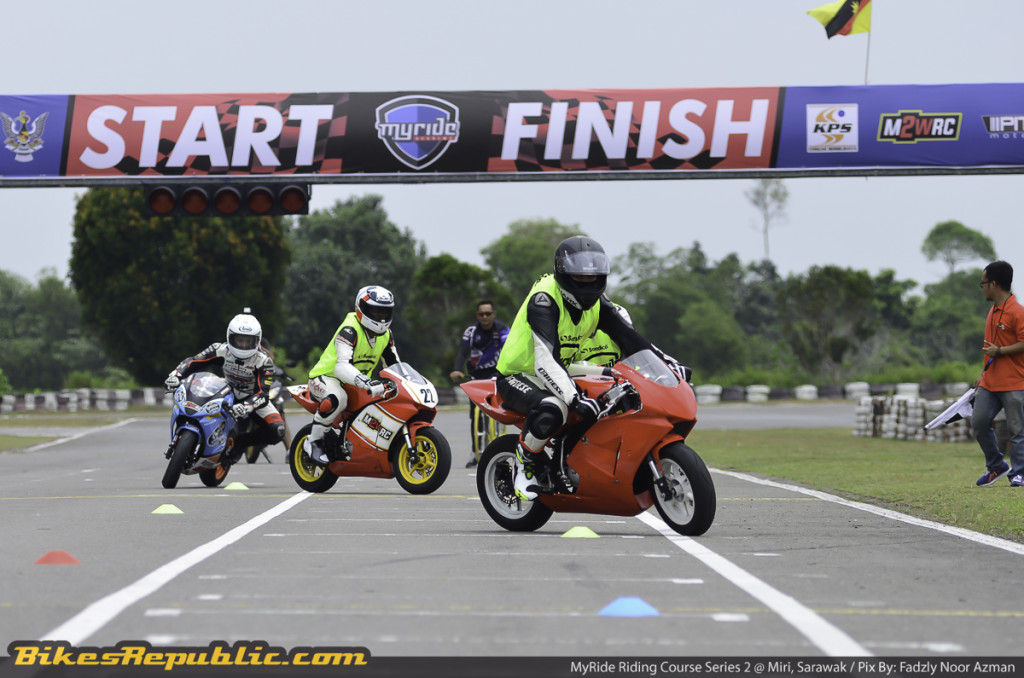 This 'Basic Level' course, which is similar to the clinic's first edition held last month, saw participants covering a total of six modules lasting an hour each. Each topic starts off with a 20-minute theory lecture using interactive slides and video presentations plus nifty handouts and a QnA session at the end. This is followed up with a 20-minute drill or practice runs on track before ending with a 20-minute debrief and one-on-one counselling with coaches.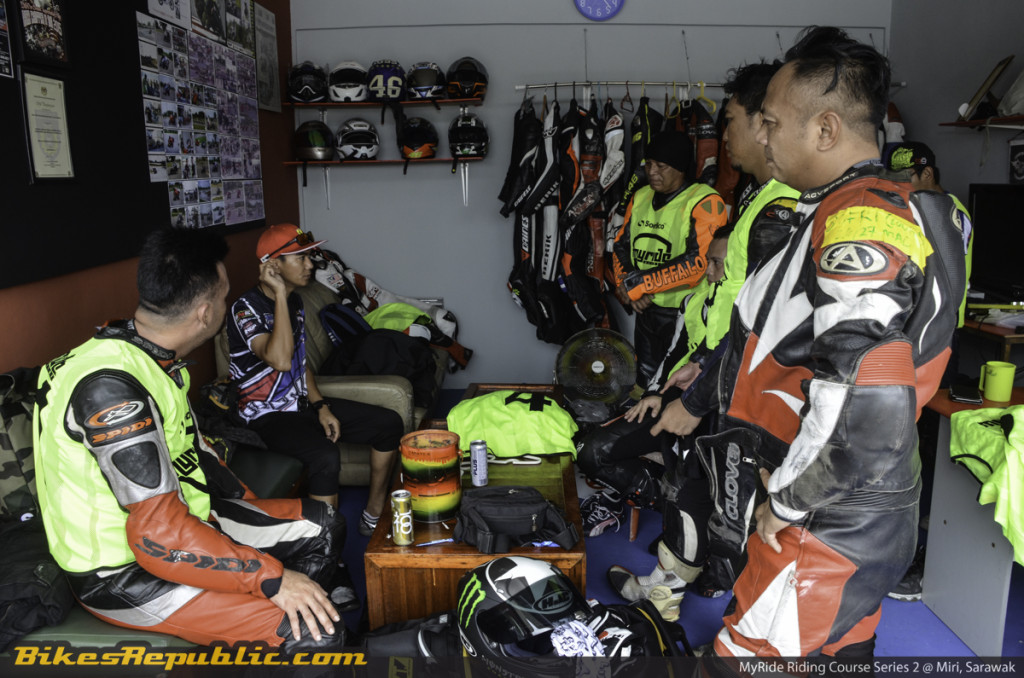 Though practiced on track, Kimi, Masrul and Hafiq gave out pointers on how to apply these modules for road riding conditions as well. The six modules presented in this course covered a number of key areas and went in this order:
1. Throttle Control
2. Quick Turn (Counter Steering)
3. Turning Point / Apex
4. Rider Input
5. Two-Steps – Riding vision skills
6. Body Position
Former national Moto3 rider Hafiq Azmi was more than keen to share his knowledge with the nine or so participants present during this clinic.
The soft-spoken 20-year-old from Ampang, Selangor not only aided in the classroom sessions, he also took part in the on-track drills with participants, giving them better understandings through his demonstrations and offered further coaching after observing each participant during each run as well.
Throughout the first day, many participants were able to grasp a huge bounty of knowledge and skills indeed. There was no doubt that the presence of Hafiq Azmi together with Kimi and Masrul on track and in the classroom had a greater effect in delivering the clinic's modules.
The End Result – Better and safer riding
The improvements in riding amongst the participants were notable as the first day's scheduled drills progressed, but none were more convincing during the second day's open trackday.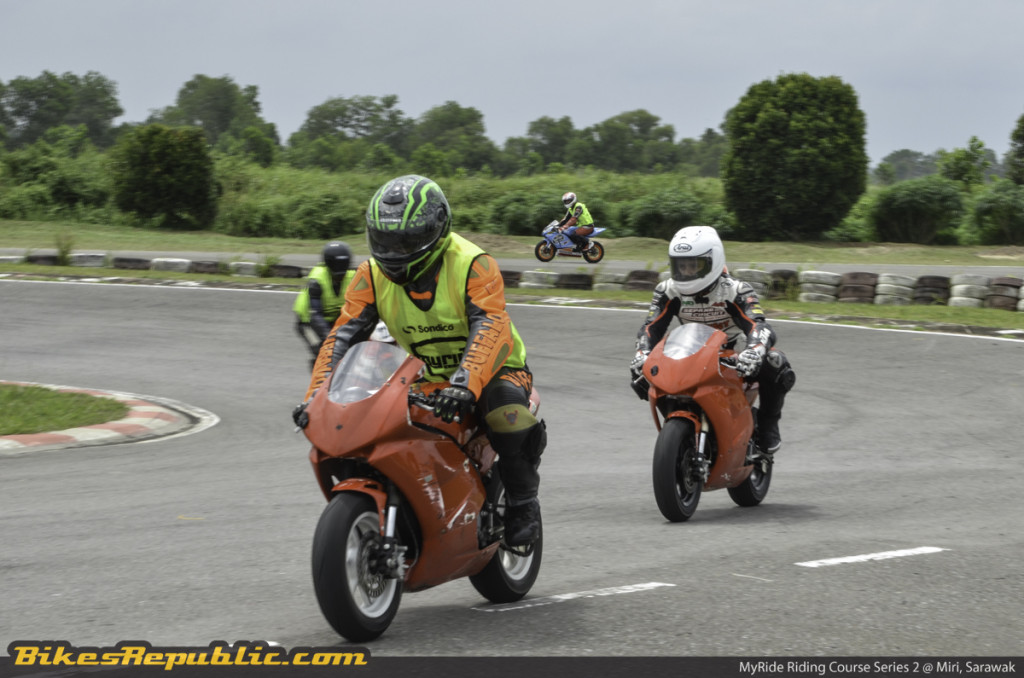 Here, both Kimi and Hafiq again joined participants on track to both observe and give out further one-on-one coaching. Having corrected a lot of bad habits and applying the right techniques and skills, some of the participants even managed to shadow both Hafiq's and Kimi's pace on track closely whilst lapping the 1.3km Permjaya Go Kart Circuit course.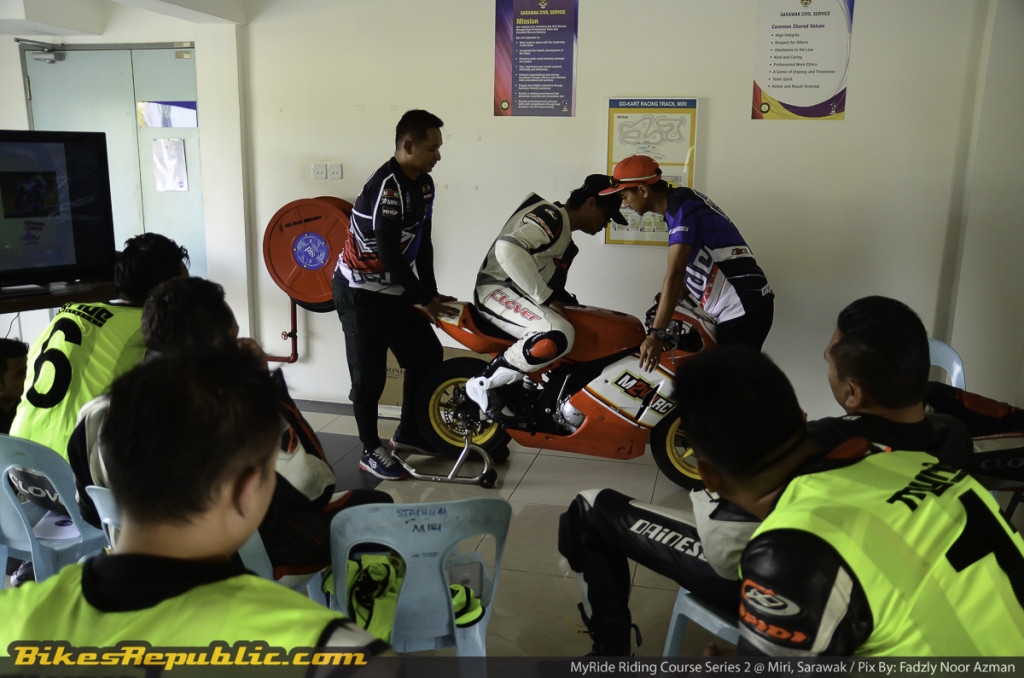 More importantly though, the skills attained by participants on-track during this clinic are applicable on the road as well, thus making them safer riders in the process.
Looking ahead
The second edition of the MyRide Academy concluded last weekend with a bang as M2WRC held a special closing ceremony held on track.
Here, all nine participants received their certifications from coaches, as well as specially invited guest YB Datuk Lee Kim Shin, Sarawak's Assistant Minister of Social Development & Assistant Minister of Communication.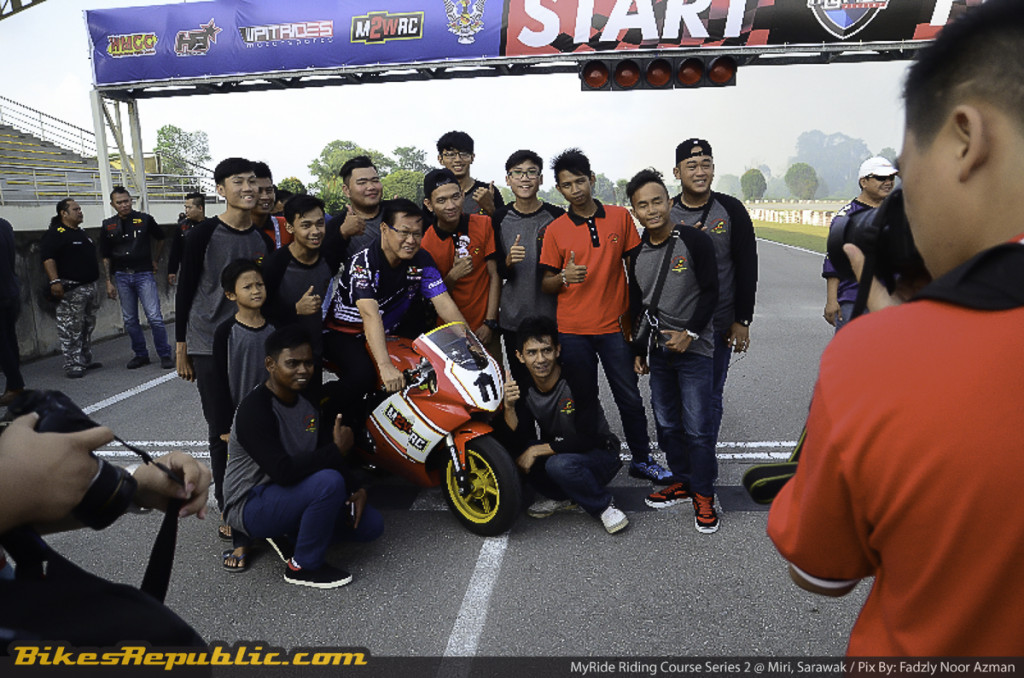 The success of M2WRC's initiative through its MyRide Academy can be reflected by the state-level support it has garnered, plus the increasing number of registered participants as well. Two more editions the clinic including one 'Advanced Level' course have already been planned with M2WRC receiving new participant registrations hailing locally from Miri and from elsewhere around the region.
The third session of the MyRide Riding course is scheduled to take place next week on April 2 and 3 followed by a fourth series in the following week on April 9 and 10.
All in all, the efforts of M2WRC together with partners like Pitrides Motorsports are quite stellar to say the least. The club is proving that building safer riders on big bikes can be done effectively even with just using 'smaller' MiniGP machines at a relatively low costs as well.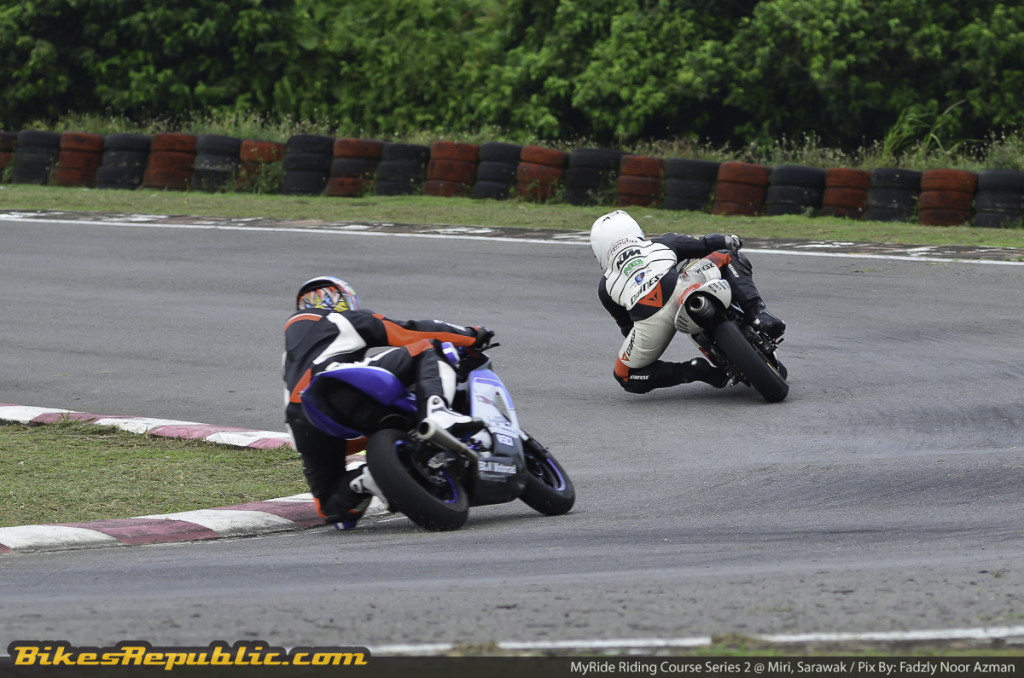 You can gain more information about the MyRide Academy online via the official M2WRC Facebook page or by calling +6013-8291 761. Alternatively, M2WRC managing director and MyRide Riding Academy chief instructor Hakim Mutalib @ Kimi can be reached via mobile at +6012-2516 300 as well. Additional information is available through the Pitrides Motorsports Facebook page too.
Gallery: MyRide Riding Course Series 2 @ Miri, Sarawak