New 250cc-powered KTM Duke 250 and RC250 revealed in Tokyo Motorcycle Show 2015.
Our favourite Austrian bike maker KTM has expanded its popular entry-level Duke and RC model ranges yet again after revealing its new Duke 250 and RC250 during the Tokyo Motorcycle Show 2015.
The new 250cc-powered models now joins the ranks alongside the brand's already established Duke 125, Duke 200, and Duke 390, not forgetting the full-faired RC125, RC200, and RC390 as well.
AS you can see from the featured image, the new 250cc-powered variants of the sub-500cc Duke naked and RC supersport looks essentially the same as its siblings, minus its customary '250' decals of course.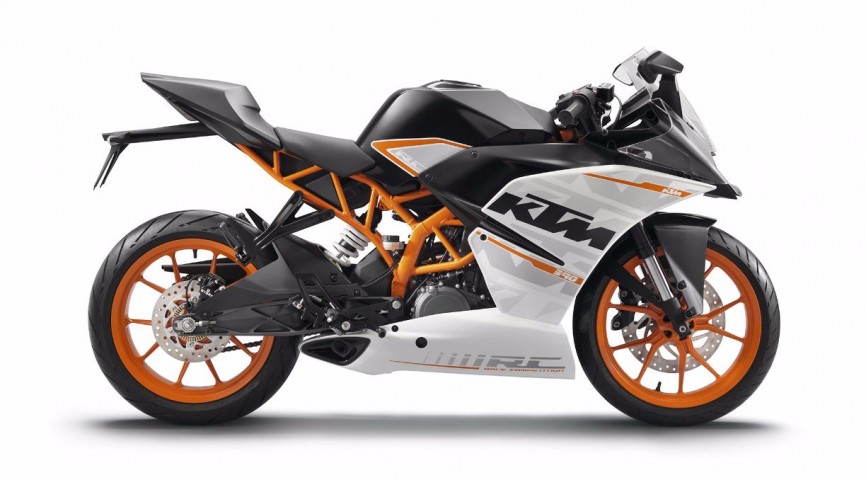 Interestingly, KTM have opted to base these new 250cc variants on its Duke 390 and RC390 (RC390 pcitured above). The move see KTM taking the 390-series' 375cc single-cylinder mill and downsizing it to 248.8cc, granting it with a tweaked bore and stroke rating of 72mm x 61mm as well. Naturally, the smaller capacity models makes do with less power compared to the 390-series models, generating 13hp less with 31hp instead.
Such a move suggest that KTM's 200cc mill powering the 200-series Duke and RC – which is actually an enlarged version of the 125-series Duke and RC's 125cc mill – couldn't be enlarged any further.
Reportedly developed specifically for the Japanese market, the downsized engine capacity sees both the Duke 250 and RC250 models being exempted from Japan's strict and very costly bi-annual mandatory 'shaken' test for bikes with capacities greater than 250cc. This then grants KTM with a better cance of competing in the Japanese 250cc entry-level bikes segment.
Sources are also reporting that KTM could opt introduce both the new and downsized 250cc Duke and RC models in other markets where licensing or tax laws favour bikes of this capacity.
However this remains to be seen as such markets are already long dominated by the likes of Kawasaki with its lightweight Ninja 250SL and Z250SL, as well as the likes of the Koreans. Nevertheless, many on our soil will welcome that proposition.
Source: Visordown and AutoEvolution