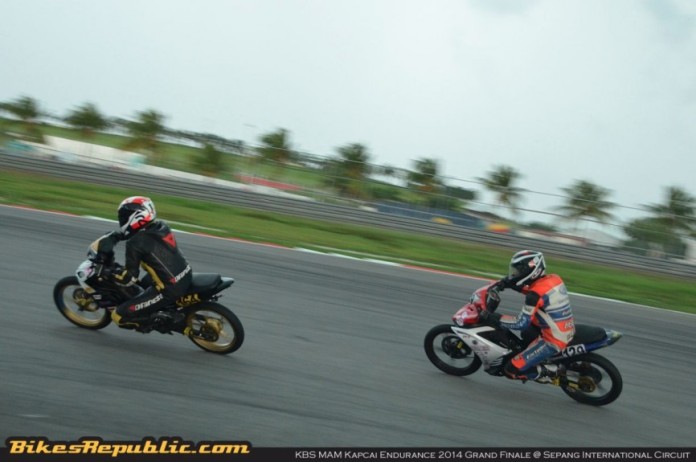 Sights and sounds from last weekend's KBS-MAM Kapcai Endurance Series Grand Finale race held in the Sepang International Circuit.
After successfully staging eight state-level rounds throughout the nation, the KBS-MAM Kapcai Endurance Series 2014 held its Grand Finale race last weekend at the Sepang International Circuit. The grand finale was held as part of the weekend's final rounds for the Malaysian Super Series (MSS) Bikes as well.
Up to 110 bikes in total took part in the special 4-hour enduro around the 5.5km-long course on Saturday afternoon, with each bike piloted by two- to four-rider teams. Present to flag off the race were Mohd Salleh Bin Ramli, director of recreational sports development in the Ministry of Youth and Sports (MYS), along with his colleague and deputy Mohd Nor Bin Md. Said.
As usual, things began with the usual prayer recital before the race was flagged off 'Le Mans' style, which saw 110 first stint riders making a dash across the start/finish grid towards their bikes, and heading off the line at speed.
The 4-hour enduro started on schedule 1:48pm, and was supposed to run its course up until 5:48pm. The first hour of the race went off without a hitch, but towards the second hour, the inevitable thunderstorm rolled in and wreaked havoc.
Light showers began to trickle down at about 3:30pm, but it intensified with flashes of lightning shortly thereafter, forcing organisers to red flag the session at 3:57pm. An 80-minute long pause then ensued as the thunderstorm drenched the circuit entirely.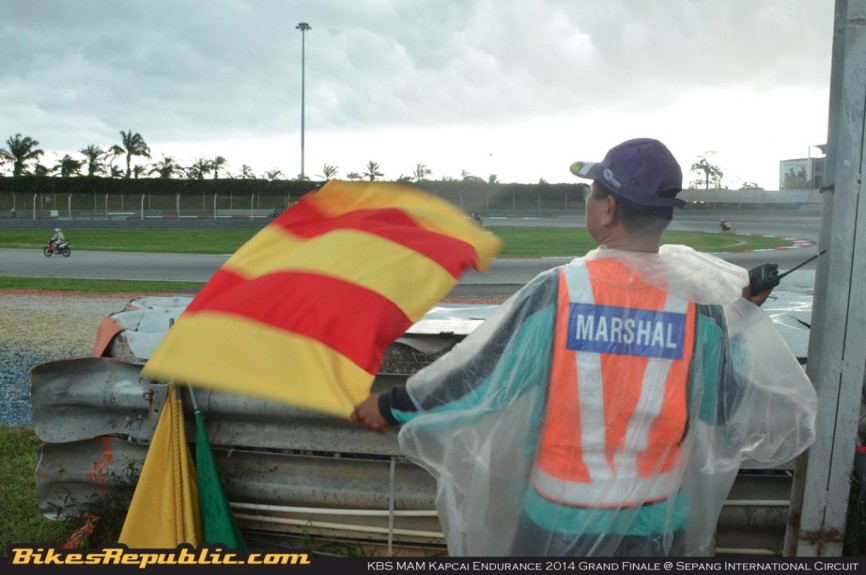 It wasn't until 5:24pm that the conditions were deemed safe enough to continue racing, albeit with the safety car leading the pack for several laps first. The rain and pause would inevitably fuel several upsets in the classification later on as well, but shortly after the safety car pulled in, things were up to speed once again.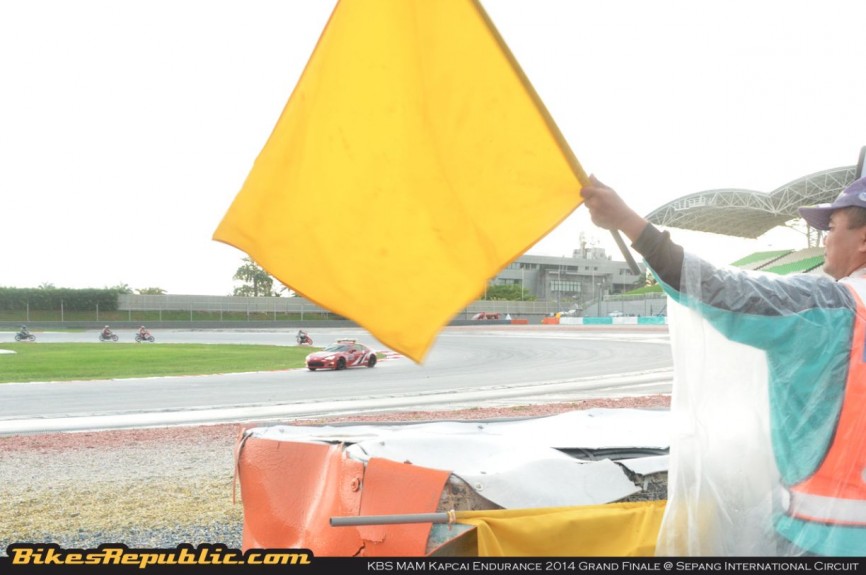 The chequered flag finally waved just before sunset, ending the series' 2014 season in its affect. Taking the overall win by surprise was the PMP Motorsports team of the Class 3 category and its riding duo of Muhammad Syawal Mohd Noor and Syazwanuddin Amat Akim.
Second overall was claimed by the Fuad Racing Team in the Open Class, with its riders Muhammad Yusof Omar and Muhammad Yusri Rasli completing 56 laps as well and just 38 seconds behind overall winners PMP Motorsports. The Capit Racing Team 6 bike ridden by Muhammad Razzi Hafizi and Mohd Nazree claimed third overall.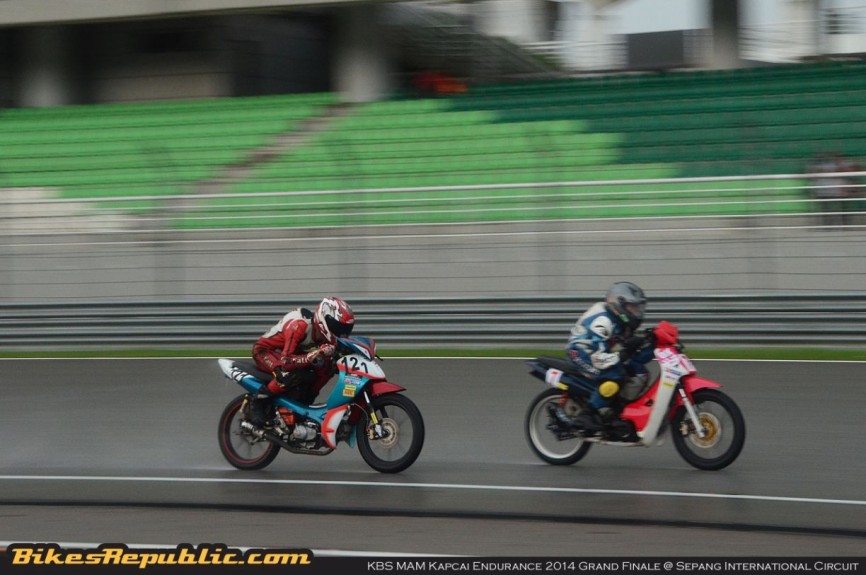 Riders Mohd Amiruddin and Mohd Radzi of the TSR-SMW Racing Team 1 took top honours in Class 1. The duo completed 52 laps in total with their Honda EX5 machine, finishing 18th overall in a grid of 110 starters.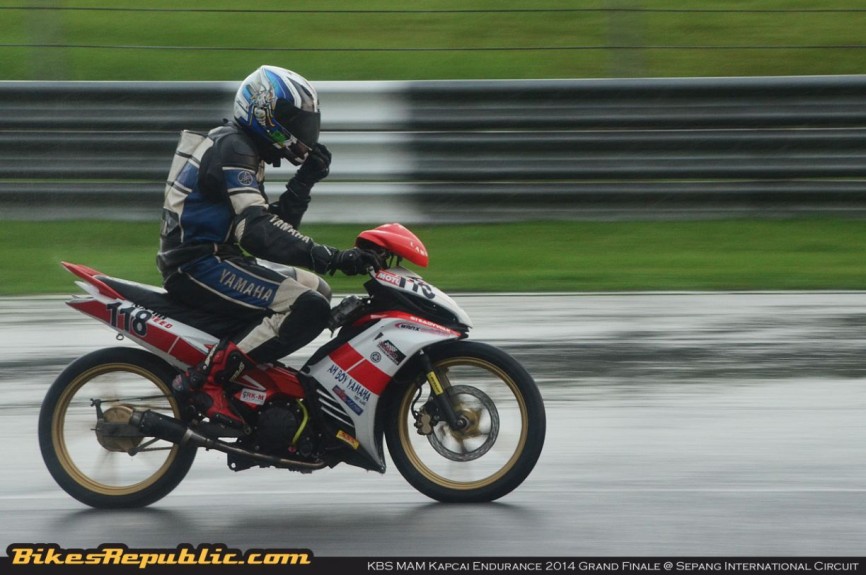 Class 2, on the other hand, saw the Berjaya Motor Muar team led by riders Amirul Hakim Mohd Mansor and Muhammad Ezwan Masuri taking victory. They completed 54 laps on their Yamaha and finished in ninth overall as well.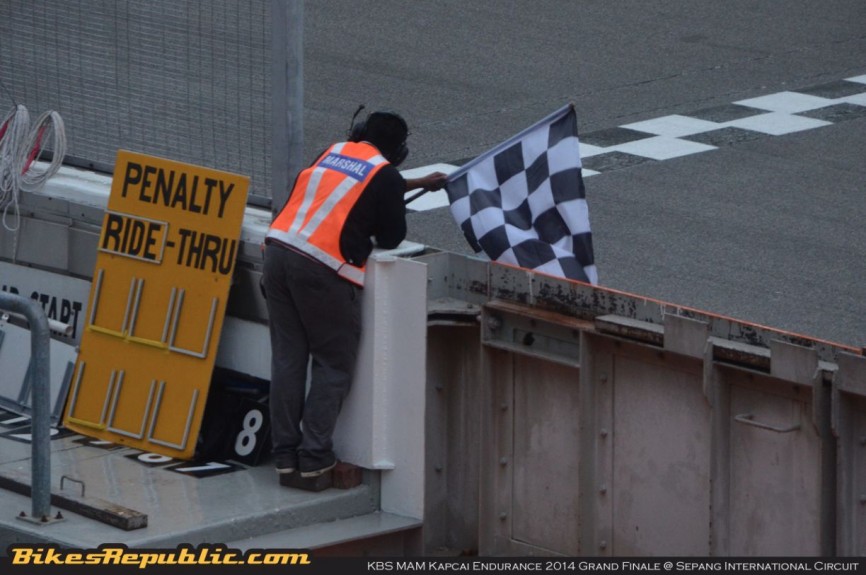 With their overall win, PMP Motorsports and riders Muhammad Syawal Mohd Noor and Syazwanuddin Amat Akim took the win in Class 3. Similarly, with their second place overall ranking, the Fuad Racing Team duo of Muhammad Yusof Omar and Muhammad Yusri Rasli took title in the Open Class.
Here are the complete podium rostrum according to class:
Open Class
1.Fuad Racing – 56 laps
2. CAPIT Racing Team 6 – 56 laps
3. CAPIT Racing Team 7 – 56 laps
Class 3
1.PMP Motorsport – 56 laps
2. Akademi Pemotoran Pagoh – 55 laps
3. CAPIT Racing Team 4 – 54 laps
Class 2
1.Berjaya Motor Muar – 54 laps
2. Amat Ayam Moto Pagoh Motocross Team – 53 laps
3. WJJ Motorsport – 50 laps
Class 1
1.TSR-SMW Racing Team 1 – 52 laps
2. CAPIT Racing Team 1 – 50 laps
3. IKBN Chembong TJB – 48 laps
One of the biggest upsets came after the MBM-GM Racing Team 3 was slapped a one-lap penalty for infringement. This then saw the team placing sixth overall and fifth in the Open Class with 55 laps completed. The outfit were on top form, topping the time sheets with 38 laps completed before the race was stopped earlier.
Check out the gallery below for more photos from the race on Saturday. Also, do not forget to check out our report of the KTM 390 Duke Battle Malaysia support event's Grand Finale as well.