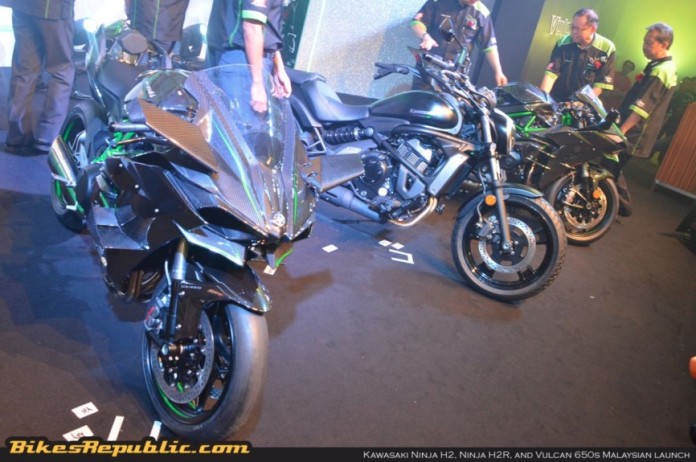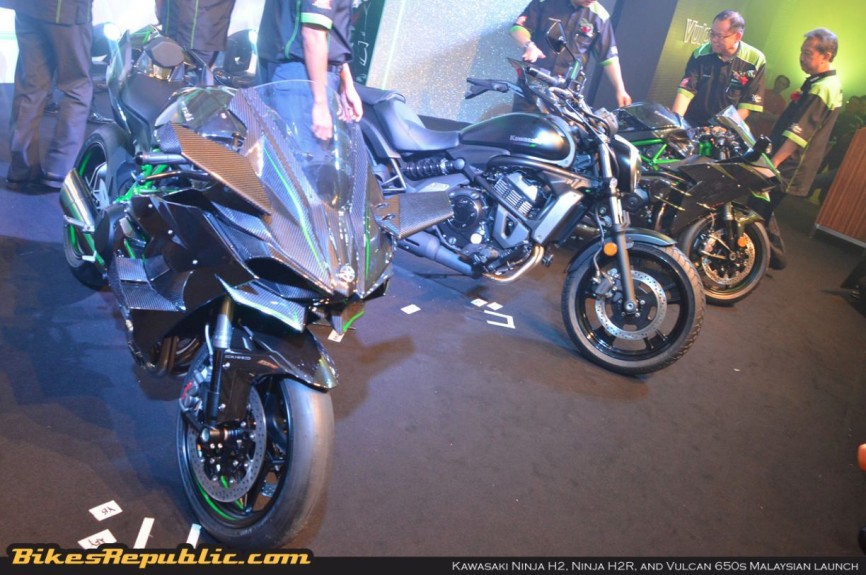 New and supercharged Kawasaki Ninja H2 and Ninja H2R hyperbikes debuts in Malaysia alongside new Vulcan S cruiser.
Kawasaki Motors Malaysia Sdn Bhd (KMMSB) marked the arrival of two new bikes for their 2015 line-up. The first being the brand's flagship hyperbikes, the Ninja H2 and its track-only sibling the Ninja H2R.
Both are fresh from their European reveal and the most talked about bike of the year thanks to its supercharged engine and how Kawasaki had been releasing a million or so teaser videos of the bike.
So lets cut the chat and go straight to whats everybody have been waiting for, the Malaysian price. For the road-legal Ninja H2, KMMSB has priced it at just below RM154,000. The track-only Ninja H2R, on the other hand, will be priced at around RM300,000. Additionally, the Ninja H2R's price includes six track day session at the Sepang International Circuit.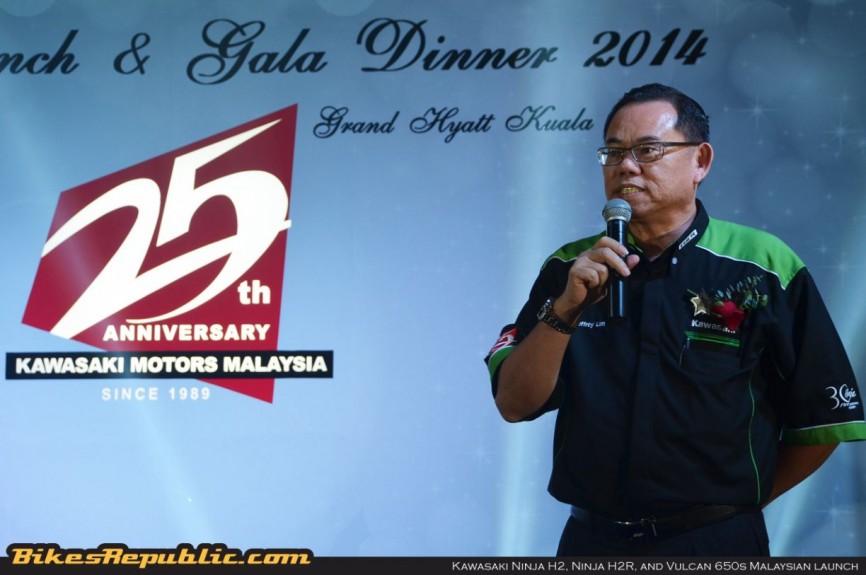 According to KMMSB's general manager Jeffery Lim, the firm's local technicians are already trained to work on the Ninja H2 and the special needs of the Ninja H2R. This also means that dealers who will be selling the bike will also be able to service it as well.
And its even bigger news for cruiser lovers as Kawasaki Malaysia brings in the Vulcan S.
A cruiser based on the brand's popular ER-6 model, the Vulcan S is set lower and longer then the ER-6N with a relaxed straight up sitting and easy to reach handlebars and footpegs.
While the engine, transmission and central chassis remains the same, the Vulcan S differs in several parts like the rear sub frame, 14litre fuel tank, muffler, head light, LED rear light and a very comfortable and low seat.
Amazingly Kawasaki Motors Malaysia targets to price the bike below RM30,000. Yes you read that right, below RM30,000.
Along with the bike, Kawasaki Motors Malaysia is also planning to bring in accessories that's been designed specifically for the Vulcan S such as windscreens, panniers, and more.
Jeffery Lim states that the Ninja H2, Ninja H2R, and Vulcan S will be available in the first quarter of 2015. He further added that KMMSB will also roll out the 2015 Versys 650 and 1000 by the second quarter of next year. However there were no price indication of the two models yet though.
Check out our extensive photo galleries below for more. Additionally, more photos are also available at the official BikesRepublic.com Facebook page.
Kawasaki Ninja H2, Ninja H2R, and Vulcan S Malaysian Launch.