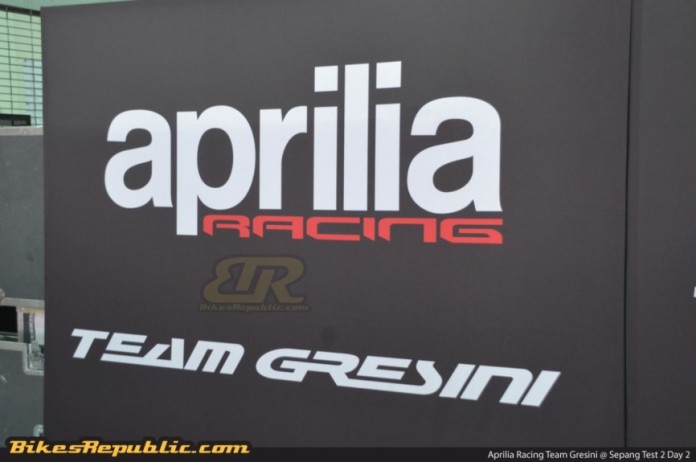 Five minutes with Aprilia Racing Team Gresini rider Alvaro Bautista and Aprilia Racing's manager Romano Albesiano trackside at the Sepang International Circuit.
As many of you would know by now, the MotoGP fraternity are back in the Sepang International Circuit (SIC) this week for the second MotoGP pre-season tests. This would be a critical time for most outfits, especially for the returning Aprilia Racing team.
Thanks to our friends in Aprilia Malaysia (Naza Premira), we were given exclusive access and the opportunity to speak with Aprilia Racing Team Gresini rider Alvaro Bautista, and Aprilia Racing's manager Romano Albesiano at the end of Day 2 yesterday. Here's what we managed to garner.
Alvaro Bautista
Tell us how Day 2 went for you.
Well, today was not a really good day for us. We did test a lot of items for the bike, but we didn't find a good setup. In the end, we just had to come back to the base setting. Unfortunately, at the end of the day, I had mechanical problem with the bike, so I couldn't ride in the last hour. It has not been an easy day for me and the team, but this is normal because with the limited time we had with this bike, these kind of things happen. We have to keep pushing and keep working, and try to get a good pace for the start of the championship.
How was the new electronics suite working for you so far?
Well today, we were focused on the frame setting and different items in the rear of the bike. Yesterday, we tried different solutions for the electronics. As far as the electronics go, I am quite happy as we did a good job yesterday. It's a small step, but we're always moving forward. For sure we have to improve, especially in the first touch of the gas, but I am happy with our work here.
How about the chassis? Any progress from yesterday in today's tests?
Not really. We tried yesterday with a different stiffness levels in the frame, but we didn't find something good. So, we stayed on our base from last year's bike. At the moment, I we have not found anything positive here.
What will be your area of focus for tomorrow's session?
Basically, we will stay on the same frame, and we will concentrate to try different setups in the suspension and geometry. We will also try in the long run tomorrow afternoon to see how the bike works with a lot of laps. That's basically the plan for tomorrow.
What do you personally hope to achieve tomorrow?
Well, I'd like to improve my corner entry as it was something I struggled a lot with in the last test. But, with the same frame and geometry, it is quite difficult. I don't think we can find a solution tomorrow, but we will work towards it anyway.
How has the experience been for you with the Aprilia family this year?
I am quite happy! I have worked in the past with them when I won the world 125cc championship with them, I was fighting for the world 250cc championship as well with them. I am quite happy. I like working with Aprilia because working with a factory is always very nice. I know this decision will be hard because we do not have a lot of reference. The important thing is the fact that we have confidence in each other. I trust in Aprilia, Aprilia trust in me, and I think we can do a good job.
When we spoke to Alvaro yesterday evening, the Spaniard seems upbeat despite the daunting challenge he's facing. The story is far grimmer for his Italian teammate, Marco Melandri.
Since the first Sepang test earlier this month, Marco has been struggling to adapt to the Aprilia RS-GP machine, resulting in the team bringing what they call a 'hybrid' SBK-GP race bike. The idea was to give Marco a more familiar base to work with, but as the timing sheets on Day 2 showed, it wasn't enough.
To get a clearer insight, we also managed to speak with Aprilia Racing's manager, Romano Albesiano, about how things fared for the Italian outfit on Day 2. Here's what we garnered.
Romano Albesiano
Share with us your thoughts about today's progress.
I would say that we are on schedule. We believe now that our potential lie in the midfield. Every aspect of our motorcycle can be improved for sure, because its totally new and we have no experience in MotoGP. We can improve the engine, transmission, the chassis is always in development, so are the electronics. But we are identifying many areas for development, so it looks good to us.
Share with us the decision to bring Marco Melandri back into MotoGP from SBK.
We brought Marco back into MotoGP because we trust him and we believe he is a fantastic rider. He is also a very experienced rider, and we believe he can help us in developing the bike, which is really the main idea. I choice has always been to bring him into MotoGP. Honestly, he's having some difficulties, more than what we expected initially. But we are working together with him in order to rectify the problems.
Can you share with us some of the goals and targets you'd wish to achieve with the team prior to the season opener in Qatar?
This is a difficult one. My target is to develop day by day, to improve the bike every time, to understand, to get more knowledge, and the most reasonable target would be for us to be able to fight for tenth position from the mid-season onwards. That's the most reasonable target for us.
Share with us what will you focus on with tomorrow's test.
Tomorrow, with Alvaro, we will come back to the best configuration he tested with in the first test. Tomorrow morning, we will try to get a few good lap times. In the afternoon, we'd like to run a race simulation, and it'll be the first time we would do so. With Marco though, we are still trying to understand some changes in the chassis to make him more comfortable on the bike.
Tell us about the 'hybrid' SBK-GP bike you've brought down for Marco.
We brought a bike which is more or a less Superbike, in order to help him start from something he'd know very well. This helped us today in helping him understand about the new bike. But tomorrow, we will be back on the RS-GP bike, and Marco will work with the team using the MotoGP bike.